As Ohio State's defense evolved from one of the worst in school history to one of the nation's best this season, Jeff Hafley got most of the credit among the Buckeyes' new defensive coaches.
That praise was certainly deserved. Ohio State's defense has been demonstrably better this year than it was last year, particularly in limiting big plays, and the new defensive scheme partially designed by Hafley and the play of Hafley's defensive backs on the back end have been huge reasons why. That's why he landed a Power 5 head coaching job at Boston College after just one season back in college football with the Buckeyes.
But Hafley hasn't done it alone. He said as much himself during his speech at last week's ceremony for the Broyles Award, where he was honored as one of college football's top five assistant coaches this year.
"Greg Mattison should be next to me here, we did this together," Hafley said. "Al Washington, Larry Johnson, Matt Barnes, we got a really good staff and we have really good players, and players really, honestly, they make us pretty good. And we have really good players, we have a great head coach and we have a great university."
As Ohio State moves forward without Hafley after this season, every one of those people will play important roles in the Buckeyes' efforts to field one of the nation's best defenses once again in 2020.
Mattison and Barnes, in particular, are two coaches who perhaps haven't received as much credit as they deserve for their roles in the Buckeyes' defensive turnaround, yet will play crucial roles in maintaining continuity following Hafley's exit.
Because the Buckeyes have two co-defensive coordinators in Mattison and Hafley, and two secondary coaches in Hafley and Barnes, they won't have to start from scratch in either area. Ryan Day purposefully built his first coaching staff that way so the Buckeyes would be built for a smooth transition if someone chose to leave.
"That's exactly it," Day said Monday. "That's why you do it that way. When you bring in one guy to run the whole thing, and then all of a sudden he leaves, that's a problem."
From the outside looking in, it's hard to pinpoint exactly how big each coach's role has been in Ohio State's defensive turnaround – after all, the Buckeyes and their coaches pride themselves on their collaboration – but there's no question that Mattison, the highest-paid assistant on the staff, has played one of the most important roles in changing the Buckeyes' defensive identity in just one year.
Star defensive end Chase Young said Mattison "kind of is the head man" who runs the defense, and that while Mattison primarily works with the linebackers, he spends time working with everyone on the defense to ensure that all three levels are tied together.
"He's definitely been a good coach for us, man," Young said of Mattison. "He puts us all in the right positions to make plays for the team."
Fellow defensive end Tyreke Smith said he believes Mattison's return will ensure there is no drop-off for Ohio State's defense despite Hafley's departure.
"I think he's just made it easier on us," Smith said of Mattison. "Our scheme is a good scheme, but it's easy for us to get ahold of. I think it really allows everybody to use their athletic ability and use their best talent on the defense. It's definitely good knowing that he'll be back, because he's one of our D-coordinators, and it will still be that scheme."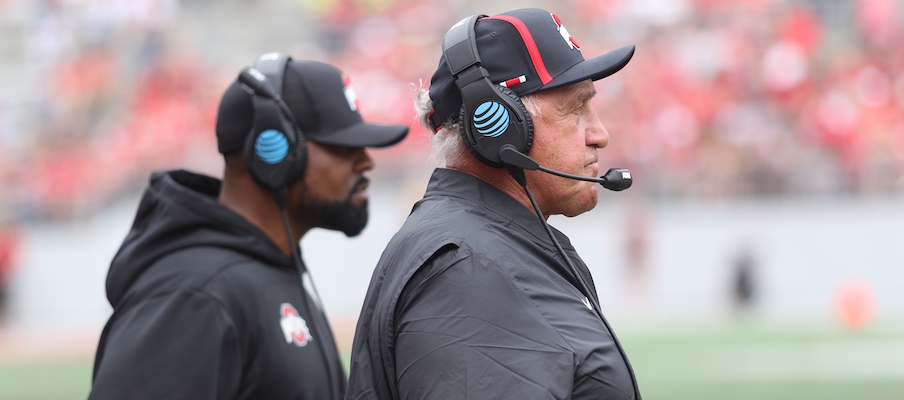 Barnes, meanwhile, will give the Buckeyes some continuity in the defensive back room after serving as Ohio State's assistant secondary coach this year. While Hafley has led the way in coaching both Ohio State's cornerbacks and safeties this year, Barnes has also worked with the Buckeyes' defensive backs – in addition to his primary role as special teams coordinator – which should ease the transition into next season for Ohio State's returning defensive backs.
"Matt Barnes is a very smart football coach," said Ohio State cornerback Shaun Wade. "You see what he does on the special teams side, but you really don't see what he does in the DB room when he's in there. He has taught us a lot of things that Coach Hafley has taught, but he has his own ways of teaching it."
Cornerback Sevyn Banks, who is set to have his third position coach in three years next season, said "just having a familiar face" still working with the defensive backs will be beneficial.
Johnson has consistently coached one of the nation's best defensive lines since he joined the Buckeyes in 2014, and he remains as pivotal as ever to Ohio State's defensive success. Ohio State's linebackers have made major strides in just one year with Washington, and while there was some speculation that Washington could join Hafley at Boston College, Day said Monday that he would "be very, very surprised" if that happened, all the while saying he does not expect the Buckeyes to lose any of their other full-time assistant coaches from this year's staff.
Hafley does leave big shoes to fill, and Day acknowledged that on Monday, when he made a public pledge to "get the best coach in America to go coach that position." With a secondary that will lose at least two or three if not all four of its starters from this season, bringing in another top defensive backs coach to lead Ohio State's development of that unit will be crucial to its 2020 success.
The Buckeyes will still have the same defensive philosophy, though, and the same emphasis on playing fast, fundamentally sound football with a scheme that's simple for its players to execute yet malleable to match up with opposing offenses. Day's leadership at the top, and the defensive assistant coaches staying at Ohio State for next season, will ensure that doesn't change even without Hafley.
"Obviously Larry Johnson's been around. Greg and Matt and Al Washington, all those guys are huge for us," Day said. "The idea of this defense was something that I had a vision of: four-down front with cover-1, cover-3, a lot of single-high. That's what Jeff fit perfectly, that's what Greg and Larry believed in, that's what Matt Barnes had done at Maryland and what Al had done in his past. So it all fit. We're going to keep that going."