This year's College Football Playoff semifinal at the Fiesta Bowl will feature arguably the two most complete teams in college football this year.
Ohio State is the No. 2 seed in the playoff and Clemson is the No. 3 seed in the four-team field, but while LSU ultimately won the committee over with its wins over Georgia, Florida, Auburn and Alabama en route to a 13-0 season, no two teams have been better across the board statistically than Ryan Day's squad in Columbus and Dabo Swinney's squad in Upstate South Carolina.
CLEMSON TIGERS
13-0 (8-0 ACC)
ROSTER / SCHEDULE
---
8 P.M. – SATURDAY, DEC. 28
STATE FARM STADIUM
GLENDALE, ARIZONA
---
ESPN
WatchESPN
Clemson leads the nation in points allowed per game (10.6) and yards allowed per game (244.7) while ranking behind only Ohio State in yards allowed per play (3.96). Offensively, the Tigers rank third in yards gained per game (547.7), fourth in points scored per game (46.5) and fourth in yards gained per play (7.51).
While No. 1 seed LSU and No. 4 seed Oklahoma both have a case for college football's best offense, Ohio State and Clemson have both been elite on both sides of the ball all season long, and now, they'll go head-to-head on Dec. 28 in Glendale, Arizona, with a spot in the national championship game on the line.
As both teams begin their three weeks of preparation for the game, it's time to dive in and take a closer look at Clemson, who the Buckeyes are playing in a playoff semifinal at the Fiesta Bowl for the second time in four years.
Dominant Week In and Week Out
Clemson's schedule was subject to heavy scrutiny this season, as the Tigers played only one other team (No. 24 Virginia in the ACC Championship Game) that finished in the top 25 of the College Football Playoff rankings, and that's why they never got serious consideration in the debate between LSU and Ohio State for the No. 1 seed.
Regardless of who it played, the consistency with which Clemson dominated its competition week in and week out during the regular season was undeniably impressive.
With the exception of a 21-20 escape at North Carolina in its fifth game of the season, in which the Tar Heels came a two-point conversion from potentially upsetting the Tigers, all of Clemson's other 12 wins this season have come by at least 14 points. With the additional exception of a 24-10 win over Texas A&M on Sept. 7, who was ranked 12th nationally at the time, Clemson's other 11 wins this season – including its last eight – have all been by at least 31 points.
Overall, Clemson has defeated its opponents by an average margin of 35.9 points per game, which ranks second nationally behind only Ohio State's average margin of 36.2 points per game.
Dating back to the beginning of last season, when Clemson became the first Football Bowl Subdivision team to go 15-0 in the modern era of college football, the Tigers have now won 28 consecutive games – the longest winning streak since Florida State won 29 straight games in 2012-14 before losing to Oregon in the College Football Playoff semifinals.
Clemson has now made five straight College Football Playoffs, which is the longest active streak and ties Alabama for the longest streak ever.
A Star-Studded Offense
Like Ohio State with Justin Fields and J.K. Dobbins, Clemson's offense is led by one of the best quarterbacks and one of the best running backs in college football. 
Clemson quarterback Trevor Lawrence – the only player ranked ahead of Fields in 247Sports' composite rankings for the recruiting class of 2018 – entered the season as the popular choice to win this year's Heisman Trophy. He slipped out of the Heisman race after throwing eight interceptions in the Tigers' first seven games, but he was as good as any quarterback in the country in Clemson's second half of the season.
Lawrence has completed more than 70 percent of his passing attempts in each of Clemson's last six games, thrown for more than 200 yards in each of Clemson's last seven games and thrown at least three touchdowns in each of Clemson's last eight games. For the year as a whole, Lawrence ranks fifth nationally in passing touchdowns (34), seventh in passer rating (176.4), ninth in yards per passing attempt (9.4) and 10th in completion percentage (68.8).
Travis Etienne, meanwhile, has rushed for 8.24 yards per rushing attempt this season, the best mark among all FBS ballcarriers. His 1,500 rushing yards and 17 rushing touchdowns both rank in the top 10 nationally, and he's tied for fifth nationally with 16 runs of 20 yards or more.
Clemson also has two stud wide receivers, Tee Higgins and Justyn Ross, who will present the toughest test that Ohio State's secondary has faced all season. Both are 6-foot-4 explosive athletes who have a flair for making spectacular plays, and they've been highly productive this year; Higgins has 52 receptions for 1,082 yards and 13 touchdowns, while Ross has 55 catches for 742 yards and eight touchdowns.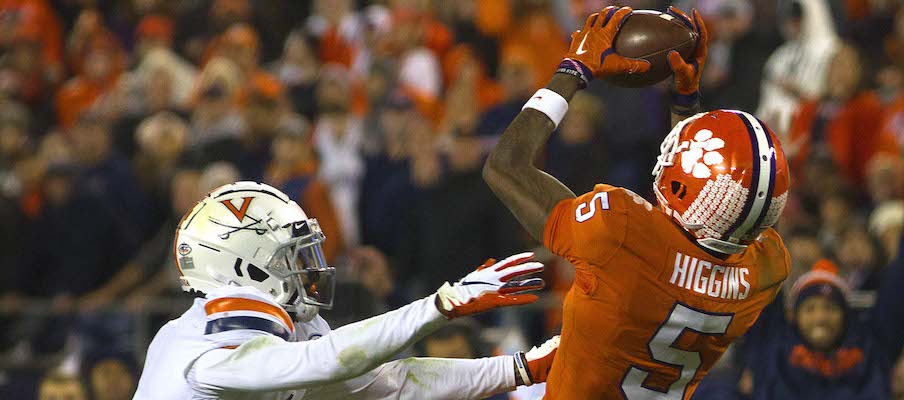 With those players leading the way, Clemson has scored at least 38 points in 11 of 13 games this year, including seven games with at least 52 points. The Tigers have topped 500 yards of offense in 10 of their 13 games, including each of their last eight. 
That said, Ohio State's defense will be the toughest test that Clemson's offense has faced all year, as none of the Tigers' first 13 opponents currently rank in the top 30 nationally in either total defense or scoring defense.
A Stifling Defense
No defense in college football has been more consistently dominant this season than Clemson's. The Tigers have held all 13 of their opponents to 20 points or fewer and held all 12 of their regular-season opponents under 300 yards before allowing Virginia to gain 387 yards in their 62-17 ACC Championship Game win over the Cavaliers.
Clemson's defense leads the nation in passing yards allowed per game (138.5) and opponent passer rating allowed (92.8) while it ranks ninth nationally in rushing yards allowed per game (106.2) and per carry (2.97). The Tigers have been excellent at preventing big plays, holding their opponents to just 28 plays of 20-plus yards, least among all FBS teams even though they have played one more game than most.

The star of Clemson's defense is Isaiah Simmons, who received the Butkus Award on Sunday as college football's best linebacker. A versatile defender who began his Clemson career as a safety before moving to Sam linebacker, Simmons lines up all over the field for the Tigers and leads them with 91 total tackles, 14 tackles for loss and seven sacks and has also recorded eight passes defended with two interceptions and a forced fumble.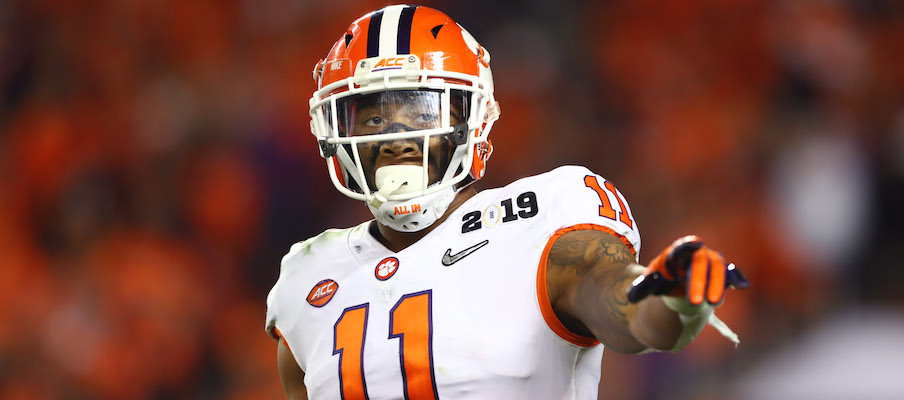 Other stars of Clemson's defense include cornerback A.J. Terrell and safety Tanner Muse, who both earned first-team All-ACC honors along with Simmons, while defensive end Xavier Thomas and defensive tackle Tyler Davis are difference-makers up front. 
Like its offense, though, Clemson's defense hasn't yet faced an opponent of Ohio State's caliber. None of the Tigers' first 13 opponents rank in the top 30 nationally in scoring offense, though three of them rank in the top 25 nationally in total yards per game (Wake Forest, North Carolina and Boston College).
Some Ohio and Buckeye Connections
Followers of Ohio State recruiting will certainly be familiar with Clemson left tackle Jackson Carman, a five-star prospect in the class of 2018 who the Tigers plucked out of Fairfield, Ohio, marking one of the most notable in-state recruiting misses for the Buckeyes of the past decade.
In his first year as Clemson's starting left tackle this season, Carman earned third-team All-ACC honors.
Carman is one of two Ohio products on Clemson's roster along with backup guard Matt Bockhorst, a Cincinnati native who was not offered by Ohio State out of St. Xavier High School.
Another name that Ohio State fans will likely remember from recruiting is Kane Patterson, a true freshman linebacker for the Tigers who decommitted from the Buckeyes following Urban Meyer's suspension last summer, though he plays mostly on special teams and has only played sparingly on defense this year.
Two more familiar names on Clemson's roster: twin brothers Jake and Tye Herbstreit, the sons of former Ohio State quarterback Kirk Herbstreit, who are both walk-ons for the Tigers.
3-0 vs. The Buckeyes
You probably already know this one if you're a Buckeye fan (or a Tiger fan), but it's the elephant in the room that can't be ignored: Ohio State has never won in any of its three games against Clemson.
Those three losses including two of the most infamous losses in school history.
In the Fiesta Bowl for the 2016 season, the last time Ohio State made the College Football Playoff, Clemson shut out the Buckeyes, 31-0. Ohio State fans can thank that game, though, with forcing Meyer's hand to replace former offensive coordinators Tim Beck and Ed Warinner with current head coach Ryan Day as well as Kevin Wilson.
The 1978 Gator Bowl is infamous for being the final game of Woody Hayes' head coaching career, as he was fired by Ohio State for punching Clemson defensive tackle Charlie Bauman after he made a fourth-quarter interception that helped seal a 17-15 win for the Tigers, bringing Hayes' 28-year tenure with the Buckeyes to an end.
Ohio State also suffered a 40-35 loss to Clemson in the Orange Bowl at the end of the 2013 season, marking the only time in Urban Meyer's seven-year tenure that Ohio State lost back-to-back games.
The Buckeyes will have a chance to exorcise those demons, while Clemson will look to build upon its history of success against Ohio State, when the two teams meet three Saturdays from now.