ANN ARBOR, Mich. – A flashy, scarlet cowboy hat with tilted-up brims on both sides sat atop Robert Landers' dyed-haired head as he stepped off one of the buses in Ohio State's caravan, grabbing plenty of attention as he walked into the visiting locker room two hours before his team took on Michigan on Saturday. A gregarious Landers, never afraid to be himself, developed a reputation for wearing various cowboy hats before almost every game this season, adding a bit of flair to his suit, dress shirt and tie.
Had anybody looked below his chin, though, they would have seen the accessory that means more than anything else to the fifth-year senior defensive tackle. A shiny, ever-present charm replica of Gold Pants dangling from a chain around his neck.
Often, Landers walks into stadiums wearing the necklace featuring the gold pants. Sometimes, he walks out of stadiums wearing it. Always, he warms up before games with the pants hanging in front of his chest, making it a personal game-day tradition.
Since 1934, every Ohio State player on a team that beats Michigan gets awarded with a pin-sized replica of a pair of golden pants. Because Landers had now been part of five victories in the rivalry game, he already has four pairs of gold pants in his possession and will get another bestowed upon him in the spring following the Buckeyes' 56-27 win on Saturday. 
"It's one of those things where it's something nobody can take away from you, and it's special, and you know you had to work for it," Landers said on Saturday. "So I wear mine. I wear it every chance that I get. My first pair, my mom took from me, and then I got two more pairs for my kids, and then I got this pair and I got a fifth one."
With his mother, son and daughter already in possession of gold pants, along with one for himself, Landers already has an idea of where he plans to store the fifth and final pair when he receives it.
"I think I'm going to put the fifth one in my father's dedication case," Landers said. "He's one of the reasons why I strive to be the man that I am every day. He's one of the reasons why I grind as hard as I do every day. I felt like this last one was for him."
Landers' father, Bobby, died on Dec. 19, 2006, when he was killed in a shooting that remains unsolved. Landers was just 10 years old at the time.
In recent years, Landers has opened up about the incident and the internal battles that followed, becoming a mental health awareness advocate. In August, following a mass shooting in his native city of Dayton, he spoke out against the violence and explained the struggles he had when dealing with his own trauma, again bravely lending insight into his personal experiences.
His father never saw him take the field as a Buckeye, so Landers wanted to make sure he earned a pair of gold pants to honor him.
"Man, it was very motivating just because my journey has been so unique and I know that my story, and he's the pinnacle of my story," Landers said. "He put that hunger in my heart and losing him put that hunger in my heart to be what I am today."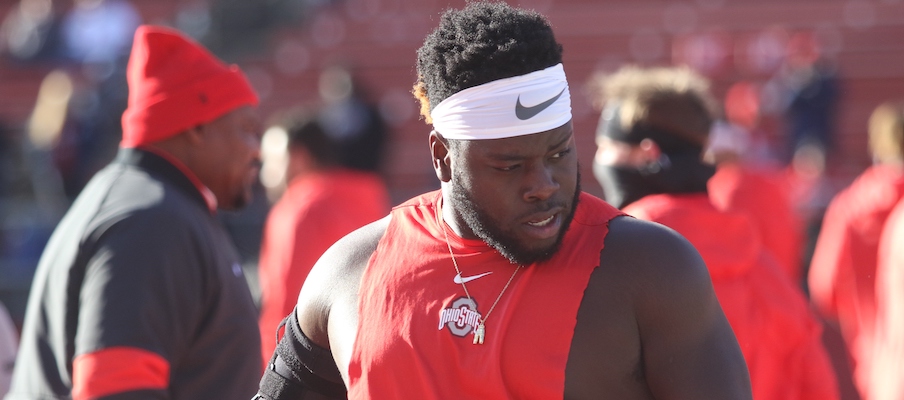 On the field, Landers has become a key piece to the top-ranked college football team in the nation and someone who made major contributions in Ohio State's seventh and eighth straight victories against Michigan.
Last year, Landers picked up a sack of Shea Patterson. On Saturday, he had two tackles for loss, including one in the fourth quarter to stuff a 4th-and-1 rush from Hassan Haskins, along with a momentum-shifting fumble recovery in the second quarter.
The Wolverines had driven into the red zone and appeared likely to score a touchdown and pull within one point of the Buckeyes. Shea Patterson fumbled the snap, though, and Landers pounced on the ball. Less than four minutes later, J.K. Dobbins rushed for a 5-yard touchdown to pull Ohio State ahead, 28-13, beginning what turned into another rout for the Buckeyes.
"It's one of those things, man, the rivalry, it's not just a rivalry, it's something special," Landers said. "Something a part of history. Something nobody can take away from you, on both sides of the ball. It's the best rivalry in all of sports. It's one of those things where to receive a pair of gold pants, it's not given. It's something that you have to earn. No matter if our season's bad, their season's bad, both seasons are good, you know when you come into this game you are going to be in a dog fight. It's going to be the hardest game of the season."
Five pairs of gold pants, a sack last year and a fumble recovery on Saturday later, Landers' time facing Michigan has ended. His and his family's opportunities to show off the gold pants – complemented by a cowboy hat or two – have just begun, though.
One for his mother. One for his son. One for his daughter. One for himself. One for his father. Landers couldn't have planned it any better.