ANN ARBOR, Mich. – Ohio State did it again.
A year after the Urban Meyer-led Buckeyes handled Michigan to the tune of a 62-39 victory, Ryan Day led them into Ann Arbor on Saturday and walloped the Wolverines, 56-27, to give his program its eighth straight win in the annual rivalry game. And again, it came against a well-regarded defense led by Don Brown.
Ohio State has scored 118 points and racked up 1,144 yards versus the Wolverines in the past two years.
"They're a very talented defense," Ryan Day said. "A lot of people have a hard time moving the ball. At the end of the day, a game like this comes down to players, not plays. And these guys, they willed themselves to make plays. I mean, these two guys right here, are you kidding me? 
Sitting at a podium with Jonah Jackson on his left and Chris Olave on his right, Day touted how his players performed in the 29-point win.
"This guy right here has an opportunity to come in here in his fifth year and get into a game like this and get his first pair of gold pants," Day said, referencing Jackson. "Guy played his tail off. And then you talk about one of the best downfield threats in the entire country and some of the plays (Olave) made down the field. Plays were good and we did a good job preparing, but at the end of the day, you want to give them a clean plan, but they have to make the plays. These are two guys that made huge plays in the game and then the same thing with Justin (Fields) and J.K. (Dobbins) and Austin Mack. I mean, Austin Mack on that play was awesome. You knew he was not going to get denied. I mean, he had that look in his eye like he was going to score. J.K. had that look. Just proud of the way that those guys willed themselves to be successful."
For Jackson, a victory against Michigan represented his first time beating the Wolverines after losing to them four years in a row at Rutgers. It also will eventually lead to him getting a pair of gold pants.
"Once this game's over, it's 364 days of preparing for it for next year," Jackson said. "Going through all the workouts, going through all the Team Up North abs and everything and all the work you've put in in the offseason, it's just like such an achievement and just a great feeling to beat this team and be successful in the outcome."
The game played out as physically and emotionally as any that Young could remember
"They definitely did things after the play to try to really finish you after the play," Young said. "But we expected that. We expected them to come out, play real hard, a lot of pushing and shoving, things they probably wouldn't do in a regular game. So we expected things like that, so it wasn't really a surprise."
With the victory, Ohio State wrapped up an undefeated regular season, winning all 12 games by double-digit points.
Only two other teams – LSU and Clemson – managed to get to this point in the season without a single loss. Day needed no reminder of just how difficult it can be to have a spotless record, especially given the out-of-nowhere losses the past two seasons.
"I just think when you're dealing with 18-, 19-, 20-year-old young men, there are a lot of things that get in the way," Day said. "I think you have to be able to sustain physically, emotionally and mentally throughout that time. It's not easy to do. Coming off of last week's game, nobody's going to really talk about it all that much, but that was an emotional win. That was a tough win. Penn State's a top-10 win. And then we had to turn around and come back and play in this game, which is the hardest played game we play every year. Coach Mick (Marotti) and the coaching staff got our guys ready to go physically and mentally and emotionally for this game. It's a credit to everybody involved. But it's hard. Are you kidding me? It's hard to go 12-0. And I'm really proud of everybody."
The Buckeyes nearly faced their worst fears on Saturday when Justin Fields went to the ground, seemingly suffering a knee injury. He limped to the medical tent then reappeared minutes later, entered the game immediately and threw a touchdown pass to Garrett Wilson, with Day calling it a "magical moment."
When Fields went to the ground, Young says he didn't think about the future of this season or Fields' game but rather his health.
"I feel like at that point when somebody's injured on the field, I feel like it's not even about football," Young said. "I just feel like that's my brother, and outside of football, I care about him too. So I wouldn't want anything to happen to anybody, even on the Team Up North team. I wouldn't want anyone to get injured. You could put football in the past. If somebody's out on the field, you've got to think about how that would affect him off the field too."
Chris Chugunov took the field when Fields got hurt in the third quarter and extended the drive.
The fifth-year senior backup quarterback converted a third down with an 11-yard pass to K.J. Hill then tossed an incompletion. After that pass hit the ground, Fields reentered the game.
"We were just moving on," Day said. "We had confidence that Chris was going to go out there and if we hard our shots, we were going to take our shots with it and we were going to go. We may have to lean on the O-line a little bit, but Chugs has got a lot of football played this year. We did get a completion, I think. He was 1 of 2. The second one, wait till you see that one on film. I said to him, 'All I did was spend about 10 hours on that one play and you missed the guy running down the middle of the field.' I was going to, like, attack him on the field. But, with that being said, we feel good that Chris could move us. But wasn't sure if Justin was going to make it back. He found a way to come back. Just goes to show his toughness, and then the guys just rallied around him."

"Right when he went down, I seen him and I said a prayer real quick just to make sure he was all right," Jackson said. "And then we were driving the ball. We have confidence in Chris and his ability to make plays. And then when the touchdown happened, I was like, 'Where's Chugs at?' I didn't even realize Justin threw it. That was awesome just to see his toughness and perseverance in the game and his ability to come back in and do what he did."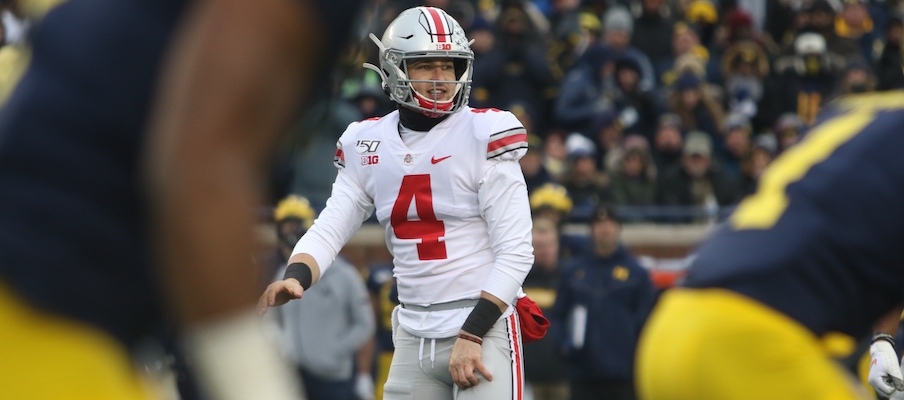 Chase Young earned his third pair of gold pants for his third win against Michigan in a row.
However, he didn't record a single tackle on Saturday. In the game's official stats, his only mention was a pair of quarterback hurries. Though many Ohio State fans think he was being held throughout the game, Young partially attributed the lack of tackles and sacks to Michigan's propensity to have two or three players focused on him.
"I would say they did a lot of doubles, triples, chipping, bring the guard over to help, slid to me," Young said. "But put all that behind us. Everybody on the defense stepped up today. With Shaun (Wade) being out, everybody stepped up and we got the win."

"I think they just did it a lot more consistently," Young said. "My other games, I might get one or two, they would show it. But it was like every third down it was an extra guy. It was definitely a challenge. I like challenges. I'm a competitor, so I ain't backing down to nothing."
With that in mind, Young said he didn't feel any frustration about his relatively quiet game.
"I played as hard as I could," Young said. "I put my best on the field. At the end of the game, if you go your best, if you put the best on the field, you can't really be mad."
Robert Landers, a fifth-year defensive tackle, made a key play early in Saturday's game.
With Michigan driving and looking like it was about to score a third touchdown, Shea Patterson fumbled the snap, allowing Landers to pounce on the ball. What could have become a one-point game turned into a two-touchdown advantage for Ohio State, which drove down the field and scored a touchdown, giving itself a 28-13 lead.
"With the recovery, at the time we were running a certain play, and I was pushing up against the guard," Landers said. "I just seen brown. You know, I seen the ball. My mindset was, 'All right, pick it up and run. Let's see what we can do.' But I kind of got knocked over. So at that point in time, it's like, 'You know what, let's just do something to change the game, just try to recover the ball, get the offense the ball back and let them get rolling.' So it was just more of me just kind of playing my role."
With Michigan out of the way, Ohio State now has one game – the Big Ten championship – between now and the College Football Playoff.
"I think we've done a good job of staying one week at a time and staying one day at a time," Day said. "Because when you start to think too far ahead, you start to get jammed up. So what we're going to do right now is, I'm not even sure when the game is today or who we're playing next week because the focus has been so much on this game and just making sure that we were prepared to go, and then we're going to get on that bus and try to figure out what's next. That's the way we're going to do it, and that's the way we've done it all year."

"As a brotherhood, we are doing a real good job of just staying focused, I would say," Young said. "Focus, that's the big word. It starts tomorrow, film, board. We still made a lot of mistakes out here. They still put up a lot of points on the board, so obviously we have a lot of corrections. Other than that, I think when it comes down to it, we won the game and that's all that matters."