Ohio State finally played a game decided by fewer than 24 points, and in doing so it became the Big Ten East division champion.
Though Penn State pulled within four points in the fourth quarter, the Buckeyes responded to shut down a possible comeback filled with plenty of self-inflicted issues and beat the Nittany Lions, 28-17, to earn a spot in the conference title game. 
Let's get into this week's stock report.
Stock Up
Ohio State's linebackers
Only five Buckeyes defensive players had more than four tackles, and each of them accounted for at least seven tackles: Young and four linebackers. Take a peek at each of their stat lines:
Pete Werner: 10 tackles, two pass breakups
Malik Harrison: nine tackles, two tackles for loss
Baron Browning: seven tackles, 2.5 tackles for loss, 1.5 sacks
Tuf Borland: seven tackles
Justin Hilliard made arguably the most important defensive play of the game, too, coming off the bench and intercepting a pass in Ohio State territory in the fourth quarter.
Penn State's offense couldn't do much, managing a single drive for more than 50 yards and two drives between 20 and 50 yards, both of which ended with punts. The linebacker quartet of Werner, Harrison, Browning and Borland had as much to do with Nittany Lions finding minimal space to operate as anything else. The coaches graded Werner out as the defensive player of the game, and Browning shined late in the game as a pass rusher. Harrison stuffed multiple runs, and Borland played as solid of a game as ever.
Chris Olave
Ohio State doesn't have a better wide receiver than Olave, and it's getting to the point where that point is inarguable. 
Once again, the 6-foot-1, 185-pound speedster came up with a big-time catch when the Buckeyes needed one. Early in the fourth quarter with just a four-point lead, Ryan Day decided to take a shot to the end zone, so naturally he called upon Olave, the team's best deep threat. The sophomore executed his route, got a step on the cornerback and leaped to snag a slightly underthrown ball from Justin Fields to complete the game's most important play in the end zone with six points.
WHEN WE NEEDED YOU THE MOST pic.twitter.com/i5SKrwgXpi

— Eleven Warriors (@11W) November 23, 2019
Olave now has 39 catches and leads the team both in receiving yards (637) and receiving touchdowns (10). Garrett Wilson might have the best ball skills, K.J. Hill has the best hands and Jameson Williams is likely the fastest wideout in Brian Hartline's room, but Olave has earned a deserved reputation as the Buckeyes' most reliable downfield threat at receiver.
Next up? Michigan. Remember the last time Olave faced the Wolverines?
Chase Young
Young racked up nine tackles, three sacks and two forced fumbles against Penn State. He broke the single-season school record for sack and earned a national player of the week award. It's as if he never left.
Too late to have a shot at winning the Heisman Trophy? Probably, especially with the way LSU's Joe Burrow has played. Too late to propel Ohio State's defense to the College Football Playoff? Definitely not.
Chase Youngs get-off is unrealistically quick. pic.twitter.com/SoiHxIZJcM

— Eleven Warriors (@11W) November 23, 2019
J.K. Dobbins
An average of 4.4 yards per carry won't impress. But Dobbins having 36 carries for 156 carries certainly does.
The junior running back turned into a workhorse on Saturday, beginning with the first drive when the Buckeyes marched 91 yards for a touchdown solely on the ground. They likely won't need Dobbins to carry quite a load the remainder of the year, but the coaches learned something about his stamina on Saturday.
Justin Fields' Playmaking
Fields' stat line – completed16-of-22 passes for 188 yards and two touchdowns, running 21 times for 68 yards – makes it look like he had a relatively pedestrian performance. But the Buckeyes needed everything he offered, especially with his legs.
Fields converted 3rd-and-5, 3rd-and-12 and 4th-and-5 situations with his legs, running for 14, 17 and 22 yards, respectively. The Buckeyes have a third-down conversion rate of 58.1 percent, which tops the nation, and its quarterback's running ability plays no small part in the statistic.
Lets just appreciate this majestic play that set all that up. pic.twitter.com/2iutEDcVqC

— Eleven Warriors (@11W) November 23, 2019
Yetur Gross-Matos and Micah Parsons
Whenever Ohio State's offense had issues, Gross-Matos and Parsons were often the two Penn State defensive players causing them.
Gross-Matos racked up nine tackles, including 3.5 tackles for loss and two sacks. One of his sacks put Ohio State out of field-goal range in the first half. Parsons accumulated 10 tackles, two tackles for loss and a forced fumble. 
Shea Patterson
Don't look now, but Jim Harbaugh and Josh Gattis have Patterson playing the best football of his career.
Patterson went 24-for-33 for 384 yards with four touchdowns and zero interceptions in a win against Michigan State, and he followed that performance up by completing 20-of-32 passes for 366 yards, throwing five touchdowns and one interception while leading his team to victory versus Indiana on Saturday. To put those games into context, he had never before reached 300 passing yards in a game.
On Saturday, Patterson will face an Ohio State defense allowing a nation-low 126.2 passing yards per game.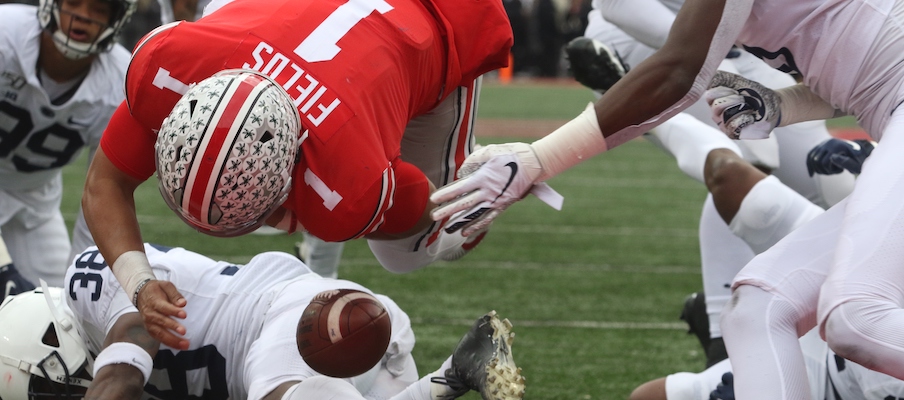 Stock Down
Ball Security From Justin Fields and J.K. Dobbins
The difference between a blowout and an 11-point win came with two lost fumbles from Fields and one lost fumble from Dobbins. Against a team Ohio State might face in the College Football Playoff, three lost fumbles might be the difference between an 11-point win and an 11-point loss.
That's the dangerous of what transpired on Saturday.
The prevailing notion was that the game wasn't actually as close as the final score indicated. Had Fields not fumbled at the 1-yard line as he dove into the end zone, he would have given the Buckeyes a 14-0 lead in the 11th minute of the game, and had he and his running back not consecutively fumbled in the second half, Penn State might not have rallied.
But the turnovers happened. They cannot simply be discounted. And if that issue pops up again at the wrong time, it could end Ohio State's season. Day knows that, which is why he said they're "going to get that fixed" after the game. Fumbles hadn't been a significant area of concern before Saturday, but all eyes will be on ball security moving forward, for the only team that has come close to beating the Buckeyes thus far has been themselves.
Penn State's Offense
At no point did the Nittany Lions truly show anything close to a threatening offensive attack, whether through the air or on the ground. They actually turned into a more dangerous team with Sean Clifford left the game and Will Levis replaced him due to Levis' fullback-esque running style.
On the ground, Penn State collectively managed just 99 rushing yards on 37 carries and 128 passing yards. Chalk it up as another impressive performance by Ohio State's defense.
The Stakes Of Ohio State-Michigan
In the past, The Game has represented a chance for either or both teams to secure a berth to the Big Ten title game or for one team to spoil the other's season. The Wolverines already won't be going to the conference championship game, and the Buckeyes have the Big Ten East locked up and only need one more win to essentially clinch a College Football Playoff big, so the stakes aren't as high as they sometimes have been in the past.
Does that matter? Not to Day, Harbaugh and the players on each of their teams. This game still means as much as it always does to them.