Realistically, Ohio State doesn't need to play at its best – or even close to its best – to win its fourth game of the season on Saturday.
Ohio State is a 39-point favorite for Saturday's game against Miami (Ohio), and it would be a shock if the Buckeyes face any real adversity on their path to a victory over the RedHawks.
The Buckeyes, who are 3-0 this season and have won each of their last two games by 41 points or more, are substantially more talented than the RedHawks, who are 1-2 this season with their only win coming against Tennessee Tech, a Football Championship Subdivision school.
Miami coach Chuck Martin, in a quote that quickly went viral, summed up the talent disparity well during an appearance on the Mid-American Conference coaches' teleconference on Monday.
"None of the kids that were recruited to play at Ohio State were looking at Miami (Ohio), and vice versa. So it's kind of like going to recess and they got the first 85 picks," Martin said. 
Even if Ohio State sleepwalked through its preparation this week, it would still probably win Saturday's game by a comfortable margin.
That's not what the Buckeyes want, though. With a much tougher stretch of games coming up on the schedule, starting with Nebraska as they resume Big Ten play next week, Saturday is an opportunity for the Buckeyes to continue building momentum off their strong start of the season and improve upon the issues they've seen on film. So Ryan Day and his assistant coaches have done their best to ensure that their team will play with the same intensity on Saturday that it did in its 51-10 win over Indiana last week and its 42-0 win over Cincinnati one week before.
"Just because we've won a couple games, it hasn't changed anything for us, so we need to stay focused on right now," Day said this week. "We do have some momentum going right now, but we've got to keep that going, and that's incumbent upon the coaches and the leaders to make sure that we stay focused and we don't get distracted."
Miami Breakdown
Miami has already played two road non-conference games this season, and neither of them have gone well for the RedHawks. They suffered a season-opening 38-14 loss to Iowa, then suffered a 35-13 loss to Cincinnati – again, a team that Ohio State shut out one week earlier – last Saturday.
The RedHawks currently rank 128th in the Football Bowl Subdivision with only 267 offensive yards per game – only UCLA and Georgia Southern have had less – and haven't been much better on defense, ranking 78th with 389 yards allowed per game and tied for 90th with 30 points allowed per game.
2019 Statistical Comparison
 
OFFENSE
46.0
17th
POINTS FOR
25.0
89th
273.7
15th
RUSHING OFFENSE
104.3
116th
228.0
76th
PASSING OFFENSE
162.7
115th
501.7
25th
TOTAL OFFENSE
267.0
128th
.543
11th
3rd DOWNS
.359
91st
.833
68th
RED ZONE
.917
28th
DEFENSE
10.3
10th
POINTS ALLOWED
30.0
91st
57.0
4th
RUSH DEFENSE
173.7
88th
195.7
52nd
PASS DEFENSE
215.3
66th
111.0
27th
PASS EFFICIENCY DEFENSE
137.6
89th
252.7
12th
TOTAL DEFENSE
389.0
78th
.229
8th
3rd DOWNS
.400
83rd
.500
4th
RED ZONE
.833
73rd
SPECIAL TEAMS
10.0
40th
PUNT RETURN
9.4
44th
20.7
63rd
KICKOFF RETURN
16.8
103rd
39.2
51st
NET PUNTING
37.9
72nd
MISCELLANEOUS
+0.3
44th
TURNOVER MARGIN
+0.7
32nd
4.7
17th
PENALTIES
9.3
126th
16
EDGE
2
Miami's offense is led by true freshman quarterback Brett Gabbert, the younger brother of Tampa Bay Buccaneers backup quarterback Blaine Gabbert, who drew praise from Martin this week for the poise and confidence he has demonstrated in his first three collegiate games.
"He's made good decisions, he's been very accurate, he's got a quick release," Martin said of the younger Gabbert. "So far, he's handled all the big moments and it hasn't seemed too big for him."
The RedHawks' lack of offensive production speaks to their limited group of playmakers, though, and they don't have any offensive weapons that should scare the Buckeyes. Their running game has struggled mightily, averaging less than three yards per carry, and they're not a big-play offense; through their first three games of the year, they have just one play of 40-plus yards.
Defensively, the RedHawks' top performers so far this season have included safety Sterling Weatherford, who has a team-high 20 tackles and an interception with a 54-yard return; nickelback Bart Baratti, who has 17 total tackles with 2.5 tackles for loss and a 35-yard interception return touchdown; and defensive end Kameron Butler, who had four tackles for loss with two sacks last week against the Bearcats.
That said, Miami has allowed at least 35 points and 420 yards in each of its first two games against FBS opponents this year – and neither Iowa nor Cincinnati has an offense nearly as explosive as the attack led by Justin Fields and J.K. Dobbins at Ohio State.
As even Martin acknowledged himself, the RedHawks don't have many players who would be significant contributors on Ohio State's roster – Miami ranks 113th in 247Sports' team talent composite rankings, based on how highly a team's players were recruited out of high school – which means they would have to truly outscheme the Buckeyes to have any chance of beating them.
That's probably not going to happen. But even though the odds are stacked against them, Martin says his players – including 27 players from the state of Ohio – are looking forward to making the trip to Ohio Stadium.
"Getting to play in the Shoe, getting the chance to play against a team of the caliber of Ohio State and see how you stack up against them, is obviously something that they're really, really excited about," Martin said.
Buckeye Breakdown
After back-to-back showings of utter domination against its first Big Ten opponent of the year in Indiana and against a Cincinnati team that has won its other two games, Ohio State appears to be firing on all cylinders and looks to be one of the elite teams in college football this season. 
On offense, the Buckeyes have scored at least 42 points and had more than 200 passing yards and 200 rushing yards in each of their first three games. On defense, the Buckeyes have held each of their first three opponents to less than 300 yards – a feat they accomplished only twice all of last season – and only 31 total points.
The message Day is preaching to the Buckeyes this week, however, isn't telling them how great they are. To the contrary, Day is telling them that they still have a long way to go in their development if they want to achieve their goal of competing for a national championship this season.
"We played well, but we didn't play great," Day said in reference to the most recent win at Indiana. "We played hard, we played tough, but we have so many things to clean up, and when you watch the film, it's actually really frustrating to watch. There's so many things we could be cleaning up there.
"I think we can be great. We're nowhere near where we need to be, but we can be," Day also said this week. "We have the ability. We have the talent. We have the leadership. But if we want to get to where we want to go, we have to take it one week at a time."
Day didn't specify what issues he has seen on film, but Saturday's game for the Buckeyes will be all about sharpening up their game before they move fully into playing conference games for the rest of the regular season.
That's perhaps especially true for Fields, who is off to an excellent start in his first three games as Ohio State's quarterback – he's completed more than 70 percent of his passes for 657 yards and nine touchdowns with no interceptions, while also rushing for 114 yards and four touchdowns – but realizes he must continue to work on polishing up his skill set after having his least consistent game so far against Indiana.
"The team feels like we've been improving each and every week. We also feel like our ceiling's very high," Fields said. "So just kind of looking at the film, seeing the mistakes we made during the game, it just gives us more excitement and a higher ceiling. So if we clean all those other things up, the sky's the limit, really."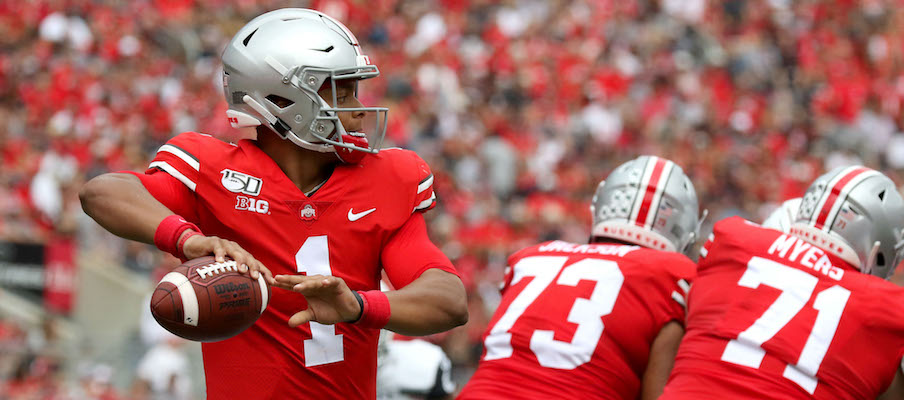 Ohio State's offensive line is off to a great start, as all five starters have graded out as champions for each of the Buckeyes' first three games. Dobbins has gotten his groove back, averaging 8.6 yards per carry for 334 total rushing yards over the last two games. The Buckeyes' run defense has been stifling, holding opponents to just 1.7 yards per carry, while the passing defense has also been strong.
Still, the Buckeyes are searching for any flaws they can find on film and working hard to address them, because they know there are tougher opponents than Florida Atlantic, Cincinnati and Indiana on their schedule to come. That step up in competition isn't coming this week, but as the Buckeyes see it, that's all the more reason for them to try and play even better.
"We have good momentum right now; we have to keep that going, and we can't get distracted," Day said. "Once that happens, then you set yourself up for failure."
"I think we can be great. We're nowhere near where we need to be, but we can be. We have the ability. We have the talent. We have the leadership. But if we want to get to where we want to go, we have to take it one week at a time."– Ryan Day on what Ohio State must do to reach its potential
That said, the Buckeyes are likely to keep their game plans on the vanilla side of things against Miami, as they won't want to give away any of the tricks they might have up their sleeves for if they need them in more competitive games. 
As long as they can execute the way they should be able to and get out to a comfortable lead in the first half, the Buckeyes will also likely look to use Saturday as an opportunity – potentially their best opportunity of the entire season, and potentially their last one for awhile with tougher games immediately ahead – to give their starters a light day of work and their backups more playing time than usual.
Ohio State shouldn't have any trouble winning Saturday's game, and as long as that happens without any major injuries in the process, that's all that really matters. The Buckeyes have a philosophy of celebrating every win, and they'll do that again Saturday no matter how easily the win comes. Beyond just winning the game, though, the Buckeyes will be looking for consistent execution – not only from their starters, but from their backups when they get in the game, as well – and continued improvement in a game that can be considered the final tune-up before the scarlet and gray hit the heart of their schedule.
Game Forecast
No matter what might happen in Saturday's game, it's hard to envision a scenario in which Ohio State does not win and win by a significant margin. The Buckeyes are more talented than the RedHawks across the board, and even if Ohio State gets out to a slow start or Miami is able to pull off a couple big ways, the home team should ultimately be able to pull away from the visitors.
Ohio State's Previous Five Games Against Miami

| YEAR | LOCATION | RESULT |
| --- | --- | --- |
| 2012 | Columbus | Ohio State 56, Miami 10 |
| 2005 | Columbus | Ohio State 34, Miami 14 |
| 2000 | Columbus | Ohio State 27, Miami 16 |
| 1911 | Columbus | Ohio State 3, Miami 0 |
| 1904 | Columbus | Ohio State 80, Miami 0 |
If you're betting for or against the Buckeyes, the game could be more interesting, as the 39-point spread is quite a big number. Considering that the Buckeyes will likely take their starters out of the game earlier than even they have in their other big wins this season, that could lead to opportunities for Miami to make the final score closer than it actually should be against Ohio State's backups.
Consider that the Buckeyes beat Indiana and Cincinnati by at least 41 points each and that Miami lost to Iowa by at least 22 points each, however, and there's plenty of reason to expect the scoring to be very one-sided in Columbus on Saturday afternoon.
---
ELEVEN WARRIORS STAFF PREDICTION: Ohio State 56, Miami 7