Justin Fields didn't seem quite as satisfied on Saturday as he did after the prior two games.
Ohio State dominated Indiana in all phases of the game, beating the Hoosiers 51-10 on the road, and Fields completed 14-of-24 passes for 199 yards and three touchdowns. Early in the game, though, he missed a couple throws, which didn't please him. In his postgame press conference, he noted that he didn't set his feet properly on a few plays, which led to a couple throws a bit off-target.
While Fields isn't where he wants to be with that aspect of his game quite yet, the development of his footwork has impressed Ryan Day.
"He's come a long way continually building on that," Day said on Tuesday. "But again, I think where he is right now is light years ahead of where I thought he'd be. We'll just keep working those drills, and the more he feels comfortable, the better he'll be."
He's already ahead of schedule.
In three blowout wins, Fields still hasn't turned the ball over. He has completed 52-of-74 passes for 657 yards and nine touchdowns, and he has 25 rushes for 114 yards and four touchdowns. The competition will undoubtedly stiffen as the season progresses, but early returns have been positive for the Buckeyes.
"When somebody with that little experience comes into a situation like playing quarterback at Ohio State, there's just a lot of things that go on," Day said. "There's a lot of things that he needs to handle, and so far he's handled them. But he's going to quickly learn here is that at Ohio State, the more you win, the more the stakes get higher and higher, and the more is expected. That all comes with it, but he's got a good head on his shoulders. I think he handles it well. He's got good poise, and he and Mike (Yurcich) got to get in that room and just keep on working on getting better."
Lighting a fire
For the final eight games of the 2018 season, Baron Browning ceded the majority of playing time at middle linebacker to Tuf Borland, never playing more than 31 snaps in a game.
In each of the first three games of the season, Browning has eclipsed that number, and he has played at least as many snaps as Borland in all three wins.
Week 1: Browning (36 snaps) Borland (36 snaps)
Week 2: Browning (32 snaps), Borland (20 snaps)
Week 3: Browning (37 snaps), Borland (26 snaps)
Linebackers coach Al Washington said he feels Ohio State has done a "really good" job mixing the two middle linebackers together.
"I think they play off each other well," Washington said. "Tuf and Baron have both played multiple spots in what we're doing. I think we've handled that pretty well. Every week, it's its own challenge. I think both guys physically are at a place they hadn't been in years past because of that. The ego shrinks."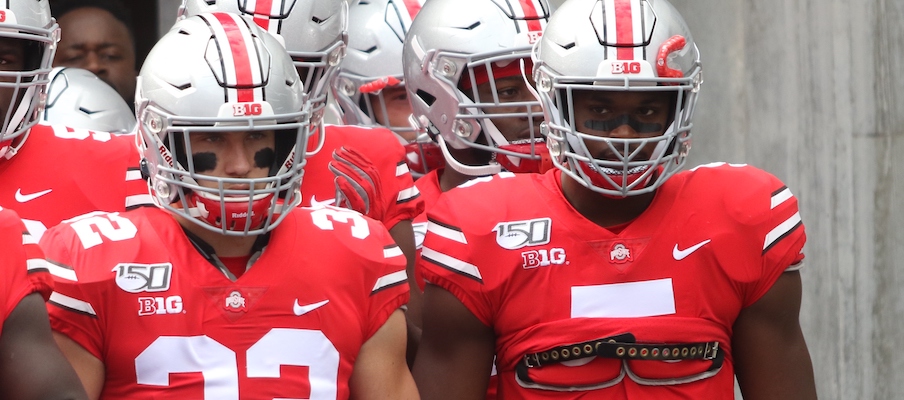 Once the No. 11 overall recruit in the 2017 cycle, Browning entered the program with high expectations. In his first two seasons, though, he didn't necessarily play up the level expected of somebody ranked as the top player at his position.
That has changed this year.
Browning, a 6-foot-3, 248-pound middle linebacker, has 11 tackles, one tackle for loss and a quarterback hurry. More than any stat, he simply looks like he's playing faster and with more confidence, which he recently attributed to Washington.
"All I do is if you have a spark, I'm going to pour gas on it, and hopefully it turns into a blaze," Washington said. "I think that's what all coaches do. He has a spark, and we go about the business of trying to create a blaze, a fire. I think it was always there, though. I think it was always there, and I think it's still there now."
No backup quarterback yet
When Ohio State added Gunnar Hoak as a transfer from Kentucky with immediate eligibility, it seemed likely that he'd slide seamlessly into the backup quarterback spot. 
As Day propped up a faux quarterback competition in the preseason, he made it seem like Fields and Hoak were in competition to start. In the fourth week of the season, though, since Chris Chugunov has played before him in all three games, it appears as though he's been the third-string quarterback. Chugunov has completed 5-of-7 passes for 18 yards, and Hoak hasn't thrown a pass.
On Tuesday, even though the team is a month into the season, Day said he hasn't gained much clarity about the backup quarterback battle.
"I think the repetitions are so precious that it's very important to come to that conclusion," quarterbacks coach Mike Yurcich said on Tuesday. "At the same time, it's in our best interest to keep two guys competing against one another and trying to bring out the best and making sure we're sharpening our skills as much as we possibly can and then getting the guys ready as well. So it's a balance between the two."
At the moment, Yurcich said, Chugunov's experience in the system after transferring to Ohio State from West Virginia last year gives him an advantage on Hoak.
Yurcich said the coaches remain "working through the evaluation process" with Hoak and Chugunov.
"The more Gunnar is here, the more he can learn the offense, then the more he can show what he can do," Day said. "It's hard during preparation. The bye week is a little bit better time for that. We can't really let those guys compete and they kind of split reps with the twos because we're trying to get the starter ready, but the more that Gunnar can learn the offense and feel comfortable with the terminology, the reads, the progressions, the protections, the better off he'll be, so no change right now, but he's learning more and more."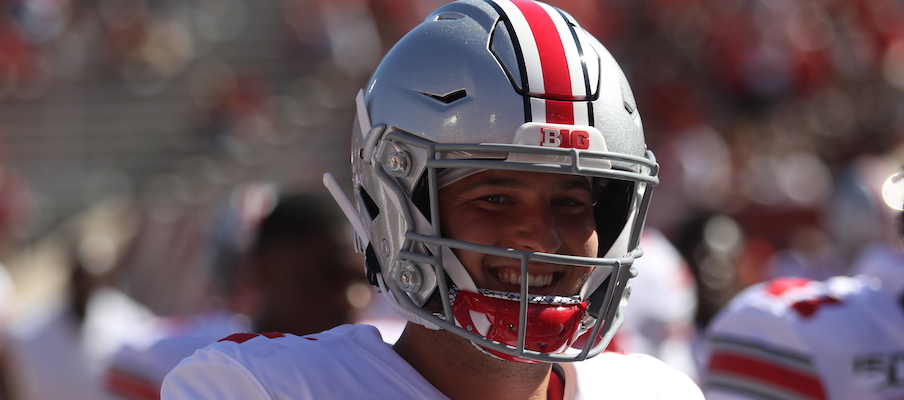 Day's redshirt philosophy
As a first-time head coach, Day has never before been in charge of ultimately deciding which players redshirt and which will play more than four games this season.
Even though Urban Meyer always talked about trying to avoid redshirting players, it was a common practice. A year ago, Meyer's team redshirted 12 freshmen: Kamryn Babb, Matthew Baldwin, Jaelen Gill, Marcus Hooker, Javontae Jean-Baptiste, Tyreke Johnson, Matthew Jones, Nicholas Petit-Frere, L'Christian Smith, Brian Snead, Alex Williams and Max Wray.
As the Buckeyes prepare for their fourth week, Day said the conversations about redshirts will happen "pretty soon," but they haven't begun.
"I think when you say we're going to redshirt this person, they almost start to lose hope a little bit, like, OK, I guess I'm not playing this year,' so we don't like to do that," Day said. 
Ohio State plans to take advantage of players being eligible to play in four games and still redshirt too. Day said that rule allows the coaches to put players on the field and determine whether they can help the team or not.
He'd prefer to avoid unnecessarily losing a redshirt year for any of his freshman who aren't consistent contributors, though.
"If we think it's a situation where we're already three deep at one position and he's probably not going to get on the field other than maybe at the end of a game, then we probably won't," Day said. "We'll try to be really smart about that. We wouldn't want to burn anybody's redshirt, but at the same time, the more experience they get this year, the better they'll be next year."
Garrett Wilson and Zach Harrison, both of whom have played in three games already, are the two locks not to redshirt. 
Harry Miller, Marcus Crowley, Jameson Williams and Craig Young have each already played in three games. That doesn't necessarily mean they'll redshirt, though, since Petit-Frere took a redshirt after playing in three of the first four games last year.
Noah Potter has played in a pair of games, and Dawand Jones, Steele Chambers and Cade Stover have each played in one game. 
Tommy Eichenberg, Cormontae Hamilton, Ronnie Hickman, Ryan Jacoby, Jaden McKenzie, Bryson Shaw and Enokk Vimahi have not played a single game. All are likely redshirt candidates.