Bacon makes everything better, right?
The beloved pork product, no longer a breakfast-only staple, might become a game day treat if Ohio's pig farmers have anything to say in the matter. After making headlines last winter, the Ohio Pork Council-funded bacon vending machine is back and better than ever.
Fans can purchase ready-to-eat bacon from the vending machine, while supplies last, all season long near section 37A in the South Stands.
"The Ohio Pork Council is proud to support Ohio State Athletics and could not think of a more fitting location to launch our new Bacon Vending Machine than Ohio Stadium," said Nathan Schroeder, a pig farmer from Putnam County, Ohio. "Thanks to the Bacon Vending Machine, fans can cheer the Buckeyes on to victory with a classic game day favorite – bacon."
Developed in collaboration with Innovative Vending Solutions, the custom machine features a variety of ready-to-eat bacon for fans to enjoy at an affordable price. The modern machine also features a touch screen interface with educational videos and facts about Ohio's pig farming community on display – enabling consumers to learn more about responsibly raised pork.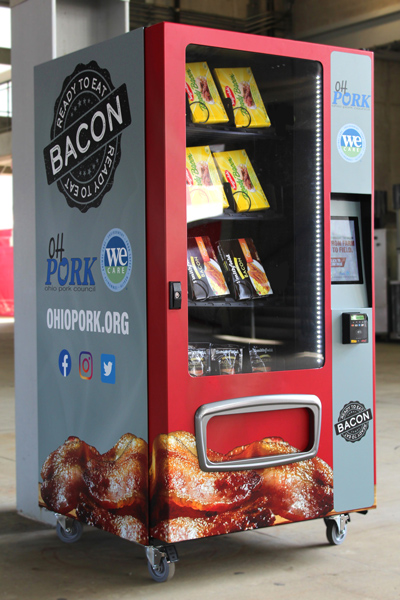 The "new and improved" machine has a new look, and is designed both with an eye toward capitalizing on the "bacon on everything" craze and toward spreading goodwill for pig farmers among Ohio State's faithful fans.
Even more interesting is how an Ohio State student helped bring the bacon vending machine to life in the first place. Then a senior in Agricultural Communications, Pork Council staffer Meghan Winters answered a boss' request to "hit me with a crazy idea" by suggesting a bacon machine.
When he said "let's do it," she had to figure out how to make it happen.
Winters, 21 at the time, was a part-time employee with the Ohio Pork Council. She was the council's most junior staff member when she was given the responsibility to find a vending machine and reconfigure it so that it would offer cooked bacon. 

"Originally, we were going to rent a vending machine, but that didn't make much sense financially. So I ended up finding an old, used one on Facebook," she said.

The next task proved to be much tougher: "baconify" the vending machine. 

"There was a lot of trial and error involved in that," she said.

With some tools and advice from her dad and a lot of Googling, Winters retrofitted the machine to deliver a package of cooked bacon strips or bacon bits after a dollar was fed into it—all of which sounds a whole lot easier than it actually was. 
During the 8 days last winter the machine operated on campus, it dispensed roughly 275 pounds of bacon. Media interest was even keener: "the machine drew scores of students tweets and Facebook posts, going viral within hours and garnering more than 1,100 news articles and 6,470 mentions on social media over the next week."
Food and football go hand-in-hand. And if bacon truly makes everything better, a bacon vending machine in The Horseshoe should be a match made in pigskin heaven.