The Madden NFL 2020 ratings were released to several opinions from their used, so we asked Big Ten players how they'd rate themselves and teammates on the video game.
The Madden NFL 2020 ratings were released the week before the Eleven Warriors staff and players and coaches from every Big Ten team headed to Chicago for Big Ten Media Days in mid-July. Instead of asking the players for their opinions on how NFL players were rated, we decided instead to ask the players to rate themselves and select which of their current teammates would rate the highest in the overall, speed and strength categories.
Not every player could answer, not every player understood the question and some players had some fun with their answers. With the being said, this is how players from teams around the conference answered our questions.
Illinois RB Reggie Corbin
His highest-rated teammates
Overall: Blake Hayes
Hayes is a junior punter on the Illinois team and was an All-Big Ten Third Team selection in 2018. He averaged 43.6 yards per punt. 
Corbin was rated in this category by his teammate, Alex Palczewski, who said all of his other teammates would probably nominate Corbin too. Ohio State will not play Corbin, but he had 1,085 yards on an 8.5 yards-per-carry average in 2018.
Speed: Nate Hobbs
Hobbs is a cornerback at Illinois and started seven games as a sophomore in 2018. He is expected to serve a major role in the 2019 Illinois secondary.
Strength: Kenyan Jackson
Jackson is a defensive tackle and is going into his senior year at Illinois.
How he rated himself
Overall: N/A
Speed: N/A
Strength: N/A
"If you had to rate yourself, you'd probably give yourself all 99's right?" he said. "I can't do it."
Indiana WR Nick Westbrook
His highest-rated teammates
Overall: Marcelino Ball
Ball is a senior defensive back and plays a position similar to the bullet position at Indiana. He has played since the first game of his freshman year and was named honorable mention All-Big Ten after placing third on the team in tackles in 2016. In three games against Ohio State, he has recorded 24 tackles.
Speed: Whop Philyor
Philyor is a junior slot receiver at Indiana. He has totaled 56 receptions for 570 yards in his first two seasons.
Strength: Simon Stepaniak
Stepaniak is a senior tackle at Indiana and has played in all but six games since his freshman year in 2016.
How he rated himself
Overall: 96
Westbrook is still looking to bounce back and have a year like he did during his sophomore season in 2016, when he recorded 995 receiving yards. He tore his ACL on the season-opening kickoff against Ohio State in 2017.
Speed: N/A
Strength: N/A
Iowa RB Toren Young
His highest-rated teammates
Overall: Nate Stanley
Nate Stanley is the quarterback at Iowa and his 52 touchdown passes between 2017 and 2018 is a two-year school record.
Speed: Ihmir Smith-Marsette
Smith-Marsette is a return specialist for Iowa entering his junior season. He recorded the highest kickoff return average in the conference in 2018, with 29.5 yards per return on 24 returns. That was also good for fifth in the nation.
Strength: Amani Jones
Jones doesn't see the field too often as a linebacker at Iowa, but he is known by the fanbase as the guy on special teams that can be seen "destroying some poor soul on kickoff duty."
How he rated himself
Overall: N/A
Speed: N/A
Strength: N/A
Stick with us, these ratings get more interesting. Toren Young, a running back for Iowa, said that he takes pride in his strength but would not rate himself.
Maryland DB Antoine Brooks
His highest-rated teammates
Overall: Antoine Brooks
The Terps have a lot of confidence, as both Brooks and Tino Ellis rated themselves as the best players on the team. Brooks' numbers don't jump off the page, as he recorded 9.5 tackles for loss as a sophomore and junior, but he's been heavily involved in the defense since his sophomore year. In two games against Ohio State, he's recorded 19 tackles and one tackle for loss.
Speed: Anthony McFarland
Anthony McFarland eclipsed the 1,000-yard mark as a redshirt freshman in 2018, and his biggest game came in the loss to Ohio State, when he ran for 298 yards and two scores.
Strength: Keandre Jones
Ohio State fans are familiar with Keandre Jones, who transferred to Maryland after three seasons in Columbus. He was granted a waiver earlier this week to play in 2019.
How he rated himself
Overall: 80
Speed: 85
Strength: 90
Michigan State DE Kenny Willekes
His highest-rated teammates
Overall: Joe Bachie
Linebacker Joe Bachie is from Ohio but was not a highly touted recruit out of high school, and Ohio State didn't recruit him very hard. He said he takes that fairly personally. He earned the team MVP award in 2017, becoming the first sophomore to earn the award since Drew Stanton in 2004. Against Ohio State, though, he hasn't done much on the box score. He's recorded just nine tackles.
Speed: Jalen Nailor
Jalen Nailor is another Michigan State player that wasn't recruited too hard yet could develop into a star. He plays an H-back role for Michigan State and totaled 266 yards on 17 touches. He didn't have a touch against Ohio State during his freshman year in 2018 but will likely be a weapon in his sophomore year.
Strength: Kevin Jarvis 
Kevin Jarvis is a right guard at Michigan State entering his junior year, but he already has plenty of experience. He started 10 games as a true freshman, the most of any offensive lineman in the Mark Dantonio era.
How he rated himself
Overall: 99
Speed: 99
Strength: 99
Willekes was the Big Ten's Lineman of the Year last year thanks to Nick Bosa missing most of the season, but the All-American has had a successful career, as he ranks ninth in the program's all-time list for tackles for loss and 10th for sacks. He has recorded 151 career tackles, 15.5 sacks and 35 tackles for loss in 27 games. Against Ohio State, Willekes has recorded 22 tackles, 4.5 tackles for loss, a sack and a pass deflection in two games.
Minnesota RB Mohamed Ibrahim
His highest-rated teammates
Overall: Rodney Smith
Rodney Smith has become a household name for Minnesota fans, as he enters his fifth year with the Gophers having rushed the ball 651 times (fifth all-time at Minnesota) for 2,959 yards (seventh). The only time Smith has touched the ball against Ohio State was in 2015, his freshman season, when he ran the ball six times for nine yards.
Speed: Terell Smith
Sophomore defensive back Terell Smith broke onto the scene at Minnesota with nine starts, eight pass deflections and an interception as a freshman. He won't play Ohio State until the 2021 season.
Strength: Malcolm Robinson
Malcolm Robinson is a 305-pound redshirt freshman defensive tackle.
How he rated himself
Overall: 89
Speed: 86
Strength: 84
While Rodney Smith has been at the running back spot for awhile for the Gophers, Mohamed Ibrahim looks to be taking his place after this season, maybe even in 2019. Ibrahim relieved Smith when Smith was injured last season and rushed for 1,160 yards, the second-most by a freshman in school history.
Nebraska DE Khalil Davis
His highest-rated teammates
Overall: Adrian Martinez
Adrian Martinez, as many Ohio State fans know, is one of the next big-time quarterbacks in the conference. He was rated as the No. 139 overall prospect in the recruiting class of 2018 and became the first true freshman to start the season opener for Nebraska. He threw for 2,617 yards and ran for 629 yards with an 18-to-8 touchdown-to-interception ratio in 2018. Against Ohio State, he completed 22-of-33 passes for 266 yards, a touchdown and no interceptions. He also ran for 72 yards and two touchdowns.
Speed: Jaron Woodyard
Jaron Woodyard was a track standout in high school, running the 100-meter dash in 10.68 seconds. He transferred from Arizona Western Community College and caught one pass in 2018.
Strength: Damian Jackson
Damian Jackson spent four years with the Navy SEALs after high school and then joined the Nebraska team, where he redshirted in 2017 and appeared in one game in 2018.
How he rated himself
Overall: 90
Speed: 90
Strength: 90
Khalil Davis recorded a career-high 41 tackles last season and was named honorable mention All-Big Ten without having started a game.
Northwestern C Jared Thomas
His highest-rated teammates
Overall: Paddy Fisher
Linebacker Paddy Fisher has recorded 100 tackles in back-to-back seasons, and against Ohio State last season in the Big Ten Championship Game, he recorded 11 tackles.
Speed: A.J. Hampton
Hampton is a redshirt freshman defensive back this year, and last year he appeared in three games, totaling four tackles. He was a two-time track and field captain in high school.
Strength: Rashawn Slater
Slater has started 26 games at right tackle for Northwestern, and he is only a junior, making him one of the most experienced offensive linemen in the conference for his age.
How he rated himself
Overall: N/A
Speed: N/A
Strength: N/A
Senior offensive lineman Jared Thomas considers himself a "work in progress" after the first season in which he started every game he played.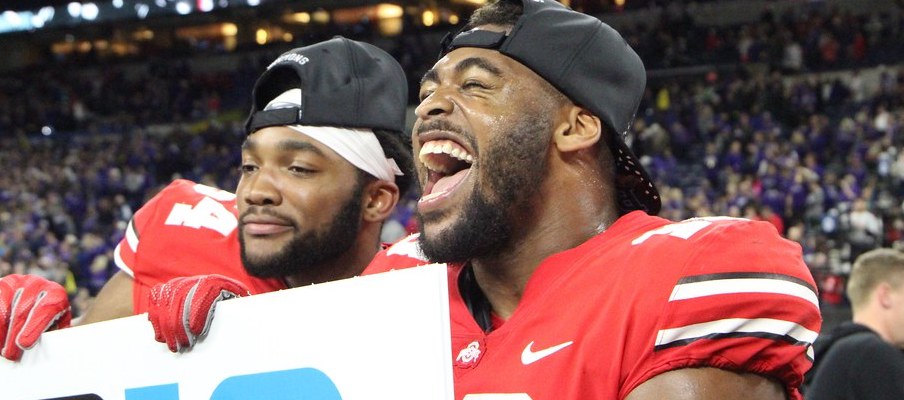 Ohio State DE Jonathon Cooper
His highest-rated teammates
Overall: Jerry Emig
You might be checking a roster for Jerry Emig, but he will not be there. Emig is the Buckeyes' fearless director of athletics communications.
Speed: Jonathon Cooper
Clearly, Cooper is not the fastest player on the team, but he was struggling to choose among all of the "fast guys" on the team, which is on par for the program.
Strength: Tommy Togiai
Chase Young would agree with Cooper on this one. Young said this spring that Togiai is "by far" the strongest Buckeye.
How he rated himself
Overall: N/A
Speed: N/A
Strength: N/A
Cooper is considered a leader on the team, which is why he evaded most of the questions about rating his teammates and didn't rate himself. He is looking at what could be his best season yet, as all of his 13 career starts so far came in 2018, when he recorded 6.5 tackles for loss and 2.5 sacks.
Penn State P Blake Gillikin
His highest-rated teammates
Overall: Yetur Gross-Matos
Gross-Matos was named First Team All-Big Ten as a sophomore and became the 11th Nittany Lion to record 20 tackles for loss in a season. He had just four tackles and one tackle for loss against Ohio State last year.
Speed: KJ Hamler
Ohio State fans know Hamler as the receiver that scored a 93-yard touchdown against the Buckeyes last year. He recorded 128 receiving yards in that game. Hamler eventually broke Saquon Barkley's record for most all-purpose yards by a freshman, with 1,417.
Strength: Steven Gonzalez
Gonzalez is going into his senior season and plays primarily right guard. He has started all 26 games between his sophomore and junior season and started three games during his freshman season, though he appeared in 11.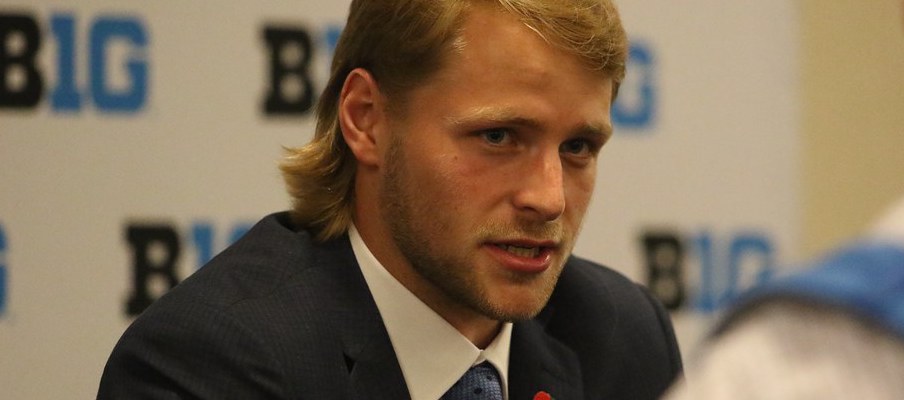 How he rated himself
Overall: 75
Speed: 75
Strength: 75
Gillikin told Eleven Warriors to "just give (him) 75s for everything" because, yeah, he's a punter.
Purdue OLB Markus Bailey
His highest-rated teammates
Overall: Rondale Moore
If there is one player being talked about the most within the conference going into the 2019 season, Rondale Moore is probably the one. Moore recorded 1,471 all-purpose yards as a freshman, including 170 receiving yards against Ohio State. He scored two touchdowns in that game as well.
Speed: Kenneth Major
Major made his debut in 2018 at cornerback as a redshirt freshman, where he started seven games and appeared in all 12. He totaled 55 tackles and had the most interceptions on the team with three. He recorded a season-high 12 tackles against Ohio State.
Strength: N/A
How he rated himself
Overall: 80
Speed: 80
Strength: 80
Markus Bailey, a Columbus native, led the Boilermaker defense last season from the linebacker position. He totaled a team-high 115 tackles and 5.5 sacks. He was second on the team in tackles for loss, with nine. Bailey will be an NFL draft prospect in 2020 after signing with Purdue as the No. 45 recruit out of Ohio.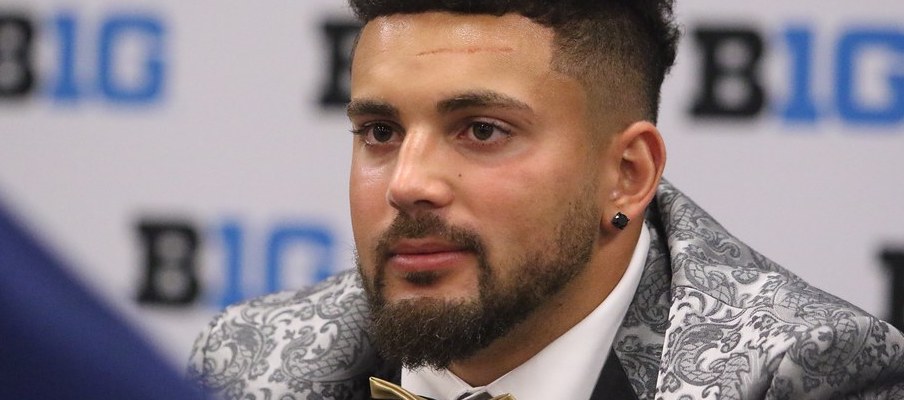 Rutgers LB Tyshon Fogg
His highest-rated teammates
Overall: Saquan Hampton
Saquan Hampton isn't on the team anymore because he graduated, but Fogg said he was the best player he ever played with. Hampton earned the 2018 team MVP award and recorded team-highs with 13 pass breakups and three interceptions. He led the Big Ten with 1.3 passes defended per game in 2018. He recorded just eight tackles against Ohio State in two games.
Speed: N/A
Strength: Zach Venesky
Zach Venesky has played just nine games in two seasons and is already a redshirt senior in 2019, but his teammates named him a captain. Venesky was a youth Golden Gloves boxing champion, and his former offensive line coach, A.J. Blazek, told NJ.com he'd be the first teammate picked if there was ever a "throw down."
How he rated himself
Overall: 99.5
Speed: N/A
Strength: N/A
Fogg told Eleven Warriors he would rate himself a 99.5 because nobody is a perfect 100 – which could be the purpose behind the scale only going to 99 in the first place. Fogg recorded 48 tackles and three tackles for loss last season, and against Ohio State, he had two tackles.
Wisconsin LB Chris Orr
His highest-rated teammates
Overall: Melvin Gordon
Okay, so here's an obvious one. Chris Orr said the best teammate he ever played with was Melvin Gordon, who is now one of the top-tier running backs in the NFL. In two games against Ohio State, though, Gordon recorded just 150 yards rushing and no touchdowns.
Speed: Melvin Gordon
Strength: N/A
How he rated himself
Overall: 86
Speed: 83
Strength: 88
Chris Orr initially gave himself a 99 overall, but then he said, "Let's be real" and changed it to 86. Then he went further and gave himself a 78 in acceleration, an 82 in agility and a 92 in awareness, which grades how well a player sees the field around him. He played in 13 games last season and started just one.