Ohio State released 225 pages worth of text messages and 1,840 pages of emails on Friday that were reviewed in last August's investigation into Urban Meyer and Zach Smith, and many of them had little to do with Smith and the subject matter that was actually investigated last summer.
The text messages did reveal that Meyer expressed concerns about Smith's job performance in 2017 before ultimately opting to retain him for the 2018 season until Smith was fired in July after his ex-wife, Courtney Carano, filed a domestic violence protection order against him. A text message from Meyer to Ohio State president Michael Drake also revealed that Smith was one of four Buckeyes assistant coaches who Alabama was interested in hiring following the 2017 season.
After sifting through the many text messages and emails this evening, here are 10 other things we learned – ranging from details of Ohio State's recruitment of Garrett Wilson to the Buckeyes considering using the Wildcat package after J.T. Barrett's injury against Michigan – from Friday's public records release.
Closing the deal with Garrett Wilson
In a group message with Ryan Day, Smith, director of player personnel Mark Pantoni and assistant director of player personnel Weston Zernechel, Meyer texted that he had a "great talk" with the father of a recruit. The name of the prospect is redacted, but the context of the conversation makes it clear to be five-star 2019 signee Garrett Wilson.
Meyer texted the group on April 23, 2018 that Wilson's dad told him his son is "solid buckeye" and will announce on May 1, but he emphasized to "keep hitting him" on the recruiting trail. Twenty minutes later, Day texted that he has "been sending stats and info all day" and had already talked to Wilson's brother, offensive coordinator and head coach earlier in the day.
"All say Buckeyes but we need to keep after it. This is a major blow for UT," Day texted, referring to the University of Texas.
Smith responded, saying Wilson got "re-ranked a five star." 
Meyer texted on April 24, saying "B careful with 'bump.' Texas is all over." He was referring to the act of visiting a high school during a dead period and happening to run into the recruit to talk to them. 
That same day, Meyer sent a text to Wilson, beginning the conversation by just texting his jersey number: "5." 
Meyer followed up two minutes later by pitching Wilson on the size of the program: "Ohio state is The National University. Only school in America with national following. From Cali to Texas to Fla to New York Buckeye Nation everywhere. Other schools r just regional schools. Ur announcement will be a National story. Forever ur name will be discussed across America. How cool is that!"
Wilson responded in agreement, also mentioning that an "edit" that was in the works, likely referencing his commitment graphic.
Meyer then told Wilson he is his "top recruit in America now." He listed off seven attributes – ability, maturity, intelligence, competitive spirit, character, toughness and leadership – and said he gives a number grade to each of them.
Meyer texted: "U started in the top 5, now that I really know u…..number 1. Get ready for incredible career."

Wilson committed to Ohio State on April 29.
The next day, Meyer texted him, saying, "U r officially in the line up! Let's do this." Four days later, he texted Wilson to say, "Eyes from the league will be on u the minute u step foot on campus 5. U will blow them away!"
On July 20, 2018, Wilson texted Meyer asking him about Smith's situation. Meyer responded: "Yes. They r divorced and don't get along sometimes. It will b fine." Wilson texted back to say he got nervous since he hadn't heard from Smith but appreciated Meyer's response.
Urban responds to Kyle Ford about Zach Smith situation
Urban Meyer reached out to four-star California wide receiver recruit Kyle Ford to ask, "U good?" at 8:44 p.m. on July 23, 2018, the day Smith was fired. Ford, who eventually committed to USC, did not respond, so Meyer followed up a day later.
"Had to deal with coaching staff situation this wk. All good. Focus on team and players!! Grt things on horizon. Wanted to make sure u heard from me. Hope ur well Kyle," Meyer texted at 10:44 p.m. on July 24, 2018.
About three hours later, Ford responded to ask what happened, referring to the Zach Smith situation.
Meyer responded the following afternoon: "I had to terminate Zach Smith. Some domestic issues. Moving frwd. In great place. Coach Hartline will work with WRs. All Good." 
Ford did not immediately respond. Meyer sent him another text message four hours later, saying, "Doesn't get any better...best look in cfb!" He included four photos of players in jerseys, including Nick Bosa and J.K. Dobbins.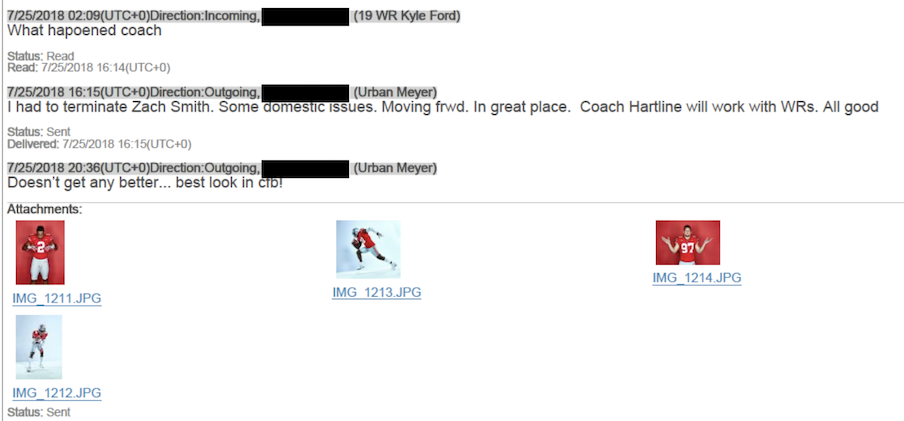 Jason Candle wanted to sit in on Ryan Day's meetings
In April 2018, Toledo head coach Jason Candle reached out to Alex Grinch about the possibility of sitting in on then-offensive coordinator Ryan Day's meetings and visiting an Ohio State practice. Day told Grinch that he was fine with that, but when Grinch texted Meyer to get his approval, the former Ohio State head coach couldn't help but make a joke at Grinch's expense.
"Is he a mt union guy?" Meyer said. "Not big fan of those guys."
Grinch, who played alongside Jason Candle at Mount Union, responded back with a simple message: "The birthplace of College Football."
Laminated USA Today articles
Zach Swartz, the director of creative media and post production, sent Meyer a graphic featuring the football team's academic and on-field accomplishments on June 21, 2018, that he had mentioned in a meeting.
Swartz sent a text with a link to a USA Today article that presumably contained the data or rankings behind the graphic. The article published on July 7, 2017. Swartz then said he checked the "current rankings" and saw Michigan was No. 1, which he said was "something to be aware of."
"Get each coach a laminated copy of article for each office," Meyer texted Swartz.
Donnie Corley Jr.'s dad reached out about his son
Donnie Corley Jr.'s dad, Donny Corley Sr., reached out to Mark Pantoni about the possibility of his son playing for Ohio State after getting kicked out of Michigan State in response to a sexual assault investigation.
Pantoni, texting Meyer and Smith on April 7, 2018, said he did not think the Buckeyes should consider adding Corley to the team.
"Just making aware. Don't think we should mess w it. Would be PR mess," Pantoni said in a text message. 
Within the text, Pantoni forwarded a message from Corley's father, who said Donnie accepted a plea deal, would not go to jail and would not be on the sex offender list. Corley's father continued, asking if he and his son could sit down with the coaches about the possibility of "being a Buckeye."

Smith responded to Pantoni, saying Corley Jr. had reached out to him the prior night on Twitter. He said he did not respond and had planned to broach the subject on the next Monday.
Meyer responded: "Let's discuss Monday. Tell him u will discuss with me. Need to know exact plea deal."
Corley eventually played for Coahoma Community College in 2018 and will continue his football career with Texas Southern this fall.
Meyer sent checklist to offensive coaching staff
In a group message to Pantoni, Smith, Day, Brian Hartline, Corey Dennis, Kevin Wilson, Tim Hinton, Tony Alford, Brian Voltolini, Eron Hodges, Greg Studrawa, Meyer sent a text message on Jan. 5, 2018 with a five-pronged list of items for the offensive coaches to focus on as they entered the offseason.
From Meyer's text, which begins with "Happy 2018!":
"1- RECRUITING; make sure we are in attack mode on current 2018 offensive players still alive. Daily contact made, use of creative team, use of Me and other coaches etc…. Discuss as a staff. Mark (Pantoni) has complete list of 2018 players still unsigned. Review each as staff. Have written up for next Thursday."
"2- RECRUITING #s; we are currently 3 under if we count (redacted) as leaving. So we should have three spots available."
"3- STAFF; Be prepared to present plan for QC/intern/GAs on Tues am."
"4- NFL; still have not heard on (redacted)."
"5- By next Thursday have USc game graded and written up the positives and negatives."
Boston College head coach Steve Addazio was also included in the group of recipients of that text message, but surely Meyer intended to include Addazio's son, Louie, who was a graduate assistant for Ohio State at the time. 
Smith tells Meyer to consider Pat Surtain Sr. as Coombs replacement
Twenty days after Ohio State defeated USC in the 2017 Cotton Bowl, Meyer notified Smith that he would be retaining him on the 2018 coaching staff and told him to only have "grown ass man" conversations. 
While several other assistant coaches were also approached by programs, cornerbacks coach Kerry Coombs took a job with the Tennessee Titans. Just six days after being notified of his retention, Smith suggested Ohio State turn to Pat Surtain Sr., a three-time NFL Pro Bowl selection, as a potential replacement for Coombs.
Meyer replied, "Great thought. Call (Greg) Schiano immediately."

Surtain Sr. was the head coach of American Heritage High School in Fort Lauderdale, Florida, where his son, five-star cornerback Patrick Surtain Jr., was a junior just two weeks away from National Signing Day. 
The day after Smith made the suggestion to Meyer and talked to Schiano, he was in Fort Lauderdale for an in-home visit with the Surtains, where he asked Meyer if he was available through FaceTime. Whether Meyer made that FaceTime call is unknown, but Meyer asked Smith through text whether Ohio State had "little shot" or "none" to land Surtain Jr.'s commitment.
Smith replied that the Buckeyes were trailing LSU and Alabama, but weren't "out of it yet." Surtain Jr. committed and signed with Alabama two weeks later, and Ohio State did not hire Surtain Sr.
Michael Drake congratulates Urban after Penn State win
After Ohio State's spectacular 39-38 win over Penn State in Ohio Stadium in 2017, Ohio State president Michael Drake made sure to reach out to Meyer and let him know how impressed he was by the Buckeyes' fourth-quarter comeback.
"I closely follow the games of course, and rarely clutter your inbox with comments," Drake said in a text to Meyer on Oct. 29, 2017. "Today, however, the focus, commitment, and execution were a great example of the life lessons I try to emulate and teach everyday. Proud of our program, and our young men. Well done, Coach."
Other text messages between Meyer and Drake included a Happy Thanksgiving text from Drake in November 2017, and correspondence between Meyer and Drake in June 2018 setting up a meeting between Drake and the parents of a recruit who was making a visit during Friday Night Lights weekend.
Urban Meyer told coaches to get Wildcat ready
Urban Meyer was presumably preparing to take on Wisconsin without J.T. Barrett in the 2017 Big Ten Championship Game.
A day after Barrett injured his knee in Ohio State's 31-20 win over Michigan, Meyer texted Kevin Wilson and Zach Smith to prepare the wildcat formation.
"Need to get wild cat ready for short ydg and jump pass off it. (Redacted player) is best 'ball guy'," Meyer said.
"Got it," Wilson replied.
They ultimately didn't need the Wildcat package as Barrett played in the 27-21 win over Wisconsin a week later.
Meyer refuses to offer impermissible benefit
In a text message to Smith, Meyer seemingly refused to offer a player impermissible benefits to secure his commitment, suggesting that they will move on if that's what he is seeking.
"I think we need to b clear with this guy that we r straight as an arrow and move on if he is looking for something," Meyer told Smith.
"I agree and have been clear with him," Smith replied. "I don't think he's asking for anything but I will make it crystal clear!"
The player's name was redacted, but the conversation took place on July 15, 2018.