Exactly one year after Ohio State formed an independent working group to lead its investigation into then-head football coach Urban Meyer and wide receivers coach Zach Smith, the university released the full cache of text messages and emails on Friday that were reviewed in the independent investigation, in response to public records requests.
While many of the messages were redacted – in accordance with FERPA, HIPAA and attorney-client privileged communications – and did not reveal much new or groundbreaking information about the actual investigation that had not been revealed before, the texts showed that Meyer had expressed concerns about Smith's job performance on several occasions in the year leading up to his firing last July.
On Sept. 12, 2017, three days after Ohio State's 31-16 loss to Oklahoma that season, Meyer texted Ohio State director of player personnel Mark Pantoni asking him to check assistant coaches' phones, specifically mentioning Smith "to make sure he is talking to (redacted) etc. weekly checks and address it."
Three days later, Meyer texted Smith telling him that he needed "to clean up all issues with routes."
"It will be cleaned up," Smith responded. "We will get it done."

On Dec. 5, 2017 – three days after the Big Ten Championship Game, a time that the Buckeyes' assistant coaches would have been on the road recruiting to close out their class of 2017, Meyer texted Pantoni again and told him, "Just checkin on zach smith. Make sure he is working," to which Pantoni responded that he had expressed concerns to Smith, as well.
"I ripped his ass yesterday morning so he knows I'm all over him," Pantoni said. "He texted me back right away at 6:45 am this morning and Kerry is w him today."

On Dec. 24, 2017, five days before the Buckeyes played USC in the Cotton Bowl, Meyer texted Smith asking "We r reviewing scripts. where r u?" Meyer also sent a text one minute earlier, in a text message exchange that was otherwise redacted, that instructed an unidentified recipient to "Keep eye on zach. He is not here. Need to make (sure) his guys play well. I will say something as well."
Following the 2017 season, there were rumors that Meyer had instructed Smith to look for other jobs. According to other text messages from Meyer uncovered in the public records release, Smith said he – among other Ohio State assistant coaches at the time – received a job offer from Alabama to become the wide receivers coach and passing game coordinator (Alabama coach Nick Saban said Saturday that he did not actually offer Smith a job, though he did interview him.)
Despite the concerns he had expressed with Smith, though, he decided to retain Smith – the only member of his original Ohio State coaching staff who was still on staff at the time –because of the time he had invested in developing Smith as a coach.
"After much thought, I want u to stay," Meyer texted Smith on Jan. 18, 2018. "I have personally invested far too much in u to get u in position to take next step. U need to step away from other situation and let's go win it all... again.
"We got u thru the shit – now go b a difference maker in the staff room," Meyer added.
In a later text, Meyer expressed confidence that Smith could continue his development into becoming an offensive coordinator, but made it clear that he expected Smith to improve upon his attention to the job.
"From his point forward...All grown ass man conversation, never again childish shit….use ur gifts and knowledge," Meyer said. "Cell phone away-full engagement and become a coordinator. U have the ability."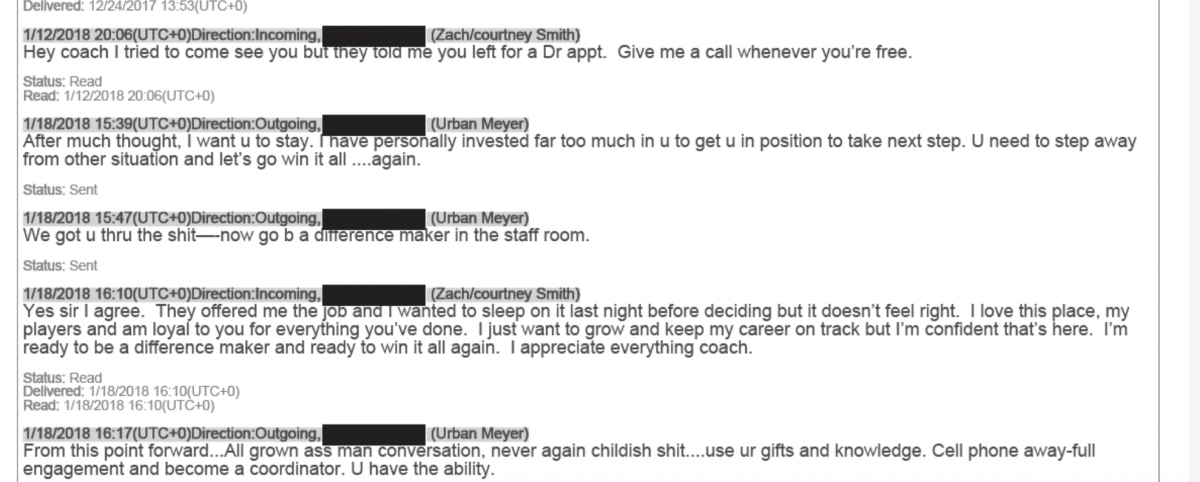 On Jan. 22, 2018, Ohio State director of sports performance Mickey Marotti texted Meyer, Smith and Brian Hartline (who was a quality control coach at the time), saying that "all of our skinny wideouts weren't even close to goal weights today. You might want to do something with them over the weekend. They have to gain muscle get stronger and be big."
Meyer texted and said, "Hav to get this fixed," and Smith replied, "Will get it done."
In February 2018, Smith agreed to a one-year contract worth $340,000, a $40,000 increase from his 2017 salary. He was still the lowest-paid assistant coach on Ohio State's staff at the time.
Even so, Meyer put more responsibility on Smith's plate. On June 4, 2018, Meyer texted Smith informing him that he would be in charge of the Buckeyes' 2018 recruiting class, which had previously been Kerry Coombs' responsibility before Coombs left the staff in January 2018 to become the Tennessee Titans' secondary coach.

Less than two months later, Smith's Ohio State tenure came to an end after his ex-wife Courtney Carano Smith filed a domestic violence protection order against him.
"All–I made a decision to release Zach from staff," Meyer said in a text message to general manager Brian Voltolini, which he instructed Voltolini to share with the rest of the staff. "Core value violation and cumulative issues. "Win the Moment"-most important thing is team and players at this time. Zero conversation about Zach's past issues."