Several of the nation's top college football programs and NFL teams attempted to hire several assistant football coaches away from Ohio State following the 2017 season, text messages released by Ohio State on Friday revealed.
Programs from across the country including Alabama, UCLA and Mississippi State tried to lure Zach Smith, Ryan Day, Greg Schiano, Kerry Coombs and Alex Grinch away from Ohio State's staff, according to text messages released by the university in response to public records requests related to last August's independent investigation of Urban Meyer and Zach Smith.
In a text message to Ohio State president Michael Drake, Urban Meyer revealed the following attempts were made to poach Buckeye assistants from his staff:
Greg Schiano was offered jobs at Alabama, Texas A&M, Florida State and "three jobs in the NFL"
Zach Smith was offered a job at Alabama
Ryan Day was offered (presumably as an offensive coordinator) at UCLA and with the Tennessee Titans as well as a head coaching position with Mississippi State.
Kerry Coombs was offered a job at Alabama and "the NFL"
Alex Grinch was offered jobs at Alabama, UCLA and Mississippi State.
"Thank u for all ur support with my coaching staff," Meyer texted Drake. "The current market and aggressiveness of the business has never been like this."
According to Meyer, all were jobs that would "pay significantly more" than they made at Ohio State, but other than Coombs – who left the program to join Mike Vrabel's Tennessee Titans staff – all remained because "they luv Ohio State."
Meyer also sent a text message to a redacted recipient asking if they should leak news that Alabama tried to hire Schiano, Grinch and Smith and all turned them turned them down. Meyer questioned whether it would give them a recruiting advantage.
The texts went into greater detail about Alabama's offer to Smith, revealing that Meyer considered telling him to take the job.
"Zach smith was offered wr/passing game Coord at Alabama," Meyer said in a text message to a redacted recipient. "At first I thought maybe he should go then decided that all effort I've put u to him and it's Alabama. I told him to stay and he turned it down."
Alabama head coach Nick Saban said Saturday, however, that while he did interview Smith for a job after the 2017 season, he decided not to offer Smith the position after Alabama completed a background check on Smith.
"We talk to a lot of coaches about a lot of things," Saban said. "I really never did offer this guy a job. We did interview him and he did a nice job in the interview. But it was when we did the background check that we decided that there was a better opportunity to hire somebody else, and that's what we did."
Did #NickSaban offer Zach Smith (@OhioStateFB) a job in 2018? His response "I really never did offer this guy a job, but we did interview him" - Saban @WBRCnews pic.twitter.com/vSpDoKMAPN

— ChristinaWBRC (@ChristinaWBRC) August 3, 2019
The documents released Friday also include the text message conversation on Jan. 18, 2018, in which Meyer tells Smith not to take the Alabama job, saying "I have personally invested far too much in u to get u in position to take next step."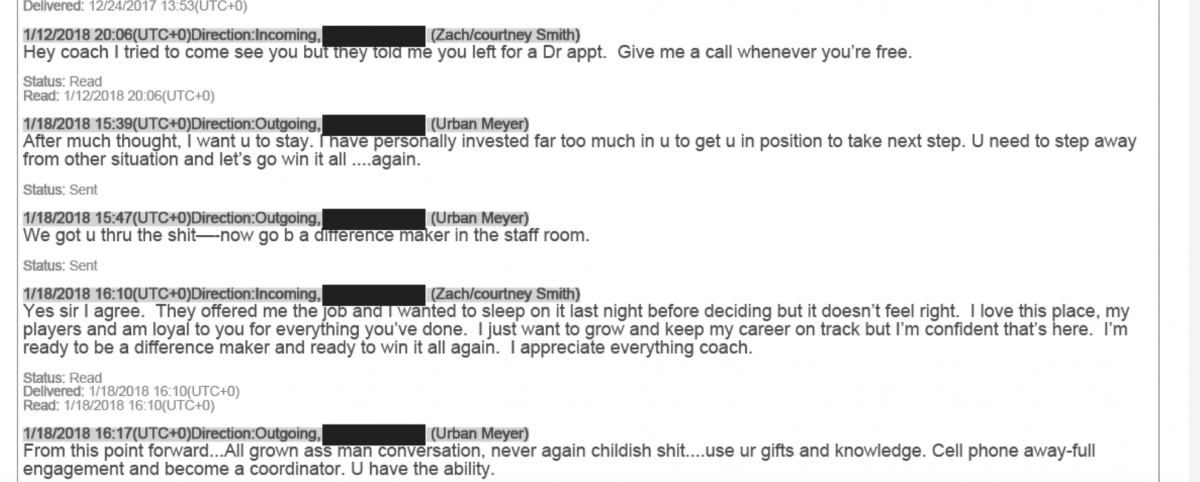 Smith was fired by Ohio State just over six months later, on July 23, 2018, after his ex-wife Courtney Carano Smith filed a domestic violence protection order against him.
The messages also reveal that Vrabel offered Day the offensive coordinator job with the Tennessee Titans and that Vrabel was "Going after him real hard."
"Every f–––––– day it's something," Meyer said about the poaching attempts.
This story has been updated with Nick Saban's comments on interviewing Zach Smith for a job at Alabama.