​The 1990s brought Penn State into the Big Ten and welcomed the rise of both Wisconsin and Northwestern as annual contenders.
But none of those shifts in the college football landscape mattered to the new boss, who happened to be the same as the old boss. That tumultuous decade still belonged to the Michigan Wolverines.
They won the conference outright three times, were gracious enough to share the crown in three other seasons, won a national title and produced two Heisman Trophy winners at the state of Ohio's expense. Michigan also weathered the retirement of its greatest non-Yost colonel, the hasty resignation of his protégé-successor and we haven't even gotten to its sparkling record on the final Saturday of November yet.
So yeah, the 1990s were very good to Ann Arbor. Everything changed except Michigan football, which remained as cruel and competent as it had since its only reset shortly after Beatlemania. Surviving the Nineties was a good sign that this particular member of the old guard was future-proof.
DURING THE 20th century exactly one Ohio State team with four losses BEAT MICHIGAN. By 2004 Jim Tressel's first recruiting class had done it twice.
Notre Dame finally petered out while new regional contenders emerged. Virginia Tech and Oregon decided to participate on a national level. Ohio State's talent stockpile skyrocketed back to near-Hayesian levels, burdened only by scholarship limits and cold weather puckering. College football coverage and visibility exploded as ESPN began serving up games that used to be watched exclusively on the radio or in newspapers.
If you were good, everyone got to see it. Michigan's color television present neatly overlapped with its yellowed newspaper past.
The team of the early century was the team of the late century, and it was the winningest of all time, the entire time. It went wire-to-wire in the 1900s with only a few forgivable blips. It had a commanding record over every program that considered the Wolverines their rival, which was most of them. All of their peers were looking up, and the early 2000s delivered more of the same.
Michigan claimed all or a piece of three of the 21st century's first five conference crowns, even with a losing streak to Ohio State for the first time in 20 years (!) and an inconvenient BCS title sprinkled into the span. The Big Ten was still experiencing The Usual, which was Michigan near or atop the pileup and everyone else just trying to stay relevant into November, Jim Tressel's scrappy underdogs included.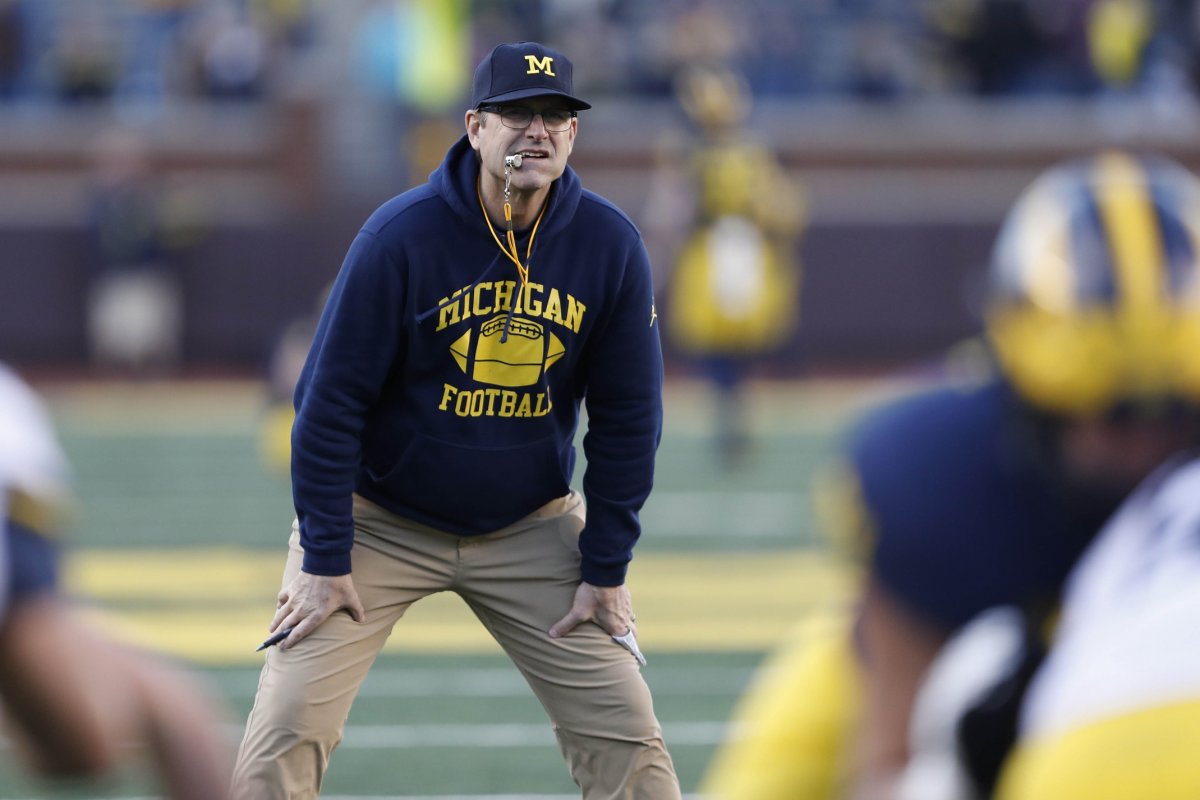 The program was still future-proof when it entered Ohio Stadium in 2004 as presumptive Big Ten champions with a glittery and dynamic all-freshman backfield. That afternoon the favored Wolverines were walloped by a mediocre Ohio State team for the second time in four years.
This game could have been a blip in time; an outlier in an otherwise normal distribution. It is both too easy and predictable for Ohio State fans to plant a flag on that Saturday and take credit for everything that's happened to Michigan football in the 15 years since Ted Ginn and Troy Smith claimed Ann Arbor for Cleveland Glenville.
But the conclusion of 2004 was a clear break separating the Michigan football team I still fear - childhood scars are permanent - and the one today's recruits only learn about on their recruiting visits or in YouTube wormholes. Our perspective is biased as hell, but it's just as measurable.
When the 20th century ended exactly one Ohio State team with four losses entering The Game had ever gone on to win it - and that was the one Earle Bruce coached the week he was fired. By 2004 Jim Tressel's first recruiting class had done it twice.
The Wolverines had only lost to the Buckeyes two times during the 1990s, which was an era not exactly bereft of formidable Ohio State teams. A half-decade later Michigan was sending the mediocre ones off to the Alamo Bowl with momentum. This was not only not normal, it was unprecedented.
We're suckers for executive summaries and clean explanations, but there are just as many factors contributing to what happened to the Big Ten's flagship program as there were harmlessly deflecting off of it during the Michigan Decade. Athletic department economics became a lot more conspicuous right around the time the Bowl Coalition became the Bowl Championship Series. Over-reliance on past performance reduced vigilance toward ensuring future returns.
Ohio State hired well twice and weathered every storm. Michigan State separated itself from a legacy of chronic underachievement. These are all external factors, and Michigan was insulated from any of them having an adverse impact on operations or results. Their slide was created entirely from within. Michigan is future-proof. It just wasn't hubris-proof.
Boards hire athletic directors. ADs hire coaches. Coaches hire staffs. Staffs recruit players. Any disruption or error in that cadence is going to have consequences, but Michigan wrecked itself all across the chain of command over the past two decades and survived becoming Indiana purely because of the foundation its mistake-makers inherited.
Every bit of this is possible in Columbus. As the century's second decade closes, Michigan's current highlights are stuck in the 1990s - Desmond's Heisman pose in victory, Charles Woodson taking punches from David Boston in victory, Tom Brady largely playing behind Drew Henson in victory, everything in standard-definition victory.
As the century's second decade closes, Michigan's current highlights are stuck in the 1990s.
Similarly, Ohio State's current highlights during the Michigan decade were stuck in the 1960s and 1970s. Woody was still very much alive long after he had passed, and the grainy good ol' days were just a year or so from returning, which is why we were stuck on them. A Rose Bowl briefly teased us, and then the 2002 season created a whole new archive. Ohio State's current highlights have been renewed each season for most of the current century.
That's easy to take for granted, considering the two decades the Buckeyes have had. But Michigan was a top five team nationally throughout the 80s and 90s - and that was coming off the 10-Year War where the only thing standing between it and immortality was Ohio State. Its run outpaced the one the Buckeyes are currently on, which made the cliff the Wolverines tumbled off of that much higher. 
So it's easy to be anxious in the unknown that lies ahead as Ohio State transitions regimes once again, considering what's happened at Michigan (and Florida State, and Tennessee, and every program in Los Angeles - it's a big, terrifying world out there). The anxiety is justified, especially as another Ohio State Decade comes to a close and puts more distance between the present and the 1990s.
No program stays elite forever. It can and will happen here. The only question will be if it can be contained as one of a few forgivable blips - or grow malignant and become a defining era. If you're somehow unsure of what the latter is like, just look north.