With three of the last eight Big Ten Freshman of the Year awards residing in Columbus, it's always worth a look to see which newcomers might be next in line to bring home the hardware. 
Braxton Miller (2011), J.T. Barrett (2014) and Mike Weber (2016) turned the trick most recently and the Buckeyes actually own nine of the last 32 conference freshman sensation awards dotted by names like Terrelle Pryor (2008), Maurice Clarett (2002), Andy Katzenmoyer (1996), Orlando Pace (1994), Korey Stringer (1992) and Robert Smith (1990). 
This decade's three winners featured one true freshman and two redshirt freshman. 
BRAXTON MILLER - 2011
A true freshman out of Huber Heights, Miller arrived with a ton of fanfare and did not disappoint, showcasing a freakish athleticism that was just about the only thing to get excited about on a team that went 6-7 after Jim Tressel's departure the previous May. 
Lacking polish as a passer, Miller completed just 54.1% of his throws for 1,159 yards but did post a solid ratio of 13 touchdowns against just four interceptions for a predictable, plodding offense whenever Miller wasn't doing Herculean things with his feet. 
On the ground, Miller led the team with 715 rushing yards and seven touchdowns giving Buckeye fans a glimpse of the magic to come in the following years. 
Despite the offense's shortcomings, Miller tallied 1,874 total yards and 20 touchdowns.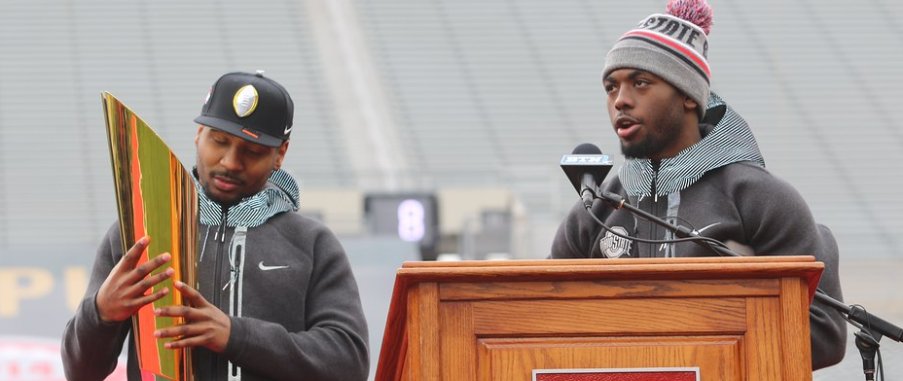 J.T. BARRETT - 2014
Two weeks before Miller was set to begin his senior season, a shoulder injury forced him to the sidelines paving the way for J.T. Barrett to become the starter. 
A redshirt freshman coming off his own serious injury, Barrett struggled early throwing four interceptions in his first two games including an embarrassing home loss to Virginia Tech but the Texas product caught fire from there tossing 17 touchdowns against only one pick over his next four outings. 
Before his season was cut short with a broken ankle suffered in the fourth quarter of Ohio State's 42-28 win over Michigan, Barrett threw for 2,834 yards and 34 touchdowns against 10 interceptions while logging at least three scoring tosses in seven games and four outings of at least 300 yards threw the air. 
Barrett added another 938 yards on the ground including 189 against Minnesota while going 11-1 as a starter in a season for the ages. 
MIKE WEBER - 2016
A Top-100 recruit out of Cass Tech in Detroit, Mike Weber was poised to make noise as a true freshman in 2015 before a meniscus tear in fall camp ultimately led to a redshirt during his first season in Columbus. 
After Ezekiel Elliott's departure following the 2015 season, Weber entered 2016 as the starting tailback and a year of maturation combined with a return to health helped him earn conference honors as the league's top freshman. 
Weber ran for 136 yards in the season opener and eclipsed the 100-yard barrier in three of his first four outings on the way to 1,096 rushing yards, becoming just the third freshman running back in school history to reach the 1,000-yard mark. 
A season highlight came as he went for 123 yards on 18 carries against Oklahoma and Joe Mixon in a 45-24 Buckeye victory. 
---
Heading into the 2019 season, the Buckeyes with the best shot to make a run at the Big Ten Freshman of the Year award appear to be Garrett Wilson, Jaelen Gill, Nicholas Petit-Frere and Zach Harrison. 
GARRETT WILSON - WIDE RECEIVER
A true freshman out of Lake Travis High School in Austin, Texas, wide receiver Garrett Wilson grew up in Dublin, Ohio. 
The first early enrollee to shed his black stripe this past spring, Wilson has turned heads since his arrival thanks to sticky hands and body control beyond his years. 
His skills were on display in the spring game as he caught four balls for 44 yards including an acrobatic 18-yard touchdown grab in the right corner of the end zone off a fade route. 
At 6-foot-1, 186 pounds, Wilson will see time as one of Ohio State's top four outside receivers, currently slotted behind Chris Olave at the Z spot. 
The second-ranked wideout in the 2019 class, Wilson is by all accounts extremely coachable and humble which should only help his ascension into Ohio State's plans. 
JAELEN GILL - H-BACK
A redshirt freshman out of Westerville, Jaelen Gill saw action in just two games last year tallying one catch for 11 yards on 15 total snaps. 
This year the No. 30 overall prospect in the 2018 class appears locked in as the backup to K.J. Hill at H-back and with new quarterback Justin Fields assimilating to a new offense, it's likely the H-back spot could see plenty of check down activity especially in the early going. 
Similar to Parris Campbell, who enjoyed a 1,000-yard receiving season in 2018, Gill arrived at Ohio State as a running back and has since converted to a hybrid role. 
Beyond what he might be able to do on offense, Gill should figure into Ohio State's plans on special teams as a punt and kickoff return man. 
Gill looked to be the No. 1 punt return option this spring, replacing Hill, on a unit that hasn't ranked in the top 70 over the last three seasons in punt return average. 
On kickoffs, Demario McCall could be the primary return man but Gill could also emerge within that unit over the long haul.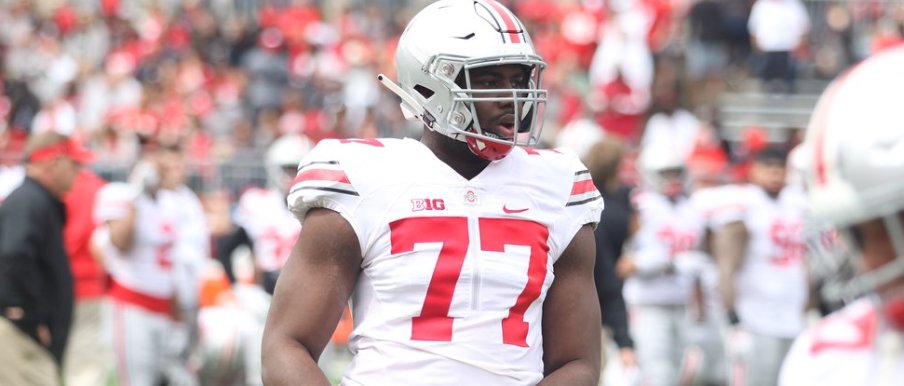 NICHOLAS PETIT-FRERE - RIGHT TACKLE
Another redshirt freshman, offensive tackle Nicholas Petit-Frere arrived in Columbus as the final member of the 2018 class. 
The No. 1 tackle prospect in the nation last year, Petit-Frere saw action in three of the first four games last fall, logging 72 snaps, before taking a redshirt with a focus on gaining weight. 
Now in the midst of an 8,000 calorie per day diet, Petit-Frere turned in a solid spring emerging as the apparent starting right tackle ahead of veteran Branden Bowen. 
As such, we're in the midst of a huge summer for Petit-Frere. If he can continue his weight gain while maintaining elite footwork, Ohio State could have a linchpin on its hands for the next few seasons and one that could make major noise in his first-year as a starter. 
ZACH HARRISON - DEFENSIVE END
This one probably a bit more of a long shot despite the talent and hype after Harrison enrolled early as the No. 2 ranked strong side defensive end prospect and No. 12 overall blue chip in the nation according to 247. 
Following a solid spring camp, Harrison looks like a top-four defensive end, provided he can hold off Tyler Friday, and could back up Chase Young and see additional rotational duty in Larry Johnson's Rushmen package.