Ohio State's coaching staff is full of assistant coaches who have been in positions of power on previous staffs and/or have reasons to believe they should be on the Buckeyes' staff.
Offensive coordinator Kevin Wilson used to be the head coach at Indiana. New quarterbacks coach and passing game coordinator Mike Yurcich was previously the offensive coordinator at Oklahoma State, while offensive line coach Greg Studrawa served as offensive coordinator at LSU and Bowling Green. Running backs coach Tony Alford has been coaching at the Football Bowl Subdivision level since 1996 and holds the title of assistant head coach for offense.
Greg Mattison has more than four decades of coaching experience, including more than 15 years as a defensive coordinator, while fellow co-defensive coordinator Jeff Hafley spent the past seven years coaching in the NFL. Defensive line coach Larry Johnson was recently promoted to associate head coach and also has more than four decades of coaching experience.
Each of those seven assistants have more years of coaching experience than Ryan Day, who is not only entering his first season as Ohio State's head coach, but his first season as a head coach anywhere.
All of those are reasons to wonder about the dynamics of Ohio State's new coaching staff, and whether could be internal power struggles in regards to who calls the shots on offense and defense for the Buckeyes this season.
Day, however, doesn't expect that to be an issue. To the contrary, Day believes his assistants' previous leadership experience will help them avoid power struggles, because they understand each other's roles and how to help each other be successful.
"I think that when you're in a leadership role, you understand what it takes to be a good coordinator, a good position coach, and you respect it more," said Day, who was previously Ohio State's offensive coordinator and quarterbacks coach before replacing Urban Meyer as head coach. "I think when you are a coordinator and you're working with other guys, you recognize things that 'Hey, if I'm an assistant coach, this is what I'll do to help out.' And I think it makes your team stronger."
None of the assistant coaches expect there to be power struggles, either, and many of them answered with the same reason when asked about the staff dynamics this spring: No one on the staff has a big ego.
"The staff is not a staff made up of a bunch of egos, and that's what really, really kind of hurts staffs," Mattison said. "This staff here is truly a staff that wants Ohio State football and the players we're dealing to be the very, very best they can be, and you feel that every day you come in. And I love it."
Meshing as a staff this spring is particularly important for the Buckeyes on the defensive side of the ball, where Johnson is the only returning coach from last season. As they make schematic adjustments and look to make a big turnaround after what was statistically one of the worst defensive seasons in Ohio State history last year, it's crucial for everyone to be on the same page.
With his extensive experience as a defensive coordinator and his standing as the highest-paid assistant coach on the staff, Mattison seems likely to be the one who ultimately wields the most responsibility in calling defensive plays. But Hafley holds an equivalent co-defensive coordinator title, while Johnson is also expected to be even more of a leader for the staff than he was before, meaning they will all – along with linebackers coach Al Washington and assistant secondary coach Matt Barnes in supporting roles – have a significant influence on the defensive scheme and game planning.
Mattison believes he and Hafley carry responsibility as coordinators to be leaders for the staff, but that doesn't mean he believes either or both of them should unilaterally decide what the Buckeyes should do defensively. Instead, he believes their responsibility is to facilitate collaboration with the rest of the staff to formulate the best plans for Ohio State's defense.
"I think when you're a coordinator, that's what the word coordinator means; it means coordinate great people's ideas," Mattison said. "A coordinator to me has never been a guy that comes in here and is going to say 'You're going to do this, this, this, this, this, listen to me and let's do it.' A coordinator is a guy that coordinates other people's ideas and coordinates other ways of doing things and being a co-coordinator with Jeff, that's what we do."
Hafley agrees with that assessment and believes the communication among the coaching staff has been "outstanding" thus far.
"I think we got a great staff," Hafley said. "We got no egos. We go into the staff room and we talk. No one gets sensitive. Coach Day's put together a really good group of guys. As good as anywhere that I've been."
"This staff here is truly a staff that wants Ohio State football and the players we're dealing to be the very, very best they can be, and you feel that every day you come in."– Ohio State co-defensive coordinator Greg Mattison
On the offensive side of the ball, Yurcich is the only newcomer on the staff; the rest of the Buckeyes' offensive coaches – including Brian Hartline, who was a quality control coach before he became wide receivers coach last season – have all been at Ohio State for at least the past two years. That means there's already a strong chemistry that's been built among those coaches, who led an offense that ranked second in the FBS in yards per game last season.
There are new dynamics at play this year, as Day plans to continue calling offensive plays even though he is now the head coach – which takes some control away from Wilson and Yurcich that they might otherwise have as coordinators. Wilson isn't worried about power, though, because he believes they are all working toward a common goal: having one of the best offenses in the country once again.
"Even though we got titles, I feel we're all working together," Wilson said. "All sometimes you do is you're thinking out loud. Some of your thoughts aren't good thoughts. How about this? That's not a good thought. But when you respect everyone's opinion, and then you come to a decision, you work together, life's good. It's not about who's right, it's what we do."
Ohio State's offensive assistants say Day is clear in explaining what his vision is for the Buckeyes' offense, and sets the framework for what he wants the Buckeyes to accomplish in that phase of the game. They also say, though, that he allows them to put their imprint on the offense and trusts them as leaders of their respective position groups.
"He allows us to coach, and own our rooms if you will," Alford said. "And that's not saying that Urban didn't. But that's what Ryan's done. He's not micromanaging things."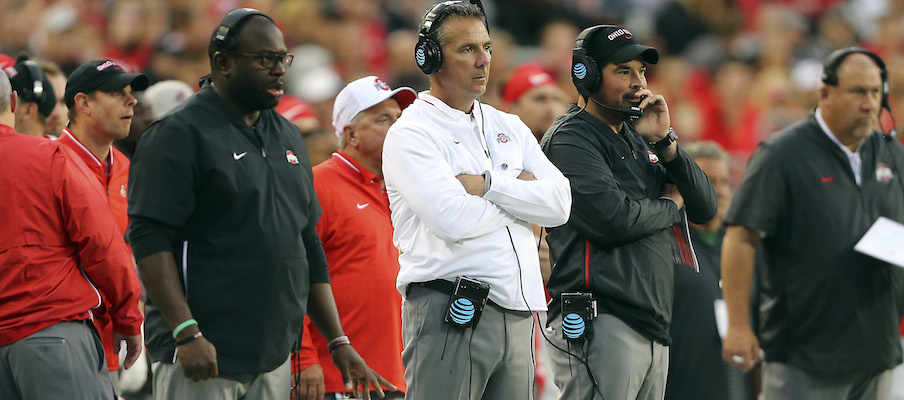 Wilson says that all of the offensive assistants regularly share their input and have an influence on game planning and play calling.
"Typically, we all kind of do it together," Wilson said on March 29. "Like yesterday, (Day) came in and said, 'Hey, here are things I like.' And Coach Stud saying, 'Hey, and by the way, give me this run or this run.' Or Coach Hartline saying, 'Hey, I like this pass and this pass.' So ultimately, it's a group deal. Ultimately, still he's the head coach. Ultimately, still an offensive-oriented guy. So we're going to follow his lead, but through that me and Mike with the skill guys and even Stud with the big guys, we're kind of blending it together."
Studrawa said he has been on coaching staffs in the past where the head coach or coordinator felt as though he had all the answers, which prevents everyone – including the players – from being on the same page. With Day and Wilson and the rest of the Buckeyes' coaching staff, however, he's had no such issues.
"When we leave that room, we're all on the same page," Studrawa said. "We leave that room, we're all out here, we know exactly what's going to be executed, we know exactly what's expected of our guys. There's no, 'Well, I thought I wanted to do this.' None of that. That's zero."
From Day at the top to the coaching staff across the board, there's a shared belief in collaboration and making sure that everyone has input, and they believe that's what will ultimately allow them to put their players in position to be successful.
"Anything you're trying to accomplish in life, if one guy's trying to pull one way for the betterment of him, it's not going to help us, right?" Hafley said. "I think in all aspects of life, if you're dealing with people that have to come together for one common goal, if there's no egos, you have a fighting chance. And right now, it's been pretty good."