New head coach. New quarterback. Four new assistant coaches. 
Though Ohio State returns 15 starters, including nearly its entire defense, it experienced a sizable amount of turnover this offseason. The Urban Meyer and Dwayne Haskins eras ended simultaneously, and the Ryan Day and Justin Fields eras will begin together shortly.
With so much change comes many questions, some of which will be answered by the spring game on April 13. Let's dive into the five biggest unknowns as spring practice begins this week.
How quickly does Ryan Day name Justin Fields the starter, and how do quarterbacks split reps?
Let's get the Matthew Baldwin portion of this question over first. Can Baldwin win the starting job? Sure. There's a chance. 
But is Fields the overwhelming favorite to start against Florida Atlantic on Aug. 31? Absolutely. Unless something drastic happens or changes, Fields will start. 
Day hasn't spoken publicly about how he will handle the quarterbacks in the spring since two days before Fields became eligible on Feb. 8. How he and Mike Yurcich determine reps in spring practice will play an important role in maximizing the preparedness of Fields
Last year, Day said multiple times that Haskins would not have been ready to start in 2017, his second year in the program and first year with Day. But Fields won't have nearly as much time to learn the offense as Haskins had, even though high expectations remain.
"It doesn't just happen," Day said on Feb. 6. "What happened last year with Dwayne Haskins is an anomaly. Someone to step in 14 games, projected to be maybe the first quarterback taken in the draft, third in the Heisman. That just doesn't happen. Someone doesn't just step in and do that. No, I mean, the expectations are obviously that we're going to be really good and repeat what we did. But that's not just going to happen. It's going to take a lot of hard work, it's going to take a lot of adjusting on the move."
In order to prepare Fields for the 2019 season, it'll be pertinent for Ohio State to give him as many reps in the offense this spring as possible.
But Day doesn't seem likely to simply hand the offense over to the Georgia transfer especially quickly. He'll want Fields to earn the job and beat out Baldwin. In doing so, though, practice snaps for Fields might diminish. It'll be a tough – yet important – line for Day and Yurcich to walk.
How do Ryan Day and the new coaching staff mesh together?
Five assistant coaches remain, five assistant coaches were hired and Ryan Day received a promotion from offensive coordinator to head coach. To break it down further, Day hired four new assistants on defense – only keeping Larry Johnson as defensive line coach – and hired one new assistant on offense, replacing himself with Mike Yurcich.
On offense, the main thing to keep an eye on will be how Day operates. Every offensive assistant coach from last year's staff returned, and it added Yurcich. With Day at the helm, it's unlikely he'll stray too far from the offensive decision-making. How much will he change his approach and time spent with the offense? That part, we don't yet know.
The defensive staff has significantly more uncertainties.
Johnson doesn't need any help up front, so where will Greg Mattison spend his time? He hinted at the press conference that he might focus more time with the linebackers, but he doesn't have any assigned position group.
Mattison and Jeff Hafley's relationship will be arguably the most important on the staff, and they need to mesh in order to resuscitate a defense that had a rough 2018 season. Hafley and Matt Barnes also have to figure out how to split up responsibilities in the secondary.
How does Al Washington maneuver the linebacker situation?
When Al Washington spoke to the media on Feb. 6 in both his first and only public comments since taking the assistant job at Ohio State, not even the new linebackers coach seemed quite sure yet how he'd handle his unit in the spring.
As of now, there's only one certainty about Ohio State's linebackers: Malik Harrison will start. Beyond that is anyone's guess.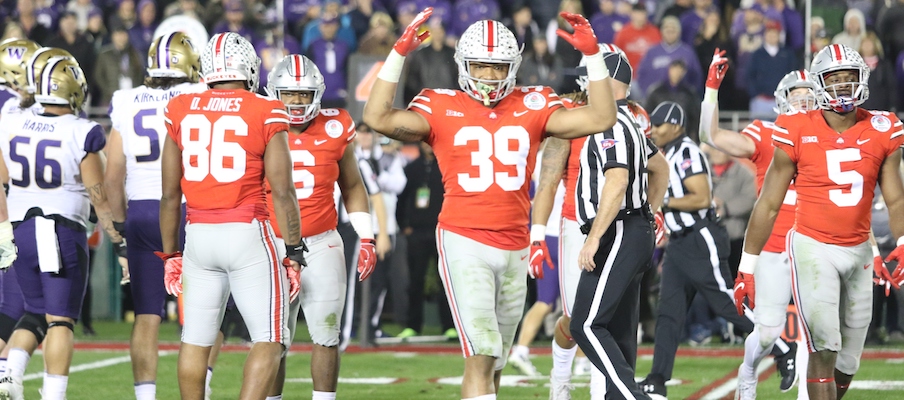 Tuf Borland has started for nearly two full seasons and Pete Werner started in 2018, but both could be in competitions to keep their starting spots in 2019 after the unit's subpar season.
When speaking to the media for the first time, Washington didn't say whether he leaned toward an open competition or not, but he noted the importance of players being given opportunities to impress in practices.
"You've got to give the kids a chance to prove themselves to you during the spring, right, I mean, workouts," Washington said on Feb. 6. "So my take has always been to evaluate the body of work that you have, so you look at some things about last year, and then consider what you're doing this year. And then give them a chance to show you if they can execute and do the things that you need them to do."
Baron Browning and Teradja Mitchell appear to be the most likely candidates to supplant them as starters if either has a strong spring.
However, the linebacker situation appears to be experiencing a significant shift stemming from a schematic change in Mattison's defense. At Michigan, Mattison and Washington operated with two "inside linebackers" and one hybrid player, and they seem to have brought that to Ohio State.
Brendon White would be the most likely starter at the hybrid position, meaning only two of the three returning starters at linebacker would have positions at which to start. Harrison will occupy one of them, and Borland could have the edge at the other.
Many questions about the linebackers exist, and the spring should begin to answer them.
How does Greg Studrawa configure the offensive line?
Ohio State's offensive line had a shakier than average 2018 season, especially when trying to open up holes for the rushing attack that averaged 4.21 yards per carry. Only one of the five starters will return in 2019.
By the end of last spring, Thayer Munford had nearly completely locked up the left tackle job, and the rising junior will return for his second year as a starter in 2019. Beyond him, everything else will change. Isaiah Prince, Malcolm Pridgeon and Demetrius Knox graduated, and Michael Jordan headed to the NFL, opening up four starting spots up front. 
Wyatt Davis, a former five-star prospect, started the Big Ten championship and Rose Bowl and will be expected to continue at right guard into the 2019 season. Josh Myers was considered the leading candidate to start at center until Ohio State landed Rutgers graduate transfer Jonah Jackson, which both gives Greg Studrawa's unit much-needed depth and experience while also complicating the situation up front.
Jackson started at both guard and center for Rutgers, meaning he has a chance to win either the starting left guard or center positions this spring. He'll battle Myers at center and Gavin Cupp and Branden Bowen at guard.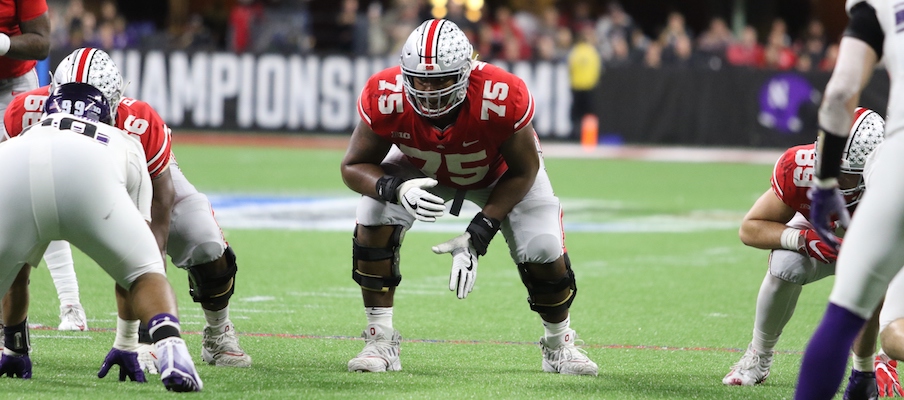 Nothing is set at right tackle, either. If Bowen doesn't start at guard, the position at which he started the first six games of the 2017 season before suffering a fractured leg, he'll compete with Nicholas Petit-Frere and Joshua Alabi for the right tackle spot. Petit-Frere was the top-rated offensive tackle in the 2018 recruiting cycle, and Alabi is a rising fifth-year senior who started in the Rose Bowl.
Studrawa won't lack for combinations. He can mix and match different players at different positions and spend much of spring practice experimenting. But by mid-April, Ohio State surely hopes to have some answers up front.
Just how good can Ohio State be in 2019?
This is the ultimate question. Everything else is simply a means to an end, with the end being this: can Ohio State compete for a national championship in Day's first year as a coach.
The answer is simple: yes. Yes, the Buckeyes have enough talent, experience and coaching acumen to make that a possibility. 
But how realistic is that goal? We don't know. Spring practices should begin to give everyone a better idea of that possibility.
The coaching staff will begin to work with Fields to ready him for what should be his first full year as a starter in college. Brian Hartline will have a chance to work with the wideouts, searching for a couple to make strides and earn promotions into the rotation. Studrawa has to replace four offensive linemen. Johnson will hold a competition to find out who will get the first crack at replacing Dre'Mont Jones. Washington has to figure out how to maximize the linebackers. 
All that will happen with a first-time head coach in charge of spring practice for the first time in his career. No pressure, Ryan.