Even though he has yet to play a snap at Ohio State and doesn't even know for certain whether he'll be eligible to play this season, Justin Fields already has one eye on his next move.
Asked Wednesday, during his first media availability as a Buckeye, why he chose to transfer to Ohio State after he decided to leave Georgia, Fields said he was drawn to Ohio State by the opportunity to play for new Buckeyes head coach Ryan Day – and specifically, because he believes Day can help him get to the NFL.
"I think Coach Day is a great coach, a great offensive-minded coach," Fields said. "He's been in the NFL. He knows what it takes to get quarterbacks to the NFL. And just the offensive mind he has, I can tell that he's a smart guy. So that's why."
Fields saw what Day, in his previous role as Ohio State's quarterbacks coach and offensive coordinator, did last season with Dwayne Haskins, and he liked it. Haskins rewrote the Big Ten record books, throwing for 4,831 yards and 50 touchdowns in his lone season as the Buckeyes' starting quarterback, and is now widely projected to be a top-10 pick in the 2019 NFL draft.
Fields chose to follow in the footsteps of Haskins, who he considers to be a close friend, because he believes he can achieve similar results with Day's tutelage at Ohio State.
"It was great to see what he did last year, and I'm just hoping to do the same thing," Fields said.
Day and the Buckeyes certainly believe that Fields can achieve similar success, too – if they didn't, they wouldn't have recruited him to transfer to Ohio State.
"Justin is a great fit for a lot of reasons," Day said Wednesday. "We're excited about him."
Given that Fields was the No. 2 overall recruit in the class of 2018, he has reason to be confident in himself and the Buckeyes have reason to be confident in him. Fields comes to Ohio State with comparable arm talent to Haskins, but even more athleticism, which makes him a threat to make a bigger impact than Haskins did as a runner while still making big plays in the passing game.
"I see myself using my legs a little bit more than Dwayne did last year," Fields said. "But I'm really just here to do what Coach Day asks me to do and whatever is best for the team."
Haskins' record-setting season last year, though, came after two full years of development at Ohio State. If Fields receives a waiver from the NCAA for immediate eligibility and ends up being Ohio State's starting quarterback in September, he will have been with the program for just eight months.
It's hard to imagine Fields not being Ohio State's starting quarterback in 2019 as long as he is eligible, and Day doesn't seem afraid to start him in his first year on the team – referencing what Clemson did this past season with true freshman quarterback Trevor Lawrence, the only player ranked ahead of Fields in the recruiting class of 2018, twice in his press conference on Wednesday.
But Day also made it clear on Wednesday that he doesn't want people to think that another quarterback can simply step in this year and do what Haskins did last year. He knows that what Haskins accomplished last season was special, and he knows how much hard work is required for any quarterback to be able to perform at that level.
"What happened last year with Dwayne Haskins is an anomaly. Someone to step in 14 games, projected to be maybe the first quarterback taken in the draft, third in the Heisman – that just doesn't happen. Someone doesn't just step in and do that," Day said. "For me to sit back and look at what happened last year, it's really amazing. I think Dwayne may be one of those once-in-a-lifetime (quarterbacks)."
While Fields will surely be the frontrunner to start if he is eligible, he said Wednesday that Day did not promise him the starting job, and understands that he has to compete for it.
"Coach Day didn't promise me anything," Fields said. "He told me I would have to come here and work for it. So I'm just looking forward to getting better."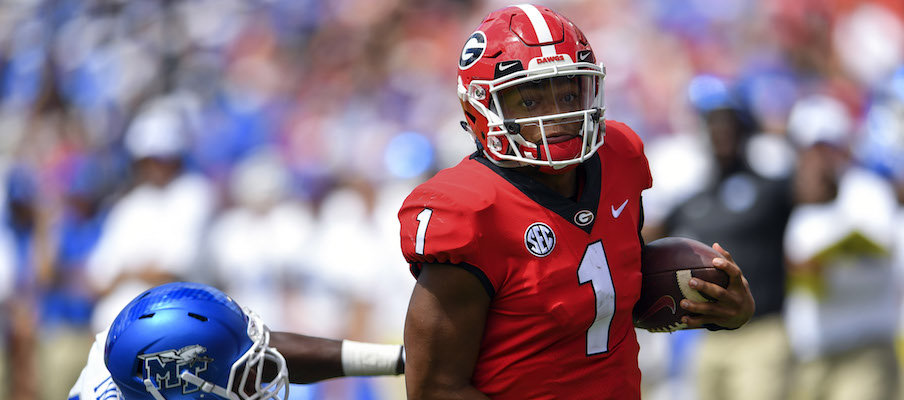 Because of what Haskins accomplished last year, though, Fields has reason to feel confident that Ohio State has the pieces in place to help set him up for a future in the NFL, too. And he confirmed on Wednesday that he wants to get there sooner than later.
Regardless of whether Fields receives immediate eligibility this year, he'll have the opportunity to play three seasons at Ohio State, as he spent only one season at Georgia and would take a redshirt this year if he is not eligible.
If all goes according to plan, however, Fields will likely only be at Ohio State two years before he pursues his dream of playing at the next level, as he will be eligible to enter the 2021 NFL draft regardless of whether he is a junior or a redshirt sophomore.
"It's really all in God's plan, but I hope I can get there as soon as I can," Fields said. "But it's really all up to his plan."
Fields said Wednesday that he did not want to get into specifics about his appeal to the NCAA or about why he left Georgia, preferring to focus on the present and the future and what he can control instead of talking about the past. Fields did say, though, that he hopes to receive a decision from the NCAA "soon" so that he can "really just focus on the team and getting better."