I cannot name a single Ohio State QB coach prior to Walt Harris.
Harris arrived in 1995 on John Cooper's staff and inherited senior Bobby Hoying and sophomore Stanley Jackson. It was not the most dynamic QB room in the country by a long shot; Florida was returning Danny Wuerffel and Nebraska had Tommie Frazier. Ohio State had just come off a four-loss season where it was held under 30 points nine times.
The Buckeyes had a solid offensive line returning despite losing Korey Stringer to the NFL draft. In April they indicated they'd be starting a former walk-on named Terry Glenn, coming off of what would eventually be known as a Bam Childress-Type Spring Game Performance. Hoying was getting a new position coach for his senior season and his third as a starter. Experience and leadership were his biggest assets.
He wasn't expected to shatter, let alone break any school records.
Hoying ended up throwing for more touchdowns in 1995 than he had the previous three seasons combined, leading what was at the time the best season ever for an Ohio State offense. He was a different quarterback as a senior, independent of the fact that he had the Heisman winner to hand off to and the surprise Biletnikoff winner stretching the field.
Ohio State football transformed in a single season, and Harris was knighted by the fans for his role. Yeah, they booted the Michigan game again - but this was not the same team, not the same offense and definitely not the same quarterback. Harris became Ohio State's most talked-about assistant not named Bill Young, whose defense made Tshimanga Biakabutuka a household name for exactly one afternoon (Young found himself coaching at OSU - that's Oklahoma State - the following season).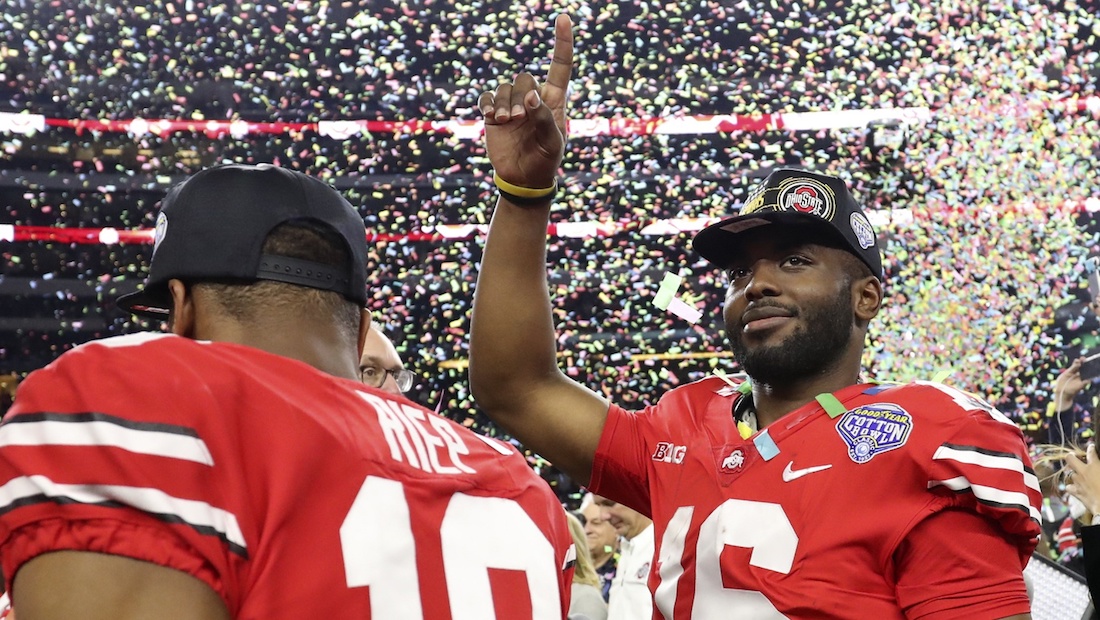 Harris parlayed his performance in Columbus in 1995 and 1996 into head coaching offers. In 1997 he took over at Pittsburgh and eventually built the program into BCS contention. His final team lost to Urban Meyer's undefeated Utah Utes in the Fiesta Bowl. After he left Columbus, John Cooper replaced him with Purdue OC Tim Salem, who was not retained when Jim Tressel took over the program.
Which brings us to the current century and the crazy pattern of QB coaches who have come through Columbus. To use a baseball euphemism, it's been nothing but homers or strikeouts.
The Tim Salem/Chuck Stobart combo under Cooper became the Joe Daniels show under Tressel. Daniels had been Dan Marino's mentor in college, and he inherited an uninspiring QB room of Steve Bellisari, Craig Krenzel and Scott McMullen. Bellisari was a different player as a senior under Daniels, the same way Hoying was under Harris. Krenzel, in case you hadn't heard, beat Michigan in Ann Arbor before eventually starting and winning a BCS title game.
He even started in the NFL on Monday Night Football! So did Troy Smith, whose Heisman acceptance speech weighed heavily on what Daniels was able to develop him into, as a player whose first action as a Buckeye was returning kickoffs (it's true, youngsters). Smith became a reliable game-changing signal caller as a direct result of the meticulous instruction he received from his supremely competent position coach.
Daniels developed all of his quarterbacks into heady, fundamentally-sound game managers capable of both chucking or tucking; avoiding mistakes and winning games. It wasn't always flashy but the Buckeyes rarely lost with Daniels on the sideline on account of QB errors. Tressel eventually landed Terrelle Pryor on the promise that Daniels would be able to refine his immeasurable talent into that same mold that produced championship and Heisman trophies.
Tim Beck INHERITED a Room full of FLASHY Heisman candidates, WHICH ULTIMATELY FAILED TO produce EVEN a single All-B1G honorable mention QB IN 2015.
Pryor never got the instruction Smith and Krenzel had benefited from, as Daniels had to step away to focus on battling cancer. Nick Siciliano essentially served as a placeholder for Daniels' return, which never happened - he passed away two weeks prior to the NCAA levying its postseason ban for violations committed under Tressel.
With Tressel no longer at Ohio State, Siciliano - who was never a serious QB coach candidate - was completely exposed. Pryor led the Buckeye offense with his legs far more often than he did with his arm. When Urban Meyer arrived, Siciliano was not only let go - he left the business entirely, taking a job at Cardinal Health (he is now back in coaching, working under former Tressel assistant P.J. Fleck in Minnesota as a Quality Control coach).
So the only thing separating Siciliano from Tim Beck was Tom Herman, which, yiiiiiikes. Before we delve into hell, let's remember the good times.
Herman was a transformational position coach, managing and developing his room as effectively as he managed his boss. His depth chart, as the world abruptly discovered at the end of 2014, went three deep. It wasn't uncommon for Herman to be conference-called into the WHAC during the tumultuous 2015 season - when he was coaching Houston Cougars - to lend much-needed guidance to a room that Beck had quickly turned from the envy of college football into a unit lacking even a single all-conference Honorable Mention.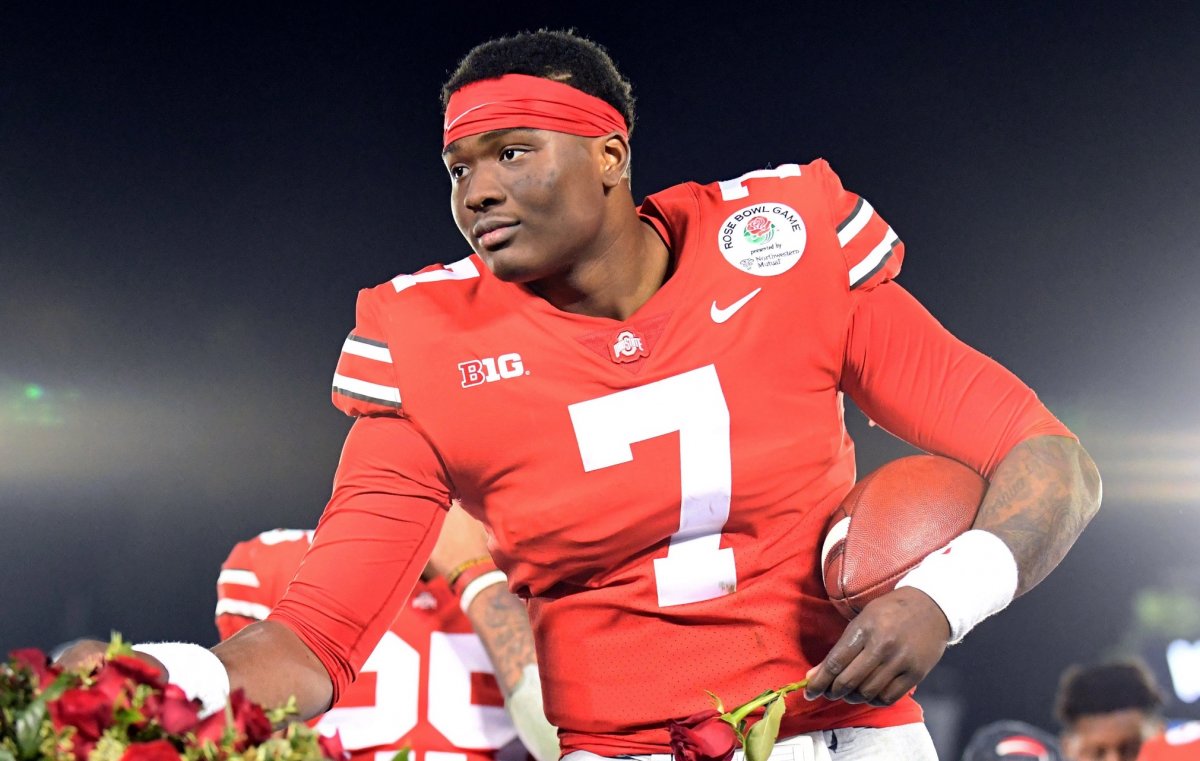 Beck inherited defending national champions J.T. Barrett, Cardale Jones and Braxton Miller. Miller moved to receiver. The Big Ten's top quarterbacks that season - with most of Ohio State's offense returning from that magical run - were Michigan State's Connor Cook, Iowa's C.J. Beathard and Indiana's Nate Sudfeld. Herman left the program and the room almost immediately disintegrated. It's hard to find a more disastrous hire from the Meyer era, which includes both his mentor's mediocre grandson and the best man from his wedding.
The two worst quarterbacks coaches Ohio State has had this century - and possibly ever (the world prior to Harris is a big ol' mystery for this Gen Xer) were separated by the best one in the country. Fortunately, there's a happy ending and another one in the making.
Beck was shot into the sun while on the Phoenix airport tarmac a year later and replaced with Kevin Wilson and Ryan Day. Two seasons later, J.T. Barrett and Dwayne Haskins have shelves full of individual awards, and Day has replaced himself with Mike Yurcich, a coach with a track record which indicates he'll break this terrifying cycle:
OHIO STATE QB COACHES THIS CENTURY

| QB COACH | YEARS | TL;DR LEGACY | GRADE |
| --- | --- | --- | --- |
| JOE DANIELS | 2001-2008 | Heisman winner, consistent development | A |
| NICK SICILIANO | 2009-2011 | QB development fell off a cliff | F |
| TOM HERMAN | 2012-2014 | QB room was the envy of the sport | A |
| TIM BECK | 2015-2016 | Useless would have been too kind | F |
| RYAN DAY | 2017-2018 | Never coached a non-B1G QB of the Year | A |
It's not as simple as this chart makes it out to be; of course recruiting and scheme fit matter. David Priestly and Austin Moherman were both recruited from California to play in Harris' offense, which went away when Harris moved to Pittsburgh. Tathan Martell's role in Day's offense was almost a novelty at times, and his transfer was more sensible than bitter - despite how it's portrayed.
Day moving into the head coaching role and bringing in a philosophically similar position coach in Yurcich bodes very well for breaking Ohio State's up-and-down streak for these position coaches. Not since the 2015 offseason will the Buckeyes' QB room be as interesting as it will be in the coming months with Yurcich, Georgia transfer Justin Fields and highly-regarded Matthew Baldwin all getting to know each other.
If they get along as famously as we all hope they do, Ohio State's aspiration to advance from the Meyer era, pull off a three-peat as B1G champions and finally break into the top four CFP threshold that has been so close for too long - will do a lot more than build and fill more vanity shelves in the Woody.
It will end the cycle of dreams and nightmares coaching what Tressel was fond of calling the most important person in the state.