The closest Justin Fields has come to suiting up in Scarlet and Gray and running out of the tunnel at Ohio Stadium to play quarterback for Ohio State came when the program introduced him on Twitter with a video of him in "NCAA Football 2014" tossing passes and celebrating.
He made one public appearance – watching an Ohio State basketball game with Dwayne Haskins and, for a bit, Urban Meyer – but hasn't made any statements or given a single interview since announcing his transfer from Georgia to Ohio State on Jan. 4.
Fields might remain quiet for a bit longer, but that won't dent the rising excitement among Buckeye fans who are intrigued by Ryan Day landing the No. 2 overall prospect in the 2018 recruiting cycle just one month after he was announced as the 25th head coach in program history. Nothing could quell the Fields fervor at this point. Not with Tate Martell headed to South Beach.
As long as his NCAA hardship waiver succeeds and he's eligible to play this fall, Fields will almost certainly start at quarterback in the fall, beginning what could be a two-year run with him behind center before heading to the NFL. Experts are optimistic that Fields will gain immediate eligibility, though no decision is expected to be rendered for at least a month.
Only the NCAA waiver and the off chance that Matthew Baldwin wins the starting job currently stand in the way of the Fields era beginning this fall.
By stepping in as the first quarterback of the Day era, Fields would be replacing Dwayne Haskins, who set the bar at an almost unreachable height. In his only year as Ohio State's starting quarterback, he became a Heisman Trophy finalist and Chicago Tribune Silver Football award winner by breaking Big Ten records with 50 touchdown passes and 4,831 passing yards. He broke 28 program records.
The proverbial shoes couldn't be bigger for Fields to fill. But without Haskins' splendid season, Fields likely never would've chosen to spend his next couple years in Columbus.
Fields could fit into almost every system. He has tremendous arm talent that led him to become a touted baseball prospect, as well, allowing him to make throws all over the field. However, he also can pick up yards on the ground with his 4.51 40-yard dash, rushing 42 times for 266 yards for the Bulldogs last year. Even though he's far from a system quarterback, he's not too dissimilar from Haskins, which means he should fit well in Day's offense.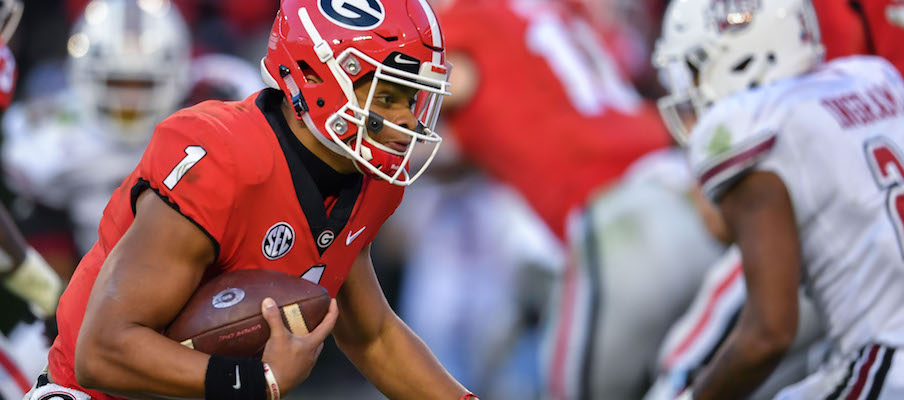 A couple weeks before Ohio State secured a commitment from Fields, Day referenced Haskins' season that ended with him at the Heisman Trophy ceremony in New York City and will make him a first-round pick in April as a "huge selling point" to future quarterbacks.
"I do think that after the season we had with Dwayne, the interest level is at an all-time high," Day said on Dec. 19. "People are very, very excited about what we're doing on offense. The quarterbacks are very, very excited about getting into this offense, and so that's exciting. That's fun to have that opportunity."
Undoubtedly, Day had dreams of landing Fields at the time.
Later in that press conference, his first after the announcement on Dec. 4 that he would be the next head coach, he explain what he looks for in a quarterback.
"I think the number one thing you look for is some sort of extraordinary trait," Day said on Dec. 19. "That's the number one thing you look for. From there there's a whole other list of things that we go through. Certainly arm talent, certainly accuracy is a huge part of that. But the number one thing we want is some sort of exceptional trait. And J.T. had one and Dwayne had one, and I think one of our strengths on offense is the ability to adjust the offense to fit the quarterback and to fit our personnel.
"And I think in college that's really, really important because sometimes if you're looking for a specific style, there may not be one in that class, so let's go find somebody that has some sort of extraordinary talent and then build around it. But that being said, being able to throw and accuracy is really high up on the list."
Well, Fields has an extraordinary talent or two. His arm and his athleticism stand out above those of his peers.
If he weren't as fast and explosive, he'd still be a well-regarded quarterback. And if his arm was only average, he'd still be in high demand due to his athletic build that allows him to hurt teams with his feet when they focus on stopping the pass.
Things can, of course, change when players reach the collegiate level, but the 6-foot-3, 221-pound quarterback's potential is tantalizing. He will become the highest-rated recruit ever to play for Ohio State.
Fields must earn a waiver and beat out Baldwin, who has spent the past year learning the offense from Day. He's a special talent, though, so that's the expectation.
After sitting behind Jake Fromm last season at Georgia and not wanting to wait any longer for his chance, Fields headed to Columbus. And even though he hasn't said anything or made an appearance in public more than once while at Ohio State, he's captured the imagination of the program's fan base. They don't want to wait to see him any more than he wants to sit and wait longer for his time.
Provided his NCAA waiver is successful, the Fields era at Ohio State will likely commence in the fall.