Sports stats are awesome because they are a mathematical manifestation of... pretty much anything.
So every year for the football season preview, I roll out what are (in my view) the weirdest statistics from the previous season. It's fun, because there's a whole cottage industry devoted towards tracking every possible permutation of action or inaction during pretty much athletic event that you can think of, and it's also funny, because that amount of data inevitably leads to some really goofy stuff.
But if we're being honest, it's really a reflection of the things that Ohio State fans like myself are excited and apprehensive about in equal measure. "Ohio State's defense was bad last season, but I bet you didn't know they were THIS bad!" "Dwayne Haskins has legs made of graphite and twine, can Justin Fields be more of a dual-threat?" "Maybe linebackers can tackle a dude, I don't know!"
So in lieu of actual football, we turn to hard facts in the form of easily malleable numbers to back up what we're already pretty sure we know (even if we definitely don't). Let's do it!
HEY MAYBE DON'T LET THEM DO WHATEVER
Everyone at this point knows how badly Ohio State's defense struggled last season, particularly in terms of long plays from scrimmage given up. In this respect they were really really really (insert additional 115 "really"s here) bad, ranking 118th in the country as they gave up 39 plays from scrimmage of over 30 yards or more. But did you know that over half of those plays came against Maryland?
Okay, that's a lie. 21 of the 39 plays did come against teams with losing records, however, which points to a systemic issue within the defense that needs to be sorted out. This systemic issue is generally known as "bad tackling."
WE GOTTA GET OUT OF THIS PLACE
Dwayne Haskins and the Ohio State passing offense was historically great in 2018, but it was also situationally great.
In their own red zone, the Dwayne train and company had 44 completions on 56 passing attempts for 455 yards. That's the best completion percentage on any part of the field, and while this is possibly a product of the offense calling safer passing plays in the shadow of their own end zone, it's also a testament to the kind of trust that the coaches could place in Haskins' hands.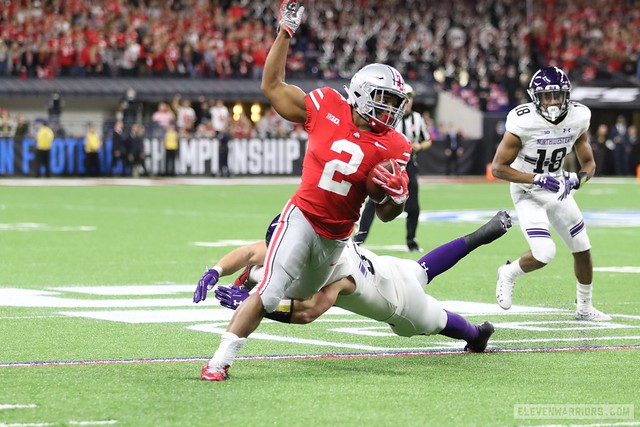 DOBBY IS SPOOKED
October was a bad month for J.K. Dobbins. The rest of the season wasn't super great either, but during the month of October Dobbins ran for for exactly three yards per carry and a grand total of 141 yards in three games.
The weird part isn't that he was bad, it's who he was bad against. Indiana, Minnesota, and Purdue ranked 84th, 117th, and 71st in yards per carry allowed last season. They were terrible, and in some cases turned around and allowed a bajillion yards on the ground the week or so after stuffing J.K. like a Thanksgiving turkey.
RED ZONE SCHMED ZONE
Ohio State had its worst red zone conversion rate in at least ten years in 2018. They were worse at converting points inside their opponent's twenty yard line than when Jim Bollman had control of the offense. They were worse at converting points inside their opponent's twenty yard line than when Joe Bauserman had the reins of the passing offense for part of the season. They were worse at converting points inside their opponent's twenty yard line than when Urban Meyer and company couldn't figure out who they even wanted the quarterback to be.
In fact, let's compare the lost season of 2011 to 2018. In 2011, the Buckeyes converted in the red zone around 77% of the time, whereas in 2011 they converted almost 9 times out of 10. Not only that, but the 2011 edition of the Buckeyes scored a touchdown on 64% of those trips, whereas 2018 did it on 61% of their excursions into the red zone.
But this is why context matters: the 2011 Ohio State Buckeyes scored 318 points throughout the season, good for 24.5 a game. Last year, those numbers were 593 points and 42.4 a game. Turns out having a coherent offense is better than... not having that.
MY FAVORITE THING
I saved the best for last.
Since Urban Meyer became the head coach, I kept track of kickoffs that various Ohio State kickers had sent careening out of bounds. I did this for two reasons. First, it was extremely funny watching Meyer absolutely lose his mind over what should be a relatively basic element of special teams play. The level of stress that poorly executed kickoffs on his life appeared to have been roughly equal to the level of stress that comes with watching a cat puke on an expensive couch and not being able to do anything about it. But like, every week.
Which brings me to the second reason, which was that there were so freaking many of them.
From 2012 through 2018, Ohio State watched one of their kickoffs go out of bounds an incredible 32 times, and every single instance to me was like a precious jewel to be placed in a magnificent crown.
Sadly, the era of errant kickoffs may be over. There were only two in 2018, and this can likely be attributed to the rule change that allows kickoffs to be fair caught within the 25 yard line and still start there. Urban's dumb "coffin corner" strategy is officially dead. It is truly the passing of a golden age.
---
In the grand scheme of things Ohio State's 2018 football campaign featured ups and downs and some historic performances, but it wasn't especially weird or odd (unless you still labor under the impression that the defense wasn't bad, just misunderstood). However, stranger things are always possible in the most unpredictable and therefore best sport.
As we look towards 2019, we can hope that the super cool things are continued and the super dumb things are fixed, but what's exciting and unnerving is that with a new coaching regime, a new defensive scheme, and a new quarterback, for the first time in a long time we truly can't be sure of what to expect. We'll get some answers, and some weirdness, in a few weeks.