Urban Meyer leaves Ohio State as the ultimate Wolverine slayer.
A perfect 7-0, Meyer has the best record against the rivals to the north of any Buckeye head coach in history, becoming the first head coach to leave Ohio State with a perfect record against Michigan, winning all his games against that team.
And it was one hell of a ride.
In 2012, Meyer's first win over the Wolverines capped off his only undefeated season at Ohio State. Since the Buckeyes were serving a bowl ban due to the NCAA sanctions, the win had some special flair to it, with a lengthy on-field celebration.
A year later, the Buckeyes traveled to Michigan with Meyer still undefeated as Ohio State's head coach. Thanks to 379 combined rushing yards from Braxon Miller and Carlos Hyde, along with some late-game heroics from Tyvis Powell, the Buckeyes stayed unbeaten, and Meyer remained perfect against Michigan.
In 2014, the Buckeyes dueled with Michigan in Columbus with a first-year starter named J.T. Barrett at quarterback after a preseason injury to Miller. Barrett did the heavy lifting to bring Ohio State to victory before breaking his ankle and handing the reigns to Cardale Jones. You all know the rest.
After a bitterly disappointing loss to Michigan State in 2015, Urban Meyer righted the ship the only way he knew how – absolutely demolishing Michigan 42-13, slapping Jim Harbaugh with his first loss in the series.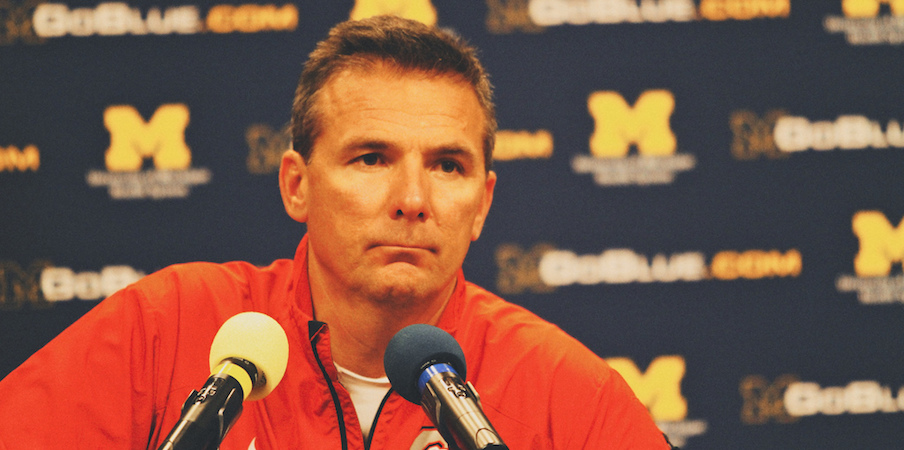 The 2016 edition of The Game was the most thrilling of Meyer's time in Columbus. The two-overtime classic featured a Buckeye pick six, a critical late-game first down from J.T. Barrett, a dagger run from Curtis Samuel, and an extremely salty Harbaugh.
A year later, Ohio State went back to Ann Arbor where the Buckeyes toppled Michigan yet again, but this time with a backup quarterback. Dwayne Haskins took over for an injured Barrett, and he led Ohio State to a comeback win, giving Meyer his sixth win in the series.
And Meyer capped it all of with his most recent win, the most dominant of them all. Michigan entered the game favored, with the No. 1 defense in the country and a chance to all-but punch its ticket to the College Football Playoff. Instead, Meyer's Buckeyes hit them with 62 points – the most Michigan has ever surrendered in regulation – giving Harbaugh an 0-4 start in the rivalry.
Seven years, seven wins. Meyer was as good as you could ask in the only game that matters. If that were his only legacy, it would be enough.