No one would call Northwestern's offense particularly explosive, but that doesn't mean the Wildcats don't have any dangerous offensive pieces that might threaten Ohio State in the Big Ten championship Saturday night.
Only nine teams in the country, including one team from a Power Five conference – Rutgers – have fewer 10-plus-yard plays than the Wildcats. Just four teams, including one team from a Power Five conference – Rutgers, again – average fewer yards per play than Northwestern.
The Wildcats don't move the ball down the field quickly, and they don't score frequently (No. 108 in points per game), but they extend drives in large part due to a passing offense that attacks defenses with targets for short-to-medium gains, moving the chains in order to grind out tight games. Only one of Northwestern's eight wins came by more than 10 points, and it was a 14-point victory against Wisconsin.
Clayton Thorson, a redshirt senior quarterback, doesn't lack experience. He's played dozens of close games in his five-year career – with nearly four seasons as a starter – and even came five points from beating the Buckeyes two years ago.
"Guy's got 51 straight starts," Schiano said. "He's an NFL quarterback. We need to make sure that we all understand how that all fits into their entire offense. He's a very accurate passer. He understands scheme very well. You're not going to trick him with coverages and things like that. Although he's thrown 12 interceptions, he's very, very smart with the football."
Thorson overcame an offseason surgery to repair his ACL to return for a fifth season. He has continued to pile up yards this season and now ranks fifth in Big Ten history with 10,223 passing yards. This season, he has completed 251-of-416 passes (60.3 percent) for 2,675 yards.
"Up front, I wouldn't say they're bad, but we have to get after it. They've given up a lot of sacks this year. We've got to keep it going at our pace, too."– Davon Hamilton
He has a poor 14-to-12 touchdown-to-interception ratio, though Schiano partially attributed that to tipped passes and mentioned not all of them were poor mental decisions.
"I think he's a fine player," Schiano said. "I thought he was a fine player two years ago when we played him here. He's had a knee surgery since and a bunch of wins since. He's a good player."
Dre'Mont Jones called Thorson one of the best two quarterbacks Ohio State faces this season.
"He's a really good quarterback," Davon Hamilton said. "He's able to make plays based off just him alone. Hopefully we can get after him a little bit."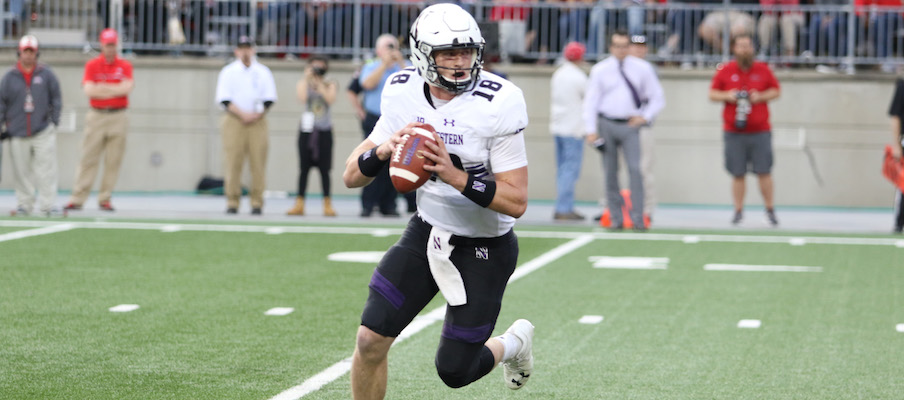 In order to minimize Northwestern's offensive prowess, which ramps up when Thorson gets comfortable, the Buckeyes will do their best to disturb him in the pocket. Though he can run and has eight rushing touchdowns this season, he's more effective with his arm, especially after the knee surgery.
Against Michigan, which entered Saturday's game having given up 10 sacks the entire season, Ohio State mustered three sacks. The Buckeyes could be in for a repeat performance. Northwestern's offensive line has allowed 29 sacks in 12 games.
"We've just got to get after them," Hamilton said. "They have some weak parts in their offensive line, but they're also very talented at the same time. Can't think of them as pushovers or anything."
Earlier this season, the Wolverines had six sacks of Thorson, who managed just 174 yards on 27 passing attempts in the game.
"Up front, I wouldn't say they're bad, but we have to get after it," Hamilton said. "They've given up a lot of sacks this year. We've got to keep it going at our pace, too."
There's a chance Northwestern doesn't even give the Buckeyes a chance to tee off on the offensive line and rush Thorson. Previous opponents this season have had success with quick passes. They both allow offenses to avoid dealing with Ohio State's pass rush and force defenders to make open-field tackles, which the Buckeyes have struggled doing. Purdue took advantage of that type of scheme, and Minnesota ran slant pass after slant pass with much success.
The Wildcats don't go downfield too often, and Thorson's favorite target is slot receiver Flynn Nagel, so expect to see them trying to hit passes in the short-to-intermediate areas. Tuesday night, Jordan Fuller said the defense had just got done watching film on how to defend those types of throws.
"Really, we just want to challenge everything," Fuller said. "Not really like anything crazy, no crazy adjustments. Just want to challenge everything and live with the results and make the plays when they come."
Though Schiano and Jones piled on praise for Thorson, he hasn't been unbeatable this season whatsoever. He has more than 200 yards in just four games, the same amount of games that Dwayne Haskins has thrown for at least 400 yards.
In losses to Duke, Notre Dame and Michigan, Thorson had fewer than 200 passing yards in each game and had just one touchdown in all three games combined. He has five games with at least two interceptions.
The Buckeyes' shaky defense has made quarterbacks worse than Thorson look like they were on Haskins' level this season, but the team is riding some much-needed momentum after this weekend's dominant win against Michigan. Now, Ohio State has its first opportunity in months to put back-to-back impressive performances together.
"I hope so," Schiano said. "I hope our players feel they went up against a very good team and performed well, but it doesn't mean anything Saturday. I believe in momentum. I believe guys confidence is a real thing."