Based solely on the two teams' records this season and against each other over the past four seasons, there's reason to believe Ohio State should be able to win comfortably at Maryland on Saturday.
The Buckeyes have a 9-1 record and are ranked 10th in the College Football Playoff standings, while the Terrapins are just 5-5, with four losses of more than 20 points (Temple, Michigan, Iowa, Michigan State) and a 34-32 loss in their last game against Indiana.
In the first four meetings between Ohio State and Maryland since Maryland joined the Big Ten in 2014, the Buckeyes have won every game by at least 21 points, including a pair of wins by at least 48 points in the last two matchups.
On top of all of that, Maryland lost starting quarterback Kasim Hill to a torn ACL in Saturday's game at Indiana. Another one of the Terrapins' star players, senior running back Ty Johnson, is considered to be a game-time decision after leaving the Indiana game with an injury.

MARYLAND TERRAPINS
5-5 (3-4 BIG TEN)
ROSTER / SCHEDULE
---
NOON – SATURDAY, NOV. 17
MARYLAND STADIUM
COLLEGE PARK, MARYLAND
---
ABC
WatchESPN
When Ohio State coach Urban Meyer watched the film of the Terrapins this week, however, he didn't see a team that will be a pushover.
"The video tape doesn't lie," Meyer said on Tuesday. "This is as talented a team as we've faced this year, that we're getting ready to face, and you can see that on video tape."
This week's game isn't nearly as anticipated as next week's rivalry game against Michigan will be, but Ohio State needs to take care of business at Maryland to have a chance at winning the Big Ten and earning a playoff berth, and if the Buckeyes don't bring their A-game to College Park, they could be in for a tougher challenge than years past.
Buckeye Breakdown
Saturday's game should be an extra special game for Ohio State quarterback Dwayne Haskins for more reasons than one.
The Potomac, Maryland, native will be playing just a short drive away from where he went to high school, and in front of his family and hometown friends, Haskins will almost certainly break Ohio State's single-season record for passing yards, needing just 50 yards to match Joe Germaine's current record total of 3,330 yards from 1998. Saturday could also be the day that Haskins' breaks Ohio State's single-season record for touchdown passes, as he stands just three touchdowns away from breaking J.T. Barrett's record of 35 touchdown passes set last season.
Playing against his home-state school that he was once committed to before being offered by Ohio State, Haskins will certainly want to perform at his best. That said, Ohio State offensive coordinator and quarterbacks coach Ryan Day isn't worried about Haskins feeling too much pressure to perform, because it's not if he's any stranger to that.
"We play in so many high-profile games, so I don't think so," Day said this week. "But I do know that any time you go back home, there is a special feel to have friends and family, so I know that will be on his mind."
Haskins hasn't been quite as productive passing the ball in the Buckeyes' last couple games as he was for most of the season. In last week's 26-6 win over Michigan State, Haskins completed 24 of 39 passes for just 227 yards for a season-low 5.8 yards per passing attempt. Still, he's done enough to lead the Buckeyes to victory in every game but one – and in that other game at Purdue, he broke Ohio State's single-game records for passing yards, pass completions and pass attempts – and Meyer remains confident in his quarterback's ability to get the job done.
"I think his development has been very good to this point," Meyer said of Haskins. "We'd like to see him catch fire again."
One reason why Haskins' numbers haven't been as big over the past couple weeks has been a renewed commitment by the Buckeyes to get their run game going. After rushing for 5.7 yards per carry (229 yards on 40 attempts) against Nebraska, Ohio State ran for a season-low 2.7 yards per carry (120 yards on 45 attempts) against Michigan State. Even so, Meyer was proud of the Buckeyes' efforts in the run game against the Spartans – specifically those of Mike Weber, who ran for 104 yards and a touchdown on 22 carries – because they came against the No. 1-ranked rushing defense in the country.
"He earned every yard," Meyer said of Weber. "And our offensive line earned every yard."
One new element that the Buckeyes added to their offense against the Spartans in an effort to spark their package their run game was a package for No. 2 quarterback Tate Martell, who ran for a 5-yard gain in the red zone on his first play in the game and adds another running threat for defenses to account for when he's in the backfield. And Meyer says the Buckeyes plan to continuing incorporating Martell in their game plan going forward.
"I think that we'll use him more in the future, and it remains to be seen," Meyer said of Martell.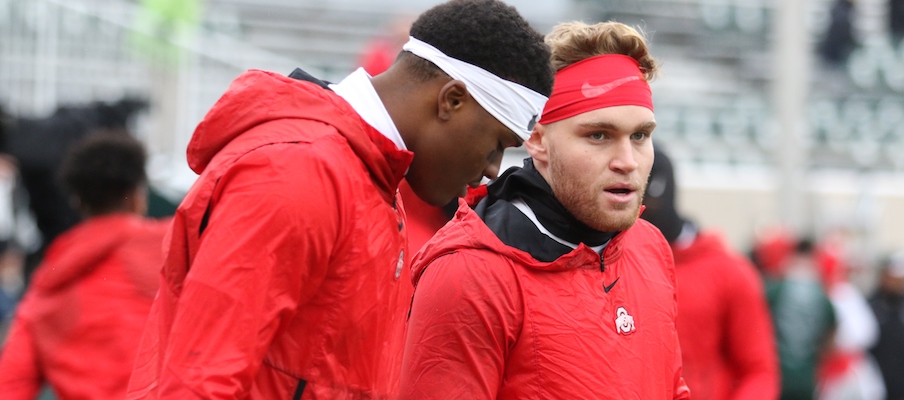 On the other side of the ball, Ohio State's defense finally has some momentum of its side after limiting Michigan State to just six points on 274 yards last Saturday. The biggest reason for the defense's improvement, in the eyes of Meyer and defensive coordinator Greg Schiano, was improved tackling.
"The last two games before this one, we didn't tackle well," said Schiano, who said the Buckeyes had just three missed tackles against Michigan State after missing 20 against Purdue and 15 against Nebraska. "It's amazing when we do that, when we tackle well, how things go better."
Schiano also said the defense is as healthy as it's been since early in the season, which also improves its chances of being successful. No. 2 middle linebacker Baron Browning will miss his second straight game after suffering an injury in practice last week, but the Buckeyes' defense is otherwise expected to be at close to full strength on Saturday (with the exception, of course, of departed defensive end Nick Bosa).
One shouldn't buy too much stock in Ohio State's defense based on its performance against Michigan State, however, because the Spartans are ranked 111th in the Football Bowl Subdivision in total offense (351.7 yards per game) and 118th in scoring offense (21.7 points per game). Against Maryland this week, the Buckeyes' defense should face at least a somewhat tougher test.
Maryland Breakdown
The Terrapins will be without their starting quarterback and perhaps their starting running back this week, and it's not as if their offense has blown opponents' doors off with them. Maryland ranks just 99th in yards per game (366.3) and 70th in points scored per game (28.8) this year.
2018 Statistical Comparison
 
OFFENSE
40.3
11th
POINTS FOR
28.8
70th
172.3
61st
RUSHING OFFENSE
234.9
20th
354.9
3rd
PASSING OFFENSE
131.4
124th
527.2
8th
TOTAL OFFENSE
366.3
99th
.463
18th
3rd DOWNS
.417
44th
.739
122nd
RED ZONE
1.000
1st
DEFENSE
22.0
32nd
POINTS ALLOWED
25.4
55th
143.5
44th
RUSH DEFENSE
161.4
64th
241.5
81st
PASS DEFENSE
181.8
18th
120.6
40th
PASS EFFICIENCY DEFENSE
112.0
20th
385.0
56th
TOTAL DEFENSE
343.2
29th
.301
12th
3rd DOWNS
.367
44th
.885
104th
RED ZONE
.897
110th
SPECIAL TEAMS
6.5
96th
PUNT RETURN
5.0
115th
18.8
91st
KICKOFF RETURN
26.4
8th
42.0
8th
NET PUNTING
38.6
44th
MISCELLANEOUS
+0.6
19th
TURNOVER MARGIN
+0.6
19th
7.6
107th
PENALTIES
8.4
123rd
12
EDGE
7
Where Maryland has been effective is in the running game, ranking 20th in the FBS in rushing yards per game (234.9) and 12th in yards per carry (5.83). Anthony McFarland, who will start for the Terrapins at running back if Johnson does not play, ran for 210 yards on 29 carries last week at Indiana.
Tyrrell Pigrome, who will start at quarterback in place of Hill, gives the Terrapins another running threat in their backfield. He has rushed for 166 yards and a touchdown on 38 carries this year. He hasn't thrown the ball much, completing just 17 of 31 passing attempts for 195 yards, but he did throw the ball more after taking over for Hill last week, completing 10 of 13 passes for 146 yards and a touchdown against the Hoosiers.
While the Buckeyes expect the 5-11, 205-pound Pigrome to present a threat to their defense as a runner, they're respecting his ability to throw the ball, too.
"He is really a very good player," Schiano said of Pigrome. "He's mobile. He can throw it. He's short, so if you can cloud the vision a little bit, I think that can be one way to help us. But when he can see it, he's got a very strong arm and he's very, very athletic running the football."
The biggest challenge Meyer and Schiano have seen in preparing for Maryland, though, is how much pre-snap movement the Terrapins utilize on offense. So it will be imperative for the Ohio State defense to be able to adjust on the fly in order to get lined up properly.
"The big key is going to be getting lined up," Meyer said. "It's constant movement, constant shifts, trying to get the defense to screw up basically."
Schiano described Maryland's pre-snap movement – a new element to the Terrapins' offense this year under interim head coach and offensive coordinator Matt Canada – as "like nothing I've ever seen."
"There's motions and shifts and multiple motions and multiple shifts on darn near every down," Schiano said.
Defensively, Maryland ranks 29th nationally with only 343.2 yards allowed per game, and leads the FBS with 17 interceptions. And Meyer expects the Buckeyes to face a big challenge on that side of the ball as well.
"Athletically and talent-wise, this is as good a defense as we've faced this year," Meyer said.
"This is as talented a team as we've faced this year, that we're getting ready to face, and you can see that on video tape."– Urban Meyer on Maryland
That all starts up front, Meyer said, with what he described as an "odd 4i defense" – similar to the Bear defensive scheme that the Buckeyes have faced in several games this season. And Day says the Terrapins "have a back end that they can play most places in the country."
Weakside linebacker Tre Watson, a transfer from Illinois, leads the Terrapins with 98 total tackles and five interceptions this season, while safety Darnell Savage Jr. has four interceptions to go along with 42 tackles. Both Watson and Savage have returned interceptions for touchdowns this season.
Maryland suffered a tragic loss this summer when offensive lineman Jordan McNair died after collapsing during a team workout, and the program has been surrounded by off-field drama ever since, ultimately resulting in the firing of head coach DJ Durkin (following a brief reinstatement) after a months-long investigation.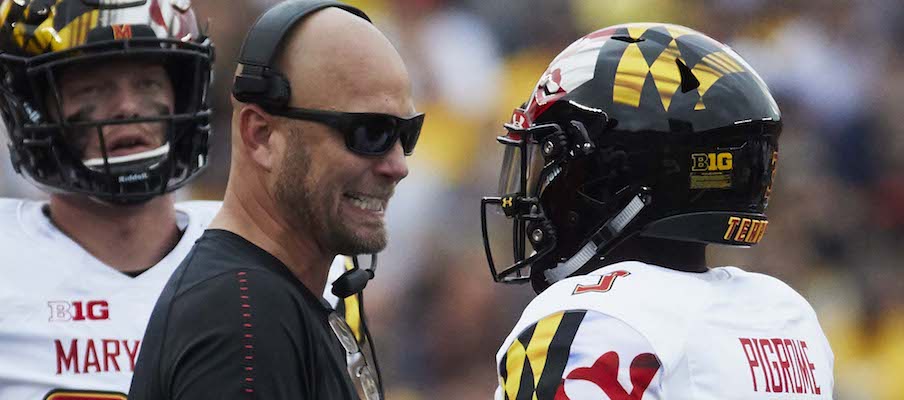 Still, the Terrapins have managed to win half of their games this year – including an upset win over Texas in their second game of the season – and they'll look to finish off their home schedule by competing for another upset against the Buckeyes on Saturday.
"They've done a nice job this year, and they've done a good job of playing week in and week out with all the adversity they've been through this year," said Day, who served as Ohio State's interim head coach while Meyer served his own three-game suspension to start the season. "So it's a good challenge."
How It Plays Out
Ohio State opened the week as a 15-point favorite to beat Maryland, and the spread quickly moved up to 17 points, according to Vegas Insider. Since Tuesday morning, however – not coincidentally, the same time at which Stadium's Brett McMurphy released his report accusing former Ohio State assistant coach Zach Smith of using a racial slur toward former Ohio State wide receiver Trevon Grimes (which Ohio State has vehemently denied) – the spread has moved back down to 14.5 points.
Ohio State's First Four Games Against Maryland

| YEAR | LOCATION | RESULT |
| --- | --- | --- |
| 2017 | Columbus | Ohio State 62, Maryland 14 |
| 2016 | College Park | Ohio State 62, Maryland 3 |
| 2015 | Columbus | Ohio State 49, Maryland 28 |
| 2014 | College Park | Ohio State 52, Maryland 24 |
The Terrapins might very well be positioned to give the Buckeyes their toughest test yet since the two teams became Big Ten East rivals. While Ohio State's coaches always find ways to praise their opponents, their evaluations of the Terrapins have felt like more than just coachspeak, and the Buckeyes haven't played many truly dominant games this year.
Yet considering that Ohio State has always beaten Maryland by at least three touchdowns, and Maryland has lost four games this year by at least 20 points, the spread feels a bit low. If the Buckeyes can build off their newfound momentum on defense and in the running game, and Haskins can be sharp in his homecoming game, Ohio State should be capable of winning this game convincingly. The Terrapins were clearly overmatched in their games against Michigan, Iowa and Michigan State, and now, they're dealing with more injuries while the Buckeyes are as healthy as they've been in months.
With a game looming against Michigan that will almost certainly be a dogfight, this could be the last chance for Ohio State to win a game in dominant fashion and make a much-needed statement to the College Football Playoff committee.
Maryland's strong running game and solid defense won't make it easy for the Buckeyes to pull away in this game, but that should be their goal.
---
ELEVEN WARRIORS STAFF PREDICTION: Ohio State 38, Maryland 14