Before each week's Ohio State game, Eleven Warriors catches up with a media member who covers the opposing team to get his or her perspective on the Buckeyes' upcoming opponent.
This week, we caught up with Maryland beat writer Emily Giambalvo of the Washington Post to get her insight on the Terrapins as they prepare to host Ohio State in their final home game of the regular season at Maryland Stadium on Saturday (Noon, ABC).
It's been a tumultuous year for the Terrapins, who suffered a tragic loss this summer when offensive lineman Jordan McNair died after collapsing during a team workout. Maryland head coach DJ Durkin was placed on administrative leave during the subsequent investigation into McNair's death and the culture of the Maryland football program; he was fired on Oct. 31, one day after he was reinstated as head coach, following strong backlash toward the university's initial decision to retain him as coach.
Despite all of that tumult, Maryland has gone 5-5 this season under interim head coach Matt Canada, giving the Terrapins a shot at bowl eligibility. After a 34-32 loss to Indiana last Saturday, though, they must score an upset either over Ohio State this Saturday or Penn State next Saturday to have a chance to extend their season.
How has everything that has happened off the field affected the Terrapins on the field? What are the strengths and weaknesses of Ohio State's upcoming opponent? And if you're making the trip to Maryland for the Buckeyes' final regular-season road game of the year, where else should you plan to visit?
Giambalvo answers those questions and more in this week's edition of Across the Field.
Q: It's obviously been a tumultuous year for the Maryland football program, with Jordan McNair's death and the events that followed, including DJ Durkin's firing. What has been like to cover the program as all of this has unfolded?
Giambalvo: It's been wild to be a journalist covering this team, so I can't even imagine what it's like to be someone within the program who is intimately affected by every decision that has been made. I'm lucky to work at a news outlet that has so many smart people who have had major roles on all these stories. If you were to add up the people in all the bylines through this saga of events, there would probably be at least 15 different names.
Particularly at the beginning of the season, it was odd to try to mention both football and the chaos, which ultimately leads back to the death of a 19-year-old, in the same story. Those two things have such different levels of magnitude. But there's always been a commitment to cover both the football and the chaos fully. We're not going to ignore one or the other. It wouldn't be fair to not write about a freshman who's having a great season, just as it wouldn't be fair to not ask the difficult questions. So in general, it's been a strange mix of doing both things, but I hope at the end of the day, we have added a level of accountability and transparency to Maryland football.
Q: How has everything that has happened off the field affected Maryland's play on the field this season? Do you think it has served as motivation or as a distraction?
Giambalvo: My guess would be that it's done a little bit of both. I do think the players feel an overwhelming sense of wanting to play in honor of Jordan McNair. But I think any reasonable human would agree that what has gone on in the program has been a distraction. Imagine having your head coach come back to a practice, some of your teammates protest, and then the next day you hear he's been fired. And on top of that, you have to go play a game a few days later.
We've seen chaos in college football, but the way this situation has been so intertwined with each week of the season seems to make Maryland's circumstances different. (One report from an independent investigation was released the day before the Minnesota game. Another report was published by The Post and other media outlets two days before the Illinois game. The Durkin reinstatement and then firing happened three days before the Michigan State game.) These players aren't in a bubble. They're on social media. They know what's going on. And on top of all that, many of them lost a close friend.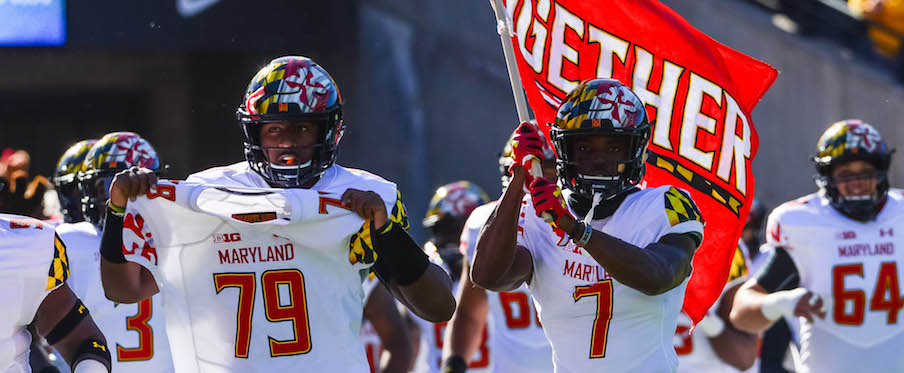 Q: How would you evaluate the job Matt Canada has done this season as interim head coach? Do you think he has a good shot to become the head coach for next season, or does that depend on how the Terrapins finish out the year?
Giambalvo: I think he's done a great job. He's never been a head coach before, and at least in the settings the media sees him in, he's always been calm, cool and professional. Canada is calling plays from the field for the first time in his career, and the offense has looked good. It has struggled in games against great defenses (Michigan, Iowa, Michigan State), but I think that goes back more to the lack of a pass game from either quarterback than play-calling.
Had Maryland won against Indiana, he would have had a great case to make for becoming the head coach. Maryland was essentially a play or two away from winning that game, so it's wild that his chances ultimately fall back on that, but that's college football. If Maryland were to upset either Ohio State or Penn State, I think he'd have a strong chance, probably even more so than if Indiana had been the sixth win. So yes, I think it depends on how Maryland finishes the year. The Indiana game didn't do him any favors. But he's shown he can lead a team through incredibly difficult circumstances, so even if it's not at Maryland, I'm sure he'll get an opportunity to be a head coach somewhere soon.
Q: On the field, what have been the Terrapins' biggest strengths and weaknesses this season?
Giambalvo: Maryland's run game has been great this year, but it had some injuries on Saturday. Ty Johnson and Javon Leake both had to leave the game against Indiana, so I'll be interested to see if they can play against Ohio State. That shifted much of the responsibility over to Anthony McFarland, who had a career-best day. It's odd for a Matt Canada offense to rely on one player that much, which I think is a strength of this offense. Lots of different receivers and running backs get the ball.
Maryland has been extremely explosive through most of the year, and it has a handful of players who can get chunk yardage. I was really impressed with the offense's efficiency and ability to move the ball down the field a few yards at a time against Indiana. The low point for the offense has been the quarterback situation. Maryland has really struggled to throw the ball this year. Kasim Hill, the starter, has had some great throws but those go along with some balls that have been way overthrown or underthrown. Hill tore his ACL during the Indiana game, and Tyrrell Pigrome will be taking over the job. Pigrome has played at various points in almost every game this year, but he played his best last weekend when he led the offense for the entire second half. He looked great, and nearly led the team to a comeback win.
The defense has improved significantly since last year, but the secondary wasn't great against Indiana, so I'd expect Dwayne Haskins to exploit that group of players. The defense has usually kept Maryland in games when the offense has struggled. 
Q: Who are some Maryland players that Ohio State and its fans should be aware of entering this game?
Giambalvo: Anthony McFarland, a redshirt freshman, has had a great year, and it'll be important for him to have another good game if running backs Ty Johnson and Javon Leake are still dealing with injuries. He's an explosive running back and has had eight plays of at least 20 yards this year.
On defense, Tre Watson, a grad transfer from Illinois, has had five interceptions and could be the greatest threat to Ohio State's pass game. Jeshaun Jones is the freshman receiver who had three touchdowns on his first three touches in the opener — one receiving, one rushing and one passing. He had a few quieter games after that, but in the last couple games, he's been making big plays in critical moments.

Q: This is Maryland's final home game of the season. What kind of atmosphere do you expect in College Park on Saturday?
Giambalvo: Eh, certainly don't expect anything electric -- unless it's coming from a traveling Ohio State fan base. Maryland has struggled to fill the stadium this season to fairly embarrassing levels. Students leave early, no matter what the score is. The announced attendance has been just over 30,000 for most games, and that's probably a generous number compared to the number of people who are in seats. Michigan State fans traveled well, and I expect Ohio State to do the same. If Ohio State fans want any sort of fun college football atmosphere on Saturday, they're going to have to be the ones who create it.
Q: For those who are making the trip to Maryland this weekend, are there are any other restaurants or other attractions you recommend visiting while in the area?
Giambalvo: I'm still fairly new around here, and I spend more time in D.C. than College Park. There's a restaurant that's also a bookstore called Busboys and Poets with a few locations, including one near College Park (but I've only been to the one on 14th Street in D.C.). I really enjoyed the food and atmosphere there. For breakfast, I've been to a place called the Coupe near Columbia Heights in D.C., and it was good.
There's a Maryland basketball game on Friday night, if you want a sports activity, and the Wizards also play Friday night. I'd recommend going into D.C. since you're so close anyway. Most museums are free and interesting. Spend some time at the National Mall or go to Georgetown. You'll see plenty of college towns if you travel for road games, but you'll rarely be right next door to a city like D.C.
Q: How do you see Saturday's game playing out?
Giambalvo: I actually don't think it'll be a blowout. Maryland's offense usually works well against teams that don't have a great defense, so I'd expect Maryland to be able to score against Ohio State. Plus, it's senior day, the players have been through a lot last year and it's getting to the point of desperation for a bowl game.
I don't think Maryland will be able to contain Dwayne Haskins. Given the matchup of Maryland's pretty good offense versus Ohio State's mediocre defense, I wouldn't be as surprised to see a chance of an upset here as I would have been for Maryland's games against teams like Michigan or Iowa. After the Indiana loss, a Maryland player already mentioned how Purdue upset Ohio State, so they'll definitely go in thinking it's possible. That said, my guess would be Ohio State wins by 14.