Coming off a win by only five points over Nebraska that continued a string of underwhelming performances for the Ohio State football team, the Buckeyes will look to use their game against Michigan State as a springboard for a strong finish to the season for the second year in a row.
After struggling to a 36-31 win over the 2-7 Cornhuskers last week, coming off a 49-20 loss to Purdue and a bye week, Ohio State stayed put at No. 10 in the College Football Playoff rankings – the lowest ranking among Power 5 teams with only one loss – despite losses by two teams above the Buckeyes from the previous week's rankings.
The Buckeyes can start to change that this week, though, if they can go on the road and earn a win over Michigan State, who is ranked 18th in the CFP standings with a 6-3 record this season, at Spartan Stadium on Saturday.

MICHIGAN STATE SPARTANS
6-3 (4-2 BIG TEN)
ROSTER / SCHEDULE
---
NOON – SATURDAY, NOV. 10
SPARTAN STADIUM
EAST LANSING, MICHIGAN
---
FOX
FOX Sports Go
Ohio State looked down and out entering its annual game with the Spartans last season, having suffered a 55-24 loss to Iowa one week before. But after rolling to a 48-3 victory over Michigan State, the Buckeyes would win their final three games of the regular season and the Big Ten championship.
That's exactly what they're looking to do at this point again this season, and with only one loss on their record, that could be enough to propel them back into the playoff field if they can accomplish it again this year.
"It's exciting when people doubt you," said Ohio State right guard Demetrius Knox. "The doubt that we have coming toward our program, we love that. Everybody here expects us to win, and that's the mindset, but when people have a little bit of doubt toward you, you get to prove them wrong."
In recent history, though, the Buckeyes have typically gotten much tougher competition from Michigan State from that which they got last year. The Spartans have beaten Ohio State three times in seven games dating back to 2011, and four out of those seven games – two wins for each school – have been decided by three points or less.
So while the Buckeyes would certainly love to put together another dominant performance over Michigan State to separate themselves from their recent struggles and make a statement, there's reason to believe they'll face a much tougher challenge this year from the Spartans, who haven't forgotten about last year as they look to turn the tables.
"Last year was a different outcome, they beat us, and it didn't feel good," Michigan State running back Connor Heyward said this week. "It left a bad taste for our team. We're looking to redeem ourselves and show the world what we are all about."
Buckeye Breakdown
After rushing for less than four yards per carry in five straight games, Ohio State finally got its run game going last week against Nebraska, rushing for 229 yards and three touchdowns – both its second-highest totals of the season – on 40 carries.
J.K. Dobbins led the way, rushing for 163 of those yards, and the offensive line had one of its best games of the season as the Buckeyes deviated away from the run-pass options they used frequently in their first eight games of the year and made a point to establish the run with direct handoffs to their running backs.
The Buckeyes will face much tougher competition this week from Michigan State's rushing defense, which leads the Football Bowl Subdivision with only 71.7 rushing yards allowed per game. But while they have made some adjustments to their running scheme as they prepare to play the Spartans, they still view moving the ball on the ground as a priority for this week.
"It's very important to run the ball," Ohio State right tackle Isaiah Prince said. "To kind of break their will, you got to play tough and physical. That's the only way to break a defense, to be physical."
That said, the Buckeyes will also need to make plays through the air to beat the Spartans, which makes it equally important for Dwayne Haskins to get back on track after completing a season-low 56.3 percent of his passes for 252 yards last week.
Because the Buckeyes put such an emphasis on getting their running game going in the two weeks leading up to the Nebraska game, Haskins said they didn't work as much on their passing game as they should have in preparation to face the Cornhuskers. Going into this week, though, Haskins felt as though they were more balanced in their preparation.
"We didn't do too much passing the way we should have done," Haskins said of the Buckeyes' preparation to play Nebraska, "but we learned from it. The run game did really good last weekend, I'm happy for the O-line and the running backs, who deserved that game. So this week, we'll be balanced on both."
Haskins did break Ohio State's single-season record for pass completions last week, and could continue to rewrite the record books this week, as he's less than 300 yards away from the single-season school record for passing yards and just three touchdown tosses away from matching J.T. Barrett's single-season record of 35 passing touchdowns.
Dwayne Haskins vs. Ohio State's Single-Season Passing Records

| Statistic | Haskins | Record |
| --- | --- | --- |
| COMPLETIONS | 242 | NEW RECORD |
| PASSING YARDS | 3,053 | 3,330 (JOE GERMAINE, 1998) |
| TOUCHDOWN PASSES | 32 | 35 (J.T. BARRETT, 2017) |
Ohio State's biggest area of concern entering this week's game remains its defense, as the Buckeyes continued to struggle on that side of the ball against Nebraska, allowing four touchdowns and 450 yards. The Buckeyes have allowed at least 392 yards or more in seven out of nine games this season, and 26 points or more in six out of nine games this season, as they have repeatedly looked vulnerable against both the run and pass.
Meyer believes Ohio State's defense actually has made some improvement, but after another unspectacular showing last week, there's still an obvious need for the Buckeyes to play better on that side of the ball down the stretch.
"I think we're getting closer," Meyer said. "It's getting closer, but it's nowhere near the standard we want."
One bright spot for Ohio State's defense in last week's game was the emergence of Brendon White, who took over at safety following a second-quarter targeting ejection for Jordan Fuller and had a breakout game, recording 13 total tackles with two tackles for loss. Meyer did not say who would start alongside Fuller this week, as White and Shaun Wade competed for that opportunity after Wade also started last week's game, but both are expected to see playing time on Saturday.
The Buckeyes' secondary has been a weak point all season, but with White and Wade looking like upgrades over Isaiah Pryor and Jahsen Wint – the safeties who saw playing time alongside Fuller earlier in the season – and third cornerback Jeffrey Okudah also set to return this week from a groin injury, the back end of their defense could enter this week in the best position it's been in all year.
"I think we're going to be, finally we're going to have them all healthy," Meyer said this week. "It's been a deck of cards shuffling in and out of the back end of our defense."
"It's exciting when people doubt you. The doubt that we have coming toward our program, we love that. Everybody here expects us to win, and that's the mindset, but when people have a little bit of doubt toward you, you get to prove them wrong."– Ohio State right guard Demetrius Knox
Michigan State Breakdown
As previously mentioned, the Spartans' strength is their defense, particularly their ability to stop the run. They've held their opponents to 100 rushing yards or less in seven out of nine games this season, and they've also held opponents to 21 points or less in seven out of nine games this season.
2018 Statistical Comparison
 
OFFENSE
42.2
10th
POINTS FOR
23.4
110th
178.1
55th
RUSHING OFFENSE
125.6
111th
369.1
3rd
PASSING OFFENSE
234.8
64th
547.2
5th
TOTAL OFFENSE
360.3
105th
.481
12th
3rd DOWNS
.323
125th
.756
116th
RED ZONE
.875
36th
DEFENSE
23.8
45th
POINTS ALLOWED
19.0
16th
153.4
56th
RUSH DEFENSE
71.7
1st
243.9
85th
PASS DEFENSE
253.4
98th
128.6
57th
PASS EFFICIENCY DEFENSE
118.83
37th
397.3
69th
TOTAL DEFENSE
325.1
22nd
.323
17th
3rd DOWNS
.318
13th
.880
96th
RED ZONE
.818
49th
SPECIAL TEAMS
7.0
93rd
PUNT RETURN
6.1
101st
18.8
96th
KICKOFF RETURN
24.6
19th
43.1
4th
NET PUNTING
36.0
93rd
MISCELLANEOUS
+0.4
27th
TURNOVER MARGIN
+0.3
41st
8.0
112th
PENALTIES
5.9
49th
9
EDGE
9
Going into this week, the Spartans are coming off their most dominant defensive performance of the season, having held Maryland to just 100 yards of offense (one week after the Terrapins had 712 yards against Illinois) in a 24-3 win last week, so their defense certainly has Ohio State's attention.
"They force you as much as they can to be one-dimensional," Ohio State offensive coordinator Kevin Wilson said. "It's going to be a tremendous challenge."
Michigan State's defense is buoyed by its experience, with nine players who are in at least their second season as starters. Key players for the Spartans defense include defensive end Kenny Willekes and defensive tackle Raequan Williams, who lead the team with 13.5 tackles for loss and eight tackles for loss, respectively; linebackers Joe Bachie and Andrew Dowell, who have 68 and 61 tackles this season; and a strong starting secondary consisting of Justin Layne and Josiah Scott at cornerback and David Dowell and Khari Willis at safety.
Offensively, the Spartans haven't been nearly as strong this season, in part because of injuries. Quarterback Brian Lewerke has battled a shoulder injury that has hampered his effectiveness, and he's thrown for less than 100 yards in each of his last two starts. Running back LJ Scott has played in just four games this season due to an ankle injury. Felton Davis III, the Spartans' leading wide receiver, is out for the season with an Achilles injury. The Spartans also enter this game down two starting offensive linemen, left guard David Beedle and center Matt Allen, due to injuries.
Even though Lewerke has struggled all season, completing just 55.9 percent of his passes (151 of 270) for 1,740 yards with eight touchdowns and eight interceptions apiece, and backup quarterback Rocky Lombardi threw for 318 yards and two touchdowns in a win over Purdue two weeks ago, Michigan State coach Mark Dantonio has remained adamant that Lewerke is the team's starting quarterback.
Nonetheless, Ohio State's defense has to be prepared for the potential to see both quarterbacks on Saturday. Meyer said that doesn't have a big effect on the Buckeyes' preparation, however, because they view Lewerke and Lombardi as quarterbacks with similar skill sets, as both have the ability to make plays as both passers and runners.
"We don't see that much of a difference in the two players," Meyer said. "They're both very talented guys."
LJ Scott could be on the shelf for the Spartans once again this week, as Dantonio brought up the possibility earlier this week that Scott could end up sitting out the rest of the season and taking a redshirt. That said, the Spartans still have a chance to get their running game going with Heyward – the younger brother of former Ohio State and current Pittsburgh Steelers defensive lineman Cameron Heyward – who is coming off a breakout game against Maryland last week, in which he ran 15 times for 157 yards and two touchdowns, including an 80-yard touchdown run.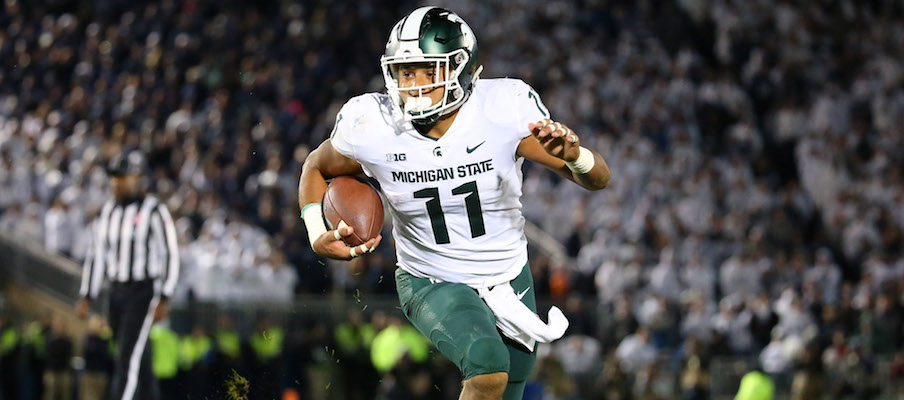 On top of Heyward's Ohio State ties, the Spartans have 28 players on their roster from Ohio, and with their last win against the Buckeyes coming in 2015, most of those players haven't yet experienced a win over their home-state school. So there's no question that the green and white will be motivated to try to pull an upset over the scarlet and gray and spoil Ohio State's playoff hopes on Saturday, especially with the way last year's game went.
"I think about it a little bit because I'm from Ohio, I've got buddies of mine who remind me about it," said Bachie, who is from Brook Park, Ohio. "We know we've got to play better, and that's what we're going to try and do this year."
How It Plays Out
Ohio State opened as a 5.5-point favorite to beat Michigan State, but that line quickly dropped to 3.5 points, where it has remained for the rest of the week, according to Vegas Insider.
Ohio State's Last Six Games Against Michigan State

| YEAR | LOCATION | RESULT |
| --- | --- | --- |
| 2017 | Columbus | Ohio State 48, Michigan State 3 |
| 2016 | East Lansing | Ohio State 17, Michigan State 16 |
| 2015 | Columbus | Michigan State 17, Ohio State 14 |
| 2014 | East Lansing | Ohio State 49, Michigan State 37 |
| 2013 | Indianapolis | Michigan State 34, Ohio State 24 |
| 2012 | East Lansing | Ohio State 17, Michigan State 16 |
Considering that the game will be played at Michigan State's home stadium, and considering that the Buckeyes have had a run of underwhelming performances against mediocre teams, it's hard to imagine Saturday's game being anything like the demonstration of dominance that Ohio State put on the Spartans last season.
If the Spartans are able to put the brakes back on Ohio State's rushing offense, and Ohio State's defense continues to struggle, Michigan State could very well earn a win over the Buckeyes on Saturday, especially if its passing defense can keep Haskins in check.
With that being said, Saturday could be a prime opportunity for Ohio State's defense to finally have a big game, given that the Buckeyes appear to finally be mostly healthy on that side of the ball (with the enormous exception of the since-departed Nick Bosa, of course), and the Spartans offense is a banged-up bunch that has struggled all season.
Given Michigan State's strength on defense and lackluster offense, Saturday's game probably won't be a high-scoring affair, but if the Buckeyes can at least keep the Spartans offense around their averages (360.3 yards per game and 23.4 points per game) and run the ball well enough to pair with some big plays in the passing game, Ohio State's offense should give the visiting team enough of an advantage to earn a win in East Lansing.
---
ELEVEN WARRIORS STAFF PREDICTION: Ohio State 31, Michigan State 22