Ohio State's running game and red zone offense showed signs of life in a closer-than-expected win last Saturday in the Shoe but the defense still had its issues despite a breakout performance from safety Brendon White. 
The hope was following an open week the Buckeyes would come out and click on all cylinders but six fumbles (two lost) on offense and four plays surrendered of at least 20 yards tempered things a bit. 
So much so, in fact, that the Buckeyes made up zero ground in the College Football Playoff rankings, checking in again at No. 10 again and being passed by now-No. 9 West Virginia. 
As such, it's not just winning time for Ohio State but win convincingly time. Can the Buckeyes finally put it all together on the road against Mark Dantonio's squad? For answers to that question and more, I welcome 11W heroes Dan Hope, Jake Anderson and Andy Vance to this week's roundtable. 
---
Michigan State boasts not only the best rush defense in the league but also in the nation giving up just 71.7 yards per game on 2.53 yards per carry. Meanwhile, Ohio State finally got its rushing game on track with 229 yards on 5.7 ypc versus Nebraska thanks to well, Nebraska, and more traditional run plays instead of RPOs. Are you sold on the progress that came with some scheme changes? What kind of day will the Buckeyes have on the ground in East Lansing?
Dan: I think Ohio State's run game will be better against Michigan State than it was in its five-game stretch from Tulane to Purdue – when the Buckeyes averaged less than four yards per carry for five games in a row – but I don't think it will be nearly as strong as it was against Nebraska. The move to a more traditional run scheme was long overdue, and a product of the extra week to prepare for the Nebraska game, and I think it is a legitimate improvement that has given the Buckeyes more confidence and momentum in their running game going into this week. That said, I also think Michigan State will provide much more resistance to the running game than Nebraska could. The Buckeyes ran all over a Michigan State run defense that was also highly ranked last season, though, so while I don't see a repeat of that 335-yard, four-touchdown performance coming, I will say they hit 4+ yards per carry and break two or three big plays in the ground game.
Jake: For the past six days, Ohio State has been ripped apart for its measly five-point win against a two-win Nebraska team. But, I loved what I saw on Saturday. The coaching staff implemented a simple playbook and allowed the offensive line to brutalize the opposing front seven. This works against Nebraska, but will it work against the Spartans? It will, but not to the same extent. I would not expect 250 yards from the backfield like last week, but 125 on 25 carries seems manageable.
Andy: I don't think I'll truly be confident in this team's rushing attack until I see it deployed effectively against a team with a pulse. If they perform in East Lansing the way they did at home versus 2-6 Nebraska, well then, consider me a convert. What has me concerned is how well the offensive line does its job, because I've seen enough J.K. Dobbins to know he's got the goods. If the road-graders up front do the deal, and the scheme is geared toward the personnel the Buckeyes actually have on the field (in other words, no threat of J.T. Barrett running the ball), then it could be a good day. Last week had to build some confidence for the guys that they could, in fact, run the football, and confidence matters.

Brendon White had himself a day against Nebraska after seeing virtually zero time at safety prior to his 13 tackle, 2 TFL performance. Are there any other White's on the roster? Give us one guy to maybe keep an eye on down the stretch that could make a play or two despite not being a typical name casual fans are familiar and/or that hasn't shown much yet this year.
Andy: Every coach not named Nick Saban has their own quirks when it comes to personnel management, and Urban Meyer clearly has some. That's why seemingly every year we see a guy like White who has been mysteriously absent until necessity/injury dictates they go in the game… and voila, they play like a world-beater. How many of those guys are on the roster? Based on injuries and performance, I'm assuming that any other pleasant personnel surprises will come in the defensive secondary. Meyer alluded to that earlier this week on the Coach's Show, saying, "It's been like a rotating door on the backend of our defense." He mentioned Sevyn Banks as someone to watch, citing his performance in practice – a key to cracking a Meyer depth chart – and so I look to a guy like Banks at corner, or perhaps Teradja Mitchell at linebacker, as names I'm watching for White-like surprises down the road.
Dan: Chris Olave wasn't one of the most highly touted recruits in this year's freshman class, but he's been making an impression on his teammates and coaches before the season even started and now, he's earned a spot in the wide receiver rotation. He didn't catch any passes against Nebraska, but he did show his speed in making an excellent tackle on the punt team, and I think will emerge and make some plays down the stretch of the season, setting himself to become one of the Buckeyes' top receivers next year when they lose at least half of their regular rotation from this year.
Jake: Baron Browning is the first player that comes to mind. Browning is in the linebacker rotation but deserves a chance to start. At 6-foot-3, he is an athletic freak that was a five-star prospect coming out of high school. He can run from sideline-to-sideline, something the Silver Bullets have been missing this year, and plug the gaps in the middle. He cannot be any worse at tackling than Tuf Borland.
Dwayne Haskins completed a season-low 56.3% of his passes against Nebraska and failed to complete at 20 passes for the first time this year. He also looks increasingly allergic to contact, releasing throws early or hitting the ground fast on the run. Do fans have anything to worry about with Haskins' so-so outing against the Huskers or was it an anomaly aided by the fact the run game was finally going, allowing OSU to get some balance?
Andy: It seems like every Heisman-worthy quarterback not starting for Alabama this season has had a "reversion to mean" type of game at some point, and that's what I think this game was for Haskins. Early in the season it was pretty clear that Haskins had no shortage of confidence, and running roughshod over the Ohio State record book as a passer probably fuels that somewhat. What concerned me during the Nebraska game, at times, was the sense that Haskins didn't have a true sense of urgency… the proverbial "fire in the belly," so to speak. J.T. Barrett hype videos last season showed a window into the passion that underpinned his leadership, and you could almost always count on Barrett to go out and win the game when the team was up against the wall. I'm not sure Haskins is that guy, honestly. He runs like an arthritic accountant who smokes two packs a day, his slide looks like a viral video from a waterpark somewhere, and I don't have a good feel for the "intangibles" with him when the chips are down. What I have zero question about is his ability to sling the rock, so I'm not at all concerned about him big-picture. If the coaches put him in a position to succeed with the right scheme for him, I think he'll continue to do amazing things.
Jake: No. Haskins was probably still recovering from the ridiculous 73 passes he threw in West Lafayette. Continuing, Ohio State came into Nebraska with a clear game plan: establish the run. The Buckeyes ran the ball for the first five plays on offense and were clearly trying to prove to the conference that they can still pound it on the ground. The balance that Ohio State developed last week will only help Haskins in the future. His rough outing is nothing to be concerned about.
Dan: Haskins said while meeting with the media on Tuesday that Ohio State's offense spent most of its time working on the running game in preparation for the Nebraska game, which meant the Buckeyes didn't spend as much time as usual working on their passing game. I think Haskins' underwhelming performance against the Cornhuskers was a product of that. This week, however, he said he thought the Buckeyes were keeping a better balance in their preparation. Against a Michigan State defense that is much stronger against the run but beatable through the air, Ohio State is going to need Haskins to make more plays as a passer this week, and I think he will rise to the occasion.
I still can't figure out this linebacking corps beyond Malik Harrison. He's the one fairly constant, versatile performer, that would have a shot to start on any of the OSU defenses since Meyer's arrival. Meanwhile, Tuf Borland and Pete Werner are at least inconsistent, if not any other adjectives. In the base defense, which three linebackers would you start and why?
Dan: Personally, I think Werner and Borland – particularly Werner – take a little more flak from fans than they deserve. Truthfully, I think the lack of plays made by the linebackers this season has more to do with the scheme not putting them in position to make plays than it does the personnel that's on the field, considering that this has been an issue for various lineups since the start of last season. Right now, I would say that Baron Browning should start over Borland at middle linebacker because I think Borland's lack of speed is an issue that puts him in bad spots against most offenses, particularly in coverage. But what I really think the Buckeyes should start doing – or perhaps more accurately, should have started doing two months ago – is rotating multiple players at each linebacker position, because it's tough to evaluate who their best linebackers are unless they actually play, and none of the linebackers have performed well enough that taking them off the field should make the defense demonstrably worse. Could Keandre Jones, Teradja Mitchell, Dallas Gant or K'Vaughan Pope add a much-needed spark to the linebacker corps? Much like with Brendon White at safety, we'll never know unless they get the chance to play, but the best way to do that would be to sprinkle them into the rotation rather than never rotating starters out of the game.
Jake: As I mentioned above, Baron Browning deserves a shot. Tuf Borland is a huge question mark in pass coverage and his run defense does not make up for it. Browning has performed well in his limited time so far this year and needs more chances to play to his athletic potential.
Malik Harrison is the best linebacker on the team. He leads the team in tackles, plays well in coverage, and deserves little of the slander given to him. Justin Hilliard is buried underneath him on the depth chart and would provide a serviceable replacement if things go south.
The last linebacker spot is difficult. KeAndre Jones is a popular pick among fans, but I'll stick with Pete Werner. Werner is third on the team in tackles, mobile, and aggressive. His technique must improve but he is still the best choice for the third and final spot.
Andy: Who would I start? Pretty much anyone else alongside Harrison, at this point. Look, it's pretty clear to me that the personnel issues at this point are secondary to the coaching issues. Ohio State's wide receivers were a clown show the past couple of seasons… remove a poor position coach from the equation, and voila, that unit has been one of the team's strongest this season. I can't help but wonder what would happen if someone who wasn't hired for the sole reason that they were the head coach's buddy was coaching the linebackers.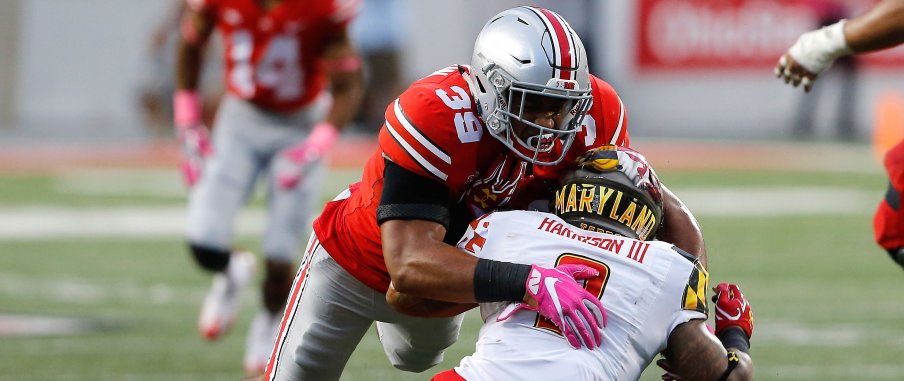 A lot of Buckeyes in the NFL are having solid seasons and last weekend added to the accolades as Jerome Baker snagged his first interception and touchdown, Curtis Samuel had a pair of touchdowns, Michael Thomas is a damn freak, Jeff Heuerman is doing work etc. Which active Buckeye in the NFL would you like to add to this current Ohio State team and why?  
Jake: Easy: A Bosa brother. You are lying to yourself if you think this defensive line has had the same production with Nick Bosa as the unit has had without him. Bosa (either one, honestly) would put more pressure on the quarterback and paint over some of the mistakes in the other areas of the defense. Does Joey/Nick Bosa solve everything? Of course not. But neither does Malik Hooker or Raekwon McMillan. An excellent pass rush can cover up a lot more holes than a good linebacker or safety can. Young/Cooper, Jones, Landers, and Bosa was would be a terrifying unit.
Dan: What Ohio State could use more than anything else right now would be a big-time defensive playmaker, and three names come to mind. Malik Hooker feels like the obvious choice, but with Brendon White and Shaun Wade finally ahead of Isaiah Pryor and Jahsen Wint on the pecking order alongside Jordan Fuller, I think the safety play can take enough of a step forward that a playmaker in the front seven could make a bigger impact. Darron Lee's athleticism and versatility could certainly add a much-needed playmaking spark to the linebacker corps, so he draws serious consideration for me here as well. But the Buckeyes' defensive line hasn't been the same since Nick Bosa's season ended early, and if the defensive line could start playing at a dominant level again, that could help make up for the deficiencies in back seven. So I'll go with Joey Bosa, who is in my opinion the best defensive player of the Urban Meyer era and of course brings a similar skill set to the defense to that which his brother provided before his injury.
Andy: Samuel, Thomas and Heuerman are some of my favorite Buckeyes in the NFL, but none of them are truly needed at the moment. Ohio State has solid receivers and running backs. What this team needs is a Silver Bullet injection. The first name that popped into my head was Joey Bosa, since this team has been a Bosa short all season long. This team felt like it was going to have one of the nastiest pass rushes in the country, and while the defensive line has done well, that prospect of a Bosa paired with Chase Young was a truly terrifying prospect for opposing quarterbacks. But I'd dearly love to have a Vonn Bell, a Damon Webb or a Ryan Damn Shazier right now, shoring up the gaping holes at the second level and beyond.
Ohio State opened as a 5.5-point favorite over the Spartans but the line quickly dropped to -3.5. Do the Buckeyes cover? Give us your final score and game MVP.
Andy: I have the Buckeyes covering this week. The lines for games like Nebraska have just been too fat given the inconsistencies plaguing this team on both sides of the ball. But this week's line feels about right for a November game on the road against a tough-nosed Spartan squad. I have the Buckeyes coming home with the win, 35-24, and expect Dwayne Haskins to return to the form we expected prior to Nebraska. He'll be your MVP, as he and his seasoned receiving corps have another outstanding outing.
Jake: I have picked the Buckeyes to cover every game this year and I will not stop now. I'll take Ohio State 28-24 over the Spartans with Haskins throwing for 300 yards and Dobbins adding 75 on the ground. Brendon White earns a special place in my heart with 8 tackles and an interception.
Dan: I don't expect Ohio State to win by a big margin this week, because the Buckeyes simply haven't played well enough in recent weeks to give me reason to believe that will happen, but the 3.5-point spread is low enough that I think they will be able to beat the spread for the first time in six games. With Michigan State's strong defense but mediocre offense, I expect a low-scoring game, but I think Ohio State's offense ultimately comes up with enough to lead the Buckeyes to a victory. I'm predicting a final score of 28-20, with Haskins making some big plays with his arm to be the game MVP.