Adrian Martinez could have been Ohio State's quarterback for the recruiting class of 2018.
Instead, Martinez will be playing against Ohio State when Nebraska comes to Ohio Stadium to face the Buckeyes on Saturday.
As Emory Jones wavered in his commitment to Ohio State fall, the Buckeyes began courting potential replacements for Jones as their quarterback for the class of 2018, and one of those quarterbacks was Martinez. The four-star prospect from Clovis West High School (Fresno, California) visited Ohio State last November for the Buckeyes' home game against Michigan State, a visit on which he was hosted by Ohio State's current starting quarterback, Dwayne Haskins.
Just one day later, however, the Buckeyes extended a scholarship offer to Lake Travis (Austin, Texas) quarterback Matthew Baldwin, who ultimately replaced Jones in Ohio State's recruiting class while Martinez never received an offer.
So far, though, that seems to be working out just fine for Martinez. Because while Baldwin is currently Ohio State's third-string quarterback, left to wait his turn behind Haskins and Tate Martell with no guarantee of ever starting for the Buckeyes, Martinez is already starting at Nebraska as a true freshman – and succeeding.
"For awhile there was definitely mutual interest, but Nebraska came into the picture and this is where I ended up playing, thankfully," Martinez told reporters at Nebraska on Monday when asked about being recruited by Ohio State.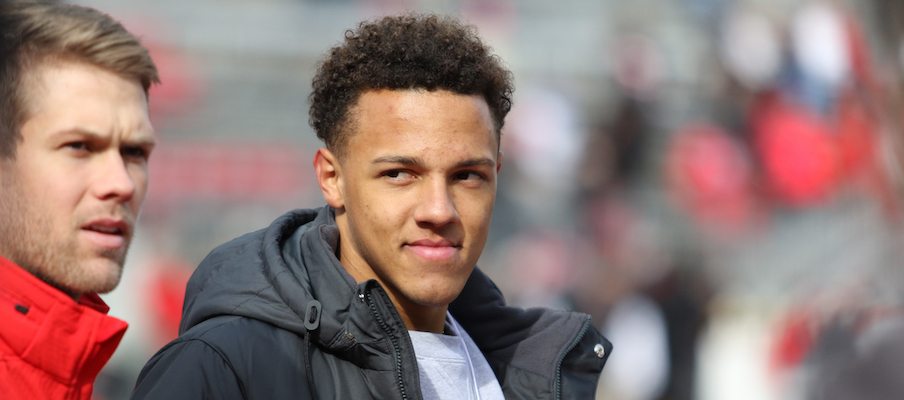 While Nebraska is just 2-6 this season, Martinez himself has performed well, completing 136 of 205 passes for 1,656 yards and 11 touchdowns with only six interceptions while also running the ball 83 times for 408 yards and four touchdowns. He's already broken Nebraska's school record for the most passing yards by a freshman, and was named the Manning Award Quarterback of the Week after he completed 25 of 29 passes for 276 yards and three touchdowns and ran for another 125 yards and a touchdown to lead the Cornhuskers to their first win over the season over Minnesota two Saturdays ago.
Nebraska coach Scott Frost is impressed with the way his quarterback has developed over the course of the year.
"I think what's really improved is Adrian's ability to fit balls into tight windows," Frost said Monday. "Some of the throws he's made lately in the red zone and even out in the field, getting rid of the ball quick and knifing it into guys, that makes you just more efficient. And when you're playing a really good team, the windows are going to be small, and you've got to be able to get the ball out on time and into the perfect spot. Early in the year, guys kind of had to be really open for him. Now he's starting to see things and anticipate them, and the ball is getting on top of receivers on time and in smaller windows."
Ohio State coach Urban Meyer is also impressed by what he's seen from Martinez, and expects his ability to make plays with both his arm and his legs to present a tough challenge to the Buckeyes' defense on Saturday.
"Elite guy," Meyer said. "He's a dual guy that can run and pass. He's doing a very good job. Really, the last two games, he's done a great job."
While playing the No. 8-ranked Buckeyes at Ohio Stadium will certainly be a tougher test than Nebraska's last two games against Minnesota and Bethune-Cookman, it won't be the first tough road test of the season for Martinez. He battled through a knee injury in a very rough day at Michigan, completing just 7 of 15 passes for 22 yards with an interception in that game on Sept. 22, but was much better on the road at Wisconsin on Oct. 6, completing 24 of 42 passes for 384 yards and two touchdowns while also running for 57 yards and a touchdown.
Martinez believes those experiences, as well as his experience being recruited by Ohio State, have prepared him well to play in the Horseshoe on Saturday.
"We've played in some pretty tough environments already, and I took an official visit to Ohio State so I've been to Columbus before," Martinez said. "I feel prepared to handle that environment."
Frost is optimistic, too, that his quarterback will be well-prepared to play the Buckeyes.
"Playing in those loud stadiums against really good teams, he's already gotten a chance to do that. He's going to get another chance Saturday, because we're playing in a great place to play college football, in a loud stadium against a really good team," Frost said. "I think he'll be ready, and I think the whole team will be ready."
"We've played in some pretty tough environments already, and I took an official visit to Ohio State so I've been to Columbus before. I feel prepared to handle that environment." – Adrian Martinez on preparing to play at Ohio Stadium
Martinez is looking forward to the opportunity to return to Ohio Stadium and particularly the opportunity to compete with Haskins, who he had nothing but praise for when he was asked on Monday about the Buckeyes' starting quarterback.
"I think he's a great quarterback," Martinez said of Haskins. "Really good dude, too."
Haskins repaid the praise to Martinez in a tweet exchange on Monday:
Special person, special player.. @MartinezTheQB https://t.co/RztYwT6YRp

— Dwayne Haskins, Jr (@dh_simba7) October 29, 2018
It isn't just Haskins who has caught Martinez's eye from Ohio State. Martinez expects the Buckeyes, even with their recent struggles on defense, to give the Cornhuskers – who are nearly three-touchdown underdogs for Saturday's game – a big challenge on both sides of the ball.
"Obviously Ohio State is a very talented team," Martinez said. "They play aggressive, they play fast. So we're just going to have to come bring our A-game, and be ready to play."
That said, Martinez says he and his teammates are confident that they can not only compete with the Buckeyes in Columbus on Saturday, but come away with a win.
"I believe in our team, I believe in my teammates and I know we believe in each other," Martinez said. "There's no question in all of our minds that we can compete with Ohio State and beat Ohio State. That's our goal. I think if you go into a game thinking you can't win, then you've already lost."