With a 2-6 record this season, Nebraska isn't a team that should pose a significant threat to Ohio State.
As Ohio State's defense comes off a game in which it gave up six touchdowns and 539 yards to Purdue, however, Nebraska has enough talent and scoring ability to have a big day of its own if the Buckeyes haven't made the improvements they needed to make during their bye week.
With the exception of games against Troy and Michigan in which starting quarterback Adrian Martinez was either limited or did not play due to a knee injury, Nebraska has scored at least 24 points and gained at least 468 yards in each of its other six games, including at least 45 points in each of its last two games – its first two wins of the year – against Minnesota and Bethune-Cookman.
The Cornhuskers' weakness has been their defense, ranking 102nd nationally in total defense (438 yards allowed per game) and 101st in scoring defense (33.4 points allowed per game), though they have demonstrated gradual improvement on that side of the ball as well. Since giving up 56 points to Michigan, Nebraska has held its opponents to less points each week in five straight games, while it has also held its opponents to less yards in three straight games since giving up a season-high 533 yards to Wisconsin in its fifth game of the season.
Ohio State should be motivated to not only win but win big on Saturday (Noon, Fox), considering the 49-20 defeat it suffered in West Lafayette. But while the Buckeyes opened as 22.5-point favorites (a line that has already dropped to 20.5), the Cornhuskers have enough talent to make the home team sweat if they don't bring their A-game to Ohio Stadium on Saturday.
We take a closer look now at Scott Frost's squad.
Quarterback
2 Adrian Martinez – 6-2, 220, Freshman
A four-star recruit who was also briefly courted by Ohio State before Matthew Baldwin's commitment last fall, Martinez immediately emerged as Nebraska's top quarterback and has performed well as a true freshman, completing 136 of 205 passing attempts (66.3 percent) for 1,656 yards (8.1 yards per attempt) for 11 touchdowns.
Martinez has a good arm and the ability to throw the ball all over the field – he's already broken the record for the most passing yards by any freshman in Nebraska history – but he's also a great athlete who can make plays with his legs, having run for 408 yards and four touchdowns on 83 carries this season.
He's still a young quarterback who will make some mistakes, but his playmaking ability as both a passer and a runner makes Nebraska's offense dangerous, and the Buckeyes need to be prepared for the threat he can provide in both areas on Saturday.
Running Back
22 Devine Ozigbo – 6-0, 235, Senior
28 Maurice Washington – 6-1, 190, Freshman
After leading the Cornhuskers in rushing with just 493 yards and three touchdowns in 2017, Ozigbo has taken his game to new heights in his senior season, already rushing for 710 yards on 96 carries – good for 7.4 rushing yards per attempt – and eight touchdowns.
He's a big back who can use that bulk to drive through contact, but he also has great speed and quick feet for a back of his size. The big difference in Ozigbo this season has been the big-play ability he has shown; after having just three runs of 20-plus yards in 2017, he has already nine runs of 20 yards or more this season.
Washington, another four-star recruit from California who was recruited by Ohio State late in last year's cycle, has also emerged as a playmaker as a true freshman, rushing for 344 yards and three touchdowns on 59 attempts. He's an agile back who's shown big-play ability of his own – with five runs of 20-plus yards – and as Nebraska's No. 2 back, pairs with Ozigbo, to give the Cornhuskers a strong one-two punch at the position.
Wide Receivers
8 Stanley Morgan Jr. – 6-1, 200, Senior
10 JD Spielman – 5-9, 185, Sophomore
81 Kade Warner – 6-1, 210, Redshirt Freshman
In Morgan and Spielman, Nebraska has a pair of dynamic playmakers at wideout who both rank among the best receivers in the Big Ten.
Spielman, a one-time Ohio State lacrosse commit whose uncle is Buckeye legend Chris Spielman, leads the Cornhuskers with 53 receptions for 686 yards and seven touchdowns this season. He is also the Cornhuskers' leading returner, with eight kickoff returns for 169 yards and four punt returns for 99 yards, including a 77-yard punt return touchdown against Bethune-Cookman this past Saturday.
Spielman has great quickness to break away from defensive backs on routes and to make defenders miss with the ball in his hands, and he was one of the few bright spots in Nebraska's 56-14 loss to Ohio State last year, catching 11 passes for a school-record 200 yards, including a 77-yard touchdown.
Morgan, Nebraska's leading receiver last season, is also having a productive year for the Cornhuskers, having caught 44 passes for 638 yards and five touchdowns. An outside threat who can beat cornerbacks with speed but also make contested catches when covered, Morgan also caught a touchdown pass against the Buckeyes last year and will be a tough test for Ohio State's cornerbacks on Saturday.
Warner, a walk-on whose father is Pro Football Hall of Fame quarterback Kurt Warner, is Nebraska's third starter at wide receiver but has only caught six passes for 36 yards. Outside of Spielman and Morgan, no other Nebraska receiver has reached double digits in receptions or triple digits in receiving yards this year.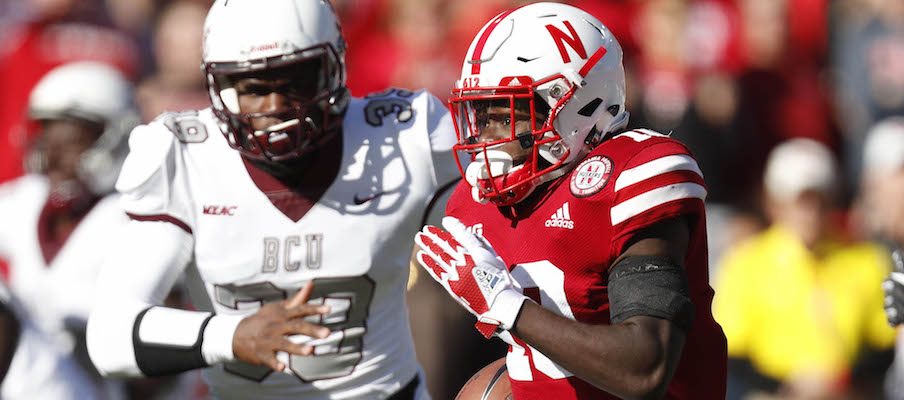 Tight Ends
86 Jack Stoll – 6-4, 260, Redshirt Sophomore
A first-year starter at tight end, Stoll is both a reliable pass-catcher and a solid blocker for the Cornhuskers. He's not a big threat to make field-stretching plays, but he is the team's third-leading pass-catcher with 11 receptions for 153 yards and a touchdown, while his ability to move defenders and make downfield blocks makes him an asset in the run game.
Offensive Line
76 Brenden Jaimes – 6-6, 300, Sophomore
67 Jerald Foster – 6-3, 335, Redshirt Senior
63 Tanner Farmer – 6-4, 325, Redshirt Senior
56 Boe Wilson – 6-3, 305, Redshirt Sophomore
71 Matt Farniok – 6-6, 330, Redshirt Sophomore
Nebraska ranks 17th in the Football Bowl Subdivision with 5.55 rushing yards per carry this season, and while Ozigbo, Martinez and Washington have been the ones gaining those yards, the offensive line has also played a big part in that. While it's not quite the elite offensive lines that Nebraska was once known for in its heyday, it's a solid group that's shown good ability to create holes in the running game.
Foster and Farmer lead the way for the group as big, athletic fifth-year seniors on the interior line, while Farniok gives the Cornhuskers another massive blocker at right tackle to clear running lanes. Foster, a second-year captain, earned honorable mention All-Big Ten honors in 2017.
The Cornhuskers have been better in run blocking than they have in pass protection, as they have allowed 20 sacks, tied for the most among all Big Ten teams this season.
Defensive End
91 Freedom Akinmoladun – 6-4, 295, Redshirt Senior
95 Ben Stille – 6-5, 290, Redshirt Sophomore
Stille, who moved back to defensive end in Nebraska's 3-4 defense this season after spending most of his freshman season at outside linebacker, is the most disruptive player on the Cornhuskers' front line, ranking second on the team with five sacks. He's the team's best inside pass-rusher, and he holds himself to a high standard – he recently turned down the team's traditional Blackshirt, awarded to Nebraska's top defensive players, because he did not feel as though he had performed well enough in practice.
Akinmoladun doesn't make as many big plays as Stille, but he is one of Nebraska's most experienced players, having started every game for the Cornhuskers since 2016. He has recorded 20 total tackles with 2.5 sacks this year.
6-foot-2, 310-pound junior Khalil Davis, who leads all Nebraska defensive linemen with 31 total tackles, also sees regular playing time in the defensive end rotation with Stille and Akinmoladun.
Nose Tackle
96 Carlos Davis – 6-2, 325, Redshirt Junior OR 44 Mick Stoltenberg – 6-5, 315, Redshirt Senior
Stoltenberg, another one of the Cornhuskers' captains, started Nebraska's first three games of the season before suffering a knee injury that caused him to miss four games, but he returned to play off the bench against Bethune-Cookman this past Saturday.
Davis has started in Stoltenberg's absence and performed solidly, recording 14 total tackles with 2.5 tackles for loss and one sack. With Stoltenberg's return, it's uncertain who will start this week, but both should see regular playing time – as both could also kick out and see some playing time at defensive end – in the rotation.
Outside Linebacker
12 Luke Gifford – 6-4, 245, Redshirt Senior
43 Tyrin Ferguson – 6-2, 230, Redshirt Junior OR 22 Alex Davis – 6-5, 255, Redshirt Junior
Gifford is the star of Nebraska's defense, leading the Cornhuskers with 10.5 tackles for loss and 5.5 sacks and ranking fourth on the team with 46 total tackles. After missing the end of last season with a hip injury, Gifford has bounced back strong to become the Cornhuskers' top pass-rusher off the edge, while he's a strong run defender.
Ferguson began the season as the Cornhuskers' other starter at outside linebacker, but has been limited in recent weeks due to injury, leading to Davis taking his place in the starting lineup. That said, the smaller, athletic Ferguson has been much more productive than Davis, recording 22 total tackles and five tackles for loss while Davis has just four tackles and zero tackles for loss.
Inside Linebacker
5 Dedrick Young II – 6-1, 245, Senior
7 Mohamed Barry – 6-1, 230, Redshirt Junior
In his first year as a starter for the Cornhuskers, Barry has emerged as the team's most active defender, leading Nebraska and ranking third in the Big Ten with 75 total tackles. He's an explosive athlete who can cover ample ground to make tackles and disrupt plays in the backfield, with 9.5 tackles for loss to his name this year.
Young, meanwhile, is a fourth-year starter for the Cornhuskers who is both a leader for the defense and one of its most consistent players. He doesn't flash as much playmaking ability as Barry, but still ranks third on the team this season with 47 total tackles.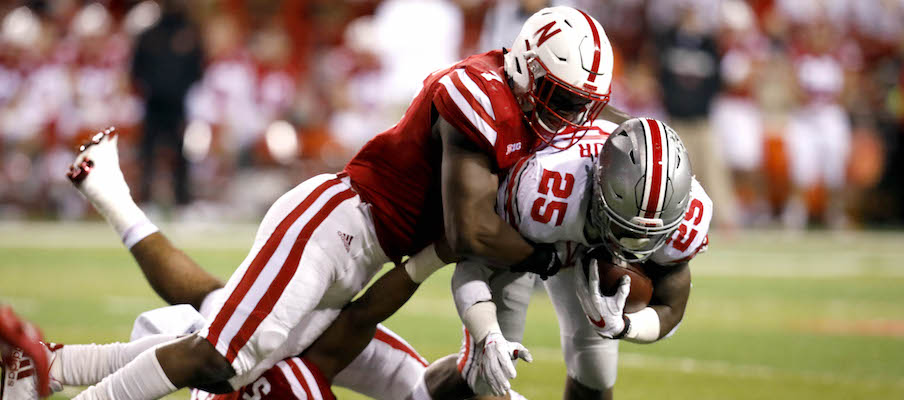 Cornerback
23 Dicaprio Bootle – 5-10, 190, Redshirt Sophomore
21 Lamar Jackson – 6-3, 215, Junior
After making his only start of last season at safety against Ohio State, Bootle has emerged as the Cornhuskers' top cornerback this season. His 14 pass breakups this year rank as the most in the Big Ten and the sixth-most in the nation.
Jackson, who entered the season as Nebraska's top cornerback, had a rough start to the year, even losing his starting spot for one game in favor of 6-0, 215-pound redshirt junior Eric Lee Jr. The big, physically gifted cornerback is one of the team's most talented players, but the Buckeyes could look to put his consistency in coverage to the test.
Safety
24 Aaron Williams – 5-11, 190, Senior
14 Tre Neal – 6-1, 215, Redshirt Senior
Williams is Nebraska's second-leading tackler this season with 49 total tackles, while Neal – a graduate transfer who followed Frost to Lincoln from UCF – has recorded 38 tackles and an interception so far in his first season as a Cornhusker.
That said, the Cornhuskers rotate their safeties regularly, so their top two backup safeties – Antonio Reed and Deontai Williams – also see a good amount of playing time. Reed, a 6-foot-2, 215-pound senior, ranks eighth on the team with 24 total tackles. Williams, a 6-foot-1, 200-pound redshirt sophomore junior college transfer, is the only player on the team with two interceptions this year.
Nebraska's safeties haven't done a great job of limiting big plays in the passing game – the Cornhuskers have given up 28 passes of 20-plus yards this season, just one less than Ohio State's defense that has struggled to stop big plays all year – but they all have the ability to make big plays of their own, too, if the ball comes their way.
Specialists
32 Barret Pickering – 6-0, 195, Freshman (Kicker)
98 Isaac Armstrong – 5-11, 205, Junior (Punter)
35 Caleb Lightbourn – 6-3, 250, Junior (Kickoffs)
Pickering has been shaky in his first season as Nebraska's kicker, making just seven of 11 field goal attempts (and none longer than 35 yards) while he has also missed an extra point.
Lightbourn began the season as Nebraska's punter, but was replaced by Armstrong during the Wisconsin game. Since taking over, Armstrong has been excellent, averaging 48.7 yards per punt with five out of his 13 punts landing inside the opponent's 20-yard line, including a 73-yard punt this past week against Bethune-Cookman.
Overall Outlook
With playmakers in both the passing game and the running game, Nebraska is going to put Ohio State's defense to the test. The Buckeyes have been shaky on that side of the ball all season, and if they don't play better at all three levels than they did against Purdue, the Cornhuskers are capable of moving the ball down the field and putting up big points, too.
That said, Nebraska is ranked 111th in the FBS in passing defense (272 passing yards allowed per game), which is not a good recipe for slowing down Dwayne Haskins and Ohio State's prolific passing attack. The Cornhuskers have some playmakers on their defense, but they haven't been able to consistently stop opponents from moving the ball and putting up points.
As long as the Buckeyes can finish drives with touchdowns in opposing territory – which they couldn't do at Purdue – they should be able to outscore the Cornhuskers on Saturday. But with Martinez's dual-threat skill set and the big-play ability of Ozigbo, Washington, Spielman and Morgan, whether this game stays competitive or not will likely depend on how Ohio State performs on the defensive side of the ball.