If you're an Ohio State football fan, this could be the least interesting Saturday of the college football season.
Ohio State doesn't play this weekend, and neither does Michigan. LSU doesn't play this weekend, which means this won't be an opportunity to watch former Ohio State quarterback Joe Burrow, and Alabama, who goes to LSU for a highly anticipated game next weekend, doesn't play this weekend either.
After eight straight weeks of Ohio State games, a rough loss at Purdue last weekend and either four or five straight weeks of Ohio State games ahead (depending on whether the Buckeyes win the Big Ten East), you might be ready for a weekend off from college football (or if you watched World Series Game 3 into the wee hours of this morning, you might just be sleeping).
If you are planning to watch college football on Saturday, though, there's still plenty of games that could be worth watching for Ohio State fans, including several games that could have a significant impact on both the Big Ten and national championship races.
Purdue at Michigan State – 12 p.m., ESPN
Purdue might be the last team you want to watch after what happened last Saturday if you're an Ohio State fan, but the Boilermakers now face the challenge of rising up from their biggest win in recent program history and not suffering a letdown in East Lansing this weekend.
"Playing against Michigan State at their place, it's going to be a tremendous challenge," Purdue coach Jeff Brohm said this week on the Big Ten teleconference. "It's the challenge also of getting back from the last game that we played, which is always extremely difficult. So we've got to make sure we do all the things necessary this week in preparation in order to give ourselves a chance."
Coming off of last week's result, there's been talk about the possibility that the Boilermakers and the Buckeyes could meet in a rematch in the Big Ten Championship Game. To stay in the thick of the Big Ten West race, though, Purdue has to beat Michigan State on Saturday.
That's easier said than done, but it does look like a winnable game for the Boilermakers, especially given that Michigan State starting quarterback Brian Lewerke – among several other injured players – reportedly will not play in Saturday's game due to a shoulder injury. If they can win, they'll keep themselves in the hunt for a conference championship berth and could make a push for a top-25 spot in the rankings.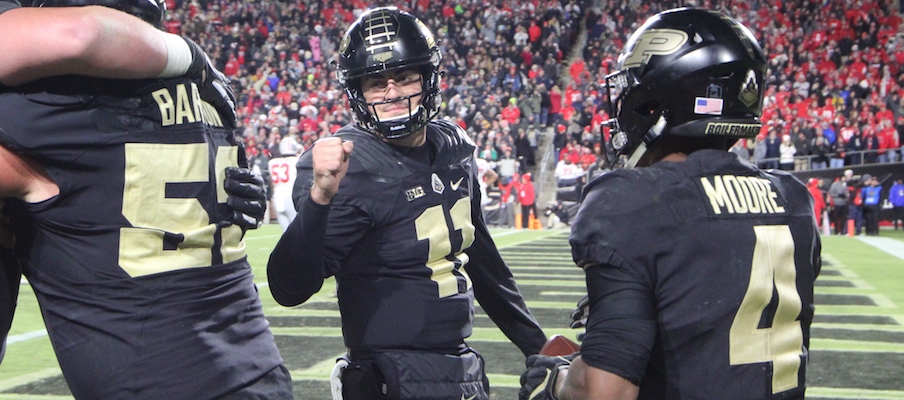 Wisconsin at Northwestern – 12 p.m., FOX
Saturday's game between Wisconsin and Northwestern will be another crucial game in the Big Ten West race, as both teams currently have just one loss and one win each of the other two teams in the division who currently have just one loss, as the Badgers have beaten Iowa while the Wildcats defeated Purdue in their season opener.
Wisconsin hasn't performed up to expectations in the Big Ten this year – with an upset loss to BYU and an ugly 38-13 loss to Michigan – but the Badgers still control their own destiny in the Big Ten West. So too, though, do the Wildcats, who haven't exactly been impressive – they've lost to Duke, Akron and Michigan, and barely beat Nebraska and Rutgers the last two weeks – yet are 4-1 and could give themselves a real shot at the division crown with an underdog victory Saturday.
Either way, the winner of this game will be positioned to be a factor in the race for a division title, while the losing team's hopes of earning a berth in the Big Ten Championship Game will take a tough blow.
Bethune-Cookman at Nebraska – 12 p.m., BTN
I'm not going to tell you that you should watch a college football game between a Big Ten and an FCS team, but if you want to get a closer look at Ohio State's next opponent during the bye week, you can tune into BTN on Saturday at noon to watch the Cornhuskers take on Bethune-Cookman of the Mid-Eastern Athletic Conference.
Considering who they're playing, one would think the Cornhuskers might already be looking ahead to the Buckeyes – in a week that was originally supposed to be their bye week, until this game was scheduled as a replacement for their canceled season opener against Akron – though Nebraska coach Scott Frost was adamant this week that he was not doing that himself.
"I'm focused on this one," Frost said when asked if he had any early thoughts on Ohio State.
If Ohio State's poor performance in West Lafayette has you panicking about what would be an even more monumental upset next weekend, this might not be the game for you. Considering who Nebraska is playing on Saturday, it's probably going to look good and roll to a victory.
Saturday's game should be an opportunity for Adrian Martinez and Nebraska's offense to make some plays, and for the Cornhuskers to build some momentum and win their second straight game. Just know if you watch this game that even though Ohio State hasn't played as well as expected this season, it's still an exponentially better team than Bethune-Cookman, so if Nebraska dominates this weekend, don't fret too much about that.
Iowa at Penn State – 3:30 p.m., ESPN
Aside from Purdue, the other potential intriguing revenge game for Ohio State if it makes the Big Ten Championship Game would be with Iowa, who drubbed the Buckeyes in a 55-24 upset in Iowa City the last time those two teams met. Also like Purdue, Iowa needs a road win over one of the Big Ten East's second-tier teams this weekend to keep itself in good position in the Big Ten West race.
Outside of its loss to Wisconsin, Iowa has rolled through the rest of its schedule this season, but Penn State will be the best team other than the Badgers that the Hawkeyes have faced this year. The Nittany Lions, meanwhile, will be looking to get back on track with a win over a top-25 opponent after following up back-to-back losses to Ohio State and Michigan State by beating Indiana by only five points.
Iowa's defense currently ranks third in the Football Bowl Subdivision in total defense (258.1 yards allowed per game) and fifth in scoring defense (14.1 points allowed per game), but Trace McSorley and the Nittany Lions will present the toughest test that defense has faced yet this year.
Florida vs. Georgia – 3:30 p.m., CBS
Nationally, the biggest game on Saturday's college football state will be the game otherwise as the "World's Largest Outdoor Cocktail Party," as Georgia and Florida meet in Jacksonville as top-10-ranked teams with one-loss records.
The winner of Saturday's game will become the clear frontrunner to win the SEC East, and will be very much in the mix to compete for a College Football Playoff berth.
Both of these teams boast plenty of talent on both sides of the ball, but one player who could be of particular interest to Buckeyes fans is Trevon Grimes, who is in his first season playing for Florida after transferring from Ohio State. He isn't a starting wide receiver for the Gators, but he has seen some playing time in every game this year and has caught 11 passes for 129 yards and a touchdown.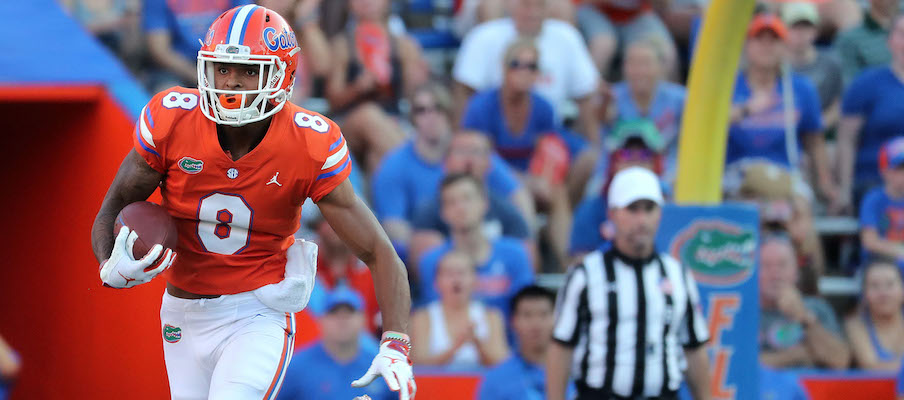 Texas at Oklahoma State – 8 p.m., ABC
Honestly, I'd recommend watching the World Series or doing something other than watching college football on Saturday night. With the Red Sox and Dodgers set to face off in Game 4 of the Fall Classic tonight, the primetime slate of college football games is thin, with no marquee matchups.
If you are inclined to watch college football every Saturday night you can, though, the best game on the docket features Texas and Oklahoma State.
Former Ohio State assistant coaches Tom Herman and Tim Beck don't have the best reputations in Columbus these days, so that could be a reason for Ohio State fans to root against the Longhorns, and so could the fact that Texas is one of the Big 12's two best remaining hopes to make the College Football Playoff.
The Longhorns have won six straight games entering this week, while the Cowboys have lost three of their last four, so Texas really should be able to win this game. But with the game being played in Stillwater, and Texas starting quarterback Sam Ehlinger coming off a shoulder injury, there's at least some potential for an upset here.