Ohio State opened the week as 14-point favorites against Purdue. Its advantage has since dwindled to 12.5 points.
Saturday's game isn't sneaking up on anyone. It's not a trap game – everyone sees it coming. Purdue lost its first three games of the season, including an upset loss to Eastern Michigan. But the Boilermakers have won three straight games and have a top-10 offense in the nation.
Though a loss to Purdue wouldn't end Ohio State's College Football Playoff hopes – and it might not even affect them at all, provided the Buckeyes ran the table – it would remove the safety net from a team that has not looked particularly dominant since beating Penn State.
A matchup against Purdue stands between the Buckeyes advancing to the long-awaited bye week with an 8-0 record. The game will kick off at 7:30 p.m. in West Lafayette, Indiana, and will be shown on ABC.
Three keys to an Ohio State victory
Minimize Purdue's big plays
This could be a turning-point moment for Ohio State's defense. However, it could also re-raise the same concerns that have existed since the opening week of the season.
Purdue strives to hit big plays, and that has led to the Boilermakers ranking 10th in total offense with 510 yards per game. The Boilermakers average more yard per game than any team the Buckeyes have played this season, including Penn State. With explosive 5-foot-9, 175-pound Rondale Moore and a cadre of other intriguing playmakers, Purdue head coach Jeff Brohm will go big-play hunting.
"Without question, we have to find ways to create some big plays," he said.
The Boilermakers have a solid run game led by D.J. Knox (87 rushes, 540 yards, 6.2 yards per carry, 5 touchdowns), but it's certainly less threatening for a defense that he has made quarterbacks less talented than Purdue's David Blough look special.
Convert in the red zone
Urban Meyer hasn't been pleased with his team's success in short-yardage situations and in the red zone. While the numbers show the Buckeyes have actually been solid converting third downs with three or fewer yards needed, they haven't look exceptional once they reach their opponent's 20-yard line. That's where the disappointing run game shows up. And while Purdue's defense hasn't been stifling, it has been serviceable near its goal line.
Purdue is a middle-of-the pack team, ranking 53rd in the country by allowing opponents to score 81.1 percent of their red-zone trips. Of the 17 red-zone scores allowed, nine came on the ground, two came in the air and six were field goals. Facing a team with a productive offense, the Buckeyes cannot afford not to get six points when they reach the red zone. The Boilermakers would make them pay.
Keep Dwayne Haskins from pressure
Though Dwayne Haskins has firmly planted himself among Tua Tagovailoa and Kyler Murray as a Heisman Trophy front-runner, he has looked shaky when pressured. Brohm plans to bring the heat.
"This will be the first team that we've faced that I think is this prolific in the passing game, has been this productive," Brohm said. "We had some struggles early in the season giving up a lot of passing yards, so this is a concern. So, we're going to have to find some ways to put some pressure on the quarterback, try to make him feel uncomfortable and give him some different looks. If we don't, it's going to be a long day for us."
Last game, the offensive line had some struggles. Purdue doesn't have a pass rusher as talented as Minnesota's Carter Coughlin, but it'll be important to keep the pocket clean. Two of Haskins' four interceptions this season came when he was hit while throwing.
Three Purdue players to know
David Blough
Purdue looked anything but a threatening offense in the first two weeks of the season. The Boilermakers lost back-to-back games to Northwestern and Eastern Michigan by a combined five points, and David Blough split reps at quarterback with Elijah Sindelar. Blough passed for just 74 yards in the season opener and 48 yards in the second week of the season.
That changed against Missouri, though. Jeff Brohm, who on Tuesday's Big Ten coaches teleconference, admitted he didn't allow Blough to go down the field enough in the opening two games, opened up the playbook. Blough took advantage of the opportunity and passed for 572 yards, more than 100 more yards than anyone in Ohio State history has passed for in a single game. He followed up that performance by tossing for 296 yards, 328 yards and 377 yards in the next three games. Ohio State can't allow him to get in a groove, or else he'll wear out an up-and-down defense.
Markus Bailey
It's a revenge game for Markus Bailey, a Hilliard Davidson High School alumnus. The No. 991 overall prospect in the 2015 recruiting cycle and the 45th-ranked player in Ohio, Bailey never picked up an offer from Ohio State, which was just down the road. Instead, he headed to Purdue, where he is a third-year starting linebacker.
The redshirt junior led Purdue in tackles in 2016 with 97 stops, then finished second on the team with 89 tackles last season. Halfway through this season, he is second on the team with 43 tackles, including 5.5 stops. He's also tied for the team lead with 3.5 sacks.
"Markus needs to be the leader of our defense," Brohm said. "He needs to run the show. In order for us to win, he has to play well, and I think he knows that and he takes on that responsibility well."
Brohm called him the most active and most talented player on Purdue's defense.
Rondale Moore
He has played just six collegiate games, but Moore has become one of the most explosive players in the Big Ten. The rare player who selected Purdue over the likes of Ohio State and Alabama, Moore has more than double the receptions of any other player on his team. He has 45 catches for 558 yards and five touchdowns to go along with nine rushes for 139 yards and a touchdown.
If the Boilermakers pull off the upset, Moore almost certainly will have a major role in the win. He averages nearly 10 touches per game on offense, and also returns both punts and kicks. Greg Schiano touted Moore's quickness and "incredible" change-of-direction ability.
Three important Ohio State players
Shaun Wade
It's unclear which position Wade will play on Saturday, but wherever he is, he'll be one of the most important players to Ohio State heading back to Columbus with its eighth straight game. While many people have called for Wade to move to safety, it seems like that Schiano and Alex Grinch plan to move forward with Isaiah Pryor at the position. That doesn't mean Wade will struggle to get on the field, though.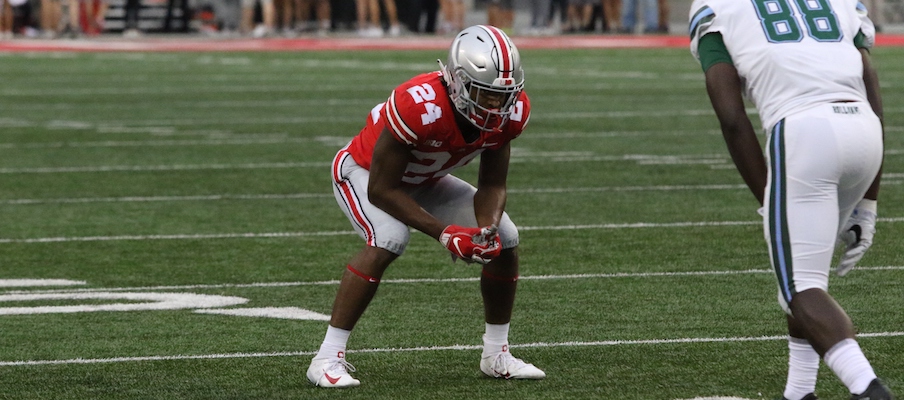 Damon Arnette is questionable for Saturday's game. If he can't play, Wade might enter the three-man rotation on the outside with Kendall Sheffield and Jeffrey Okudah. If not, he would stick at his nickelback position. Either way, he'll have a chance to redeem himself after getting beat on a bunch of slants last week. Moore has the ability to go 93 yards, just like Penn State's K.J. Hamler did against Wade earlier this season, so it's Wade's opportunity for redemption.
J.K. Dobbins
It's been a while since J.K. Dobbins has had a truly dominant game. He has averaged 3.5 yard per rush or fewer in the past three games and has only crossed the 100-yard mark once this season. The struggling rushing games has largely been held in check, and Ohio State has had a decreasing yards-per-carry average in every game this season. The Buckeyes must change that on Saturday against Purdue, a team that allows only 3.95 yards per carry.
It's pertinent that Ohio State converts near the goal line, and Dobbins will get his fair share of those touches. At some point, even if defenses know Haskins isn't going to carry the ball, Ohio State has to get something going on the ground, and Dobbins is the best option to make it happen.
Jordan Fuller
He might be the most indispensable player on the team, but that might say more about his lackluster backups than Fuller, himself. Fuller entered the season ranked as the No. 1 safety on ESPN analyst Mel Kiper Jr.'s 2019 NFL Draft rankings. While he's had a solid year, Fuller hasn't often flashed. He has three pass breakups and zero interceptions. He's been more impactful in the run game, and has a team-high 39 tackles.
Against Purdue, a team that throws the ball down the field often, he should have ample chances to make plays. Blough has attempted at least 28 passes in each of the past four games, and has thrown 35-plus passes in three of them. Plus, Fuller must remain steady as a tackler to prevent Purdue from hitting big plays.