Ohio State took down Minnesota last weekend by a score of 30-14 but while the offense cranked out another 500-yard outing and the defense pitched a second-half shutout, the outing was far from dominating as the Gophers racked up 10 chunk plays on offense and missed a pair of field goals. 
One weekend away from a much-needed bye, the Buckeyes take their show on the road for primetime kick with Purdue in the odious metropolis of West Lafayette. 
Riding a three-game winning streak on the back of the nation's 10th-ranked total offense, Jeff Brohm's squad will look to take advantage of a Buckeye back seven that may not have a good answer for the Boilers' electric slot man, Rondale Moore. 
For thoughts on Purdue and other things Buckeye, this week's roundtable features 11W's own Colin Hass-Hill, Johnny Ginter and Andrew Ellis. 
---
Even through seven games, I still struggle to comprehend how impressively Zone Sicks evolved into Zone Six. Parris Campbell, K.J. Hill and Terry McLaurin have all produced 100-yard receiving games and the unit has gotten huge contributions from other guys including Ben Victor and Austin Mack. If you could build an All-Urban Ohio State receiving corps, how many of this year's guys would make your starting lineup comprised of, let's say, one slot guy and three wideouts?
Johnny: What's great about how this group has evolved is that they're all really capable of having a crazy breakout game at any given time. K.J. Hill has been the most consistent of anybody (and has had the best season, in my opinion), but really I'm as surprised as you are that the unit has become the strength of damn near the entire team. Dwayne Haskins has to be given a lot of credit for this, of course, but there's been a marked improvement in pretty much all facets of the game.
Lineup wise? Give me Hill, Campbell, Mack, and McLaurin.
Andrew: This is tough given the vastly different offenses we've seen prior to the 2018 season. I think K.J Hill would be close to a lock from the current unit, but I'm not sure if I'd have any of the others on that level just yet. Mike Thomas and Devin Smith have to make the cut for me even though they weren't a part of the most prolific passing attacks. Give me Thomas, Smith, Hill, and Curtis Samuel. The toughest part would probably be figuring out whether Hill or Samuel mans the slot, but it would likely be Samuel since I think Hill is a bit more versatile.
Colin: Michael Thomas is the easy pick. Looking back on his career, it's astounding he maxed out at just 56 catches in 2015 and 799 yards in 2014. Alas, he's far and away the most talented wide receiver to come out of Ohio State since Urban Meyer took over for the 2012 season. I'd team him up again with the deep threat extraordinaire, Devin Smith. I'd roll with Curtis Samuel at H-back. Since he left, the Buckeyes have gone away from his type of athlete at the position, but he's possibly the most explosive player to suit up for the them since Meyer arrived. For the last spot, I'm going to cheat and go with another guy who plays H-back: K.J. Hill. He's such a consistent, sure-handed wideout who has blossomed the past couple years into the primary receiver. The only other guy on the current team I considered was Parris Campbell, but I'd take the four I picked over him, despite his game-changing speed.
Ohio State's ground game hit a new low last weekend with 92 yards on 2.9 per carry. A multitude of factors go into the lack of success seen in recent weeks ranging from a stacked box to execution struggles to the fact the rushing attack has been forced to evolve without the threat of the quarterback doing damage on the ground. This week, the Buckeyes face a Purdue defense ranked 54th nationally against the run. What kind of success will J.K. Dobbins and Mike Weber have Saturday night? How important is it for Ohio State to be able to run the ball versus the Boilers?
Colin: Not only has Ohio State been worse at running the ball than at any time in Urban Meyer's tenure, but it has run the ball less often than ever. The Buckeyes pass for more than 100 yards per game more than at any prior point in Meyer's tenure. They do so for a simple reason: it works. But that doesn't mean the run isn't important. Mike Weber and J.K. Dobbins have done a solid job converting in short-yardage situations, but the team must do better to put the ball in the end zone when it reaches the red zone. Too often, Ohio State hasn't converted near the goal line. Against Purdue, a team that can pick up yards in bunches, the Buckeyes can't afford not to get six points when they get inside the 20-yard line.
Andrew: I think the running game – and offense as a whole – will look better Saturday night. I know the Boilermakers passing defense is far worse than it is against the run, but the Buckeyes can't go to West Lafayette and be totally one dimensional. Dobbins and Weber combined for just over 100 yards against Penn State and nearly 200 against TCU. I look for this one to be more along the lines of the performance against the Horned Frogs. You know the offensive line is going to have a rough week at practice, and I think the message gets heard loud and clear.
Johnny: Last question first, I don't know that it's enormously important for the running game to be dominant or even all that good against Purdue. Competent would be nice, but frankly I've made my peace with "middling, but occasionally kind of cool." I think you'll see more of the same of what you've been seeing from the running game all season, which isn't good, but in that NFL-who-cares-because-we-throw-it-50-times-a-game way. As long as Dwayne is Dwayne, I don't see it as a huge issue.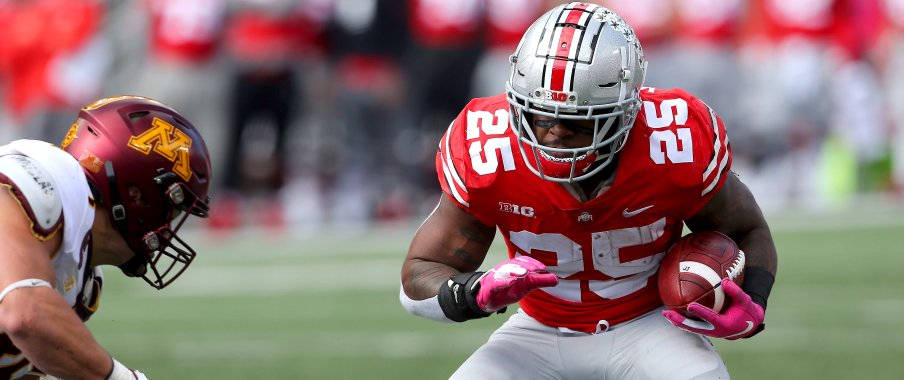 Ohio State's linebacking corps has been inconsistent which wasn't helped last weekend as Malik Harrison sat out after suffering a concussion versus Indiana. At this point, I'm not sure fans even have a clear cut opinion on which guys are doing the most or doing the least. From your vantage point, who has been Ohio State's most valuable linebacker through seven games? Which has surprised you the most – in a good or bad way?
Johnny: Oh man, that's a tough one. Pete Werner, I guess, could be the most valuable? Maybe Tuf. But frankly, the fact that it's so difficult to pick a guy in general shows how utterly unremarkable this unit has been, and that's being generous.
Colin: It can be hard to tell because scheme plays such a big role in how linebackers produce, but Malik Harrison jumped out on a few occasions in the first half of the season. He's a 6-foot-5 athletic freak who Tuf Borland said the linebackers jokingly call "260," in reference to his weight, because he's so big. Ohio State's defense missed him last week, but it should have him back on Saturday, which will be important. The biggest surprise is that, even though Harrison has popped at times, no one has risen to the level of a game changer. The Buckeyes entered the season with a bunch of options at linebacker, which led me to believe someone would take advantage of the opportunity and make a big leap. That hasn't happened.
Andrew: Yeah, this is a tough call since the unit as a whole has been so bad. I do think that Malik Harrison has been the best so far, but he's not exactly standing out on tape or constantly flashing at the position. He did have a few nice plays against Trace McSorley that are coming to mind, though. The biggest surprise from the linebackers has been the play of Baron Browning. I was super high on him when he made the move from Texas to Columbus, but so far he's mostly looked lost out there. The kid has all the athleticism in the world but something just isn't clicking for him. 
Rondale Moore, the diminutive but electric slot guy for Purdue could be set up to have a huge night against a defense that has been soft over the middle either in allowing roughly 83 slant passes versus Minnesota or in simply getting beat in man coverage, oftentimes against a safety or linebacker. Spoiler: no linebacker on Ohio State's roster can remotely guard Moore in the slot. So, just how worried are you about Moore? How should Ohio State try to slow him down?
Andrew: I'm taking my niece to see the new Halloween movie on Friday evening and the way she views Michael Myers is probably similar to how I see Rondale Moore. No one has been able to stop this kid so far and I have serious doubts about Ohio State's ability to even remotely contain him. The thought of him running circles around the linebackers and safeties is probably the biggest concern I have heading into Saturday. Truly a terrifying thought.
Malik Harrison's return should help out a bit since he's one of the more athletic linebackers, but the safeties are going to have to know where he is at all times. I feel Shaun Wade will likely be the X-factor in terms of containing Moore. I know he got beat by K.J. Hamler which led to a long Nittany Lion touchdown, but that one realistically should have been about 30 yards or so if Isaiah Pryor would have taken the correct angle. I look for Moore to have another big game Saturday night.
Johnny: I'm very worried about Moore, and I'd bet real American dollars that he's going to house at least one really long touchdown. While I agree that no linebacker can really do anything about the dude, I'm also not super confident that the safeties will be all that great against him either. I'd basically just go to zone, seal the middle of the field with like four guys, and hope that one of them can make a play on the ball.
Here's the thing though: I'm actually more worried about Purdue's running backs than Moore. Moore will get his, but in terms of being able to sustain long drives and keep Dwayne and company off the field, D.J. Knox and Markell Jones are both averaging around six yards per carry and either could have a huge breakout game at home. If Moore gets Purdue to 2nd or 3rd and short, and Knox and Jones keep racking up first downs, things could get extremely hairy.
Colin: It's hard to overstate how worried Ohio State should be about Moore. He's everything the Buckeyes have struggled with, and Jeff Brohm likes to get him the ball. If Purdue has any chance in pulling off the upset, Moore will have a large part in it. There's no easy solution to him, though, from a defensive perspective. The Boilermakers like to move him around. Shaun Wade will certainly have a chance on him, and it'll be an opportunity for redemption after allowing the 93-yard touchdown catch to Penn State's K.J. Hamler.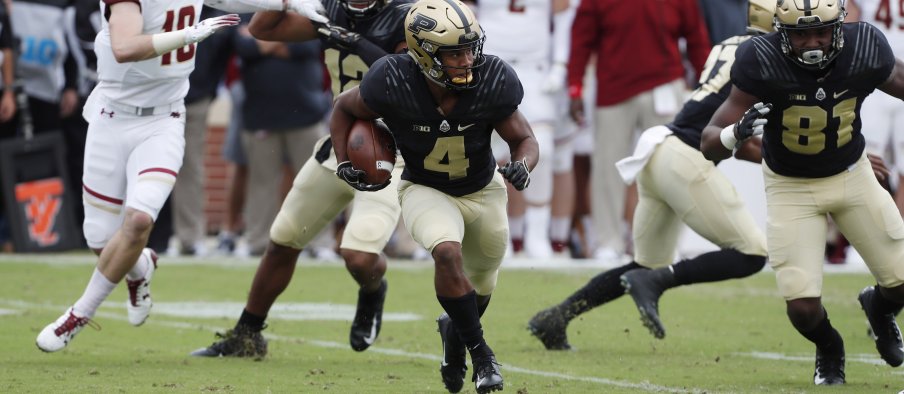 There's been a lot of talk about Urban Meyer's assistant coaches and coordinators this year. Ryan Day enjoyed a lot of love for his outstanding effort during Meyer's time away from the team and Brian Hartline's credibility, which was already strong, has skyrocketed for obvious reasons. On the downside, Billy Davis has taken his share of lumps and the groundswell frustrated with Greg Schiano and Taver Johnson has also grown in recent weeks. So, which assistant coach is deserving of the most praise? Which is deserving of the most heat? And which is most undeserving of either praise or heat?
Colin: Credit Ryan Day for filling in admirably for Urban Meyer, and credit Brian Hartline for maximizing the wide receivers after their development seemingly stalled under Zach Smith. Both of them deserve praise for how they transitioned into their new jobs, but if I had to pick one, I'd go with Hartline, since he had never even been an assistant coach before leading this transformation. In my mind, Bill Davis deserves the most criticism, though I have questions about how the offensive line has played under Greg Studrawa and how Taver Johnson's cornerbacks have played. Alex Grinch, to me, is right in the middle. He entered the program with high expectations, but the play of Isaiah Pryor and Jahsen Wint didn't exactly blow anyone away. Pryor has played better lately, so I'm neutral on him, but I'll be watching to see how the second half of the season goes for Pryor and Fuller.
Johnny: Billy Davis is bad. I'm willing to give Taver some benefit of the doubt for now (emphasis on "some" and "for now"), but it doesn't appear that the linebackers have any real idea what they're doing on a play to play basis. Missed tackles, poor angles... the loss of Luke Fickell was huge and Urban replaced the dude with someone no one had a lot of confidence in from the beginning, and he's living up to that first impression.
Also Studrawa seems to avoid a lot of the heat that the defensive guys do, but you can lay a lot of the struggles in the running game at the feet (literally) of the offensive linemen. That's a unit that needs to get better, especially in November as the games get a lot colder.
Hartline and Day are legit, however, and deserve all the praise they get. The proof is in the pudding.
Andrew: Ryan Day is deserving of the most praise. Dwayne Haskins' play has been phenomenal and you have to give Day some major props for holding everything together during some trying times. There's no question that Billy Davis is deserving of the most heat. The linebacker plays has been mostly awful since his arrival and it's not showing any signs of improvement. He took a talent line Jerome Baker and made him look fairly average. This is the same Jerome Baker who Pro Football Focus currently lists as the No. 33 rated linebacker in the National Football League. Pretty dang good for a rookie. 
I'd say Greg Studrawa is probably somewhere in the middle for me. He's not a great recruiter but for the most part Ohio State's offensive line play has been pretty solid this year. They had a poor outing against Minnesota so we will see if they can bounce back against Purdue. 
Ohio State enters West Lafayette as a 14-point favorite. Will the Buckeyes cover? Give us your final score and game MVP.
Andrew: I am very concerned about this game, and this is the first time all season that I don't have Ohio State covering. We'll go with the Buckeyes by a score of 43-30. I'm confident in the offense but – like most everyone else – have major concerns with the back seven. Give me Terry McLaurin as the MVP. I can see Haskins connecting with him for multiple deep touchdown strikes.
Colin: I'm going off the reservation on this one: Ohio State beat Purdue, 58-42. I'll be honest: I'm semi-picking the game I want to watch. Both the Buckeyes and Boilermakers have the type of offenses that could turn Saturday's tilt into a full-blown offensive explosion. The outlandish prediction I'm most comfortable making, though, is Dwayne Haskins surpassing Art Schlichter and becoming Ohio State's single-game passing record-holder with at least 459 passing yards.
Johnny: 36-28 Ohio State. No cover, Dwayne is once again MVP after he throws for 350-plus yards and three touchdowns. The truth is that it's going to take a special defensive performance from an opposing secondary to beat the Buckeyes, and Purdue (ranked 109th in pass defense), doesn't have the chops. Probably.