Before each week's Ohio State game, Eleven Warriors catches up with a media member who covers the opposing team to get his or her perspective on the Buckeyes' upcoming opponent.
Ahead of the Buckeyes' seventh game of the season, we caught up with Randy Johnson, the Minnesota beat writer for the Star Tribune, to get his insight on the Golden Gophers leading up to their trip to Columbus.
The Gophers started out the season by winning their first three games in non-conference play, but have lost each of their first two Big Ten games, suffering a 42-13 defeat to Maryland and a 48-31 loss at Iowa. Now, they travel to Ohio Stadium as 29.5-point underdogs, according to Vegas Insider, for their sixth game of the year.
Minnesota already lost two of its best players, running back Rodney Smith and safety Antoine Winfield Jr., to season-ending injuries, and has a very young lineup on offense, including a walk-on true freshman quarterback in Zack Annexstad and a 6-foot-9, 400-pound true freshman right tackle in Daniel Faalele. 
That said, Ohio State coach Urban Meyer has described Minnesota's defense as a "top-20 defense" that doesn't give up many big plays, which he expects to give Ohio State's offense a test.
How has P.J. Fleck done in his first season-and-a-half in the Twin Cities? With Smith and Winfield sidelined, who are the top players to watch in Saturday's game? Do the Gophers have a chance of keeping the game competitive?
Johnson answers those questions for us and more in this week's edition of Across The Field.
Q: P.J. Fleck is now approaching the halfway point of his second season as Minnesota's head coach. How would you assess his tenure leading the Gophers so far? What has he brought to the program, and what does he still have to prove?
Johnson: Fleck is going about his plan of rebuilding the program by not taking shortcuts. His focus is improving the talent level of the program, and he's doing that with strong recruiting classes, including a 2019 class that ranks 31st nationally, per 247Sports. Though the Gophers were 5-7 last year, the team is definitely better this year. That hasn't shown up in Big Ten results yet, but he's playing a lineup that's playing as many as seven true freshmen or redshirt freshmen on offense. As for what he has to prove, that's winning. The Gophers haven't had a breakthrough win in Big Ten play.
Q: The Golden Gophers have already lost two of their most prominent players, Rodney Smith and Antoine Winfield Jr., to season-ending injuries. What have the effects of those injuries been to Minnesota's offense, defense and special teams?
Johnson: Losing Smith and Winfield has been devastating, especially Winfield on defense. The two were the team's best playmakers, and Winfield's value was shown in the win over Fresno State, when his late end-zone interception secured the Gophers' win. And Smith has more than 4,000 career all-purpose yards. That's difficult to replace. On special teams, Smith was a standout kick returner and Winfield was great on punt returns. Last year, the Gophers had a total of 36 punt return yards for the season. Winfield more than doubled that with a 76-yard punt return for a TD in the opener.
Q: Minnesota's starting quarterback is a walk-on true freshman, which isn't something you hear very often. Considering that, how would you evaluate Zack Annexstad's performance so far this season?
Johnson: Annexstad has played well, especially in the non-conference season, when he didn't throw an interception. He's thrown five picks the past two games as the Gophers fell behind early in losses to Maryland and Iowa. It's been a couple steps forward and one back with Annexstad, but the potential certainly is there.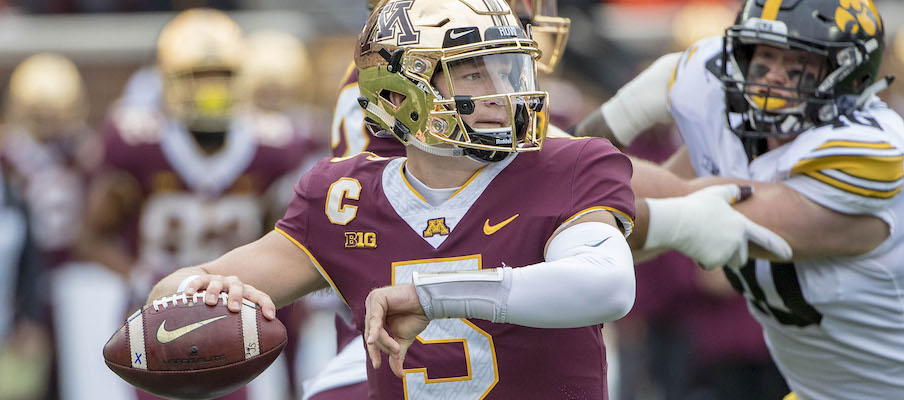 Q: Who are some of the other Minnesota players that Ohio State and its fans should be aware of entering this game?
Johnson: The true freshmen are intriguing: Annexstad, wideout Rashod Bateman, running back Bryce Williams and cornerback Terell Smith. And this week, true freshman offensive tackle Daniel Faalele, the 6-9, 400-pound Australian, will start at right tackle. Also, junior Tyler Johnson is the Gophers' go-to receiver.
Defensive end Carter Coughlin has five sacks, while linebackers Blake Cashman and Thomas Barber are solid. Kicker Emmit Carpenter is 8-for-9 on field goals, including 2-for-2 from 50 yards or longer.
Q: What would you consider to be the Gophers' biggest strengths and weaknesses? Are there any particular areas in which you expect them to have success against Ohio State, or areas in which they are particularly vulnerable?
Johnson: The strengths are the linebacker corps, Carpenter at kicker and decent receivers in Johnson, Bateman and redshirt freshman Chris Autman-Bell. Their biggest weakness is the secondary, which really is missing Winfield. They're vulnerable in most spots against a team as talented as Ohio State.
Q: How do you see Saturday's game playing out?
Johnson: Probably with a comfortable victory by Ohio State. The Gophers have allowed an average of 45 points per game in Big Ten play so far. That doesn't bode well for them against a national title contender.