Ohio State's rushing attack is slumping.
J.K. Dobbins, Mike Weber and the Buckeyes have had their moments, of course. Through five games this year, they rank No. 33 nationally with 210.3 yards per game. But that number is a significant drop off from years past, as Ohio State has ranked 11th or better in every previous season under Meyer.
That 210-yard average is also bolstered by the 375 rushing yards Ohio State piled up against Oregon State, which boasts the third-worst run defense in the country. In every week since then, the running output has dipped.
| OPPONENT | Oregon State | Rutgers | TCU | Tulane | Penn State |
| --- | --- | --- | --- | --- | --- |
| Rush yds | 375 | 225 | 182 | 151 | 119 |
The floor bottomed out against Penn State, which is traditionally known as a stiff run-stopping team. That can't be said for this year's Nittany Lions squad, however. Just a week before limiting Ohio State to 3.2 yards per carry, Illinois (!) carved up the same defense for 245 yards on the ground.
So what gives? Ohio State has two of the Big Ten's most talented tailbacks in Weber and Dobbins, both of whom have more than 2,000 career total yards next to their names in the school record book. None of the starting offensive linemen blocking for them weigh fewer than 300 pounds, and opposing defenses haven't been throwing an inordinate amount of defenders in the box to slow things down.
The big difference from this year's rushing attack from past seasons is, of course, at quarterback. Ohio State's passing attack is in good hands with Dwayne Haskins, but the ground game has been inconsistent without a running threat behind center this season.
Since Meyer took over in 2012, Ohio State has gotten an average of 1,015 rushing yards per season from its starting quarterback. This year, Haskins is on pace to finish with 108, and that's only if you factor in a hypothetical appearance in the Big Ten title game and two playoff matchups.
Needless to say, Meyer can't turn to Haskins for help on the running front. It's not his game, and that's perfectly fine considering the tradeoff. Ohio State's passing attack currently ranks eighth nationally. The Buckeyes haven't had a top-30 passing offense this century, let alone an attack that ranked inside the top 10.
And there's logic to the thought that those passing numbers should help the running attack. Defenses shouldn't be able to load the box when their secondary is taking arrow after arrow to the gut from a marksman archer.
The Buckeyes could get Tate Martell more involved. He's the type of running quarterback Ohio State has utilized to bulldoze their way through Meyer's tenure in Columbus. But doing that would take Haskins off the field, and in turn, the element that's functioning best in the Buckeyes' offense.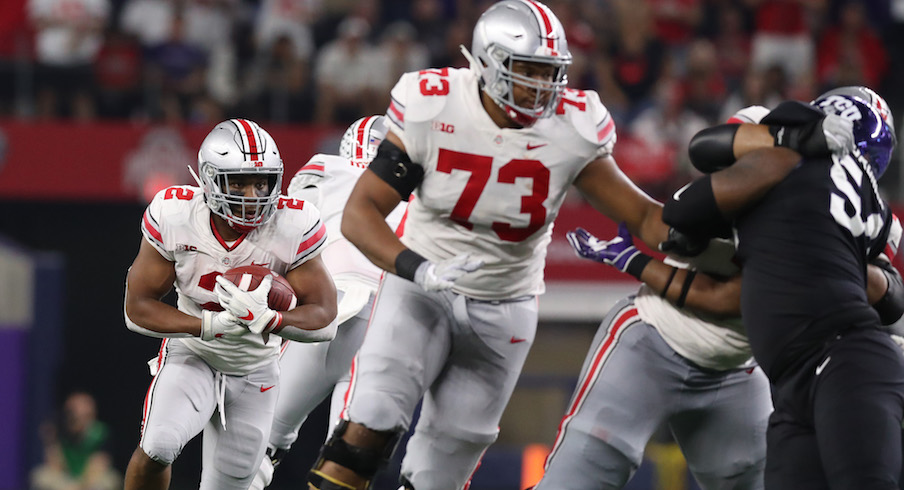 For Ohio State to enter its final form, it'll have to figure out a way to get Dobbins and Weber going without the help of a dual-threat at quarterback. The Buckeyes achieved just that, schematically speaking, when Cardale Jones took over during the 2014 postseason.
With Jones behind center, primarily throwing darts and orchestrating an aerial attack reminiscent of what Haskins is currently working with, Ezekiel Elliott averaged 232 rushing yards himself against Wisconsin, Alabama and Oregon. That was despite the Badgers and Tide boasting top-10 run defenses.
"We're 5-0, and we haven't played close to our best game," Meyer said this week after Ohio State's thrilling 27-26 win over Penn State. "There is a tremendous ceiling on this team, and we haven't gotten close to it."
For the Buckeyes to get their, they'll need to find their way on the ground.