If you ask Ohio State running backs coach Tony Alford about the biggest benefit of having two elite running backs in a backfield, he'll be quick to answer.
"They push one another," Alford said Tuesday after the Buckeyes' afternoon practice. "So there's a standard of how you go to work everyday. Do they compete? Yeah. It's a very competitive environment. But they push one another and champion each other's efforts."
Alford, of course, is talking about the Buckeyes' two-headed monster at the position, made up of redshirt junior Mike Weber and sophomore J.K. Dobbins.
Alford, who's in his fourth year at Ohio State, says the duo has "elevated" the running backs room. It's a statement that certainly makes sense, considering the two have combined for 730 rushing yards and six touchdowns on 134 carries, an average of 5.5 yards per attempt.
But having said that, neither are in the nation's top 40 in rushing yards. Dobbins leads the team with 380 yards on 73 carries while Weber has amassed 350 yards on 61 attempts.
They've split carries and alternated offensive series throughout the first five games when both could carry a heavier load.
"When you say an entire load, we're talking, what are we averaging, 85 plays give or take? No, a guy can't play that many reps," Alford said. "So you need other guys. Could they handle more than 40 reps? Absolutely. They're trained to do that. But at the same time, we've got two really dynamic players. So why not get them both out there and let them play?"
In Saturday's 27-26 win over Penn State, both indeed got their chances against the Nittany Lions' defense. Trailing 13-0 in the second quarter, Dobbins got the Buckeyes on the scoreboard by taking a screen pass 26 yards to the end zone.
"[Dobbins] can catch but that just hasn't been a big staple in our offense," Alford said. "It was a great play call."
Dobbins also scored the next Ohio State touchdown, coming early in the third quarter, on a four-yard run. It capped off a 13-play, 75-yard drive that gave the Buckeyes their first lead of the night. Dobbins was responsible for 25 of those yards on six carries.
That's when the wheels started to fall off the wagon. Penn State proceeded to score 13 unanswered points, taking a 26-14 lead with just eight minutes remaining in regulation.
But that's also the moment where Alford's two running backs showed what he calls their "competitive fire" more than ever.
"They're highly competitive guys," Alford said. We're down 12 points and about to take the field. Mike Weber, I'm trying to talk to him, and he's pacing back and forth. He used some excited language but he said it, 'We're not losing this game.' He's up and down the sidelines talking, 'I don't care, we're not losing this game.' That's the type of competitive fire you're talking about."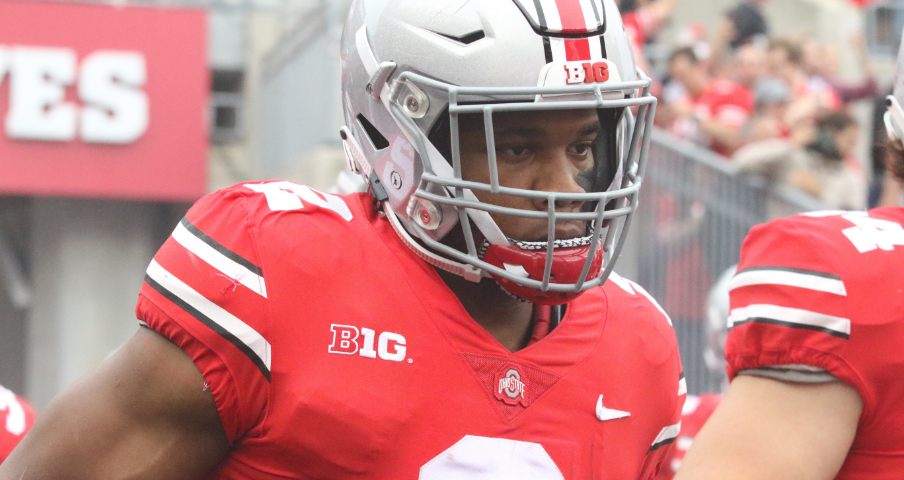 You know the rest of the story. Ohio State pieces together scoring drives of 75 and 96 yards to stun a sell-out crowd and keep itself in the thick of the College Football Playoff hunt.
Dobbins led the team in both rushing and receiving, racking up 57 yards on the ground and 61 through the air. Weber, while battling an injury, added 51 yards to the Buckeyes' total.
But whether it be trailing by 12 points late in the game in a hostile environment or up 20 in front of a home crowd, Alford doesn't care who gets the football. If it's No. 2 or No. 25, he's got full confidence his guys can get the job done.
"I'm extremely confident in both of them in any situation. A lot of it is [heart]. Do you have [heart]? It's saying, 'I'm going to get a first down because I said so.' That's the mentality that [Weber and Dobbins] have and that's the mentality that I love."