While Ohio State's new-look offensive line has received mostly rave reviews for its play so far this season, there was one clear low point in the Buckeyes' third game of the season against TCU.
In the Buckeyes' biggest game of the season to date, new starting center Michael Jordan consistently struggled with his shotgun snaps back to quarterback Dwayne Haskins, often delivering them too low, forcing Haskins to adjust and affecting the rhythm of the start of offensive plays.
Jordan's snaps have been much more effective in Ohio State's other games this season, including this past Saturday's game against Tulane, but all three of those games were at home, and against defenses that were not nearly as talented as the one he faced against TCU – or the one he will face on the road at Penn State this Saturday.
Meeting with the media on Tuesday for the first time since the TCU game, Jordan acknowledged that the pressure of playing on the big stage – at AT&T Stadium in Arlington, Texas, on ABC's Saturday Night Football and against a team that was ranked in the top-15 nationally at the time – changed his mindset, and adversely affected his snaps as a result.
"I think that I just made TCU a much bigger game in my head, instead of calming myself down," Jordan said. "I was able to calm myself down last week, get the snaps back up."
That's reason enough to feel uneasy going into this week's game, as the stage will be just as big if not bigger at Penn State. Saturday night's game is scheduled for ABC's primetime slot again, the Nittany Lions are 4-0 and ranked ninth in both major polls and Penn State's Beaver Stadium is considered to be one of college football's most hostile environments for visiting teams.
Jordan is confident, though, that he will be up to the task in Happy Valley now that he will have two more weeks of experience playing center under his belt.
"By getting as much practice reps as possible so that I'm prepared," said Jordan, who didn't make the move from left guard to center until fall camp, in regards to how he is working to avoid making the same mistakes against TCU than he did against Penn State.
Despite Jordan's off-target snaps, Ohio State's offense still put up 526 yards and did not have any turnovers in its 40-28 win over TCU. Haskins didn't allow himself to get flustered by the imperfect snaps, instead seeing it as his responsibility to adjust to the snaps and still make plays, and said his rapport with Jordan helped them work through Jordan's struggles.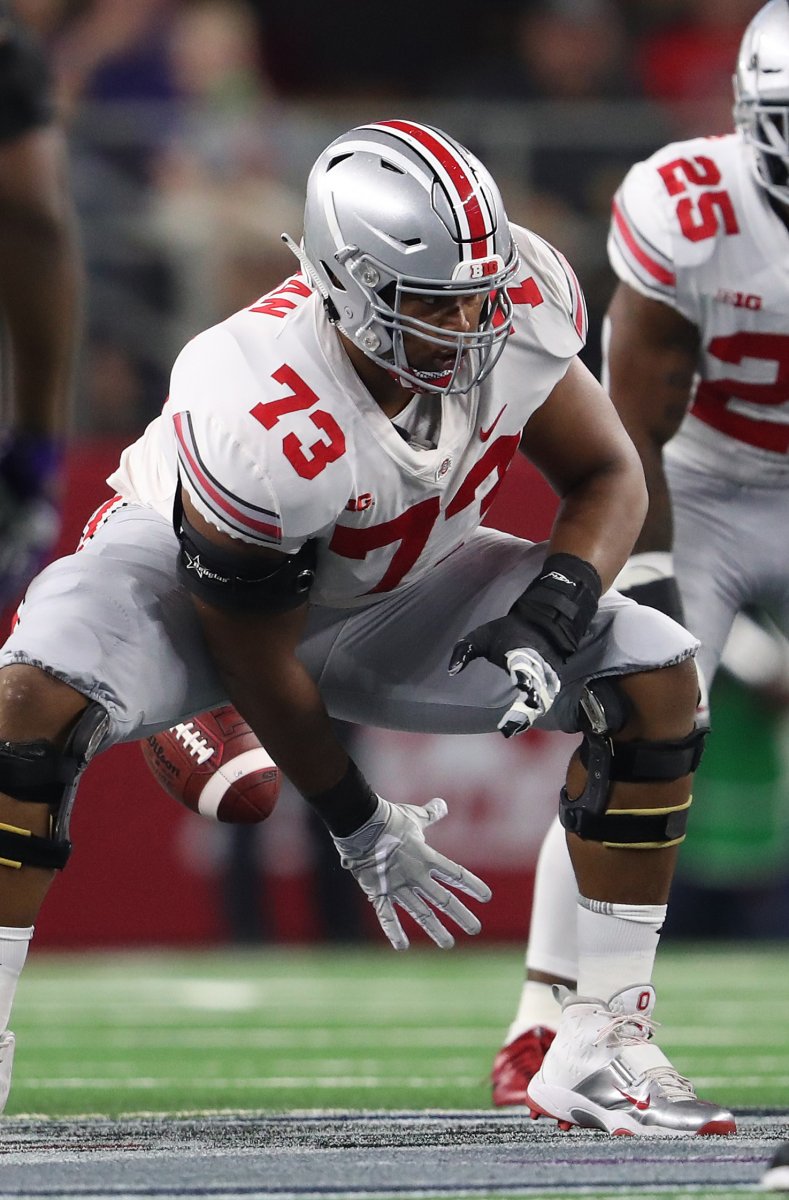 "I just tell Mike, 'Just give me the ball, and I'll make it work,'" Haskins said. "It doesn't have to be perfect, I just want the ball in my hands. So I tell him every time we do it in practice, 'The ball starts with you. Quarterback's important, but you touch the ball every play, like how I do.' So I mean, whenever we do warmup snaps, over there snapping against the ones or the scout team, every time you snap the ball is like a game rep."
Jordan said he thought Haskins did a great job making up for his mistakes.
"I think he handled it well," Jordan said. "He's made up for me a lot of times, and he just started making plays out there."
The entire offensive line performed well enough that all five starters, including Jordan, were nonetheless named team champions for the TCU game, as Jordan made up for his snapping struggles with strong blocking.
Still, left tackle Thayer Munford said Jordan was hard on himself for his inaccurate snaps.
"After the TCU game, he did beat himself up a lot," Munford said. "Because he's trying to perfect himself. To be the best person that he can be and the best center he can be for Ohio State."
"I think that I just made TCU a much bigger game in my head, instead of calming myself down."– Michael Jordan
Given Jordan's inexperience playing center, though, Ohio State offensive coordinator Kevin Wilson wasn't surprised that Jordan had to work through some growing pains against the best defense that the Buckeyes have played this season to date.
"You can snap out here when it's kind of like going to the driving range, and it's casual, but now put a very angry person very close to me and do the same thing repeatedly. So sometimes it's even hard until you really get into it," Wilson said. "When the defender is a fast guy, you start to block before you finish the pass … he just wasn't completing the snaps."
That said, Munford, Wilson and Haskins all expressed confidence that Jordan will perform better at Penn State on Saturday.
"Everybody on the unit knows that he's going to get it," Munford said. "He had a couple bad snaps? Yes, he had a couple bad snaps. What center doesn't? But at the same time, he's working on it. And we love him for that."