Back in January, Nick Bosa let slip what everyone already knew.
"This year's going to be full-out, play every snap that means anything for my last year — or, possibly my last year," he said, smiling after he realized he accidentally told the truth.
After Saturday's win against Tulane, Chase Young couldn't hold back the foregone conclusion, spilling the truth.
"I'd like to show the nation how good I am because when Nick's gone next year, I'd like to show the nation that I can be possibly as good as Nick," Young said.
"He's leaving early?" a reporter sarcastically responded. Young put his head down and laughed, opting not to confirm the announcement that both he and everyone else who has watched Bosa's dominance as a Buckeye knows has been inevitable since his freshman season.
Not only did Bosa enter Ohio State with the heavy expectations of maintaining the Bosa legacy, but he was the No. 8 overall prospect in the 2016 recruiting cycle and the top-ranked player in the Buckeyes' class. He wasn't expected to merely be good; he was expected to be great.
Until Bosa suffered a core muscle injury during Ohio State's 40-28 win against TCU that sidelined him indefinitely, the junior defensive end was playing at a level matched by only a couple players in college football. After accruing 34 tackles, 15 tackles for loss and nine sacks last year, he had 14 tackles, six tackles for loss, four sacks, two fumble recoveries and a forced fumble in just three games.
He had played himself into conversations about potentially becoming the first overall pick in the 2019 NFL Draft, which complicates the situation surrounding his injury.
Bosa underwent surgery on Thursday to repair the injury. John Bosa, Nick's father, told Eleven Warriors that his son will be re-evaluated in November and said any speculation beyond then would "just be guessing." Ohio State coach Meyer said it will be at least a "few more weeks" until Bosa returns.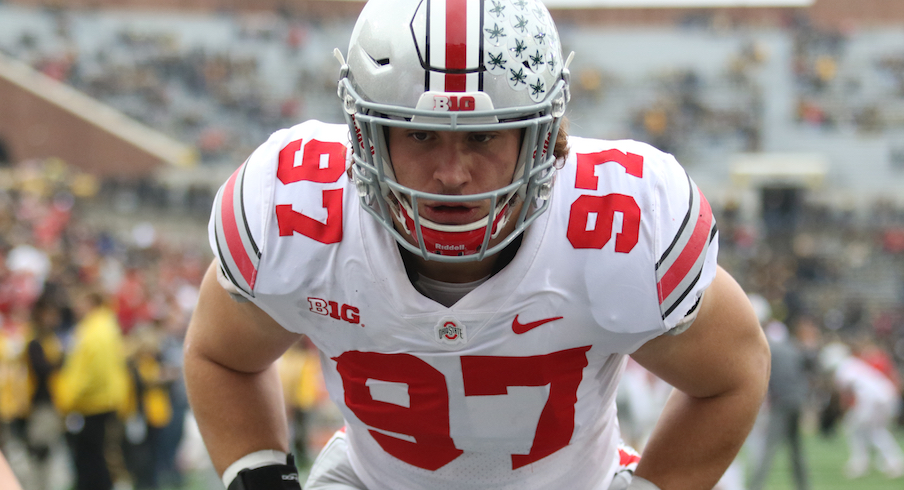 Bosa will, at the very least, miss games against Penn State (Sept. 29), Indiana (Oct. 6), Minnesota (Oct. 13) and Purdue (Oct. 20). Four games — Nebraska (Nov. 3), Michigan State (Nov. 10), Maryland (Nov. 17) and Michigan (Nov. 24) — will be played in November. If Ohio State makes the Big Ten championship, that would take place on Dec. 1.
The conversation about when he will return is made more challenging due to the star defensive lineman's impending eligibility for the draft and the likelihood of him being an early first-round pick. Meyer admitted he has had those conversations with Bosa and his family.
"We've already had those discussions a little bit," Meyer said. "But that's down the road when he becomes healthy again."
The possibility would also seem to exist that Bosa has played his final snap for the Buckeyes. During Meyer's press conference on Monday, though, the head coach said Bosa told him he wants to return to Ohio State this season. Bosa's father said no firm decision will be made until after the November re-evaluation.
It will likely be over a month until Bosa has an idea of when — and if — he will be back, but here are a few factors Bosa and his family might be weighing when considering his return to the field for Ohio State.
Is hurrying back worth the risk of re-injury?
There's a chance that Bosa flies through his recovery and feels even better than before he got injured, but if he completes the recovery and does not yet feel completely healthy, there's no reason to rush back to the field.
This is not a case of a former walk-on pushing himself back from injury in order to play one of the last games of competitive football in his life. Bosa expects to become a multi-millionaire playing at the next level. If he thinks there's a chance that playing snaps would possibly lead to further damage, he likely would not put his future earnings at risk.
Would that keep him from returning to Ohio State this season? Unlikely, yet still possible. Bosa's father told Eleven Warriors that the "bad news" is his son needed surgery, but the "good news" is the injury is "100 percent fixable." When Bosa fully recovers, he will be back. But if there's any part of him that feels like he could benefit from an extra week on the sideline, expect him to take advantage of it.
Recovery time?
Injuries are never easy. They can affect different people in different ways. Not even Bosa's father knows when to expect his return. Bosa will get a better idea of when he could return when he meets with core muscle specialist William C. Meyers during the re-evaluation in November.
Bosa will not be rushing himself back. It could harm his body and expose him to the possibility of re-injuring himself. Plus, there's not any reason to rush back for games against mediocre opponents in October and Nebraska on the third day of November.
Since Bosa does not yet know when he will return, it could fluctuate, and Bosa could end up returning before or after the estimates of six to eight weeks. But it won't be before he sees his doctor again in November.
Would a return improve his draft stock?
A look at big boards and mock drafts from NFL draft experts backs up the idea that Bosa will not just be a first-round pick in April, but has a chance to even get drafted above the No. 3 overall spot where his brother, Joey, was selected by the Los Angeles Chargers.
Just two days ago, Bleacher Report's Matt Miller called Bosa and Houston's Ed Oliver the two favorites to be picked first overall. Bosa ascended to the top of ESPN draft analyst Mel Kiper Jr.'s draft rankings, which were updated four days ago. The Athletic's Dane Brugler had Bosa first overall in his season-opening rankings on Aug. 21. 
A return to the field wouldn't drastically improve Bosa's stock. Even with the injury, he will almost certainly be a top-five pick in the draft, with a chance to be the first Ohio State player to go first overall since Orlando Pace in 1997. A return late this season could give NFL teams assurance that he makes a complete recovery, but he'll have that opportunity in pre-draft workouts too, and his draft stock is already high. The talent remains, and like Bosa's father said, a complete recovery will happen, even if it takes longer than some Buckeyes fans hope.
Does Ohio State need him?
It's hard to know what specifically will factor into Bosa's decision without being able to speak to him, but it might be easier for him to take his time getting healthy if Chase Young and Jonathon Cooper raise their games and become forces off the edge. Sure, they won't completely match Bosa's production. He had more tackles, tackles for loss, sacks and touchdowns in the first three games than the rest of the defensive ends combined.
The defensive ends tasked with replacing him off the edge understand the challenge.
"I think it's time to step up even bigger than I have when Nick was here," Young said on Saturday. "I think that's in every player's mind in my position that you have to step up."
But, it's different to understand it and to produce at the level necessary to soften the blow of losing possibly the best defensive player in the sport. Playing against a Tulane team that used the wishbone, it was difficult to evaluate their performances in their first game sans Bosa. Saturday's matchup versus Penn State will be significantly more telling.
If Young, Cooper, Jashon Cornell, Tyreke Smith and Tyler Friday cannot provide consistent pressure on quarterbacks, the pressure on Bosa to return in time for competitive late-season matchups against Michigan State and Michigan would rise. And the pressure would heighten even further if the Buckeyes enter those games with one loss, needing wins to secure a berth in the College Football Playoff.