Call what has happened to Ohio State's offense "the new wave," if you must.
The all-white hat sitting backward atop Dwayne Haskins' head as he spoke to the media Wednesday night had those three words embroidered. They happen to be a perfect metaphor for his team's offensive transformation this season.
Last year's quarterback run-heavy offense has been well documented. On countless third-and-short opportunities, J.T. Barrett rammed up the middle as he tried to get a first down. He often looked to scramble.
That style of offense still showed up in the first couple games when Tate Martell entered the game to give the defense a different look. But with Haskins running the show, the Buckeyes have taken advantage of the 6-foot-3 quarterback's precision and arm strength instead of relying on his legs.
Through three games, Haskins has just seven rushes and does not have more than three carries in a single game. Barrett didn't have a single game last season with fewer than five rushing attempts, and reached double-digit carries in eight games.
At no point this year have the Buckeyes seemed likely to have Haskins carry the ball more, but Haskins said that part of the game has not been eliminated from the offense.
"I definitely feel like my legs are a part of my game," Haskins said. "It might not be the biggest part, but it definitely is there. Plays where it has to be read a defensive lineman or a linebacker and I have to pull it. If that's called when I read it, then it's part of the game plan."
Ryan Day, who is back in his role as offensive coordinator and quarterbacks coach after finishing his stint as acting head coach, said he felt it important for defenses to account for the quarterback run.
That came into play in Saturday's win against TCU, when Haskins read a defender crashing down the line, pulled the ball and ran it in for a five-yard touchdown. Kevin Wilson, watching the game from the press box, noticed the end chasing the running back and called for Haskins to run a read option.
"Any time that happens and, I think, a defensive coordinator sees that, they have to account for him," Day said. "Once they account for him, job done. We're trying to be creative in how we do that. As long as you're a threat, then I think a defense has to at least account for it."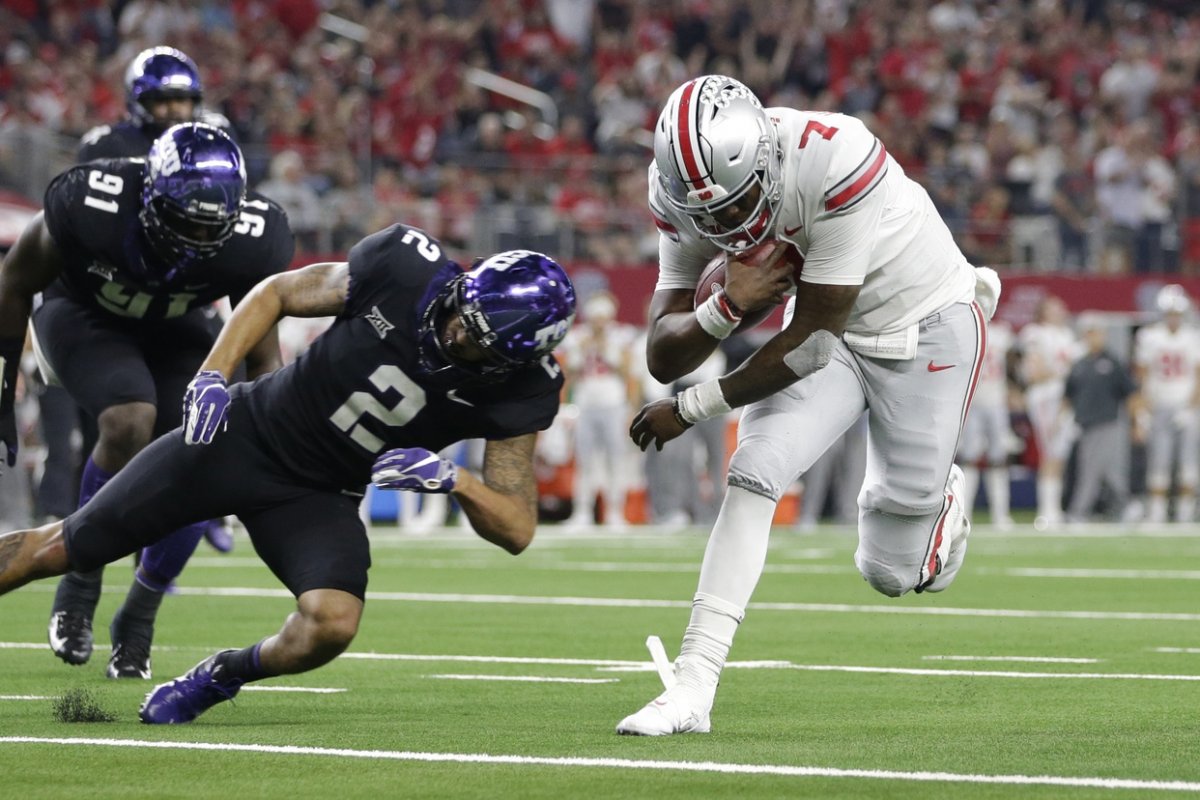 Haskins has not been much of a threat on the ground thus far, especially compared to his prolific passing performances. But, Day said sometimes "there's an opportunity for him to pull the ball."
It certainly helps to have J.K. Dobbins and Mike Weber, two running backs who could start for most teams in the country, who can handle running with linebackers crowding the tackle box.
With Urban Meyer returning to the sideline for Saturday's matchup against Tulane, he will have a chance to make any changes he feels need to happen. However, he said he will be more of a "game manager" for the offense.
"I have not been that involved in the offense," Meyer said on Monday. "I give my ideas. And I think they're doing exceptional. So I'm trying to just help, do the best I can."
With Meyer at the helm of the team last year, Haskins rushed six times twice and had eight carries in a blowout of Illinois. If Meyer maintains the hands-off approach and allows Day and Wilson to run the offense, don't expect Haskins to exceed those six rushes.
"I feel like we can keep getting better. We're not in playoff form, yet. We're getting there."– Dwayne Haskins
Given his arm talent, there's no reason Haskins should not keep slinging the ball while running just a couple times per game.
"God blessed him with that," said wide receiver K.J. Hill. "I feel like he can do anything he wants to do on the field."
Haskins has completed 72.5 percent of his passes for 890 yards and has an 11-to-1 touchdown-to-interception ratio. The way he has led the offense, he might not be around Columbus for more than one season.
In Haskins' first start against a top-25 opponent, Day noticed Haskins' poise and said the redshirt sophomore "never panicked." The quarterback's perseverance after getting knocked down multiple times by TCU defenders impressed Isaiah Prince, who called him "one of the best" quarterbacks in the country.
The Buckeyes racked up 40 points on 526 yards against the Horned Frogs, but Haskins believes the team must improve to achieve the ultimate goal.
"I feel like we can keep getting better. We're not in playoff form, yet. We're getting there," Haskins said. "Just execution is the biggest thing with the offense — and timing. We had some times in the game last week where we didn't execute the way we needed to be and messed up the timing.
"If we can get the ball rolling from the start, we can be really dangerous."