Anyone familiar with James Laurinaitis' Ohio State career knows he had established himself among the Buckeyes' all-time greats long before his induction into the Ohio State Athletics Hall of Fame on Friday night.
One of only eight three-time All-Americans in Ohio State history, Laurinaitis' name already stood alongside the likes of Chris Spielman, Randy Gradishar and Tom Cousineau as one of Ohio State's greatest linebackers ever.
At one time, though, Laurinaitis was just a three-star recruit from Wayzata, Minnesota, who wasn't sure whether he would ever see the field for the Buckeyes.
With that in mind, Friday night's recognition was special for the man who held the nickname "Little Animal."
"It's extremely humbling, when you think about all the athletes that have been through here," Laurinaitis said before Friday night's ceremony. "Gosh, you can go through the football guys and just be impressed, but when you think about all of athletics, and to be included in that Hall is what just humbles me the most."
Laurinaitis, who played for the Buckeyes from 2005-08, was one of 10 Ohio State sports legends inducted into the university's Athletics Hall of Fame on Friday night. Laurinaitis was joined by Richard Bruggeman (men's track and field, 1967-70); Cassie Dickerson (women's soccer, 2008-10); Greg Drown (rifle, 1981-84); Linda Haussener (field hockey, 2005-08); Ray Hupp (men's track and field, 1969-71); Bryan Koniecko (men's tennis, 2006-09); Mike Pucillo (wrestling, 2007-10); Jerry Welsh (men's hockey player, 1970-73; coach, 1976-95); and Brandon Wynn (men's gymnastics, 2008-11).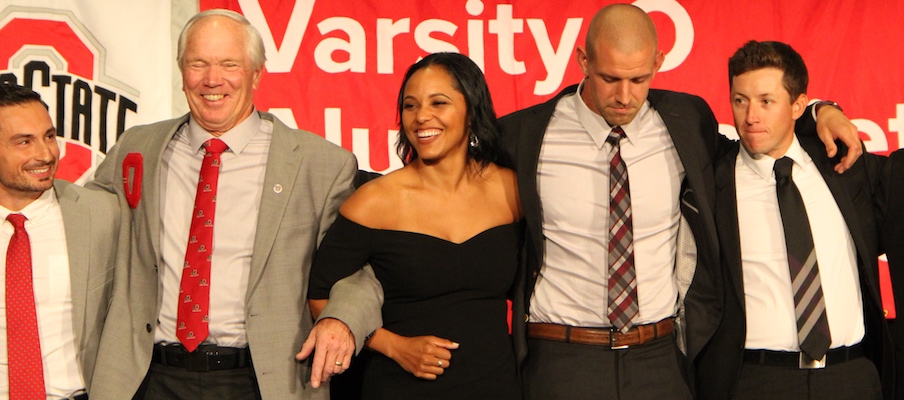 During his induction speech inside the Archie Griffin Grand Ballroom at the Ohio Union on Friday night, Laurinaitis expressed his gratitude to the people who helped him become a Hall of Famer – including his family, coaches and teammates – and said he is still grateful that he chose to become a Buckeye.
"The best decision I ever made was choosing Ohio State," Laurinaitis said.
While most of his former coaches and teammates weren't able to attend Friday's ceremony, Laurinaitis said he received messages of congratulations from many of them leading up to his enshrinement, including Jim Tressel, Luke Fickell, Marcus Freeman and Malcolm Jenkins.
Although Laurinaitis considered Friday to be one of the greatest individual honors of his career, he said the moments he reflected on in the days leading up to Friday's ceremony were those that he spent with his teammates.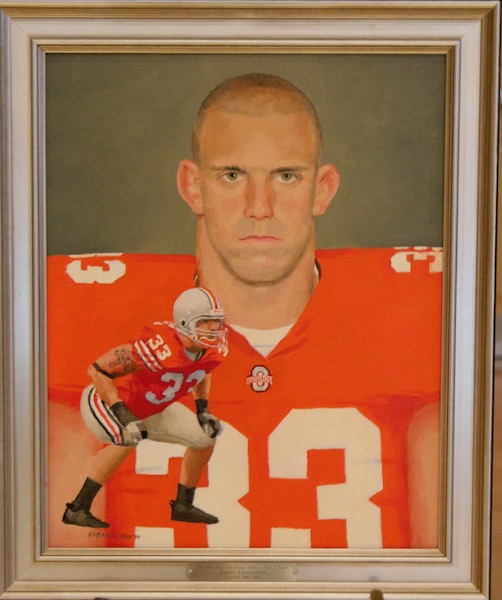 "My favorite memories are when you celebrate, obviously, beating The Team Up North. When it's your senior year and you're in the locker room and you got a couple cigars and you're holding the Big Ten trophy, those are fun memories," Laurinaitis said. "Totality, career-wise, this is definitely one of them. Whenever you won the awards was always fun. But again, it's the team stuff … those team memories stick out."
Laurinaitis said he felt as though those teammates deserved to be up on stage just as much as he did on Friday.
"Those are the guys that deserve a lot of credit for any of my success; those teammates pushing me, teammates supporting me," Laurinaitis said. "You wish you could bring your whole roster up with you. So it's hard for me to stand up there by myself, because there's so many people that are involved with this, from family, to coaches, to teammates."
Laurinaitis said he is expecting to see some of his former teammates on Saturday, when he and the rest of this year's Hall of Fame class will be honored during halftime of Ohio State's second football game of the season against Rutgers.
"It's extremely humbling, when you think about all the athletes that have been through here." – James Laurinaitis on being inducted into the Ohio State Athletics Hall of Fame
While meeting with reporters prior to Friday's ceremony, Laurinaitis – who now hosts Bishop & Laurinaitis on 97.1 The Fan, and is an analyst for the Big Ten Network and Fox Sports – also shared his thoughts on what he saw from the current Buckeyes in their first football game of the season last weekend against Oregon State. As you might expect from a former linebacker, Laurinaitis' focus went to the defensive side of the ball – where the Buckeyes gave up several big plays – but he also praised quarterback Dwayne Haskins and running back Mike Weber, among others, for their performances in Ohio State's season-opening win.
"Obviously, you have to limit the explosive plays defensively," Laurinaitis said. "Everyone can see that. It's stuff that's fixable, when you watch the film. You just want to see growth this week in that area.
"And then obviously Haskins' arm is, it's beautiful. The way he can throw the football, it's just a smooth, effortless motion, and it's fun to watch," Laurinaitis continued. "And I thought Mike ran really hard, motivated. He ran like a guy who's had to listen to everyone talk about J.K. for a whole year, and just kind of realized like 'Hey, don't forget about me.'"
Asked what his message would be for Ohio State's current players, some of whom might have their own aspirations of becoming Hall of Famers, Laurinaitis said he would encourage them to take advantage of every single day they have the opportunity to be a Buckeye.
"Soak it up, and just never stop learning," Laurinaitis said. "Don't give up, don't get complacent. It sounds cliche, but really, it's always improve every single day, because there's no such thing as just staying the same. You're not staying the same. You're getting better or you're getting worse. So if you think you've made it, and you're just going to coast through and get lazy, you're just getting worse. Somebody else is passing you. So just keep grinding. And enjoy it. Because the train that is football, whether college or pros, it's going to keep going without you. You can try to hold on for as long as you can, but it's going to keep going. So enjoy those moments."
Laurinaitis also revealed Friday that he was offered an opportunity to join Fickell's coaching staff at Cincinnati – where Freeman is also now the defensive coordinator – but decided that he was not ready to commit to a coaching job.
"I just told him, 'I'm not all in on it, and I can't do that to you,'" Laurinaitis said.
Laurinaitis also acknowledged, though, that he might have a different thought process if he was ever offered an opportunity to join the staff at Ohio State.
"Hypothetically? It would be a long, long thought process on that one, for sure," Laurinaitis said. "It would be hard to say no."