Ohio State held what it considered to be its 14th and final practice of fall camp on Saturday – as the Buckeyes begin their regular practice schedule next week, with classes beginning Tuesday – and for the second time this preseason, the media was allowed in to watch the first three periods of practice.
Some video from my new Eleven Warriors colleague, Derrick Webb:
Just two weeks before Oregon State makes a visit to Columbus, @OhioStateFB preaching #WinTheMoment throughout the first three sessions of Saturdays practice. Check @11W & @Dan_Hope for takeaways from this morning. pic.twitter.com/Uxvlwcnqum

— Derrick Webb (@dw1509) August 18, 2018
While the Buckeyes were set to scrimmage on Saturday morning, they didn't start that until after the media was asked to leave. As such, there wasn't a whole lot to glean from the approximately 30 minutes that the media was able to observe at the Woody Hayes Athletic Center. Nonetheless, we were able to make some observations about who's performing on special teams, who's currently limited by injuries and more.
Punt work
Per usual, Ohio State opened up its practice with a punting drill, which gave some insight into who some of the players could be that key roles on special teams this season.
Like in the Buckeyes' previous practice that was open to the media, C.J. Saunders and Demario McCall were among those fielding punts on Saturday, while K.J. Hill – last year's starting punt returner – was also in the mix on Saturday.
Players who were on the field with either the first-team punting or punt return units included defensive end Jonathan Cooper, linebackers Pete Werner, Baron Browning and Malik Harrison and tight end Luke Farrell, with Drue Chrisman punting as usual.
Players who were on the field when the second-team punting and punt return units were on the field included numerous true freshmen – including linebackers Teradja Mitchell and Dallas Gant and wide receivers Jaelen Gill and Chris Olave – as well as sophomore wide receiver Jaylen Harris and safety Brendon White, among others, with walk-on Zack Hoover punting.
Injury report
Several players were either sidelined or limited participants in Saturday's practice, including freshman safety Marcus Hooker, who was seen wearing a sling on his left arm.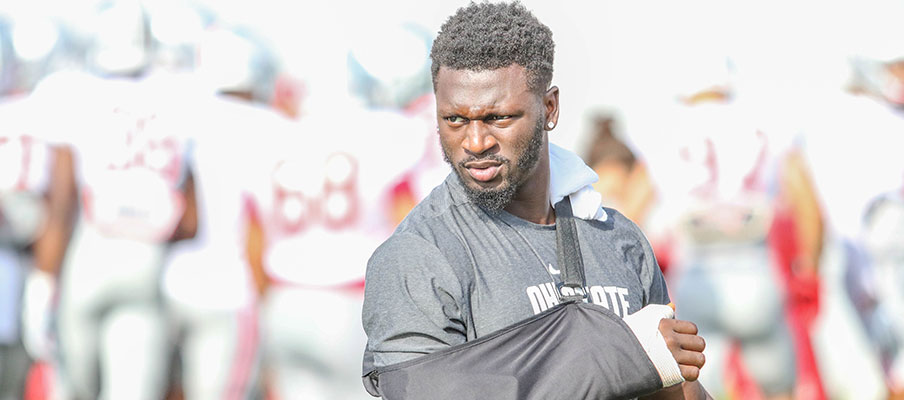 Others who appeared to be limited participants in practice on Saturday included offensive linemen Thayer Munford, Brady Taylor and Max Wray, and defensive tackles Haskell Garrett and Jerron Cage. Munford, Wray and Cage also spent time doing drills on a side field instead of going through regular drills with their teammates, while Garrett spent most of the open viewing window walking around the field instead of actively participating in drills.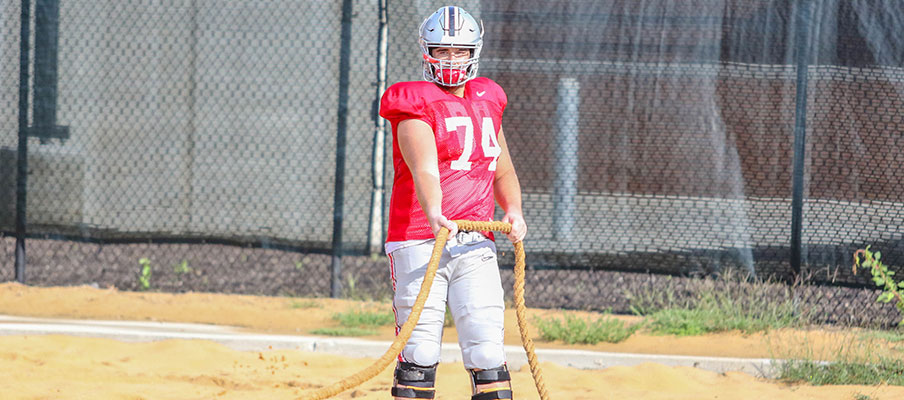 Middle linebacker Justin Hilliard was also seen wearing an orange jersey, which signifies he is not playing at full-contact, but he was participating in practice.
With Munford and Taylor separate from regular offensive line drills, the first-team offensive line at Saturday's practice consisted of Joshua Alabi at left tackle, Malcolm Pridgeon at left guard, Michael Jordan at center, Demetrius Knox at right guard and Isaiah Prince at right tackle.
Praise from Marotti
Along with the music that constantly plays in the background of Ohio State practice, another constant soundtrack at the Woody Hayes Athletic Center during practices is the booming voice of director of sports performance Mickey Marotti through the speakers, usually telling players to "Strain!" or "Finish!"
Listening to Marotti's exclamations, though, is one way of knowing who might be catching the coaches' eyes, and several players drew notable praise from Marotti over the speakers on Saturday.
Sophomore cornerback Jeffrey Okudah was praised on multiple occasions for his effort while going through defensive back drills; Browning, Harrison, fellow linebacker Keandre Jones, Olave and safety Josh Proctor were also among those who were lauded for their efforts while participating in individual work.
That doesn't necessarily mean anything more than those players having one good play in practice, but it's certainly better than the alternative of Marotti being disappointed in them.