The last installment of EA Sports' wildly popular NCAA Football series hit shelves five years ago this week.
If the game still existed, your neighborhood GameStop would have been packed late last night with fans trying to get their hands on a copy of NCAA Football 19 as soon as the clock struck midnight. But alas, we must dust off our outdated PlayStation 3 or XBOX 360 in order to get our virtual college football fix.
WHY THERE ISN'T A GAME
In 2009, former UCLA basketball player Ed O'Bannon sued Electronic Arts, the NCAA and the NCAA's licensing partner, Collegiate Licensing Company, after he noticed that EA Sports' NCAA Basketball 2009 featured him — albeit without his name — on one of its classic Bruins teams. The 6-foot-8, 222-pound avatar used his jersey number, played power forward and shot with its left hand.
O'Bannon argued that he could not profit from the use of his name, image or likeness if he wanted to maintain his eligibility with the NCAA, as well as the video game exploited that.
EA Sports negotiated an out-of-court settlement with O'Bannon in 2014 and agreed to pay more than $40 million to former players who appeared in the game, depending on the number of games in which they appeared. Since it can't pay current players for their identities company declined to create the next installment.
NEW FEATURES
For the sake of this exercise, let's just say EA Sports struck a licensing deal with the NCAA; individual college football programs and their players; bowl games; postseason trophies; and major television networks to create NCAA Football 19. What would it look like?
You may recall former Michigan quarterback Denard Robinson graced the video game's final cover. But if you're anything like me, you created your own and slipped it behind the plastic to make it look like Braxton Miller was the cover athlete. Surely Oklahoma quarterback and Heisman Trophy winner Baker Mayfield would have been EA's pick for NCAA Football 2019, so we made one ourselves.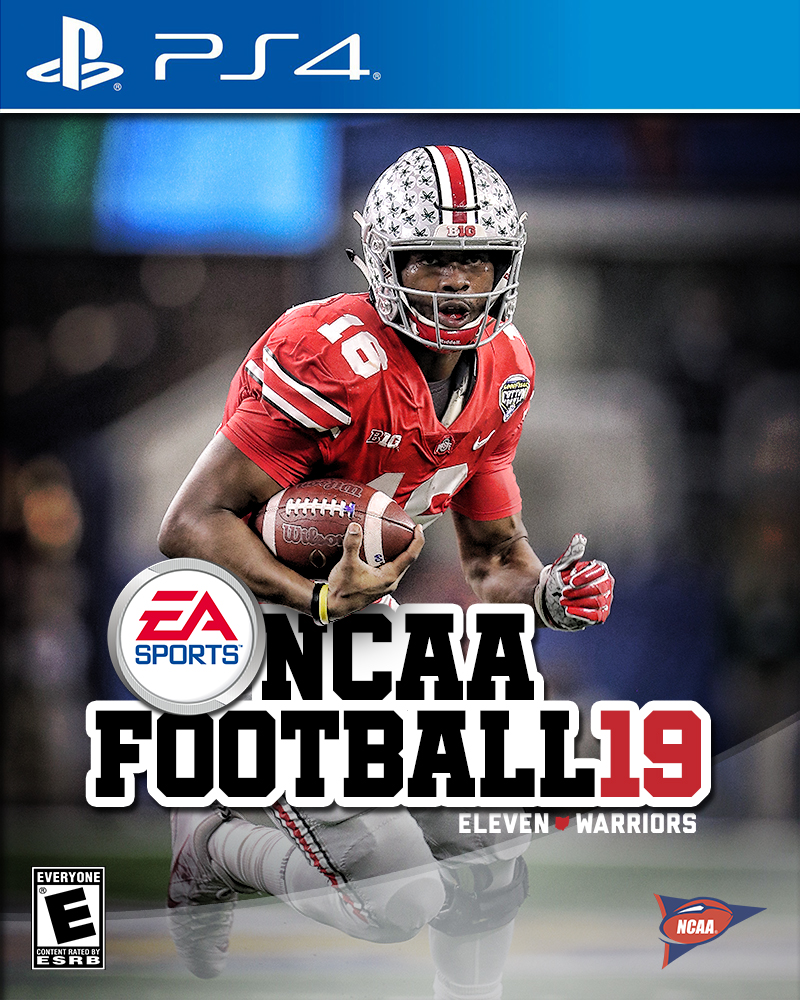 COLLEGE FOOTBALL PLAYOFF
No matter how much you enjoy playing your old copy of NCAA Football 14, the season always reaches a bittersweet conclusion since it features the Bowl Championship Series format. Constantly rotating between the Fiesta, Orange, Rose and Sugar Bowls, the game gets rather stale after four seasons.
The sport adopted the College Football Playoff just one year later, which means we missed out on the opportunity to play a four-, eight- or 16-team playoff within the game — surely you'd be able to expand it. With that, the game would have crossover implications Madden, given the national championship often takes place in an NFL stadium.
TEAMBUILDER
One of my personal favorite features of the NCAA Football series was TeamBuilder, which allowed you to create fictional — or even your high school program — from scratch and import into the game. The customization options were rather limited, however.
Taking a page out of Visual Concepts' NBA 2K series, NCAA Football could have imported alternate uniforms whenever they're released (free of charge) and allowed for a bit more freedom when it comes to editing your own uniforms. After all, there was no options for sublimated wolf print patters within the numbers.
FCS SCHOOLS
EA Sports eliminated all FCS schools — then known as Division I-AA — NCAA Football 2009 and replaced them with generic regional teams (FCS East, West, etc).
With teams like Charlotte and Coastal Carolina and Liberty moving up to the FBS and Idaho dropping down to the FCS since the last installment of NCAA Football, the inclusion of smaller schools is pivotal for future conference realignment within the game.
CURRENT ROSTERS
If you still have your old PlayStation 4 or XBOX 360, you can still play NCAA Football 14 with the current rosters thanks to some hardcore fans with a lot of time on their hands — and the fact that EA Sports still provides online support for the game.
As nice as it is to simply click "download roster," it was much more enjoyable to go through and change every player's name from the generic QB #1. With that, we took a guess at what Ohio State's roster might look like if you purchased the game today.
OFFENSE

| PLAYER | NAME | RATING |
| --- | --- | --- |
| QB #7 | DWAYNE HASKINS | 90 OVR |
| RB #2  | J.K. DOBBINS | 96 OVR |
| RB #25 | MIKE WEBER JR. | 95 OVR |
| (X) WR #11 | AUSTIN MACK  | 88 OVR |
| (Y) WR #83 | TERRY MCLAURIN | 89 OVR |
| (SLOT) WR #21 | PARRIS CAMPBELL JR. | 90 OVR |
| TE #89 | LUKE FARRELL | 80 OVR |
| LT #75 | THAYER MUNFORD | 82 OVR |
| LG #73  | MICHAEL JORDAN | 96 OVR |
| C #79 | BRADY TAYLOR | 78 OVR |
| RG #78 | DEMETRIUS KNOX | 88 OVR |
| RT #59 | ISAIAH PRINCE | 90 OVR |
DEFENSE

| PLAYER | NAME | RATING |
| --- | --- | --- |
| DE #97 | NICK BOSA | 98 OVR |
| DE #2  | CHASE YOUNG | 90 OVR |
| DT #86 | DRE'MONT JONES | 92 OVR |
| DT #67 | ROBERT LANDERS | 86 OVR |
| MLB #5 | BARON BROWNING | 85 OVR |
| OLB #39 | MALIK HARRISON | 84 OVR |
| OLB #16 | KEANDRE JONES | 80 OVR |
| CB #8 | KENDALL SHEFFIELD | 90 OVR |
| CB #46 | DAMON ARNETTE | 88 OVR |
| CB #1 | JEFFREY OKUDAH | 85 OVR |
| S #4 | JORDAN FULLER | 93 OVR |
| S #15 | JOSH PROCTOR | 80 OVR |
SPECIAL TEAMS

| PLAYER | NAME | RATING |
| --- | --- | --- |
| K #96 | SEAN NUERNBERGER | 85 OVR |
| P #91 | DRUE CHRISMAN | 84 OVR |
With all that said, iMackulate Vision Gaming announced in April it plans to release a new college football game, Gridiron Champions, on PlayStation, XBOX and Steam in 2020.
Gridiron Champions is the future of college football video gaming. Gridiron Champions will allow players to feel the unique traditions, atmosphere, and pageantry that sets college football apart from any other sport! In regards to our rosters, we intend to use generically randomized rosters to avoid any legal ramifications dealing with current player likenesses. We would like to include customization and a roster share feature so that our players will be able to customize their college football gaming experience to their liking.
The fully customizable game will feature 126 generic schools all vying for a spot in the college football playoffs.  A mode called Gridiron Icon, which is similar to NCAA Football's Road to Glory, will allow you to create a high school prospect and follow their career though college. You'll also be able to create new uniforms, stadiums and conferences, so someone with a lot of time on their hands will certainly replicate the current college football climate.
The goal, of course, is work out a licensing agreement with the NCAA and revive the series by Gridiron Champions' second installment. The customizations options are promising (and something I suggested several years ago), but I'm still skeptical since we've seen generic football games — like Midway's Blitz: The League, for example — flop after EA Sports purchased exclusive rights to the NFL.