Reloading never seems to be a problem at Ohio State.
Year after year, the Buckeyes put together one of the most talented lineups in the country, and they'll try to do it once again during the 2019 recruiting cycle, eyeing shallow spots on the depth chart and filling it with elite talent.
As we head into Ohio State's Friday Night Lights, we take a look at the state of the depth chart, ranking the team's positional units in terms of depth and future preparedness to show where the Buckeyes need to focus in the coming recruiting cycles.
10. Quarterback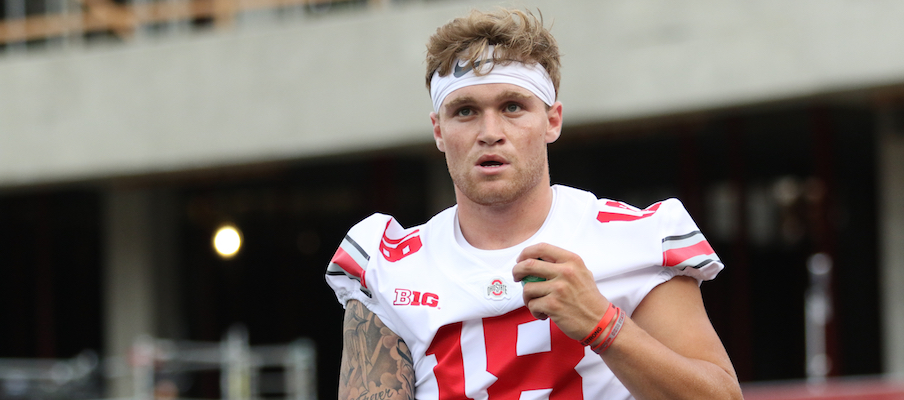 A couple of years ago, it would be difficult to believe Ohio State was short at the quarterback position, but that's exactly where we are right now.
The Buckeyes have just three scholarship quarterbacks on the roster. Two of them have never played a down of college football and one of them is coming off a serious leg injury that ended his high school career.
To make matters worse, Ohio State currently has no quarterback committed in either the 2019 class or the 2020 class. The 2019 class is notoriously weak in terms of quarterback talent, so there's a good chance that this issue of depth won't be fully solved for another recruiting cycle.
The Buckeyes just need to pray everyone stays healthy.
9. Safety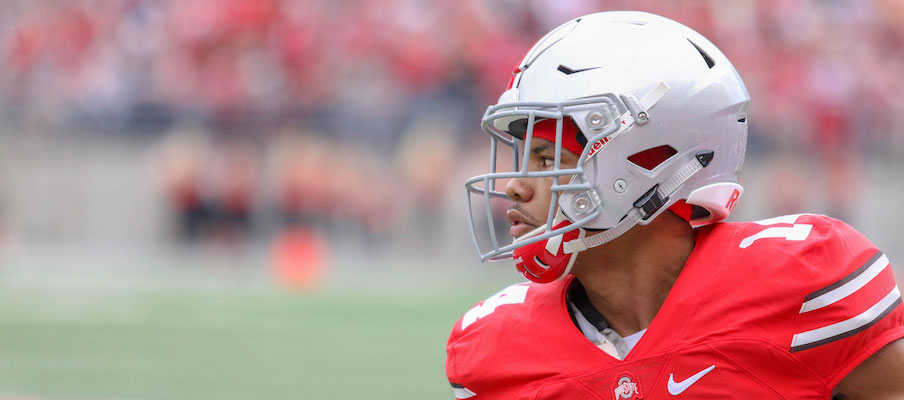 The safety position right now is Jordan Fuller and then everyone else, which is especially problematic since Ohio State needs two starting safeties.
Fuller is a future NFL talent and has one of the safety spots locked down, but nobody else on the roster has even emerged as a starter quite yet. Sophomores Isaiah Pryor, Jahsen Wint, Amir Riep and Brenden White are all in contention, but none of them have pulled away quite yet.
"The field safety is probably our No. 1 concern on our team right now," Meyer said after the spring game. "We're just not quite sure who that is."
It's concerning that Ohio State has four scholarship safeties who've been with the program for two seasons and none seem to be even close to Fuller's level, especially since Fuller will likely bolt to the NFL following this season.
The strength of the safety spot will come down to development, as the Buckeyes have four redshirt sophomore safeties as well as two incoming freshman and two currently committed for the 2019 class.
8. Tight End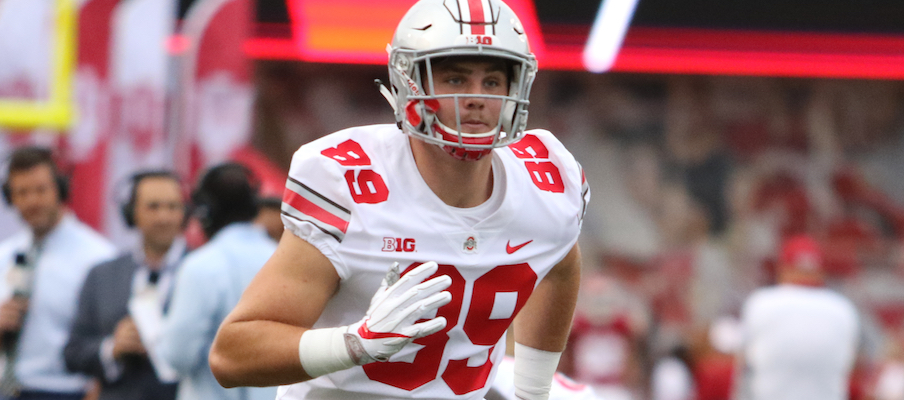 Ohio State currently has four scholarship tight ends, which would be enough if all four were ready to play, but that hasn't proven to be the case just yet.
Marcus Baugh was far and away the team's top tight end last season with Rashod Berry, a converted defensive lineman, taking most of the second-team reps. Jake Hausmann and Luke Farrell have been with the team for two seasons, but both redshirted as freshmen and played sparingly their second year.
The good news for the Buckeyes is that Farrell appears to have stepped up, as Urban Meyer said he's on track to earn a starting spot for this season, and Ohio State just signed the top tight end in the 2018 class in Jeremey Ruckert.
Depending on how players develop, Ohio State could be fine or even well off at the tight end position in the coming years, but it's still not exactly a position overflowing with talent.
7. Defensive End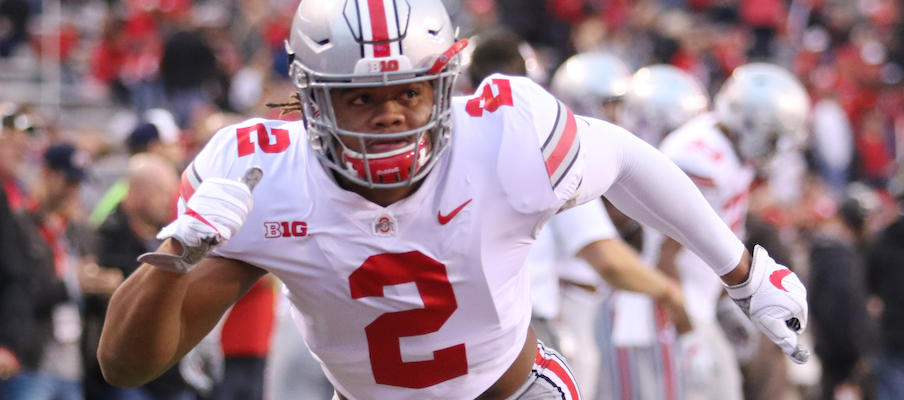 This might seem unbelievable given the absurd depth the Buckeyes have had at defensive end in recent years, but as it stands right now, Ohio State might be at least relatively short at the position in coming years.
Nick Bosa is presumably heading to the NFL following the season, which would leave the Buckeyes with Chase Young, Jonathon Cooper and Jashon Cornell as the only defensive ends who've been on the roster longer than a year, and that's assuming they stay healthy and don't bolt for the NFL along with Bosa.
Behind them is Tyreke Smith, a top-40 four-star recruit, as well as Tyler Friday, a four-star player who was scouted by many as a defensive tackle, but will play outside for the Buckeyes. Alex Williams and Javontae Jean-Baptiste, both ranked outside of the top-200 players nationally, round out the freshmen class with four-star Noah Potter as the lone commit in the 2019 class.
It's difficult not to trust that this Buckeye defensive line will continue to be dominant for the foreseeable future given Larry Johnson's track record, but the depth and talent at the defensive end position just isn't quite where it was a few years ago.
6. Linebacker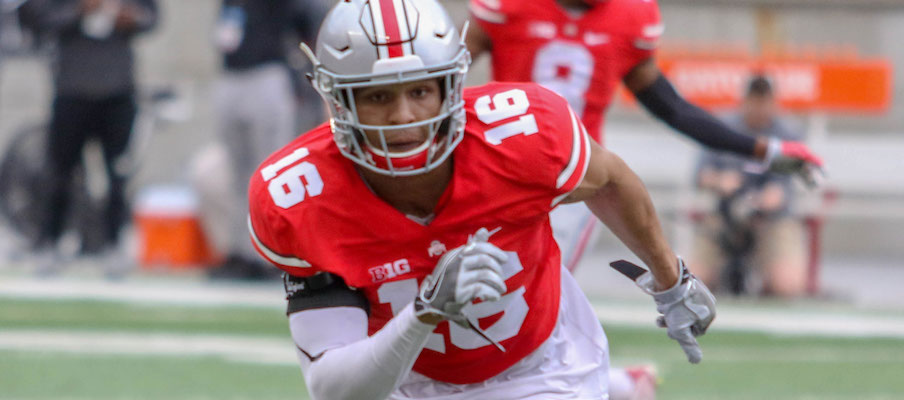 The linebacking corps is perhaps Ohio State's most balanced unit, in terms of an equal distribution of players and talent for each class.
The lone senior is Dante Booker, but behind him the Buckeyes have three juniors, three sophomores, three freshman, and two 2019 current commits. As far as talent, every player older than a freshman seems to be competing for playing time this season, with the older players – Malik Harrison and Keandre Jones – getting the first look.
Out of all the units, the linebackers seem to have the healthiest distribution of talent and scholarships from class to class, which should lead to a relatively natural progression from year to year.
5. Wide Receiver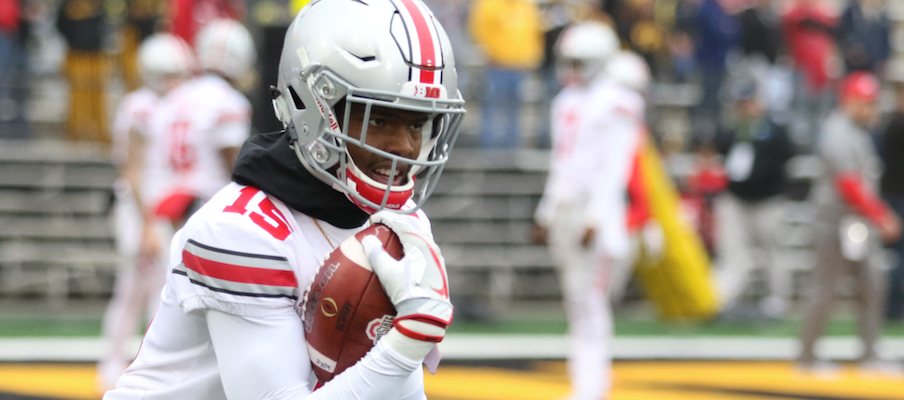 The Buckeyes returned all six of their top receivers from last season, but they face the very real prospect of losing all six following this season.
Parris Campbell, Terry McLaurin and Johnnie Dixon will all be on their way out as seniors, but K.J. Hill, Austin Mack and Binjimen Victor could all test the NFL waters, especially with a stellar season this year.
Behind them, Ohio State has talent, it's just young and unproven with Jaylen Harris and Demario McCall as the only players not listed as freshmen. Kamryn Babb Chris Olave and Blue Smith all enter as talented, but inexperienced freshman with Garrett Wilson – Urban Meyer's best-ever wide receiver recruit – arriving next season.
4. Offensive Line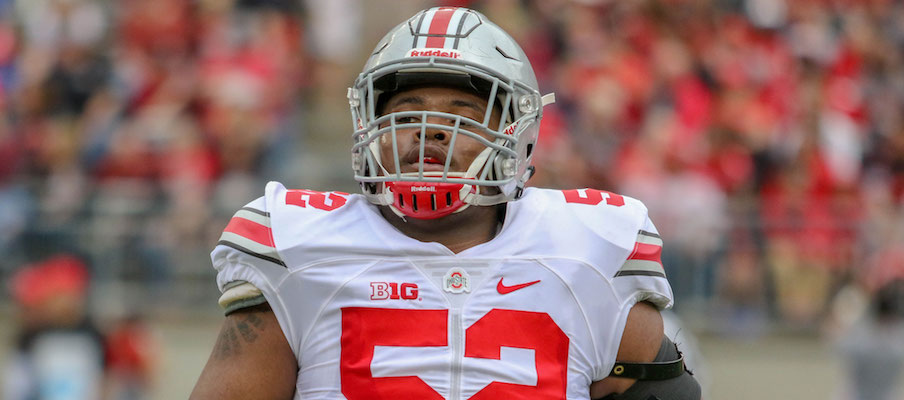 The Buckeyes currently have the deepest group of offensive linemen they've had since Urban Meyer has been in Columbus, and that should be true even after this season.
Ohio State will lose Isaiah Prince, Demetrius Knox and Brady Taylor to graduation – three potential starters – but still return Michael Jordan, Branden Bowen and Thayer Munford, all of whom have or will have experience with the first team.
Joining them is Joshua Alabi, who's made a strong push for playing time, as well as some of the highest-rated offensive line recruits Meyer has ever signed at Ohio State, including five-stars Wyatt Davis, Josh Myers and Nicholas Petit-Frere.
3. Running Backs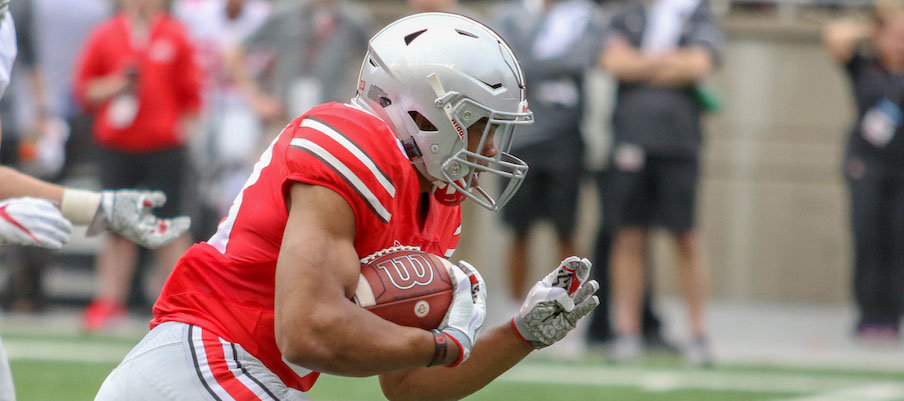 Ohio State appears to be set at running back for the foreseeable future.
Mike Weber will likely head to the NFL following this season, especially considering he considered it this season, but J.K. Dobbins lit the college football world on fire as a true freshman last season and still has two seasons of eligibility remaining.
Behind them is the nation's No. 3 running back, Brian Snead, as well as a supremely underrated Master Teague III, who's already made noise during his first few months in Columbus. There's also Jaelen Gill, who will likely see action as both a running back and a receiver.
The Buckeyes also have two running backs committed in the 2019 class – four-stars Sampson James and Steele Chambers. The future is certainly bright for the Buckeye ball carriers.
2. Defensive Tackle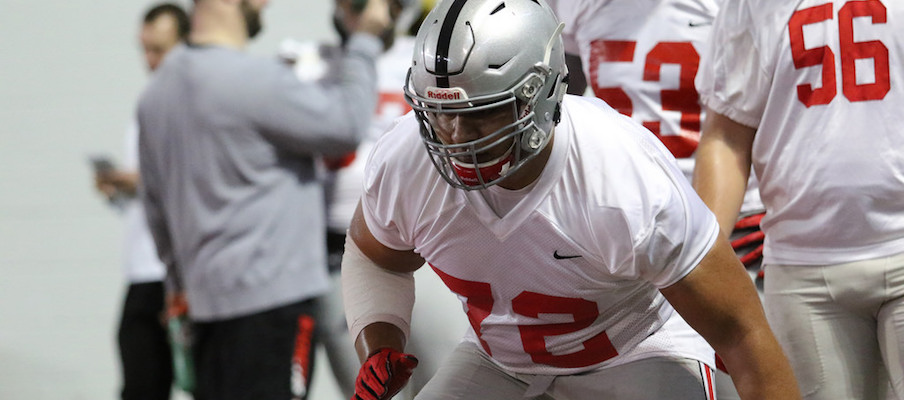 After years of recruiting misses and moving defensive ends inside, defensive tackle is all of the sudden one of Ohio State's deepest, most talented positions.
The unit is currently headlined by Dre'Mont Jones, who will almost certainly head to the NFL following this season. But that still leaves Robert Landers, who will start alongside Jones this season, as well as Davon Hamilton who's played meaningful snaps the past two seasons.
Then there are the talented new faces such as Antwuan Jackson, as well as true freshmen Tommy Togiai, who was the first member of the 2018 class to lose his black stripe, and Taron Vincent, who is the No. 1 tackle recruit coming out of high school.
That's not to mention former four-star recruits Haskell Garrett, Jerron Cage or Malik Barrow, who will all push for playing time in the coming years.
The Buckeyes are loaded in the middle.
1. Cornerback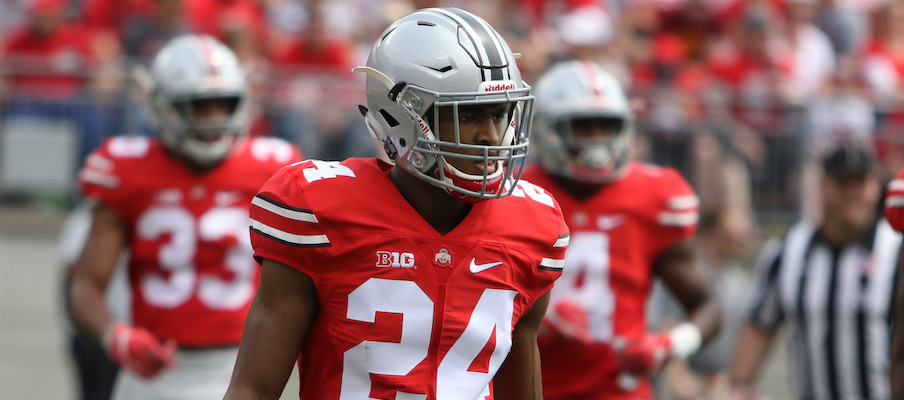 Ohio State's strongest going forward will be its cornerbacks.
Half of the team's eight scholarship corners were five-star prospects coming out of high school and three of those players are second-year players or under, giving the Buckeyes an extremely high-level group of defensive backs.
Damon Arnette and Kendall Sheffield will likely begin the season as starters, but the young guns like Jeffrey Okudah, Shaun Wade, Marcus Williamson and Tyreke Johnson will likely find their way into the rotation.
The best news for the Buckeyes is that roster turnover will not be immediate. Arnette and Sheffield are redshirt juniors and could stick around for another season if they don't look towards the next level, and behind them, the eldest players are true sophomores.
Eleven Warriors is committed to smart, timely and exhaustive coverage of Ohio State athletics. Unlike other outlets, we choose not to put up a paywall. We want to keep our journalism as open as we can.
As an independent media organization, we count on the generosity of our readers to help us achieve this mission. If you enjoy our coverage, please consider becoming a 12th Warrior or supporting us in other ways.
Thank you for your continued support.