Although Ohio State hasn't played a football game for the past five months, and three months still remain until the 2018 season begins, we have a somewhat better idea of what this year's Buckeyes could look like as June begins than we did when the calendar year began.
With the spring semester – and spring practices – now well in the rear-view mirror, we know have a clearer picture of what Ohio State's 2018 roster will look like and who could be new starters at several positions, as well as how the Buckeyes could stack up with the rest of the Big Ten and the top teams around the nation.
Therefore, it's time to revisit what the biggest questions for the Buckeyes are – as we previously discussed on New Year's Day – as they continue their preparations for the 2018 season.
The biggest question from January has now been answered. Although Tate Martell will still be in the mix to compete for playing time this summer, Dwayne Haskins has emerged as the Buckeyes' new starting quarterback after Joe Burrow's move to LSU as a graduate transfer last month.
Some of the other questions have now been answered, too, at least in part. Alex Grinch was in fact hired as the Buckeyes' co-defensive coordinator and safeties coach, with Greg Schiano moving into a role overseeing the entire defense, while surprisingly, Kerry Coombs left his post as cornerbacks coach and Taver Johnson was hired to replace him.
As for potential breakout players, left tackle Thayer Munford, tight end Luke Farrell and defensive ends Chase Young and Jonathon Cooper were among those who emerged this spring as players who are set to see much bigger roles in 2018.
Still, there are several questions that remain unanswered – some that were on our January list, and some that weren't – that still loom large as the start of the 2018 season moves nearer. So with three months to go until kicks off against Oregon State at the Shoe, we take another look at the biggest questions that the Buckeyes will look to answer over the course of the summer and into the season.
How will the new quarterback(s) change Ohio State's offense?
This is a question that has been asked repeatedly since January and will continue to be asked repeatedly until September. As Ohio State enters a season without J.T. Barrett on the field for the first time since 2013, the Buckeyes' offense could have a different look and feel with a new starting quarterback this season, but how exactly it might look different remains to be seen.
While Barrett's success at Ohio State was predicated on his leadership, intelligence and ability to run the ball as well as pass, Haskins offers a stronger arm and prefers to throw the ball downfield. As Urban Meyer, Ryan Day and Kevin Wilson adjust their offense to fit their starting quarterback's strengths, that could lead to more vertical passing plays and less quarterback running plays, with a heavier reliance on tailback running plays.
Because the quarterback running game is a core piece of Meyer's power spread offense, however, it's highly unlikely the Buckeyes will abandon that part of their offense altogether. The bigger question is whether the Buckeyes will look to Haskins to make plays as a runner, or whether they will implement a package for Martell – an explosive athlete who offers big-play potential in the running game – to supplement Haskins within the offense.
Either way, Ohio State's offense is sure to look different in 2018. Only time will tell whether different will prove to be better or worse. But the next three months will be crucial for Meyer, Day and Wilson to build their offense, now that they know who their top two quarterbacks will be.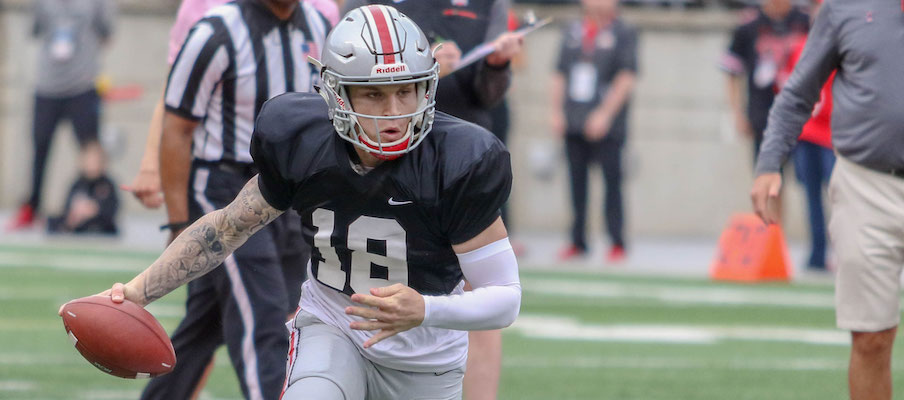 How many playmakers will be involved on offense, and how will the Buckeyes put them all to use?
The success of Ohio State's offense in 2018 won't only depend on the play of its quarterbacks, of course, but also on the performance of the players around them. And the Buckeyes certainly appear to be loaded with candidates to help the quarterback make plays. How the Buckeyes will balance playing time and touches among those playmakers, however, is another big question looking ahead to the fall.
We already know that the Buckeyes could have one of the best one-two punches at running back in the nation in J.K. Dobbins and Mike Weber. We also know that the Buckeyes return all six of their wide receivers who played regularly last season: Parris Campbell, K.J. Hill, Terry McLaurin, Johnnie Dixon, Austin Mack and Binjimen Victor. Luke Farrell is also penciled in as the Buckeyes' starting tight end.
Those nine players, though, aren't the only skill-position players who could see playing time with Haskins, Martell and the first-team offense. Jaylen Harris, Demario McCall and C.J. Saunders have all made a push for spots in the wide receiver rotation. Jeremy Ruckert is talented enough to push for immediate playing time at tight end, while Rashod Berry saw some playing time with the first-team offense last year. And while it's hard to see anyone taking a significant chunk of carries away from Dobbins and Weber at running back, Master Teague III performed well enough as an early enrollee this spring to possibly steal some snaps in the rotation.
Even though the Buckeyes have as many as nine wide receivers who could be in the rotation, Ohio State's coaches said this spring that both two-running back and two-tight end sets could be used more frequently by the offense this season. Add in the potential variable of two quarterbacks seeing regular playing time, and the Buckeyes should have a wide variety of offensive personnel groupings at their disposal this fall.
Now, the Buckeyes are tasked with determining which personnel groupings could be most effective in which situations, and deciding how deep their rotations should go in order to best utilize their wealth of offensive weapons. It's never a bad thing to be loaded with options, but the Buckeyes will also need to smart in how they use those options in order to have their best possible offense on the field in big-game situations.
Can the Buckeyes overcome inexperience at key offensive line positions?
It can be said that Ohio State will have new starters at each of the three most important positions on its offense this year. In addition to having a first-year starting quarterback, the Buckeyes are also set to have first-year starters at left tackle and center, two positions that are particularly crucial to the success of an offensive line.
Going into this spring, the plan was for Isaiah Prince – the Buckeyes' starting right tackle for the past two years – to move to left tackle in order to give the Buckeyes an experienced starter at that position. By the end of the spring, however, the Buckeyes decided to keep Prince on the right side, instead penciling Munford in as their new starting left tackle.
Munford was among the Buckeyes' biggest standouts this spring, consistently drawing rave reviews for his performance from coaches and teammates, but the fact remains that the Buckeyes appear set to rely on a true sophomore – who has played very few meaningful snaps to date – to protect Haskins' blind side this year.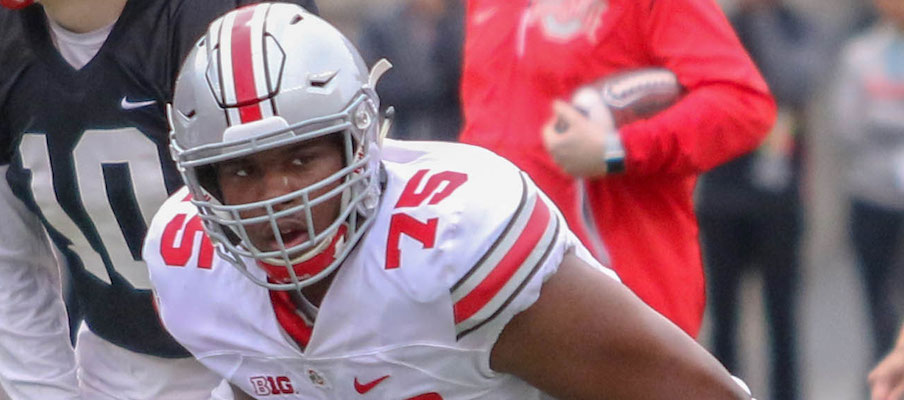 Center, meanwhile, is a position where Meyer's teams have placed a premium on experience – so much so that they moved Billy Price and Pat Elflein, who had previously been starting guards, to the center position as fifth-year seniors for each of the past two seasons. This spring, however, Ohio State's top two centers were Brady Taylor and Josh Myers – neither of whom has ever started (while Myers has never even played) a collegiate game – leaving the Buckeyes with far more uncertainty at the position Meyer considers to be the "apex" of the offensive line.
Although Ohio State has shown a consistent ability to reload its offensive line in recent years, and both Meyer and offensive line coach Greg Studrawa have raved about the team's depth at the position, the lack of experience at two crucial positions is still a major question that looms over the potential of Ohio State's 2018 offense.
Will new faces step up at linebacker and in the secondary?
Even though the Buckeyes lost three of their top four defensive ends (Sam Hubbard, Tyquan Lewis and Jalyn Holmes) and a starting defensive tackle (Tracy Sprinkle) from last season, Ohio State's defensive line is still widely expected to be among the team's biggest strengths. Led by Nick Bosa, Young and Cooper at defensive end and Dre'Mont Jones and Robert Landers at defensive tackle, Larry Johnson's unit is expected to be one of the best in the country once again.
The back two levels of Ohio State's defense, however, still face major questions, especially at linebacker. The linebackers were arguably the team's weakest position group last season, Bill Davis' first season as Ohio State's linebackers coach, and it remains uncertain who any of their starting linebackers will be this season.
The one linebacker who was supposed to be a clear-cut starter going into this season was Tuf Borland, who started nine games for the Buckeyes at middle linebacker last season, but that changed this spring when Borland suffered an Achilles injury, putting at least the start of his redshirt sophomore season in jeopardy. Now, Justin Hilliard and Baron Browning are competing to start at middle linebacker, while Malik Harrison, Keandre Jones and Pete Werner are among the players competing to start at outside linebacker.
All of those linebackers were praised for their progress this spring, giving the Buckeyes hope that they will be better at the position this year even after losing at least two starters (Jerome Baker and Chris Worley are now in the NFL) from last year. Harrison saw regular playing time as a nickel linebacker last season, while Browning and Hilliard were both five-star recruits and Jones and Werner also have promising upside. Outside of Harrison starting one game last season, however, none of those other linebackers have started a game for the Buckeyes, making the position group a major question mark regardless of who ultimately wins the starting jobs.
In the secondary, the Buckeyes appear to have a budding star in safety Jordan Fuller and a solid three-man cornerback rotation in Kendall Sheffield, Damon Arnette and Jeffrey Okudah, while Shaun Wade and Marcus Williamson also offering promising young depth at cornerback. The safety spot alongside Fuller, however, remains a major question mark, as Meyer, Schiano and Grinch all described the position as one of the team's biggest concerns coming out of spring, with no one having stepped up enough yet to prove they deserve the starting job.
Ohio State has enough talent to have one of the best defenses in the nation this season, but how they fill their vacant starting spots at linebacker and safety and how those new starters perform will go a long way in determining whether the Buckeyes realize their potential.
Who will be the leaders of this year's team?
As tough as players like Barrett and Price will be to replace because of their contributions in playing their positions on the field, the biggest void created by their departures for the 2018 Buckeyes could be the leadership they provided, as there are not nearly as many clear-cut candidates to be leaders for the Buckeyes this season as there were last season.
Of the Buckeyes' nine captains last season, Campbell and McLaurin are the only two still on this season's roster, so it's safe to say that they should be among the team's leaders. Dixon, a fellow fifth-year senior wide receiver, is another candidate to provide leadership on offense, while Jones, Landers and Fuller look like the top leadership candidates on defense.
What remains a big question, though, is whether any of those players – or anyone else on the roster – will have the same kind of locker-room presence that players like Barrett, Price and Lewis clearly did last season.
The starting quarterback is expected to be a leader, and Haskins appears to have the qualities to be a great leader, but it takes time to build up the amount of respect and locker-room presence that Barrett, Price and some of the Buckeyes' other fifth-year seniors had last season. So as Haskins acclimates to life as Ohio State's starting quarterback in his first season playing that role, the Buckeyes will need some of his more experienced teammates to also emerge as great leaders.
Can the Buckeyes return to the top of the college football pyramid?
The final question from our January story remains the final question now, and it will remain the biggest question all year long. At Ohio State, the expectation is to contend for a national championship year in and year out, and now that the Buckeyes have gone three full years without winning a College Football Playoff game, there is as much hunger as ever for Meyer's squad to challenge for the sport's biggest prize once again.
Ohio State should enter the season as a top-five team in the preseason polls, so there's plenty of optimism that the Buckeyes could win another national title this year. But they'll certainly have plenty of competition along the path to trying to make that happen.
Some of that competition will come from within their own division, as Michigan, Michigan State and Penn State all look to be legitimate challengers for the Big Ten East. For the Buckeyes just to win their conference crown, they'll likely need to beat all three of those teams as well as Wisconsin, which is once again the perennial favorite to win the Big Ten West.
Alabama, of course, sits at the top of the pyramid right now, having won two of college football's last three national championships. The Crimson Tide could be the team to beat once again this year, while Clemson – which won the national championship two years ago – and Georgia should also be national title contenders once again.
Truthfully, we aren't much closer to answering this question now than we were in January. Until the season begins, it will be assumed that Ohio State has a shot to contend for a championship this year, and even once the season begins, it still could be some time before it becomes clear whether the Buckeyes truly have the goods to be a title team. As long as winning a championship remains a viable possibility, however, this will be the biggest question the Buckeyes face – and if they don't end up contending for a championship, why that happened and how they can change that will become the biggest questions.