The Short North Trolley Co., Columbus' newest startup offering a unique experience to the booming capital city, traces its roots to Ohio State's 2010 Rose Bowl run.
Former offensive lineman J.B. Shugarts and defensive lineman Jon Lorenz, two recruits from opposite ends of the spectrum and two-thirds of the Trolley Co.'s ownership, forged a friendship during the thousands of practice hours that pass between Buckeye linemen.
Lorenz's decision to walk onto the team in 2009 came naturally for the Bishop Watterson star who dreamed as a child of donning the Scarlet and Gray. Surprisingly, commitment to Jim Tressel's program came almost as easily for Shugarts, the four-star prospect hailing from Spring, Texas with over 30 D-1 offers.
Shugarts had watched the success of his former Klein High School teammate, cornerback Ashton Youboty, who committed to the Buckeyes in 2003 and left as a third-round pick of the Buffalo Bills in 2006. It also helped that Tressel still reigned.
A national prospect as a high school freshman, Tressel established a relationship with Shugarts early, even visiting Klein during his freshman and sophomore seasons.
Tressel didn't need to talk much football to sway Shugarts into committing to the vaunted 2008 class eventually known as "the Brew Crew" before his junior year of high school.
"A lot of the time he wasn't talking about going to the NFL or winning football games. He was talking about being a great person," Shugarts says.
It resonated with players because they knew Tressel to be genuine. It's something Lorenz saw early, with Tressel making an effort to personally know every cog to his machine.
SHUGARTS ON FALSE STARTS
"At the end of the day, I'm a very twitchy individual. It's one of those things where all I wanted to do was make Buckeye Nation happy and be there for my teammates. And people stuck with me through it. People like Tress, Jim Bollman, and Doc Tressel.
"I would have taken a bullet for [Bollman], and then I would have stood back up and taken another."
"Tress cared about everybody," Lorenz says. "He made an effort to know who your family was, no matter who you were."
The egalitarian nature of the program led to Lorenz and Shugarts' friendship spilling off the field. It perhaps hit its collegiate apex the following year during a spring break road trip to Panama City that included the future third owner of the Trolley Co., Tom OBrien.
The trio kicked around entrepreneurial ideas, though Lorenz concedes they were nowhere close to being ready to start a business. 
After conquering Oregon in the Rose Bowl and Arkansas in the 2011 Sugar Bowl — wins that restored belief Tressel could still win the big game — time and change surely showed that college is not forever.
Shugarts chased his football dreams into the NFL following the 2011 season. Lorenz moved to Chicago to pursue a corporate finance career. OBrien went into tech sales.
The Birth of the Short North Trolley Co.
January 2018 — Shugarts is back in Columbus after a three-year, six-team NFL odyssey and a two-year stint as a graduate assistant at Toledo under current Iowa State coach Matt Campbell in which he earned a master's degree. 
He has lost over 100 pounds since his last stop with the Tampa Bay Buccaneers because "it's not exactly healthy to be 330 pounds without a reason."
SHUGARTS' WEIGHT LOSS ADVICE
"The main thing is you have to take it day by day. It's not going to happen overnight. Set weekly goals that lead into monthly, quarterly, yearly goals. I used to tell my guys it's going to take two weeks of very strong discipline and you'll notice a difference. And when you get that, when you notice it, that's going to trigger something in your brain that's going to make you want it even more.
"After four weeks, someone else will notice. And usually that someone else is a significant other or somebody tracking your weight. And when they notice it, now you're about to be hooked. And that's when you can make some magic happen. Just stay the course through those first two weeks."
Lorenz and OBrien own and operate the successful StudioTorch, a Columbus-based HIIT group fitness gym.
Lorenz sees another potential import from his time in Chicago: Trolleys, or rather busses fitted to look like the iconic electric streetcars of a bygone era, capable of transporting parties to public and private events.
Shugarts, still feeling the drive to start his own business, becomes enamored of the idea and continues to pester Lorenz about it, continually letting him know he's "all in on the trolley idea" after Lorenz told him about it at a common friend's wedding in November 2017.
An idea won't pay the bills, though. Somebody needs to take a plunge. That happened in January 2018 when Shugarts discovers a chance to purchase two trolleys from Urban Express Charter.
"I called Jon on Monday," Shugarts says. "'Hey, I got a meeting with this guy who has some trolleys on Wednesday.' And he was like, 'What?' And I was like, 'Yeah, let's go. It's on.'"
Shugarts' discovery eliminates a key barrier facing the group.
"You know how business ideas are," Lorenz says. "You have an idea, and sometimes they just sit there because you're too busy. And it's like, 'What's going to push us there?' And the number one thing was finding a vehicle. And you can find them online, but having them locally makes it exponentially easier."
The trio quickly pool their resources, and the Short North Trolley Co. is officially born. They name the trolleys "Woody" and "Jimmy T."

They are under no illusions of grandeur about how much work will be required to get the vehicle street-legal by the weekend of Cinco de Mayo. Concentrating on the journey rather than the destination is another Tressel Taoism.
They sit on the trolleys for a month while searching for a body repair shop willing to take on their exotic request. They find Plain City–based Paintz by Sam in April.
"This was the biggest project this guy had ever done. It was new for him; it was new for us," Shugarts says.
"You divide Roles and Collectively conquer. It takes everybody. It takes a fucking army to do it. That's what it is in business [and football]."– Jon Lorenz
The renovations take longer than expected, and the trio still has to navigate the labyrinth of regulations surrounding transport motor vehicles.
On May 2, just 48 hours before their scheduled launch, the trolleys fail their first inspection. The company's fortunes worsen the following day when the trolleys fail again.
Though they say haven't lost faith in the process, they concede they need a "halftime" speech from OBrien to marshal their forces for a final 24-hour push. They have no other choice. They already sold every ticket for opening weekend.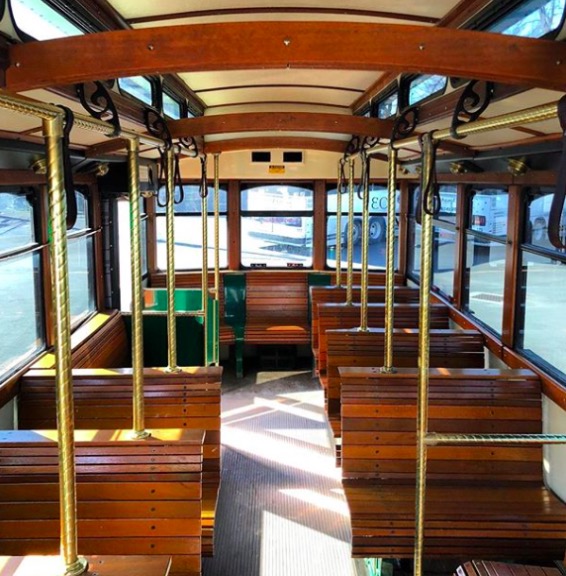 "I'm at Truck Row on Frank Road, and I ain't looking like no trucker," Lorenz remembers with a laugh. "I'm like, 'I need this part. That part. This part. Two of those. Two of these.' Swipe the credit card, and I'm out."
The Trolley Co.'s maiden voyage is scheduled for Friday, May 4th. It receives its license plates at 1 p.m. that day.
"When we got the license plates, I was just like, 'Holy Hell,'" Lorenz says. "I was standing outside the trolley [with my hands on my knees], and the highway patrolman that just passed us was like, 'Sir, are you going to puke? Are you crying? What are you doing?" And I was like, 'I don't even know. I can't breathe.'
"He was like, 'I respect your effort so much. When you guys failed yesterday, there was absolutely no way I thought you guys would be back here today. The trolley hadn't even been painted yet!'"
The trooper wouldn't be surprised if he were aware of Tressel's influence on the company.
"A lot of winning comes down to how you respond to adversity," Shugarts explains. "We could have failed Wednesday and Thursday and been like, 'We aren't ready. We'll wait another week. We'll fix this, fix that.' [Instead] we were like... 'All hands on deck. We're doing this.' And that comes from football experience."
The Final Countdown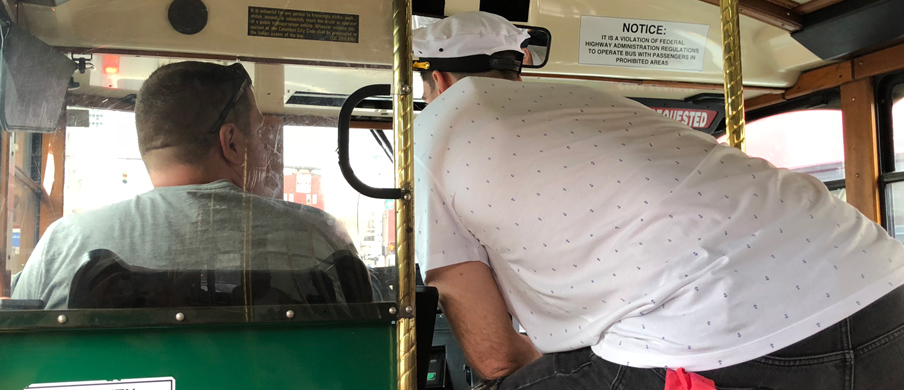 "Right before we launched," Shugarts says, "I gave Jon a hug. I said, 'We fucking did it, baby! Now it's time to go.'"
The Short North Trolley Co. offers mixed-group tours with previously posted schedules. Customers can also reserve trolleys for private events ranging from weddings, reunions, or even mobile tailgates on Buckeye game days (and anything in between) for a minimum of three hours. Non-glass alcoholic drinks and food are allowed onboard.
Ages of those on the inaugural voyage ranged from 23 to 70 years old. By the end of the three-hour tour, everyone on the bus had made new friends.
"If you can create unique experiences, rather than what has been deemed 'regular' — whether that's going to a big box gym or getting in an Uber — then I believe You can succeed. The businesses that I have started, that's really where the root comes from."– Jon Lorenz
"Connecting Columbus and bringing people together: That's what we want to do," Shugarts says. "Obviously we want to be profitable and grow and expand. But we're also on a mission to be a driving force that helps the community and local businesses."
Shugarts meticulously researches routes and coordinates with businesses to make them aware of an impending wave of customers.
"We build out these schedules so [venues] can have the right amount of people there to take care of our guests and have a good experience. And that in of itself isn't easy," Shugarts says.
"Like you think you can take these people wherever you want—but not necessarily. The last thing you want to do is drop off 25 people and there's one person working."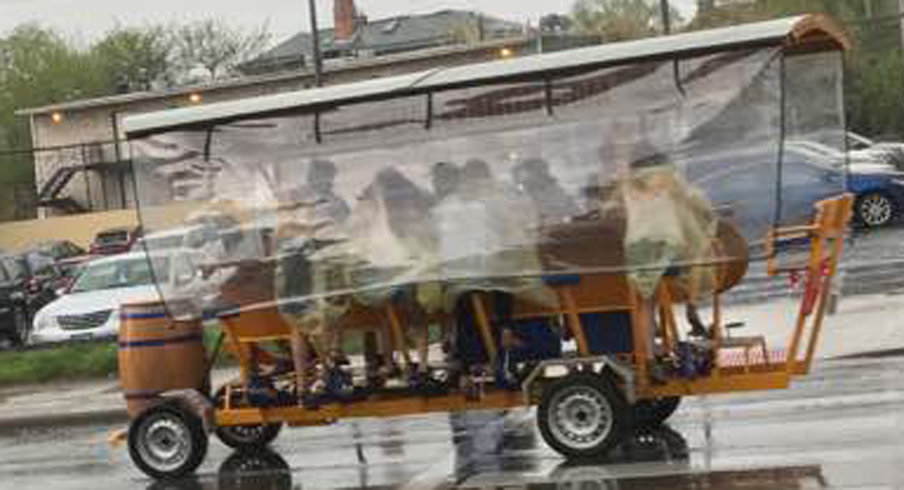 Shugarts also feels a duty in informing passengers about Columbus and its lesser-known neighborhoods like Franklinton and Italian Village, its local businesses, and the people that make them work. Stops generally last 45 minutes to an hour.
"I take a lot of pride in my love for the city and being able to tell people about different things about these places; about the owners, about the local mantra behind it, what they're trying to do, how long they've been doing it... just really highlighting that grind, because I appreciate it."
The frenzy to finish a dream that started nearly a decade ago only deepened the trio's friendship. The payoff for Shugarts came as soon as the first group stepped off the trolley for the final time at 1 a.m. Saturday morning.
It was a feeling he knew well from his time playing for Tressel.
"The feeling of exhaustion and being completely spent but you succeeded was so similar in my experience to winning college football games."
---
You can book tickets to prescheduled tours or rent the trolleys for private events year-round via The Short North Trolley Co. website and Eventbrite page. It's also on Facebook and Instagram.