On Thursday night, Denzel Ward will come off the board at the NFL draft in Dallas, making him the fourth Ohio State cornerback in three years to go in the first round. 
Not too shabby, but can the Buckeyes keep that tradition going? 
The next two men up with such an opportunity are Kendall Sheffield and Damon Arnette, a pair of veterans with numerous reps in Ohio State's secondary. Alongside them, Jeffrey Okudah figures to rotate in with the elder Buckeyes this season, as he played an estimated 218 snaps in 2017, including a season-high 62 in a 24-7 win over USC in the Cotton Bowl. 
Sheffield and Arnette will be the top two corners for Ohio State when fall camp opens because of their experience, cornerbacks coach Taver Johnson said earlier this month.
"Those guys have done a very good job with that first group," Johnson said. "We talked about it earlier, with their game experience and things like that in the spring that both of those guys have had, they have done a tremendous job and they have gotten better in the 15 practices that we have had."
Behind them, however, Ohio State has plenty of depth, including a pair of second year players that put together impressive performances in the Spring Game. 
Marcus Williamson and Shaun Wade played the most snaps of any corners in the spring scrimmage, and both stood out. Williamson collected just one tackle and one pass deflection, but outside of a touchdown allowed to Jaylen Harris, he was consistent in coverage throughout the game. On the other side of the Gray defense was Wade, who collected the game's only turnover with an acrobatic interception of Tate Martell on the sideline.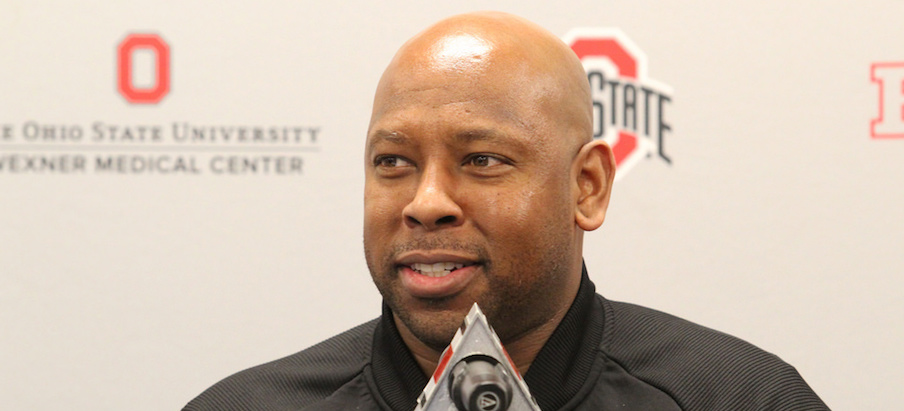 While the two will have to continue to compete for playing time with the likes of Sheffield and Arnette leading the unit, Johnson said there are still opportunities for the younger corners to earn time in Ohio State's dime and nickel sets in passing situations. 
"It's a long season. So it just all depends on whether we get into a dime package or if we get into even more rotation. Because when you play a game, especially with the tempo of the offense, especially with the number of plays, if you have the flexibility to play more guys, then that just helps everyone to stay fresh and stay on top of it," Johnson said. "Without a doubt, it is one of those things where they may be the starters, but who is to say that I can't play more. Who is to say I can play less? Competition within the room is always good, and that is what we have."
In addition to Williamson and Wade, Ohio State has freshmen Tyreke Johnson and Sevyn Banks on campus as early enrollees, contributing to the unit. Johnson said he was impressed with their spring performance and how much they picked up in a small window of time. 
"You talk about a learning curve, both of those guys should be in math class right now, back in their high schools," Johnson said. "But they decided to come, they understood and started to embrace how we work, how we do things and they're really, really smart and then also personable guys that I definitely enjoy being around. And they're sponges. They're just young sponges, they're just trying to figure it all out, take it all in and try to work."
While talented and deep, Johnson said he is still looking for his unit to improve exponentially from now until the foot hits the ball on Sept. 1 against Oregon State. Finally settled back into his familiar territory as Ohio State's cornerbacks coach, Johnson wants his unit to take a large leap forward over the summer and into fall camp, in order to keep up the momentum that the unit has. 
"Now that we know each other, we have got to go, and we have to roll our sleeves up and make sure we are on the same page," Johnson said. "We have to work even harder than what we did this spring. We got after it this spring, in the meeting rooms, out at practice and things like that, now we have to multiply that by like 15."