Ohio State concluded spring camp Saturday as the Gray squad defeated the Scarlet, 37-14, but the score was of no importance in the grand scheme of things. 
A number of position battles remain undecided as Ohio State enters the summer with plenty of holes to still fill before the season opener against Oregon State on Sept. 1. 
While the highly anticipated quarterback position and plenty of others remain up for grabs, Urban Meyer said Saturday after the scrimmage that a handful of players have taken the lead for jobs at their respective positions, including tight end Luke Farrell. 
"You'll notice I pulled out Luke Farrell. As we finish spring practice, he will be the starting tight end at Ohio State. He had a really good spring. That's as of now. I am not making him the starter (when the season starts), but he has earned that right so we popped him out," Meyer said. "Jake Hausmann has gotten better as well. Rashod Berry suffered two stingers the other day, that's why he did not play."
Of the three scholarship tight ends currently on Ohio State's roster, Berry has the most playing experience. Berry caught six passes for 100 yards and two touchdowns in 2017 for the Buckeyes, while Farrell finished the season with two catches for 19 yards. 
Along the offensive line, two players who started the majority of last season at guard – Michael Jordan and Branden Bowen – have missed most of spring practice with injuries, but will likely be ready to go for the season opener. In their place, Malcolm Pridgeon and Demetrius Knox started at left and right guard respectively. 
Meyer said after the game that he is pleased with the depth Ohio State has along its offensive line, adding it might be the deepest offensive line unit he has had since arriving in Columbus. 
"Branden Bowen and Michael Jordan are two guys who are for sure going to be playing a lot for us. Those are two guys we need to be healthy and ready. This is the first time I feel like I have a solid two-deep on the offensive line if everyone does what they are supposed to do this summer," Meyer said. "Two-deep across the offensive line, it has not been that way around here. Our guys have recruited well and now we just have to keep going."
With Isaiah Prince and Thayer Munford figuring to be Ohio State's starting tackles in 2018, the only other question mark for the Buckeyes comes at center, where fifth-year senior Brady Taylor and redshirt-freshman Josh Myers are competing for a spot. 
Through spring ball, Meyer said that Taylor has a slight advantage heading into the summer over Myers. 
"Brady Taylor is leaving spring ball as our starting center. I am not saying that's the way it is for the fall yet, because it is pretty close," Meyer said. "Josh Myers had a pretty good productive spring as well."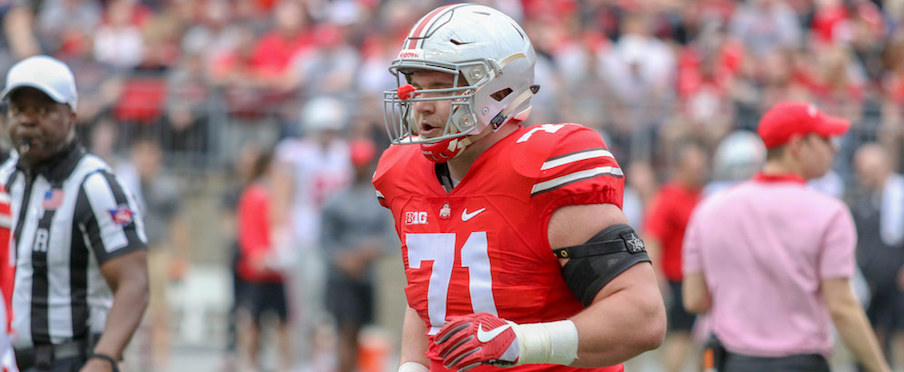 Matthew Burrell was initially in consideration at center early in spring camp, but spent the majority of Saturday's scrimmage with the second-team offense and did not appear to get many, if any reps at center. 
On the defensive side of the ball, Ohio State's defensive line appears to be set-in-stone with Nick Bosa, Dre'Mont Jones, Chase Young and Robert Landers anchoring the front line for the Silver Bullets. 
At linebacker, the Buckeyes must replace three starters and in the middle, Meyer mentioned Baron Browning and Justin Hilliard as the top two contenders to fill in for an injured Tuf Borland. 
In the secondary, Meyer said Ohio State plans on using its patented three-man rotation for the third straight season, and said the three corners through spring practice are Kendall Sheffield, Damon Arnette and Jeffrey Okudah. Okudah was the only one of the three that did not play on Saturday, as he continues to rehab from offseason shoulder surgery. 
"There might be another one pop in there if the young guys keep developing," Meyer said, suggesting that a fourth corner could be added to the rotation. Redshirt freshman Shaun Wade collected the lone turnover of the Spring Game, intercepting a pass from Tate Martell in the fourth quarter. 
Replacing Damon Webb at free safety is "probably our No. 1 concern on our team right now," Meyer said, adding that Jordan Fuller is locked in at the other safety position. 
Isaiah Pryor and Jahsen Wint appear to be the top candidates to replace Webb. Pryor led the Scarlet team with four tackles on Saturday, while Wint led all players with 11 stops. 
While it doesn't figure to be much of a competition, Sean Nuernberger impressed Meyer with his performance during the spring, which culminated with the fifth-year senior connected on all four of his field goal attempts on Saturday. Nuernberger converted on kicks of 40, 42, 47 and 52 yards in the scrimmage, much to the delight of his head coach. 
"I am really proud of Nuernberger," Meyer said. "We don't usually talk about kickers, but you saw today, he has been very consistent throughout spring."