In Ohio State's two losses last season to Oklahoma and Iowa, one of the Buckeyes' most glaring weaknesses was their linebacker play.
With a starting lineup of Chris Worley at middle linebacker, Jerome Baker at weakside linebacker and Dante Booker at strongside linebacker, Ohio State's linebackers struggled mightily in coverage against Oklahoma, as the Sooners' backs and tight ends combined for 14 catches, 177 yards and two touchdowns to help hand the Buckeyes a 31-16 loss in their second game of the season.
That same lineup of linebackers struggled even worse in the Buckeyes' ninth game of the season against Iowa, when the Hawkeyes' backs and tight ends combined for 13 catches, 167 yards and five touchdowns in a 55-24 thrashing in Iowa City.
While Ohio State's linebackers were never great last season, in Bill Davis' first season as linebackers coach, they were better down the stretch when they switched a lineup of Tuf Borland at middle linebacker, Baker at weakside linebacker and Worley at strongside linebacker, with Booker out of the lineup entirely and Malik Harrison joining Baker on the field in the nickel package.
As The Ozone's Tony Gerdeman pointed out Sunday on Twitter, Ohio State's defense was substantially better last season when Borland was in the lineup. In total, Ohio State allowed just 12.67 points per game in the nine games that Borland started at middle linebacker, but allowed 30.4 points per game in five games that Borland did not start.
Those numbers are certainly skewed to an extent by the competition Ohio State faced in each of those stretches – as Oklahoma, Penn State, Indiana and Iowa (at least for that one game) boasted better offenses than most of the teams the Buckeyes faced in the nine games Borland started – but still suggest that the Buckeyes defense was better when Borland was starting in the middle.
Yet Borland didn't play a single defensive snap until the third game of last season against Army, when Worley went down with an injury, and was replaced in the lineup by Worley when Worley was back to being fully healthy for the eighth game of the season against Penn State. It wasn't until after the Iowa game, in part because of the linebackers' performance in that game and in part because Booker and Baker both missed the subsequent game due to injuries, that Borland was permanently inserted back into the starting lineup and Worley moved to outside linebacker.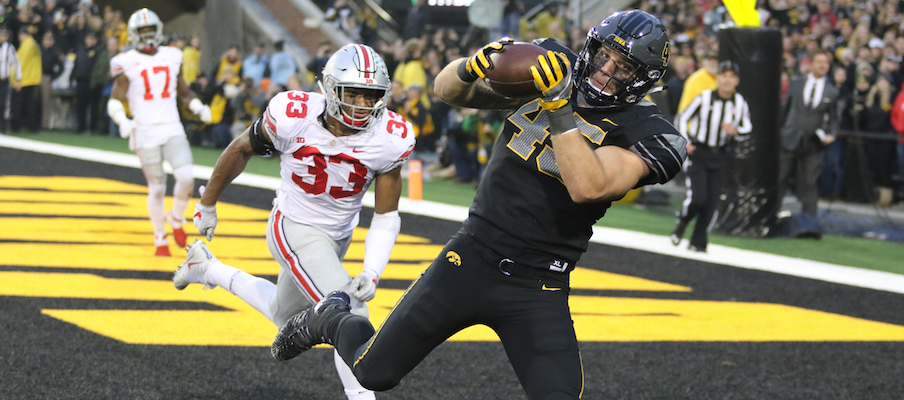 All of that makes it easy to question whether Davis and the Buckeyes were too loyal to their veteran linebackers or whether they simply made the wrong decision in who their starting linebackers should be at the beginning of the season.
Even looking back on it in hindsight now, though, Davis said he doesn't regret the lineup decisions they made last year because he feels they made what were the smartest decisions at the time.
"I think there's a lot of positives that came out of last year," Davis said. "Obviously, we would have loved to have that national championship. That's really the end goal for us. Collectively, there's a couple games that all of us, we wish we could have played better. But as far as how we lined up the linebackers, I think looking back, that was our option and our best options."
Because Borland was an unproven redshirt freshman going into last season, Davis said the Buckeyes weren't ready to play him in a substantial role at middle linebacker at the beginning of the year. Furthermore, Davis believes Borland's development over the course of last season ultimately enabled him to have the success that he did.
"Tuf had been a redshirt, we didn't know where Tuf was in the MIKE and he was coming along, and I think it all kind of happened on its own time, and everybody got their spot and won their spot or ended up playing in those positions," Davis said. "In time, it had to happen. So every year is different, every year's got different twists and turns. I think we navigated that as best we could."
"Collectively, there's a couple games that all of us, we wish we could have played better. But as far as how we lined up the linebackers, I think looking back, that was our option and our best options."– Bill Davis
All of that said, Davis understands that the expectations at Ohio State are to make the College Football Playoff and compete for a national title, which didn't happen last year because of the two aforementioned losses. And though the Buckeyes considered those losses to be collective, in that they all could have played better instead of pinning blame on a single unit or two, it's understood that Davis' linebackers will need to play better than they did in those losses last year for the Buckeyes to have a shot at winning a national championship this year.
He'll have to make that happen without Baker and Worley, who are now on their way to the NFL, and potentially at least for the start of the season without Borland, who is sidelined with an Achilles injury.
Davis says he and his fellow coaches have made changes this spring from last season, but not in specific reaction to anything that happened last season, but because the Buckeyes are constantly making adjustments trying to get better on a daily basis.
"Every practice, every day, we're adjusting and trying to get better at how the group plays and how the defense plays collectively, so it's a group effort as a defensive staff of how we fit with each other and what we do and what drills we work on," Davis said.
Davis said he does feel pressure for the linebackers to perform better this year, but not because of the perception some have that his unit took a step back last season. Rather, he says that pressure comes with trying to help the Ohio State football program achieve its goals, and he knows it's his responsibility to get the most out of what he believes is a talented and exciting group of linebackers this season.
"There's always pressure, and I always have to get it right," Davis said. "And that is my job. I've got to get it right, and there is the pressure to get these guys right. I'm confident about the way we're handling it right now, and you can only play the hand you're dealt. And I'm excited about the hand I'm dealt, because these guys are, they're going hard at it, and they'll be ready."