By now, anyone who follows Ohio State knows that Dwayne Haskins is more of a pocket passer than the Buckeyes' last few quarterbacks. 
Braxton Miller and J.T. Barrett were arguably run-first signal-callers, with Cardale Jones being the only quarterback in Urban Meyer's Ohio State tenure that was truly a pass-first player. When Jones was a starter for the Buckeyes, the Scarlet and Gray went a perfect 10-0 and even won a national title. 
With Haskins the assumed frontrunner in Ohio State's quarterback competition entering spring practice, the Maryland native told reporters what was already known, that he is much more comfortable sitting in the pocket when in the game. 
"Our offense will always have some sort of reading and quarterback runs in there," Haskins said. "I prefer to throw the ball. That's how I always was, ever since I was little. But I can run if needed. If I need to escape the pocket, need to maneuver, I can do that. It's just that my first choice isn't to run the ball."
That maneuverability was showcased in Ohio State's 31-20 win over Michigan in last year's regular-season finale, when Haskins rattled off a crucial scramble for a gain of 22 yards inside the Wolverine 5-yard line, which ultimately led to a touchdown run from J.K. Dobbins. 
There is no denying that Meyer loves to run the quarterback, especially in recent years with Barrett. Haskins said Thursday that he isn't on the same level running the ball with the Barretts and Millers of the world, but is confident in his ability to pick up yards when needed.
"People think that I can't run, but I can," he said. "I am not going to be as fast as Braxton or J.T., but if I have to take off, I can take off."
If Haskins does in fact win the starting job, there is a good chance he won't have to run the ball much, especially if Tate Martell's comments from Thursday's practice come true.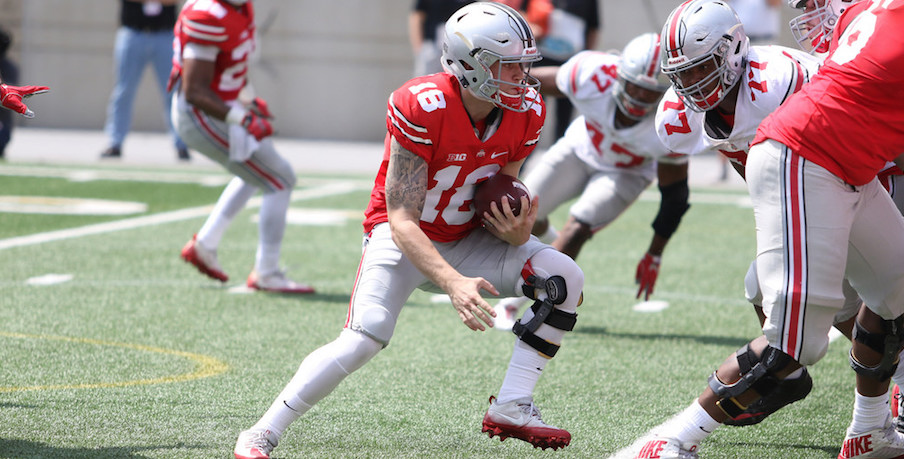 Martell told reporters that the Ohio State coaching staff has told him there will be a package of plays for him regardless of who wins the quarterback job, which could hint at the possibility of a two-quarterback system. 
It wouldn't be the first time the Buckeyes have utilized a two-quarterback system under Meyer, as Ohio State played Barrett as a red-zone quarterback alongside Jones for a handful of games in 2015 before Barrett eventually took the job over outright. 
Regardless of who wins the job, it is apparent that the Ohio State offense will look different than it did in 2017, whether that be because of playcalling or personnel decisions.