It's never too early to look ahead to the next football season.
Ohio State will have its fair share of turnover from last season. The depth from last year's defensive line is gone even if the starting defensive line that emerges should still be among the nation's best. Ohio State will need to replace J.T. Barrett and Billy Price, two four-year starters. Even as a lot of depth from last year returns (e.g. at running back and wide receiver), there will be several key departures from last year's depth chart that will lead to some intriguing position battles in the pre-season camps.
Here are three key position battles to watch as new faces look to supplant last year's departing starters, including who to expect to win that position battle this pre-season.
Quarterback: Dwayne Haskins

This feature would be remiss without starting at quarterback. It's not often Ohio State will have to replace a four-year starter at quarterback but that's what the Buckeyes find themselves doing this offseason.
Dwayne Haskins is the odds-on favorite to start the season-opener against Oregon State, and with good reason. He was last year's No. 2 quarterback, showing an unmistakable zip on his passes that Ohio State did not have for four years with Barrett at starter. He was even the hero of the Michigan game, turning in the best passing performance against the Wolverines of the past four years.
It's safe to project Haskins as the season-opening starter but it's important to highlight the reasons why Haskins is no sure thing as the projected starter. For one, Urban Meyer has made strides to surround himself with offensive assistants, like Ryan Day and Kevin Wilson, who do not see the quarterback as primary rushing threat even though Meyer's own philosophy biases toward running quarterbacks. Should Haskins start against Oregon State, he would almost certainly be the most immobile quarterback to start for an Urban Meyer-coached team since Florida's John Brantley in 2010.
Haskins is no lead-footed pass-only quarterback in the mold of what typically passes for a starter in the NFL but the difference between Haskins' rushing abilities and those of even Kenny Guiton or Cardale Jones is discernible. Tate Martell is certainly more fleet of foot than Haskins. Joe Burrow looks that way too even from his limited action the past two seasons.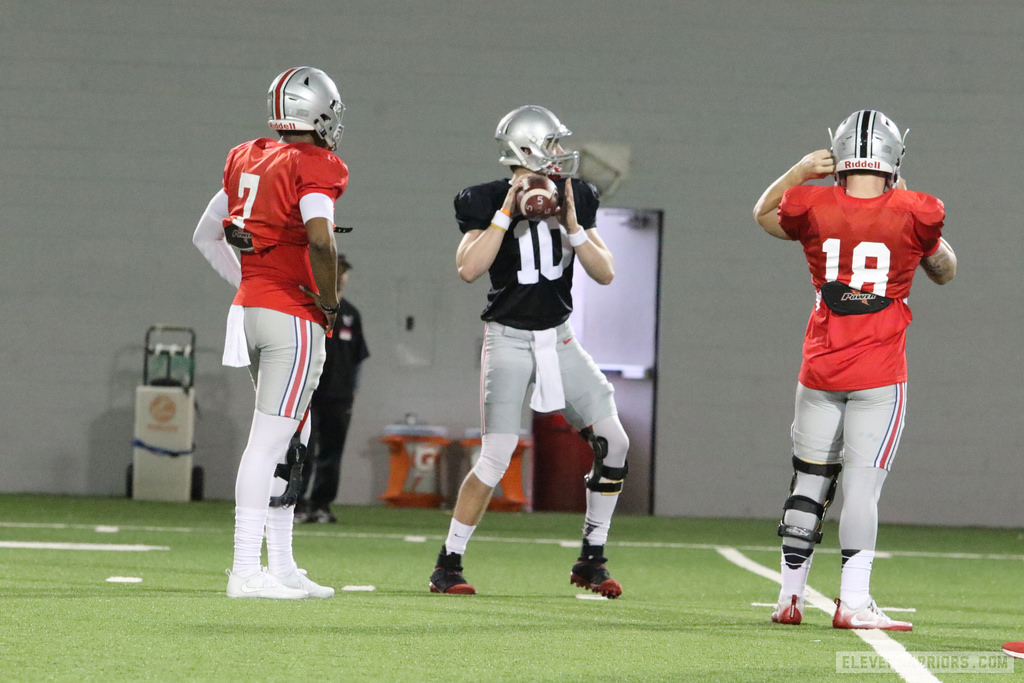 Further, Haskins may have the clear edge over Joe Burrow at the point but this belies how capable Joe Burrow was as a backup. It's a case where the coaches liked Burrow, but liked Haskins better. Burrow's pre-season injury allowed Haskins more opportunities to distance himself from the competition. Yet, it's important to not rule out Burrow entirely should he heave a full pre-season to develop in his fourth year in the program.
Left Tackle: Branden Bowen

Ohio State fans will appreciate a few games into 2018 how good Jamarco Jones was for Ohio State. A two-year starter, Jones quickly learned how good he could be while he protected J.T. Barrett's blindside. Jones will find a home on some NFL roster this season, even if he's projected around a third-round pick.
This position battle will be interesting Ohio State fans because it's almost certain someone is moving from another position on the offensive line to left tackle. Consider that Jones' nominal backup in 2017 was Joshua Alabi, who did not look the part of a future starter in the action he did get last season. Alabi is a positional journeyman, alternating between positions on defensive line and offensive line. Alabi is an offensive guard at most the extent to which Alabi's maximum potential is even on offensive line.
The options here are multiple. Isaiah Prince, who has looked all right as a starting right tackle for the past two seasons, could move to left tackle. This thought may have horrified Ohio State fans after 2016 but Prince's 2017 season showed considerable improvement and suggests some optimism that he could handle the increased pressure of protecting the quarterback's blindside in 2018.
Michael Jordan, the starting left guard, could slide over to left tackle as well. Jordan has been Ohio State's left guard for the past two seasons but has a tackle's body at 6-6 and 310 pounds. He's been rock solid for Ohio State in the past two seasons and is a prime candidate to move one position to left tackle.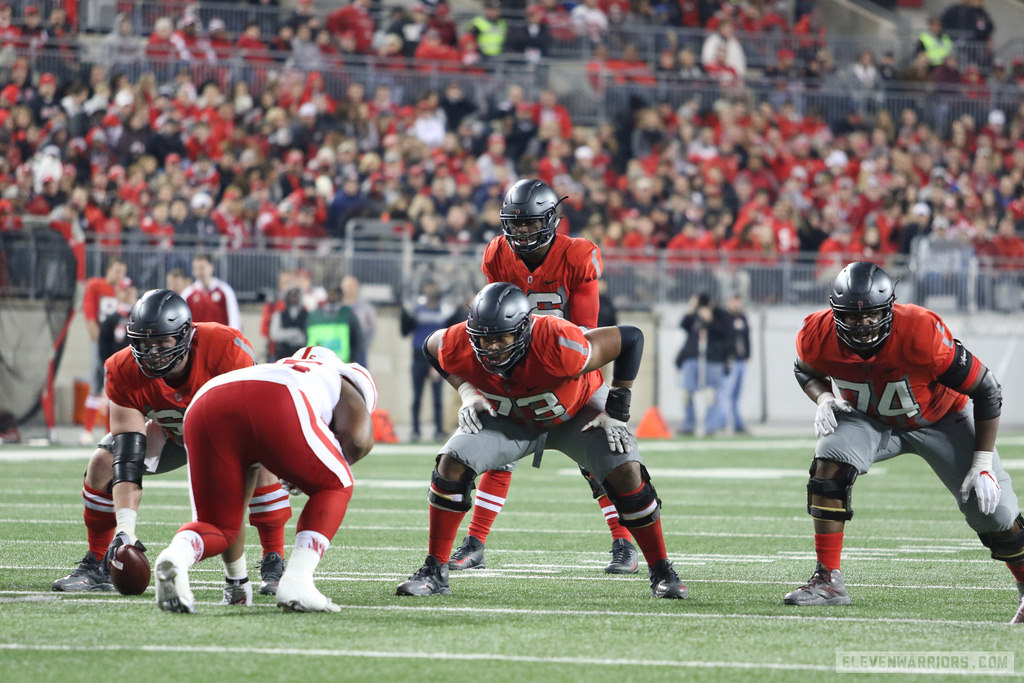 I'll project Branden Bowen as Ohio State's starting left tackle in 2018 for the sake of this feature. Bowen started the season at right guard and looked more than capable at the position. However, his season ended with a fractured tibia and fibula in the Maryland game. His rehabilitation will be important this year but the nature of the injury is less serious than, say, an ACL tear. 
Provided Ohio State feels comfortable with Demetrius Knox or Matthew Burrell at right guard with an entire offseason of preparation and development, Bowen, a natural tackle, should get the nod at left tackle against Oregon State.
Weakside Linebacker: Baron Browning

Jerome Baker did not have the 2017 season he hoped after a stellar debut as starter in 2016 but that did not deter him from declaring for the NFL Draft. Ohio State will need to find a replacement that could match Baker's athleticism and speed at the position. The coaches have no shortage of options to replace him but this position battle might subtly be the most interesting because each option may raise more questions than answers.
Keandre Jones was Baker's backup in 2017. At 6-2 and 225 pounds, Jones looks the part of a weakside linebacker relative to Ohio State's other options. However, Jones' film for the past two seasons does not lead to much optimism about having a preseason development capable of landing him at starter. Jones appeared in 11 games in 2017 and combined for 15 tackles. These were largely on kickoffs. Even then, fans will remember his lack of discipline on kickoff duties, certainly against Penn State for what became Saquon Barkley's 96-yard kickoff return for a touchdown.
Several multi-year players lurk in the background of this position battle as well. Justin Hilliard, a former five-star recruit, was Ohio State's third-string weakside linebacker at season's end and could well be saving his best for his fourth year in the program. Though, like Jones, there's little on Hilliard's film that suggests much confidence that the starting position is his to take.
We could tell a similar story for Dante Booker, but Booker seems to be in competition with Malik Harrison for the other outside linebacker spot.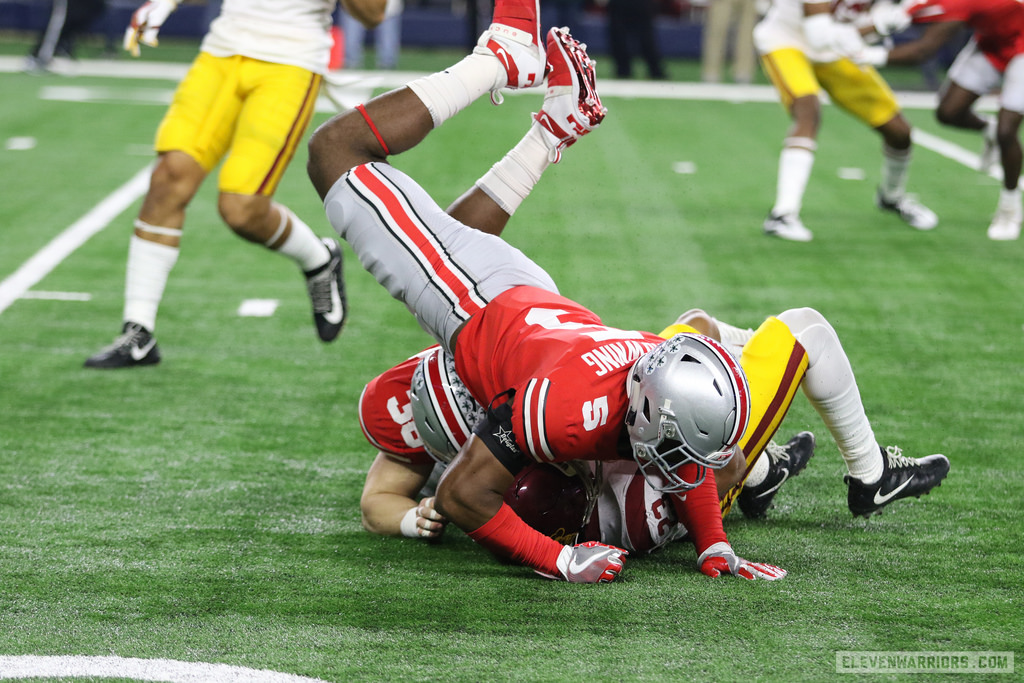 Expect Baron Browning to take this spot with all those factors in mind. Browning was a true freshman last year, ultimately playing as the third-team middle linebacker with Chris Worley and Tuf Borland alternating as starter ahead of him. Browning earned high praise from the defensive coaches for his showings in bowl preparations. Expect his athleticism at weakside linebacker to compensate Tuf Borland's instincts and football accumen in the middle to replace last year's departing players at those respective positions.