I grew up a fan of the Bengals. It's possible that I still am one.
I'm not positive, though. I mean, I watch the Bengals when I'm near a television and they happen to be playing. When I'm in my car on Sundays in the fall, I listen to the broadcast. This ritual has played itself out hundreds of times over the course of my lifetime, most of which was spent in southwest Ohio, so in theory I want them to win more games than they lose. Which technically makes me a fan.
On the other hand, being a "fan" of something generally requires some kind of emotional attachment to the thing that you're a fan of. If George R. R. Martin never releases The Winds of Winter or any subsequent book in his A Song of Ice and Fire series (he won't), I'll be actually, literally angry about that turn of events. If the Ohio State Buckeyes lose a football game, while I'm no longer quite as apoplectic as I was when I was a student at OSU, I still get pretty pissed off.
But if the Bengals go 0-16 next season, the only real reaction that will illicit in me is laughter, because in reality that'd be pretty funny. The Bengals were so bad for so long as I was growing up that their current mediocrity does nothing to change the numb feeling that wells up inside me every time I see someone in a faded Carson Palmer jersey staring intently at a television in a Giant Eagle on a Sunday. In other words, when it comes to my Bengals fandom, I ascribe to the Moe Szyslak mentality: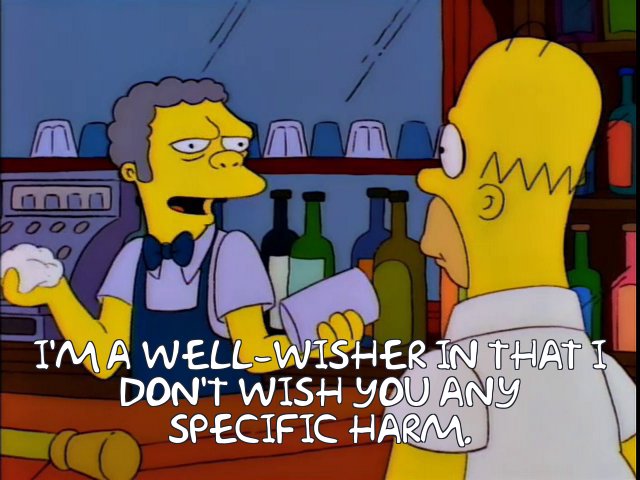 That's not typical of either Bengals or Browns fans, but I do think that my emotional distance from the NFL in general makes me uniquely suited to ask the question: after clamoring for it for years and finally getting it, is it right to be more wary than excited about the likes of Billy Price and Denzel Ward showing up on Ohio's pro teams?
Denzel Ward and Billy Price are the first Ohio State players to be selected by the Cleveland Browns and Cincinnati Bengals in the same NFL draft since the Browns drafted Tom Skladany and the Bengals drafted Pete Johnson in the second round of the 1977 NFL draft.

— Dan Hope (@Dan_Hope) April 27, 2018
Okay, that's fun. And if we're being honest, though neither the Browns or the Bengals have historically shown a ton of interest in drafting Ohio State Buckeyes, that was generally seen as more of a weird coincidence than naked disrespect until the Browns completely whiffed on Joey Bosa, Ezekiel Elliott, Mike Thomas, and Taylor Decker in the 2016 Draft and then followed that up the next year by failing to take Malik Hooker and instead settling for Michigan's Jabrill Peppers.
To me that cuts to the heart of the matter. In an ideal world, the Browns and Bengals would be good football teams that are good in part because they wisely picked a lot of kickass Ohio State players that led them to glory. This, being a less than ideal world, is not a place where that has happened historically, which has been to the detriment of both organizations.
Also, as far is Billy Price goes, his Buckeye bonafides will do him absolutely zero good in Cincinnati in the eyes of a huge percentage of Bengals fans. Here's a fun rah-rah statement from him following the Bengals picking him up in the first round:
Price: When phone rang I was like holy shit, it's Cincinnati. This is exactly what I wanted, to stay in Ohio and bring the Ohio State brand to Cincinnati. #Bengals

— Jay Morrison (@JayMorrisonCMG) April 27, 2018
And here's the completely predictable reaction from a vocal segment of the Cincinnati fanbase: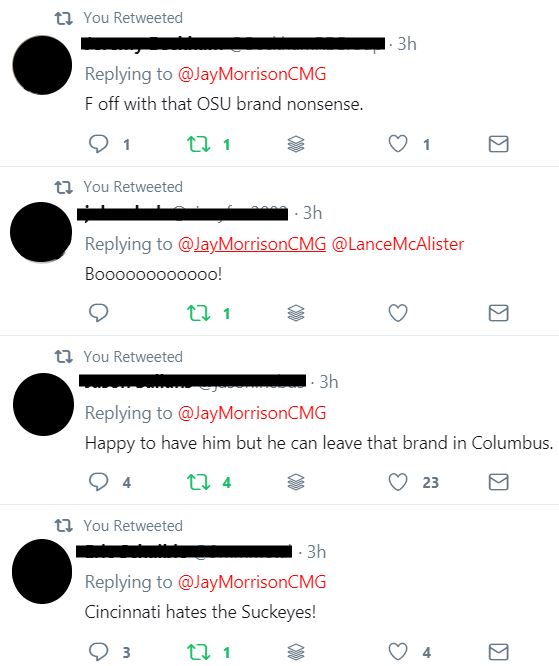 These people do not speak for every Bengals fan. Most of us are fine human beings who simply want to see one damn playoff win in our lifetimes and do not care what colleges the best players on the team come from (and in my case, are actually happy that their alma mater is getting some traction at Paul Brown Stadium). There is, however, a deeply insecure minority that immediately rejects anything north of Dayton and east of I-71 as an anathema, and Columbus represents a hoity toity, arrogant, and cosmopolitan sensibility that Ohio State football is a part of. There are even some people who would rather lose without Buckeyes than win with them. It is exactly as insane as it sounds.
So that's what Billy Price has to deal with. It's not the worst thing in the world, but combine that with a mediocre head coach and an owner who has probably more than once considered having the practice facility just be an abandoned barge in the Ohio river, you can start to see why the novelty of a first round Buckeye pick in Cincinnati might not be as fun as it seems.
Denzel Ward in Cleveland kind of speaks for itself. Ward could turn out to be one of the greatest at his position in the history of the game, but he should probably ask Joe Thomas if that designation gets you wins with the Browns (Thomas won 48 games in 11 seasons).
To be fair, the Cleveland Browns have slowly built up some legitimate talent in the offseason, and will absolutely, definitely, probably win more than zero games in 2018. They're a young team with some exciting skill position players, and while I personally don't love the pick of Baker Mayfield, it's undeniable that they'll be interesting to watch at the very least. It is also more than a little infuriating that they missed out on some great young Buckeye players that could've helped them get from "hopeless" to "interesting" in way less time.
Which is the rub. I want the Browns and Bengals to continue to draft kickass Ohio State players like Price and Ward, not just because I like rooting for Buckeyes that get to stay in Ohio for their pro career, but because they're both great players that the Browns and Bengals will benefit from. I have no doubts about the ability of those guys to play in the NFL; I've watched both of them do great things at the college level, and they've earned every accolade that they got.
Where I'm less confident is in the Cleveland Browns and the Cincinnati Bengals to have the wherewithal to utilize their potential. My hope is that my fears are unfounded, and both organizations continue to wise up to what the rest of the league already knows: that Urban Meyer has created a monster of a program, and any team that passes up the chance to add some of his players to their roster is making the kind of mistake that you get to repeat next April after your team falls flat on its face due to ignoring the Buckeyes and drafting either an injured dude who you think might be able to run fast, or... a Michigan player.
Here's hoping that Billy Price and Denzel Ward are the beginning of something great.