Ohio State won its second Big Ten championship in the Urban Meyer era. Let's celebrate with a dive into the box score.
Whereas this constitutes the conclusion of Ohio State's pre-bowl season, we're going to start by highlighting what Ohio State's rushing defense did to Wisconsin in context of what it's done all season. Thereafter, we'll pick at some of the worst elements of Ohio State on Saturday, largely highlighting how Ohio State beat the worst version of itself on Saturday night and that J.T. Barrett is flashing the same warning signs he was last year.
Cheers to the Rushing Defense
Rewatch the Big Ten Championship Game and you can tell there was a collective gulp on the Wisconsin sideline midway through the first half. Therein, it became apparent Ohio State's defensive line would not be moved and Wisconsin's standard game plan to use outside zone to spring play-action down the field would not be adequate. So much of Wisconsin did for the remainder of the game was fumbling for a workaround that never quite came.
This is a testament to Ohio State's rushing defense, which has been reliably rock-solid the entire season. Ohio State has held every opponent it has played this season to well below their average rushing output.
Well, "every opponent" except one: Iowa.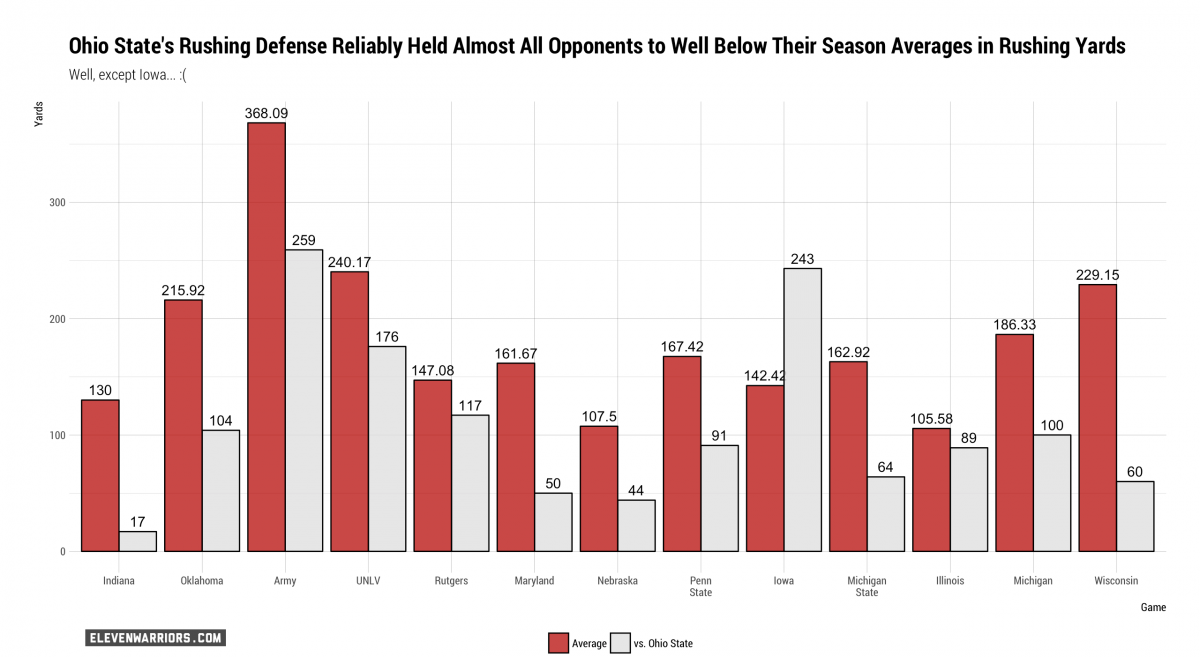 Ohio State may have saved its best for last on the biggest stage, holding a Wisconsin outfit accustomed to 229.15 rushing yards per game to just 60. This would follow a general pattern after the inexplicable Iowa loss. Ohio State's rushing defense will not move and will not be denied.
This pattern holds when you look at yards per carry. Here, Ohio State has held every opponent to well below its season average.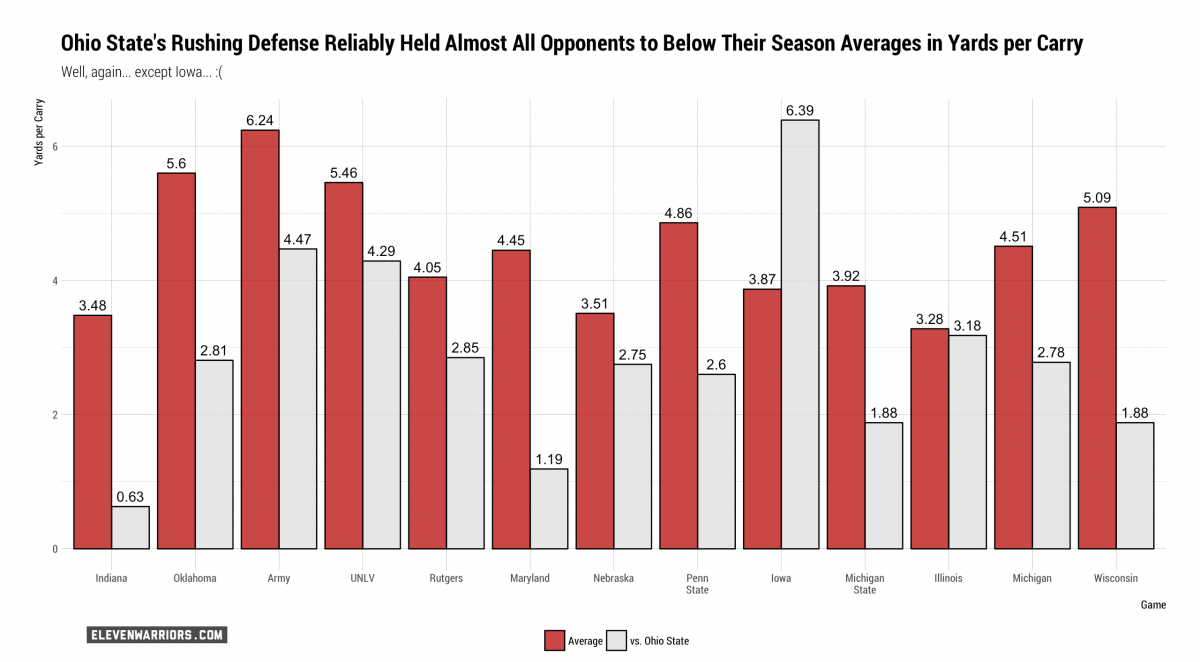 Well, every opponent except Iowa. Also, Illinois was about its season average in yards per carry, which is 1) not good for Iowa regardless and 2) arguably a function of that game being a rain-soaked mess that was never competitive.
Ohio State Plays Its Worst Self and Prevails
There are more than a few criticisms to level against Ohio State after the Big Ten Championship Game and all largely fall under a general theme. Ohio State didn't beat Wisconsin as much as it beat the worst versions of itself. The game resembled the 2015 CFP National Championship win over Oregon in that Ohio State conducted an exercise of how much it can shoot itself in the foot against a team of lesser athletes and still ultimately prevail.
You see that in a myriad of ways, prominently turnovers. You also see it in the differences between both teams from the first half to the second half. Wisconsin was unbeaten and never beaten in the second half. Yet, Wisconsin outscored the Buckeyes 11-6 in the final two quarters as Ohio State chose to forgo more than a few opportunities to blow the doors off the Badgers.
Ohio State and Wisconsin, First and Second Half Statistics

| Statistic | Ohio State (1H) | Wisconsin (1H) | Ohio State (2H) | Wisconsin (2H) |
| --- | --- | --- | --- | --- |
| Points | 21 | 10 | 6 | 11 |
| Total Yards | 309 | 159 | 140 | 139 |
| Rush Att/Yds | 17/127 | 19/56 | 25/111 | 13/4 |
| First Downs | 9 | 7 | 7 | 9 |
| 3rd Downs | 3/6 | 3/9 | 3/10 | 2/7 |
| Time of Possession | 19:21 | 10:39 | 14:45 | 15:15 |
| Average Yards/Play | 9.4 | 4.5 | 4 | 3.7 |
| Turnovers | 3 | 1 | 1 | 1 |
You can also discern that in things like how the disparity in yards from half to half doesn't quite square with differences in first downs from half to half. Ohio State got its most explosive plays out of its system in the first half and failed to connect on deep balls at the end of the half and in the second half. Sure, Wisconsin's defense put its best foot forward in the second half, but Ohio State plain missed opportunities.
Wisconsin, as good as it is on defense, was more a bystander to Ohio State playing the worst version of itself. Like Oregon in January 2015.
J.T. Barrett's Stagnation in Two Charts
I understand J.T. Barrett is polarizing among Ohio State's fan base, which would probably be the case for any quarterback that doesn't average 450 passing yards a game and eight touchdowns to every one interception. My #takes are well-documented on Eleven Warriors: J.T. Barrett is the best quarterback to ever play for Ohio State and I'm elated he's removing Art Schlichter and Bobby Hoying from the top spots of Ohio State's meager quarterback record book.
That said, I've noticed the same patterns about Barrett this year vis-a-vis last year. He's running out of steam near the season's end even as we can partially qualify that by noting Ohio State has been playing better competition down the stretch.
Ohio State fans are seeing that manifest in two ways this season: completion percentage and QB rating.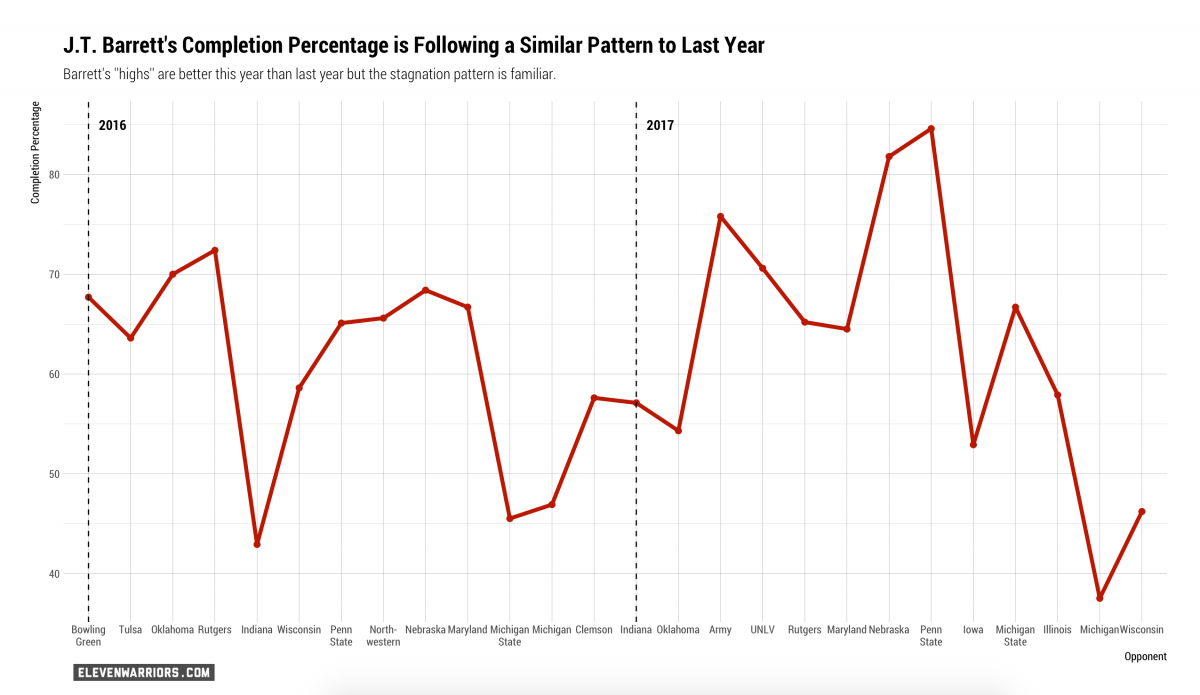 Generally, I think Ohio State fans would agree the addition of Ryan Day and Kevin Wilson have raised the bar for Ohio State's 2017 offense relative to what it was last year. Barrett's "highs" are higher than last year, as are his lows. That said, Barrett's completion percentage of the past two games surpass what Barrett did to end the regular season last year against Michigan State and Michigan.
Barrett never had completion percentages into the mid-70s or even the 80s last year, but he never had a completion percentage of 37.5% either.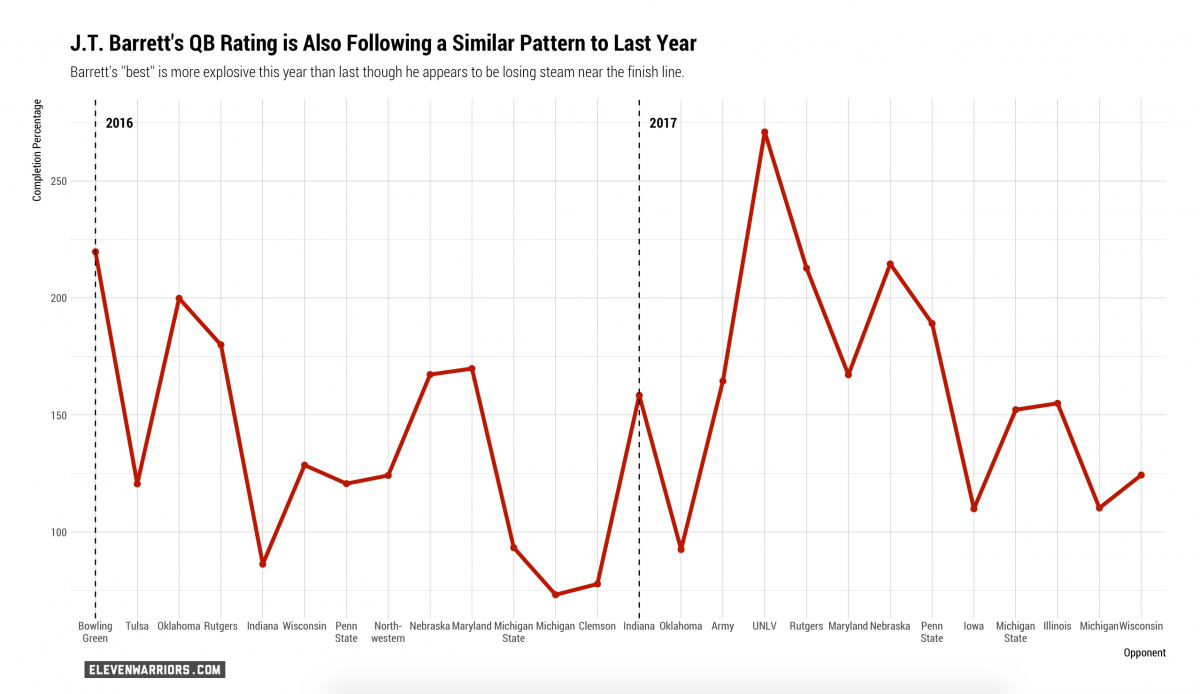 The QB rating tells a similar story though does better to underscore the effect Day and Wilson have on the offense. Barrett's highs are demonstrably higher than they were last year. This is true for the "lows" as well. Still, the pattern looks similar.
J.T. Barrett might have been the focal point of the game entering Saturday's contest. He may have even played "well" given the circumstances. Still, the past few weeks seem familiar to Ohio State fans hoping to avoid a complete repeat of last year's offensive debacles down the stretch.